Helm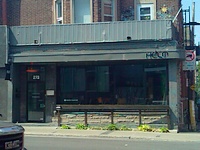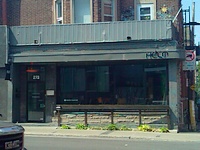 Brewery, Bar, Eatery
273 Bernard Ouest
Montreal
,
Quebec
, H2V 1T5
Canada
(514) 276-0473 |
map
helmmicrobrasserie.ca
Notes: Open 7days 3pm-3am
From downtown take the 80 bus north to the corner of Park av. and Bernard.
Reviews by Socialiste:
Socialiste from Canada (QC)
3.75
/5
rDev
+4.7%
vibe: 3.75 | quality: 3.75 | service: 3.75 | selection: 3.75 | food: 3.75
Jun 11, 2016
More User Reviews:

TheDoctor from Canada (QC)
3.53
/5
rDev
-1.4%
vibe: 3.75 | quality: 3.5 | service: 3.5 | selection: 3.5 | food: 3.5
An all right place in an area with quite a bit of stiff competition on both the beer and food fronts. It is a medium-sized bar that has an old-ish feel to it. They have a full bar and a kitchen. They have a few standards on tap as well as a handful of rotating/special/collaborative beers. The beer on the whole is pretty standard, inoffensive beer (blonde, rousse, noire style--if that makes sense). The handful of beers I tried were okay, but none were spectacular or super inventive either. Same goes for the food. Not bad, but not shockingly good either. Not much else to say.
Jan 14, 2019

Beervana from Canada (BC)
3.99
/5
rDev
+11.5%
vibe: 4.5 | quality: 4 | service: 3.75 | selection: 4 | food: 4
Nov 14, 2016

sbrock22 from Rhode Island
3.56
/5
rDev
-0.6%
vibe: 4 | quality: 3.5 | service: 4.5 | selection: 2.5
Did a craft beer tour in Montreal. This was a memorable stop because of the artsy/hip bar and neighborhood. The bartender was great and when we told them that we were on a craft beer tour, they showed us the whole setup and was very knowledgeable about the beers. It was a nice change from Duel du Ciel where we were jammed in there like sardines.
Jul 14, 2014
papat444 from Canada (QC)
3.25
/5
rDev
-9.2%
vibe: 3.5 | quality: 3.5 | service: 3 | selection: 3 | food: 3.5
Came here last Friday night with my wife. Coming in, you have the bar kind of in the middle with seating on each side, some tables facing the front window and semi-private seating in the back. The washrooms were kind of ghetto with no taps or sink but only plumbing fixtures and a stone slab plus a condiment dispenser for soap. The whole place has a grungy loft-style feel and the people were eclectic ranging from young kids to middle aged people with plateau people thrown in the mix
At out sits, there was no beer menu at all and on their chalkboard, only 1 beer was announced because it was on special. When questioned, our waitress mentioned they had all the colors of beer! Major lost points for that. My cream ale was good though and my wife's stout was decent so at least that. I have the feeling they always have the same beers so the selection score was knocked down a bit.
The shepherd's pie was awesome but my wife's fish n' chips were lackluster. Our cheeses were good but way overpriced. Value is between reasonable and pricey.
Overall, a decent stop but i don't think i'll be coming back.
May 08, 2011
01121987 from Canada (QC)
3.13
/5
rDev
-12.6%
vibe: 3 | quality: 3 | service: 3 | selection: 3.5 | food: 3
I did not even know this place existed until very recently which is surprising to me because i though i knew all of the brew pubs in montreal, so of course the second i found out about it i went there.
The atmosphere is typical for this part of town. "Hip" with obnoxiously loud music playing which always annoys me but i cant really complain about that. it was busy but not packed for a friday night. I was not impressed wth the table service, definetly felt ignored for a while when trying to order our first drinks.
I had two beers and shared a cheese plate with a friend. The pale ale i had was decent, i would give it a B- and the stout i had was just off somehow. it almost tasted like mint chewing gum after you have been chewing for way too long, with minimal roastiness. definetly was not impressed by that, it gets a d+. the cheese plate was tiny and not very exciting, with no accompaniments except for some baguette. all in all i was not impressed by their offerings.
they had five house beers, and some guest taps. i dont know how many. my friend got a beer-cider cocktail with cassis which i always despise but i wont go into that.
the prices were average, which is a bit expensive but the norm, especially for outremont.
i might try it again, but i cant really recommend it based on my first visit, and becuase i know of so many much better places. i would say you should give it a try if you have nothing better to do, but if you are new to town, go to Dieu du Ciel which is close and phenomenally better.
Nov 17, 2009
Goldorak from Canada (QC)
3.43
/5
rDev
-4.2%
vibe: 3.5 | quality: 3.5 | service: 3 | selection: 3.5 | food: 4
New brewpubs and better Beer bars are popping up everywhere in this town. Helm, an acronym for the basic ingredients found in Beer, Houblon (hops), Eau (water), Levure (yeast) and Malt, isn't exactly new per se, it stands in the same location where le Fûtembule introduced craft Beer to the masses years before it became the in thing to drink. Not easy to get to by public transit but in a great little neighborhood, I'd say about a 20-minute walk from Dieu du Ciel if you were so inclined.
Décor can be described as trendy meets yard sale. The pros include the bare brick walls, minimal lighting with candles, multi-tone wood tables, old beat-up chalkboards that show the Beer/food list and an interesting sink in the men's room. Cons are the unmatched and not very comfortable chairs that seemed to have been stolen from a 70's office boardroom, the oval shaped island bar is great but the molded plastic stools surrounding it look like they belong at Olympic stadium. Come to think of it, the whole place had a throwback feel to it, even the music was a loungy, borderline muzak that I thought was beyond kitsch (anyone with a computer and a cd burner thinks he's a DJ these days…). Even though I didn't feel grossly out of place here, the vibe was clearly not catered to me, it's better suited for a BCBG clientele, and I'm a dive bar kind of guy.
Patrons ranged from Mile-end hipsters to secretarial pool ladies having a post-work drink. The very cute but slow waitress was alone tending bar and servicing tables but thankfully she got backup as the place filled up.
About a dozen taps available, the menu was pretty simplistic and classified everything by color, but at least had the brewery name and style in very small typescript next to it. A few lagers from 3 Mousquetaires, some ales from McAuslan and two house brews, an Alt that I enjoyed greatly and a pale ale that didn't do much for me. The usual lineup of imports was available in bottles. What stood out was the listing of ciders, including a couple of ice ciders served by the glass, a fantastic idea if you ask me. There wasn't anything ultra-rare in the list, but all quality products from Michel Jodoin, Face cachée de la pomme and Pinnacle. The ladies joining me seemed pretty pleased about having an alternate choice to the ubiquitous Mystique cider (which they also had on tap, but seemed a little off for some reason). Food menu consisted of hip tapas, I had the suggested pairing of salad with Oka cheese croutons (meh), green beans in blue cheese sauce served cold (interesting!) and elk stew (okay). My drinking buddies tried the veal sliders, duck rillettes and various tartars that were nicely presented and were all enjoyed. Prices were respectable for this type of upscale pub grub, we're a long ways away from the 1.99$ spaghetti and 10 cent chicken wings here. 5 bucks for craft pints is acceptable, but borderline.
Comparisons can be made with le Reservoir, another stylish brewpub in town that puts ambiance and food before Beer, but what I liked about Helm was that they only brew one or two Beers themselves and do them without any significant flaws (not the case at the aforementioned Reservoir), and have guest taps to cover the rest, a concept that just didn't exist a short time ago. I'm curious to see if they will expand their house lineup eventually or keep it simple.
Nov 17, 2006
Helm in Montreal, QC, Canada
Brewery rating:
3.68
out of
5
with
28
ratings