Monks Café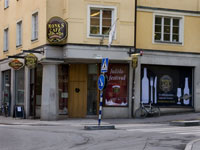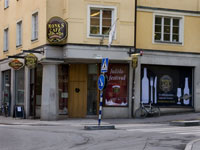 PLACE INFO
Type:
Brewery, Bar, Eatery
Wallingatan 38
Stockholm
, 111 24
Sweden
08-230030 |
map
monkscafe.se
Notes:
Nearest underground station: T-Centralen
Added by bark on 11-24-2006
HISTOGRAM
View: Beers | Place Reviews
Ratings: 11 | Reviews: 7
Reviews by krunchie:
3.21
/5
rDev
-14.9%
vibe: 2.5 | quality: 3 | service: 2 | selection: 5
I just came back from monks and I have to say I'm not 100% pleased. I was expecting a spectacular experience since they have a vast collection of beer (more than 1400 brands - that's REALLY impressive!). Earlier this week I booked myself and a friend of mine for their public beer tasting, but when we got there they said that there was no beer tasting that day (even though I recieved an email confirming me and my friend were welcome to this very event, this date, this time). We were very disappointed, but the bartender was nice enough to give us the five beers included in the regular beer tasting meets at a reduced price and gave us a bowl of nuts for free as compensation. So, I have a mixed opinion about this place.
It's very pricey at monks (as stated before) and Duvel Café is right around the corner, specializing in Belgian brews (do you really need more than Belgian beer?) for a lower price and (according to me) nicer atmosphere - not so besserwissery and tense.
After we had those five beers, which were excellent by the way, I had a random brittish Imperial Stout from their impressive beer list and it was actually very good (my friend had a light german lager of the bartender's choice and it also was very good), so as far as selection of good beers go, they're right up my alley.
However, I'm uncertain whether I'm gonna go back to Monks. They do have great beer, I'll give them that, but atmosphere is REALLY important too. And mix-ups like these should NEVER occur if you want to keep your reputation.
1,530 characters
More User Reviews:

4.19
/5
rDev
+11.1%
vibe: 4.5 | quality: 3.75 | service: 4.5 | selection: 4.25 | food: 4.25
love going here when Im in town very nice local vide friendly to Americans
74 characters

3.75
/5
rDev
-0.5%
vibe: 3.75 | quality: 3.75 | service: 3.75 | selection: 3.75

4.78
/5
rDev
+26.8%
vibe: 3.75 | quality: 5 | service: 5 | selection: 5 | food: 4

3.75
/5
rDev
-0.5%
vibe: 3.75 | quality: 3.75 | service: 3.75 | selection: 3.75 | food: 3.75
3.6
/5
rDev
-4.5%
vibe: 3 | quality: 4 | service: 3 | selection: 4
We visited monks cafe for a nightcap after spending some time at monks porter house. the bartender drew a map for me on a napkin...
atmosphere: pretty dead at 10pm, and closed shortly afterwards. the tables and bar area were un-bussed. there was a lot of beer in the house, but coming from monks porter house, this was a real drag
quality: fair amount of taps from the brewpub - good glassware and each batch came with a detailed description
service: not great - a little surly
selection: coolers and coolers of obscure american beer, a good amount of taps from the brewpub
food: didnt try
Expensive, much like everywhere else. This place had the worst atmosphere by far of anywhere i went in Stockholm.
709 characters
4.13
/5
rDev
+9.5%
vibe: 4 | quality: 4 | service: 3.5 | selection: 5 | food: 4
This place is the antithesis of its sister café. Clean wood throughout and a more "classy" feel. Selection is out of this world ridiculous. Beyond numerous house brewed beers, they have to have just about every De Molen beer available. I mean it. Every single one. Then there are the American brews. You could visit here from the U.S. and get to try all sorts of things. They have Tyranena for goodness sake. Of course, the question is if they can move it all and maintain a fresh offering. I would have to say I doubt they're able to sell and move that much. But hey, it looks pretty. Food was good. Service was also, to a point. The bartender was trying to deliberately work me for an extra tip. And I don't mind laying a little bit down in Stockholm if the service was nice, but dude: don't try to weasel me. It's not cool. It's a nice stop on the Stockholm beer scene, though if it were busy, I am sure it would be filled with a lot more white collared beer lovers, in my opinion. I prefer the other location to here ten times over.
Another close subway station is the Hötorget stop. Though it is easier to get to from the Central Station. Just walk straight up Vasagatan and bear to the left right after the park.
1,221 characters
2.83
/5
rDev
-24.9%
vibe: 2 | quality: 2 | service: 2.5 | selection: 4.5
Very crowded - in a very bad way. It's is not a large place, and about 4/5's of it is used only for dining. If you just want a beer you will need to attempt to find a place, to be jostled and bumped into constantly, near the bar.
The impression I get from being at Monk's is that I am at an airport bar. It offers no true personality and it seems they are much more focused on being an upscale restaurant and trendy café than being a beer bar. This is a bit difficult to take in since the name, logo, huge list of beers and even their own label give off a totally different expectation.
Yes, vast beer list, the likes of which you will not probably find anywhere else in Stockholm. The quality of the list is all over the shop and what they actually have is dramatically different to what they claim to have on-line. (Believe me, they do not, and never will have Yuengling.)
Bar staff does their best, but you will end up waiting a while for anything. Even just a menu. They did not actually even have a beer list last time I was there. You basically have to ask or try and gauge what's in the fridge.
Expensive and frankly just not worth the headache. The other Monks is more beer drinker friendly and a better option.
1,224 characters
4.5
/5
rDev
+19.4%
vibe: 4.5 | quality: 4.5 | service: 4.5 | selection: 4.5
Monk's Café is loaded with rare and delectable beers. I was especially impressed by their selection of Northern Italian craft beers and rare Belgian ales. They have several beers from the famous brewery Struise and the great Swedish brewery Dugges. Overall, I am guessing they have about 500 beers, many of them not found elsewhere. I found the staff to be very kind as well and the layout of the place is pretty cool. There were also some interesting beers on draught, but I was mainly interested in the bottles. My second favorite beer destination in Stockholm, obviously behind Akkurat.
590 characters
3.85
/5
rDev
+2.1%
vibe: 3 | quality: 4 | service: 3.5 | selection: 4.5 | food: 3.5
This place is not more than 2 years old and already has the reputation of being one of the best bars in sweden. The owner is a true beerenthusiast that will gladly chat away with you if he happens to be nearby.
While other places usually focus on beers from a few different countries Monks Cafe tries to collect as many beers from around the world as possible. They stock about 1000 beers.
Normally there is always some festival going on where they focus more on beers from a specific country.
The bartenders have very different level of knowledge when it comes to beer. The best one is the middle-age guy with glasses :)
The place is popular so it is usually very crowded. If you haven't made a reservation, being there before 6pm is usually a good idea. The interior is very modern so if you're into pubs with lots
of oaktree and such stuff, this is not the place to be :)
I visit this place regularly and see no reason why i shouldn't
continue to do so! Recommended if you're in stockholm!
997 characters
2.84
/5
rDev
-24.7%
vibe: 3 | quality: 2.5 | service: 2.5 | selection: 3.5
The design reminds more of a trendy latte café than a pub; cherry-wood, pale gray-beige walls, candles in the restrooms. It would probably have been extremely trendy in 1989 too. About 60 seats, 15 of them at the bar. Country pop is playing in the background.
The assortment of spirits is surprisingly small – about 20 malt whiskies. They do carry a lot of wines though, some 160 brands, all available by bottle or glass (good!).
As for the beers, they state that they offer up to 1000 beers, even though my estimation of brews available is 500 (including all Trapists). 16 draughts, eighth of them are rotating and two in-house beers (Monk's Light Lager and Monk's Dark Lager). The assortment seemed a bit half-baked: Dull Swedish macro lagers alongside with rare Belgian ales, American micros and pale lagers from exotic places (Asia, Africa and South America). No Flanders brown ales, no Scottish heavies nor any Danish micros. And no casks. When I visited in mid-December they held a Christmas beer festival with 70 season beers.
The staff gave an uncertain and haughty impression; it was clear that they didn't were beer geeks.
The beer was amazingly expensive (even by Swedish standards): A draught beer was round 60 SEK. At other beer bars in Stockholm like Oliver Twist or Hörnan, that would have given you 0.5 l or a pint. Here, you got 0.33 l.
1,373 characters
Monks Café in Stockholm, Sweden
Brewery rating:
3.91
out of
5
with
21
ratings