69th Street Beer Distributor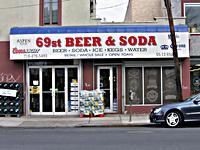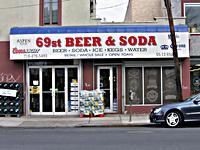 Store
55-13 69th St
Maspeth
Queens
,
New York
, 11378
United States
(718) 478-5493 |
map
Notes:
Recent ratings and reviews.
Ratings by PEBKAC:
Reviewed by PEBKAC from North Carolina
3.5
/5
rDev
+8.4%
Community beverage has some competition these days. :D

Across the street from Rosa's Pizza, comes the perfect compliment, a beer store. Small in stature, but big on necessity, 69th is just off Grand Avenue & accessible by bus or the Long Island Expressway. They specialize in the locals like Brooklyn Brewery, Bluepoint, Butternuts, Southern Tier, & Saranac, carrying most of their standard lines. They also provide access to Smuttynose, Oskar Blues, Sierra Nevada, Magic Hat, & of course Sam's. Scattered singles from Unibroue, Rogue, the Duvel family, Chimay, & many others that constantly rotate as the seasons change & the customers whimper. Like much of the area, a decent selection of Czech & Polish bottles populate the store as well. You won't find anything unique, but you will have access to more then most in the area.

The fridge area compromises several doors, stocked with much of what is already in the store, plus the odd leftover seasonal or small stock.

What I do like about this particular establishment is the service. Not so much help in choosing between two particular beers, but more so in the leniency provided to break sixers, mix cases, & to hunt down a box of anything they have access to, without gouging your wallet. Never a bad bottle either. Not to say there aren't some pungent samples way down their on the bottom racks, but everything else moves pretty well.

Single prices are reasonable, with six packs going between the standard $6.99-$9.99. Typical bombers come in at $3-6, with random bottles escalating. Case prices follow suit, but fluctuate depending on who's manning the station.

If I could just get them to stock Southampton, I'd be set. :)
Jan 25, 2007
More User Ratings:
Reviewed by pepsifreak01
5
/5
rDev
+54.8%
vibe: 5 | quality: 5 | service: 5 | selection: 5
This place is located on 69th street across the street from the post office. The service is outstanding,and i was greeted with a smile. The prices are well below average and there is never stale beer. There is a Large variety making me want to choose this place over all beer distributors. The place is clean and so are the sidewalks. You can almost walk around bare foot. The boss is always there for any questions, he even helped me jump start my car. I love the 69th street beer distributor and will never leave.
Jun 01, 2012
Reviewed by beerguyqueens from New York
2.15
/5
rDev
-33.4%
vibe: 3 | quality: 2.5 | service: 1 | selection: 2.5
went in there this past weekend picked up a few belgium beers and some crap coors for my guests at my bbq the prices where average there was no customer service asked the counter person of they had sierra nevada brewers pack with all the hop beers had no clue what i was talking about. the worst part was when i got home and went to put the coors in a cooler a roach came out of the box thank god i did not bring it inside my home lol. was my first and last visit . its close to my home but parking is tough meters all over and have to walk thru a huge mess on the sidewalk with empty cans all over im not that picky but not into filthy
Jun 29, 2011
Reviewed by rubybeer from New Jersey
2
/5
rDev
-38.1%
stopped in there today looking for brooklyn black ops they did not carry it no clue why not its one of the top beers. the place is very cramped and parking was the worst parking agents all over so i did not stick around. the outside of the place is a mess cant even walk on the sidewalk with all the empty bottles all over , when i see that i get scared about bringing some bugs home in the cases of beer i buy. community still seems to be the place to go they sem to know there beers a lot better and have a bigger selection and its clean .
Jan 28, 2010
Reviewed by zerofear13 from New York
3.55
/5
rDev
+9.9%
Stopped in at 69th Street Beer & Soda to see what all the fuss was about. Just off the Long Island Expressway and about a mile up 69th St. from Queens Boulevard, so it shouldn't be too hard to find.

As soon as you walk in, you're greeted, but no one offers to help too often. Usually there are quite a few stock boys, and one cashier, so it seems there's a lack of people knowledgeable enough to help you around. On one side is all the fridges, so I started there. Your typical Blue Point, Brooklyn, Samuel Adams, some Sierra Nevadas, Magic Hats, etc. Nothing too impressive, but obviously better than your typical supermarket. Surprised to see less of the domestics that you're used to seeing and more foreign stuff. I am not too familiar with the Belgians and Germans, but there seemed to be a good percentage of these as opposed to Community Beverage. (I will update if I go again, with a better listing of foreigns). Around the store, there are high stacks of cases of your usual Corona, Budweisers, Heinekens, Millers, etc.

Price is reasonable, but not posted too visibly. They are nice about breaking sixes and buying singles, like many other places, but of course, you'll pay for breaking the packs, with a slightly higher per-bottle cost.

Overall, nice place if you're near, but I'd prefer driving a mile farther and going to Community Beverage. This place would be a great stop if you're more into foreigns, but for a wider selection of the domestic brews, this may not be the shop for you. Nice place, stop by if you're in Queens and want some foreigns, but leave the domestics to Community Beverage.
Aug 20, 2007
69th Street Beer Distributor in Queens, NY
Place rating:
3.23
out of
5
with
6
ratings