Gordon Biersch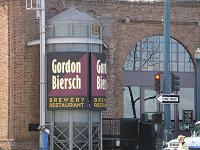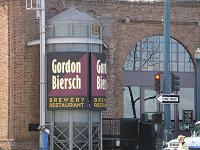 Brewery, Bar, Eatery
2 Harrison Street
San Francisco
,
California
, 94105
United States
(415) 243-8246
// CLOSED //
Notes:
Reviews: 14
Reviews by Troyone:
3.8
/5
rDev
+13.1%
vibe: 4.5 | quality: 3.5 | service: 4.5 | selection: 3.5 | food: 3
This place is not too far from Market St. or the Ballpark and has a nice view of the Bay Bridge going to Treasure Island and the San Francisco Bay. Different areas for dining including a spacious bar, an upstairs area, and a patio with the view. TV screens are all around.
Stainless steel tap nozzles, wood table and chairs, and the bar appeared to be a type of granite. Did not see the kitchen which was apparently upstairs and the restroom was clean.
Service was exceptional one does not have to ask for a sample only to ask about the beer and a sample was provided.
The Gordon Biersch brewpubs are a chain and each brewer may brew the same recipe a little different, no cask, or guest beers. Possible notables here were the Blond Bock, Schwartz Beer, Czech Lager, and Marzen. Definite notable was their Hefenweizen, this brewer instructed the staff to put the lemon on a side dish rather than in the beer. No heavy (alcohol) dark beers.
The food was alright.
reasonable
987 characters
More User Reviews:

3.65
/5
rDev
+8.6%
vibe: 4.5 | quality: 4 | service: 3.5 | selection: 3
Before hitting a nearby restauant for a business dinner, I decided to stop in and grab a quick pint. The one thing about GB is that they are pretty consistant across the country from what I have experienced, so you know what to expect.
The bar can seat about 25 and has a nice view of the Bay Bridge. There are numerous TVs showing sporting events. Nice brick walls and an open kitchen on the dining side gives you a comfortable feeling. There are also some tables outside. The bar was very crowded when I arrived, and contained mostly business people and some locals. Definitely not a tourist stop.
They had the usual house beers on with a special Oktoberfest as the seasonal. I had the Oktoberfest and it was good. Service was prompt but nothing exceptional to note.
Defintely a cool place to stop for a pint.
814 characters

3.8
/5
rDev
+13.1%
vibe: 4.5 | quality: 3.5 | service: 5 | selection: 3 | food: 3
V: Similar to other Gordon Biersch's I have visited as far as layout, but the vibe here seemed more upbeat and friendly. Lots of 'business class' types all crowding around the bar. This place is huge, occupying two floors. They have a large expansive bar area with lots of brewery paraphernalia decorating the walls. Since we were a large group we sat upstairs looking out at the Bay Bridge. There is also some outdoor seating but it was a little rainy the day we were there.
Ser: The hostess who greeted us was quite cheery and really set the tone for a good time. The bartenders were quite knowledgeable about the beers and they are quite friendly. Our servers were fast, efficient and friendly.
Sel: They had 6 beers on tap. They had the standard beers they normally have on tap such as a Hefeweizen, Czech Pilsner, Marzen, Schwarzbier and a seasonal which was a Kolsch at the time. They do have some Macros.
F: Your typical chain bar food. Soups, salads, appetizers, sandwiches...etc. The food is what you would expect. It is decent...nothing stands out but nothing is terrible.
Like other GB's, they also offer some better wine (not just yellow tail) for those not interested in beer and they have a lot of different specialty drinks, martini's and margaritas.
I thoroughly enjoyed this GB over the one in Columbus due to a much better vibe. There beers here are not going to blow you away, but they do have a couple decent brews.
1,443 characters

3.85
/5
rDev
+14.6%
vibe: 5 | quality: 4 | service: 4 | selection: 3
Well, true to Woody Form, I entered on the Harrison Street side, which at least gave me a reminder of the building's history as a Hills Bros. Coffee building. Coming in that way has a stairwell up to a second floor dining area with Plexiglas panels to look up/down from/on the bar. The long, snaking, marble-topped bar started on the left side, just inside the door and ran over to the extreme left, by the kitchen and a bunch of standard restaurant tables and chairs. To the right of the aft doorway was the brewhouse, plus a few FVs in the window on the Harrison Street side. On the Embarcadero side was a fantastic view of the Bay Bridge and Treasure Island to the east. Good place, great location, decent beer. I'd some back just for the view, but I'm also a cardholder. Bonus!
Beers: Hefeweizen-5.5; Pilsner-5.5; Marzen-5.7; Schwarzbier-4.29; Blonde Bock-7.0; Winter Bock-8.0 (seasonal).
893 characters
3.75
/5
rDev
+11.6%
vibe: 3 | quality: 4.5 | service: 3 | selection: 4 | food: 3.5
Gordon Biersch is a national chain that specializes in lagers - nuff said. Each location, or at least the ones I visited, maintain the same standards. San Francisco's GB is situated along the Embarcadero and offers a fine view of that other bridge - the one that is not golden. It has a rather industrial interior with a large U-shape bar offering plenty of TM room for after work Financial District drones looking for a quick pint while tap-tap tapping into their ever-present Blackberries.
All GBs have about 6 taps of the same beers, usually a Blonde, a Marzen, dark beer and something else. Since each location has its own brewer who is on site, the beer is pretty fresh.
The San Francisco location is no different: decent beer that goes down with any food. GB food is usually decent. They do go way past pub grub, something for which I give them credit. However, the garlic fries will overwhelm the palate and are not advised if interested in sampling the beer. I do recommend the jambalaya -I though it tasty.
The service was okay. The bartender was cute an perky; however, she seemed to be somewhere else. Still, I did get service.
My big negative is the price, but San Francisco is not cheap. All in all, not great, but certainly not bad.
1,251 characters
3.28
/5
rDev
-2.4%
vibe: 3.5 | quality: 3 | service: 2.5 | selection: 4 | food: 4
Last stop on a trip to sf last spring. We had a nice buzz going by the time we got there so we didn't mind the mile walk from sf brewing. The place is real nice inside and the food is really good. I was hoping that they could wow me with something like their winter bock.
I was let down by a lot of aspects of that place. The service was sub par, they were just trying to get everyone to spend as much as the could as fast as they could. No conversation and no real info about the beer from the waitress or the bartender. The beers were alright but nothing really stuck out except the blond bock, not sure why I like that one so much.
We split a pizza that was delicious and the place smelled nice which made us hungrier. We eventually decided to just pay the tab and hit McDonalds on the way back to the train station. We didn't want to spend another $30. So overall, kinda mixed feelings on this place: good food, good atmosphere, beers alright, and the service was not that good.
986 characters

3.33
/5
rDev
-0.9%
vibe: 3 | quality: 3.5 | service: 3.5 | selection: 3 | food: 3.5
A slightly above average outpost of this chain brewpub. This one is a bit pricey but the atmosphere is good on game days except for the heavy bridge and tunnel crowd. The quality of thfood is actually pretty good, and the beers are German themed and pretty solid although the selection can be quite small and the same beers are brewed over and over again with nice seasonals a kinda sparsity. Still I get here every once in a while when I kind of want chain restaurant food and beer..Overall Gordon Biersch due a slightly above average job at what they are trying to do, and for that I salute them...
600 characters
3.7
/5
rDev
+10.1%
vibe: 4 | quality: 3 | service: 4 | selection: 4 | food: 4
As with any Gordon Biersch, you better like lagers or don't bother coming. This one sits in a very nice spot along the Embarcadero in the shadow of the western span of the Bay Bridge. The N stops right outside so if you are anywhere downtown it is very easy to get to. The restaurant is two stories tall and very nice. The brewing equipment is on the left side of the building as you walk in the door. They have a nice patio out front with a view of the bay which, of course, fills quickly. The food was very mediocre. I had fish and chips which were greasier than they needed to be and had virtually no flavor. The beer was good, but not exciting. The Gordon Biersch in Seattle had higher quality brews IMO.
708 characters
2.85
/5
rDev
-15.2%
vibe: 3 | quality: 3.5 | service: 2.5 | selection: 2.5 | food: 2.5
Gordon Biersch is a Restaurant Brewpub started in California is the 80's. The San Francisco Location is in the old Hills Brothers Coffee building - one of San Francisco's few red brick buildings - at the corner of Harrison and the Embarcadero. The location is spectacular, with a great view of the Bay Bridge and the SF Bay. It's only a few short blocks from AT&T park where the Giants pretend to play major league baseball. There is seating on the first floor (where a large bar area is located), outside in front (with gas-fired heating lamps to ward off the Bay Area chill), and upstairs. Ambiance is casual. The crowd ranges from families to downtown professionals catching a few beers after work. It used to be quite a pick up joint about 10 years ago, but I don't think it's much of one now (but then, I've been married 14 years so I wouldn't know what one looks like anymore).
This location was (about 12 years ago) a fine restaurant, with cutting-edge California cuisine that made it a magnet for foodies around the Bay Area. Times have changed, however, and the restaurant now caters to a more pedestrian palate. The menu is chock full of pub grub standards. I like the Fried Calamari - it's not too oily and the dipping marinara is just spicy enough to make you reach for the beer. The burger is good, if unspectacular; there are a few large plates, including some pastas and meatloaf (nothing to write home about) and some salads, including an iceberg wedge with a tasty blue cheese dressing that probably comes in at 1500 calories or so. The garlic fries are popular, but are often left under the heat lamps too long and arrive soggy and unappetizing. If the fries are fresh, they're really quite good. The pizzas should be avoided by anyone who likes real pizza.
Service is inconsistent, with waiters often arriving 15 minutes or so after you've been seated. The food does arrive rather quickly after you order, however.
Don't expect many Ales on the menu. With the exception of the seasonal Kolsch, the joint specializes in Lagers. There's usually a Marzen (Oktoberfest), a Mai Bock, a Hefeweizen and a Pilsner on Tap. All are tasty, but the Marzen tends to be the freshest (and most popular). I like the Bock, which comes in at a nice 7.5% ABV. My favorite, though, is the Schwarzbier, which is a fine example of a German Black Lager with toasty chocolate and caramel flavors but without the heaviness of a traditional stout. Most beers are only mildly hopped, with low 20's IBU's. No double IPA's here.
Overall, good beers in the German Lager tradition in a spectacular setting, but the food and the service leave much to be desired. If you prefer hoppier brews, try the 21st Amendment Brewpub, a few blocks away on 2nd street.
2,755 characters

3.88
/5
rDev
+15.5%
vibe: 4 | quality: 4 | service: 4.5 | selection: 3 | food: 4
The night before my wedding my wife to be and I took a cab to GB for a nice meal and a beer.
The location is near the Bay Bridge and off the Embarcadero-easy to get to by MUNI. The atmosphere is upscale yuppie and is geared towards the business type. However, We didn't feel out of place at all.
There were about a 1/2 dozen beers on tap and except for the Summer Beer (Kolsch) there wasn't anything on tap we can't get in Santa Cruz. We settled for my favorite-the Blonde Bock-which was excellent-and paired well with our dinner choices.
The service was a bit slow for a Thursday evening-however, I am giving them a high rating on the customer service side because one of the managers was outside on break and noticed we were looking in vain for a cab-so he offered to call us one-then came back out to let us know he did-great customer service.
We started off with two bowls of Ciopinno soup which we enjoyed.
My wife had the Cobb Salad-which was the best she ever had-and was enough for two people.
I had the Meatloaf-which was OK but lacked seasoning.
Our meal was reasonable for the location and we both agreed that we should make another visit to GB-I only wish it was near At&T Park.
1,211 characters
3.28
/5
rDev
-2.4%
vibe: 4 | quality: 3 | service: 3.5 | selection: 3 | food: 3.5
The wife and I stopped by here on a Sunday afternoon at the beginning of our week long California trip. To be honest, I was just expecting fresh beer and solid food. That is what we got.
Great location with a great view of the Bay Bridge? I think that was the Bay Bridge. As you enter the place, you are find a very long bar that stretches out in front of you. Plenty of TV's and what not to entertain you as well. Very large facility with plenty of seating.
The beer was average but fresh. About seven choices in all with two seasonals. The hefe was my personal favorite. Food was good to very good. Service was solid but it was only a Sunday afternoon. Lots of people heading off to the Giants game. I would say this is a great pre-game for any Giants fan.
766 characters

3.4
/5
rDev
+1.2%
vibe: 4 | quality: 3 | service: 3.5 | selection: 3.5
I've visited the Gordon Biersch a couple of times with different impressions both time. My first visit coincided with the Superbowl on TV so the place was packed out, i had a quick beer and departed. This year my visit was during the afternoon and the bar was a lot quieter! The bar stocks the same range as the Gordon Biersch in Seattle and there's a little bit of a corporate feeling about the Gordon Biersch bars and the emphasis is strongly on food. However this year i had no problems getting served and the staff seemed to know what they were doing which always helps! I had a pint of Gordon Biersch Schwarzbier (4.75%) which was fairly enjoyable. Great views of the Bay Bridge also.
689 characters
3.5
/5
rDev
+4.2%
vibe: 4 | quality: 4 | service: 3 | selection: 3 | food: 4
While walking from BART to a Giants game, I almost always stop at Gordon Biersch for a brew and some garlic fries, and maybe more. This is a good stop because it is about at the halfway mark, almost directly beneath the Bay Bridge and just a street crossing away from the bay itself.
The outside is classic brick and looks like a converted wharf warehouse. There is a great patio out front where you can toss some back while watching the traffic on the sidewalk, street, and water. Inside, the place is big and the bar is big with lots of people swarming around it. I'm guessing the bar is so busy all of the time because when the place is full, the wait staff can't get to the tables fast enough. But the atmosphere is lively without being crazy and there are plenty of TVs and big windows to look out of while waiting for friends.
They have a selection of their own beers and that can be limited depending on what has been brewed. The best part is that I can get a bigger beer and bigger garlic fries for less money than I can at the ballpark. They're the same thing and they are still the best garlic fries I've found. And they are hard to resist after getting a whiff of them.
There are other locations in the Bay Area but this one is by far the best.
1,265 characters
2.1
/5
rDev
-37.5%
vibe: 4.5 | quality: 2 | service: 1 | selection: 2 | food: 3
Nice looks, lousy beer.Overlooks the Bay Bridge. After hearing about this place, and reading other ba's review's (Cheers to Tim) I went out of my way to try this place. I was very disappointed. The atmosphere and looks of the place were fine, then I made the mistake of ordering a beer. First, the server dude was either stoned, new, slow or all of the above. After every question about the beer, I got a blank stare and 15 seconds of silence. They were out of the maibock, ok no problem. How about the Pale Ale ? "Dude, I don't know what the deal is, but yea we do don't do that one here." And so it went. The beers were a let down as well, the Marzen was flat, stale, and sour tasting. The blonde bock was average. The dunkles was decent. I had planned on stopping at the Miami location later this summer, but not now. Maybe they were having a bad day, but it was a serious let down. They need to know.
906 characters
Gordon Biersch in San Francisco, CA
Brewery rating:
3.67
out of
5
with
3260
ratings