Hurricane Brewing Company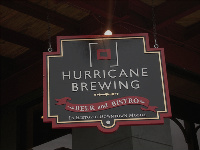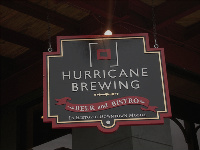 PLACE INFO
Type:
Brewery, Bar, Eatery
225 Dauphin St
Mobile
,
Alabama
, 36602-2717
United States
(251) 445-2544
// CLOSED //
Notes:
No notes at this time.
Added by BeerDenizen on 11-27-2006
HISTOGRAM
View: Beers | Place Reviews
Ratings: 10 | Reviews: 10
Reviews by BeerandBlues2:
2.03
/5
rDev
-36.2%
vibe: 2.5 | quality: 2 | service: 1.5 | selection: 2 | food: 3
So I was visiting my parents in Mobile and wanted to try the new brewery that has assumed control of the old Mr. Jim's Cannon Brewpub. I went in not expecting much and I was neither denied nor surprised. I was, however, excited to see a Berliner Weisse on the menu of house brews. I ordered my beer and proceeded to argue with the waitress over whether I really needed to syrup added to mine or not. She insisted I did, and I insisted I did not. I finally won and got my untainted beer. It is nice to find a brewer who brews what they want, even a rare style. This is where my enthusiasm waned though. The rest of the offerings were slightly below average. The food, once it arrived, was average. We watched one waiter drop a full tray of food twice. The people it belonged to were a bit peeved when he dropped their entire order the second time. What an odd situation. Needless to say, the chef personally delivered the third iteration.
937 characters
More User Reviews:

3.54
/5
rDev
+11.3%
vibe: 4 | quality: 3 | service: 4 | selection: 3.5
Located in the Lower Dauphin entertainment district of downtown, it sat on the corner of Dauphin and Joachim Streets (Joe-Whack-Im). The impressive second floor balcony ran along both side of the building. The main entry was just up from the corner on Dauphin with a glass cabinet of logo items on the left and the m.d.s. straight ahead. High tables and chairs sat just to the right of the doorway with long, blonde wood picnic-style benches along Joachim Street. The laminated, blonde-wood, "U"-shaped bar ran down the left wall with five (5) SVs as part of its back bar. A mass of Mug Club mugs hung in the overhead between the bar and the SVs. Headed aft, the lavs were to the left of the Golden Tee machine. In the overhead, beyond the bar, was the CU-clad brewhouse, as well as the Hot Liquor Tank and a Glycol Reservoir, all between the first and second floors. A stairway past the glass case led up to the second floor.
Beers: Floating Car Golden Ale; Projected Path Amber; Insurance Adjuster Pale Ale; Storm Surge Stout.
Expresso Porter; Satsuma Wheat Scottish Ale.
Ernie was our enthusiastic server.
Mom: Yes! This is her kind of place - bright, clean, low-key, low ABV.
1,184 characters
3.18
/5
rDev 0%
vibe: 4 | quality: 2.5 | service: 4 | selection: 2.5 | food: 4
I am a Mobile native and have been to Hurricane a few times. To start off with walking up the the brewery you will see a beautiful building that fits right in with the style of downtown Mobile. Inside the brewery you will see a very clean and well kept bar and dining area.
The food is pretty good! I went for Taco Tuesday! The waiter informed me that they have a nightly special that is friendly on the wallet.
The staff was very visible and very quick, however they did not know much about the selection or info on the upcoming seasonal.
The beer was not so good. I had the new Imperial Pale Ale and it was not very tasty. Yes it was Hurricane's first shot at a bigger beer but i think they could have put a little more work into it.
I can see myself going back the Hurricane because it is the only brewpub in Mobile. I will support them if it means them getting better.
881 characters

2.53
/5
rDev
-20.4%
vibe: 3.5 | quality: 2.5 | service: 2.5 | selection: 2 | food: 3
As you approach the building you will be impressed. I sure was. Really nice part of town an area with a good vibe with additional actives.
The beer was what I found typical for the southern brew pubs. Ok but nothing special. We did get to speak to the brew master, as we were the first customers of the day. Great gentleman and we spoke about the restrictions he faces concerning the alcohol laws. These laws will hinder his abilities to make great beer until they change, he is stuck making ok beer.
The food was average, the bartender hung over, seems to be a theme for the employees. At least they are having a good time. This does not equate into a good experience for customers though. If in town again I would stop by for a beverage. Later
748 characters

3.33
/5
rDev
+4.7%
vibe: 4.5 | quality: 3 | service: 3.5 | selection: 3
Paid Hurricane a visit while in town visiting the in-laws and had zero expectations going in.
First off, the setting is very nice, in downtown Mobile and in a very inviting and well-maintained building. We sat at the bar area which had good views of the fermenting tanks behind the bar through some glass.
The beers were OK. I had the sampler which consisted of 7 beers. Unfortunately, one of the beers had clearly gone bad, but the others were fair. I ordered a pint of the schwarzbier which was actually quite good.
The service was hit or miss and weren't extraordinarily knowledgeable of the beer. That said, friendly staff that were willing to help.
All in all, given the circumstances, this was a nice spot to have a beer. The prices were very good and lower than I'm used to in Atlanta. I will certainly visit again when I'm in LA (Lower Alabama).
857 characters
4.3
/5
rDev
+35.2%
vibe: 4 | quality: 4 | service: 5 | selection: 4 | food: 4.5
Stopped in July 4th on the way to Orange Beach for lunch. This is the first time I've stopped in Mobile and easily found the BP. Located in a very cool part of town in a neat old building. The staff was very friendly and service was fast. The food was pretty good (my 3 year old had chicken fingers and the wife & I had personal pizzas). I ordered a sampler of beer and found all 6 to be on style. My favorite was the oatmeal stout and my wife liked the Golden Lager. The IPA was a British style and while I prefer the American IPAs, I though it was good. Considering the beer scene in this part of the country, its an oasis! A word of caution. The staff told me that Thurs-Sat nights, the place is jammed because its in LoMo (lower Mobile). There were several bars/clubs in the surrounding blocks.
798 characters
3.7
/5
rDev
+16.4%
vibe: 4 | quality: 4 | service: 4 | selection: 3 | food: 3.5
This is a great brewpub. They carry about 4 regular brews and one seasonal usually. I've had all of them, but on the most recent visit I was quite pleased with the seasonal – Category 4- Leaf (an Irish Porter brewed for St. Patrick's Day). The bartenders are friendly and knowledgeable. There is a sampler flight available. The prices are reasonable. The atmosphere is very nice – downtown Mobile - quite laid back. The food is also worth eating and a notch above regular bar fare. If you drink beer and find yourself in Mobile, then this is definitely worth the stop.
572 characters
2.95
/5
rDev
-7.2%
vibe: 3 | quality: 3 | service: 3 | selection: 3 | food: 2.5
The place is basically unchanged from its days as Jim cannon's brew pub and the selection hasn't changed much either. The waitress bragged on thier Dry Oatmeal Stout. It was fair, but nothing to brag on. Next I had thier IPA, medium bodied and not to citrusy, it was a pretty good beer. I only had one problem with it it looked like a wheat. I've quaffed down some pretty cloudy homebrew before, but this stuff was about as murky as they get. Apart from thier four house beers that went for three dollars a pint there were eight or so bottled beers to pick from. Alabama's 6% ALC cap limits thier selection, but they try to cover all the angles taste wise. I had to eat the Southern Style fish and chips, nothing like the English equivalent, it went perfect with the IPA. I'm hoping thier selection will grow as they become more established and I'll go back for another review.
877 characters
3.55
/5
rDev
+11.6%
vibe: 3.5 | quality: 3.5 | service: 3.5 | selection: 3.5 | food: 4
Came here Saturday night, 12/23/06.
The bar looks about the same as it has when it was the Port City Brewery and Jim Cannon's- lots of light colored wood, design of the interior is kind of contemporary-loft-style (lots of exposed pipes, rafters, etc., with nothing really ornate). Having only been open for a few days, the crowd was small (and unfortunately, male-dominated). Relief from this exists from a few LCD TV's lining the bar.
They only had a couple of their selections on tap, both were good, the Oatmeal Stout I really enjoyed (on a nitro-tap). The have a few other selections on tap, too: Sam Adams Oktoberfest, some cider (I think Woodchuck), and a few more. They are supposed to be adding a few more styles soon- I can't wait to try the IPA. While there weren't many selections, all the draft beer that I had was $3/pint, regardless of whether it was theirs or not, making it a great deal. I didn't have any food, nor did I notice anyone eating there (if you call their number, they give you an option to leave a take-out order on their answering machine, so it appears that, at least, they will be offering food in the future).
I noticed that the first reviewer said the staff wasn't that knowledgeable- I really didn't pick the brain of my bartender too much, but he was able to answer correctly when I asked, "Is that a nitro tap for the stout?"
Overall, I felt that this place was somewhat lacking in selection, although that should change soon, and the value was great. Alabama has very little in the way of brewpubs, so I welcome seeing this open in my hometown. I plan on coming here often in the future while visiting family and it will be good to see how they progress (especially when the alcohol-limit law passes).
(Edit- 2/26/07) Came back a few times over Mardi Gras, and the selection certainly has improved, and I will note it in my rating. Also had some buffalo wings and sweet potato fries that were good. The ESB is awesome!
1,970 characters
2.64
/5
rDev
-17%
vibe: 4.5 | quality: 3 | service: 2.5 | selection: 1.5
Alabama has a state law limits beer to 6%, and these guys have only been open for a week, so take my review with a grain of salt.
Their only two beers of their own at the time were a stout and an amber. I only tried the stout. It was a low gravity dry stout. Since I've recently been to Portland, so it was pretty much impossible for them to please me with the 6% cap. It certainly beat the Lite whatever I could find anywhere else in the area. Anyway it was only $3 a pint.
The bartender was not knowlegdable about beer and he was somewhat inattentive. The bartender actually said, "Since starting here I've a lot of beer and it all runs together." As you might expect from the South, everyone is friendly but not beer geeks. If your in the area it's worth visiting just to encourage the local brewery business and educate the populace about good beer.
859 characters
Hurricane Brewing Company in Mobile, AL
Brewery rating:
3.21
out of
5
with
0
ratings