Barley's Bitter Dan EXtreme IPA
| Smokehouse Brewing Co.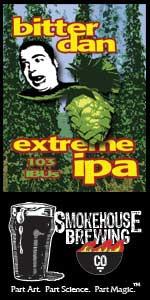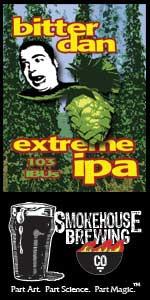 BEER INFO
Brewed by:
Smokehouse Brewing Co.
Ohio
,
United States
smokehousebrewing.com
Style:
American Double / Imperial IPA
Alcohol by volume (ABV):
7.90%
Availability:
Rotating
Notes / Commercial Description:
No notes at this time.
Added by prototypic on 05-02-2009
HISTOGRAM
Ratings: 11 | Reviews: 5
Reviews by mattcrill:
4.53
/5
rDev
+11.3%
look: 4.5 | smell: 4.5 | taste: 4.5 | feel: 4.25 | overall: 4.75
Aroma: Piney and resiny hop notes up front. Light caramel in the background. Earthy hop bitterness is present after the sample warms.
Appearance: Hazy golden amber pour appearing still in the glass. Head is moderate ivory and long lasting. Leaves some lacing around the tulip.
Flavor: Earthy, cedar-like hop bitterness up front. Lots of grapefruit and lemon zest noted. Bready background malt notes provide a nice balancing counterpoint. Balance is firmly to the hop bitterness. Finish is clean and dry. Aftertaste lingers and is bitter.
Mouthfeel: Slightly silky, medium bodied, with medium carbonation. Feels slightly creamy with no astringency or heat.
Overall impression: A well balanced, intensely drinkable Imperial IPA. Enough hop character to tickle the lupulin itch and enough malt character to keep it enjoyable and interesting. Strong work Barley's!
864 characters
More User Reviews:

4.33
/5
rDev
+6.4%
look: 4.5 | smell: 4 | taste: 4.5 | feel: 4 | overall: 4.5
Bitter Dan's a lighter shade of golden brown with a slight orange tint. It's extremely hazy. Tough to see through that murky scene. A fluffy, vanilla colored head caps it nicely. It's about two fingers tall and recedes very slowly. Lacing was very sticky and thick. Impressive stuff.
It isn't quite as good as I'd hoped on the nose, but it is good. Citrus scents are prominent and sweet. That consists of the somewhat typical grapefruit, pineapple, and orange. Not uncommon for a DIPA. Smells very nice nonetheless. Pale malts are noted, but there's no caramel malt in the neighborhood. That is a little uncommon for a DIPA. I love that aspect. Hops are easily noticeable and are responsible for the citrus scents. There's slight pine and floral aspects to them, but they're predominantly citric. Ultimately, they're a little more tame I'd hoped (at least here).
The flavor's more impressive. It is definitely sweet and sugary initially. A wave of citrus grapefruit, pineapple, and orange follows adding a little more sweetness. Hops are very prevalent, bitter, and buzzy. Oh, and did I mention delicious? I don't know the profile here, but it's mostly a citric variety. A little pine and floral or earthy characteristics are also present. This is one hoppy beer. Probably the hoppiest I've had from Barley's. Two thumbs up! There's a little pale malt, but no caramel. That's a recipe for success! No caramel or toffee, hop suffocating sweetness here. I love it! Alcohol is masked well and goes unnoticed. It tastes a tad yeasty on the tail and finishes bitter and dry.
Bitter Dan features a body that's on the lighter side of medium. Frankly, there's not enough malt to give it a substantial body, but I'm not going to complain much about that. Carbonation is a little crisp, but it remains smooth overall. Drinkability is very high. I'm lovin' the flavor of this one and it goes down too easy. It's a little strong at 7.9%, but I'm not backing down from the growler. This one's going down.
I'm really impressed with Bitter Dan. This is one tasty DIPA that takes just the right approach with the style. It's big on hops and very short on malts. The nose would benefit from a little more hop aroma, but that's the only verysmallminute criticism I have. This is my new favorite beer from Barley's(for the moment). I hope to see this one in the rotation frequently. Very nice job, guys. Highly recommended.
2,418 characters
4.83
/5
rDev
+18.7%
look: 4.75 | smell: 4.75 | taste: 5 | feel: 4.5 | overall: 4.75


4.24
/5
rDev
+4.2%
look: 4 | smell: 4.25 | taste: 4.25 | feel: 4.25 | overall: 4.25
I am always happy to see this IPA back on tap. Delivers with a stiff hop backbone that hits the pallet with floral and citrus notes.
132 characters
4.1
/5
rDev
+0.7%
look: 4 | smell: 4 | taste: 4 | feel: 4 | overall: 4.5
Draft at the MRAF 2009.
Poured hazy copper color with an average frothy white head that was mostly lasting with good lacing. Moderate to heavy complex citrus hoppy aroma. Medium body with slick texture and soft carbonation. Medium to heavy smooth bitter citrus flavor with a medium to heavy bittersweet finish of moderate to long duration.
This is a standout beer.
366 characters
3.63
/5
rDev
-10.8%
look: 4 | smell: 3.5 | taste: 3.5 | feel: 3.5 | overall: 4
"All empty souls tend toward extreme opinions."
--William Butler Yeats
Sun-ripened apricot with honey colored highlights. Upon presentation, the beer featured a slim slice of beige colored foam that faded to a thin film by the two minute mark. An initially underwhelming amount of lace became a more extensive array as the pint glass became increasingly exposed.
Given the name, a truly epic blast of hoppiness was expected... and was not delivered. This was my first clue that eXtreme IPA is not, in fact, eXtreme at all. The beer smelled orange peel fruity with a hint of butter caramel. More power probably would have garnered the next highest score.
After the sniff test, the flavor was pretty much a foregone conclusion. Again, I expect some seriously bad-ass hopitude when the words 'Bitter' or 'Extreme' appear in a beer's name. And this one has both! Having said that, it still almost eked out the next highest flavor score.
The other reason for rounding taste down to 3.5 was an off-flavor that might have been malt-related. It almost tasted like melanoidin was present. That is, the distinctive earthy nuttiness that is present in many Oktoberfests. Either that or the lines were due to be cleaned. In any case, it wasn't a deal-breaker.
Hop flavor was on the order of oranges, apricots and grapefruits. Possibly lemon zest as well. At least one of the C-hops was probably present, though I didn't bother to ask the server what she knew. The second half of the pint seemed more bitter when paired with my pulled pork sandwich, but that often happens with hops and food.
The body/mouthfeel was somewhere between IPA-medium and DIPA-medium. The bubbles seemed well-buried, while still providing a fair amount of 'get up and go'. I hate to keep rounding every score down, but that's the way the hop cone crumbles sometimes.
I've had enough Barley's Smokehouse and Brewpub beer to know that the brewer knows his way around a mash tun. So it's all the more suprising that Barley's Bitter Dan eXtreme IPA is light on lupulins. I might give this one another go round in the future.
2,092 characters
3.85
/5
rDev
-5.4%
look: 4 | smell: 4 | taste: 4 | feel: 3.5 | overall: 3.5
Growler at PPRBSG09. Pours a cloudy pale orange with a white head. Aroma of citrus, tropical fruits, and piney hops. Very inviting! Flavor of citrus, pale malts, and a bitter finish. Nice malt backbone. Some harshness in the palate, but this subsides a little as the beer warms. Pretty solid.
292 characters
Barley's Bitter Dan EXtreme IPA from Smokehouse Brewing Co.
Beer rating:
4.07
out of
5
with
11
ratings