Beverages & More!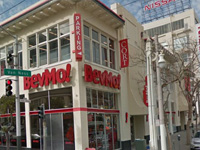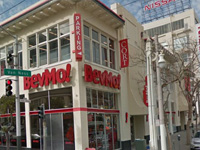 Store
1301 Van Ness Ave.
San Francisco
,
California
, 94109
United States
(415) 447-8483 |
map
bevmo.com
Notes:
Reviews by Beervana:

More User Reviews:

Knapp85 from Pennsylvania
4
/5
rDev
+9.6%
vibe: 4 | quality: 4 | service: 3.75 | selection: 4.25
Stopped in here and was impressed with how the store was setup. The beer section is kind of stuffed in the back but walking through there was a lot of nice bottles of liquor on the selves to look at. The beer selection is pretty vast, good amount of things to choose from. The staff was friendly. Probably the best BevMo! of the 3 I stopped at while in CA.
Dec 29, 2015

Gavage from Nevada
3.85
/5
rDev
+5.5%
This store was very clean and well organized. Beer was in the back left corner of the store with a mix of warm case displays and plenty of beers in refridgerators. From an east coast point of view, not the largest selection but one that have enough interesting offerings it was tough to pick the few beers I could carry back to hotel. Prices were a bit high but this is in a major city.
Sep 18, 2014

ThreeWiseMen from California
3.65
/5
rDev 0%
Stopped in here yesterday (Wednesday) afternoon to pick up a bottle of chardonnay for my mom.
While the front of the store is open and easy to maneuver, the back (where most of the alcohol is) feels much more like an underground cellar/warehouse/the BevMo! on Geary and Stanyan. Almost all of the beer can be found in one long aisle in the back left corner of the store, though there are a few offerings in wall coolers in the back right, and some notable Belgians along the front left wall. As you can probably tell, the organization is goofy.
This BevMo! location had a handful of special offerings, including The Abyss, Duvel Triple Hop, Bashah, Sculpin, Bam Biere, Bam Noire, Old Rasputin XII, Infinium, and the full lineup from Oscar Blues. I didn't end up buying any beer, but I could imagine myself spending a fair amount under better economic circumstances.
I chatted with some of the staff members about Sam Adams Infinium, and they seemed at least semi-knowledgeable about craft beer (which is more than I can say about most BevMo! employees). That's about all I can say about the service.
All in all, this is a solid place to buy beer if you're in a rush or staying in/around the Tenderloin. It's not the best BevMo! in town, and it's far from the best beer store in town, but it'll get the job done.
Dec 23, 2010
mjl21 from California
3.85
/5
rDev
+5.5%
This is one of the better BevMos that I have visited. It is located right on busy Van Ness Avenue. I believe they have a parking lot in the back, but I ended up getting a metered spot out front.
The beer selection is located in the back left portion of the building. While they don't have the harder to find beers that you can get at Ledger's, CBS, Monument, etc., they do carry a decent selection. They had a ton of Mirror Mirror, BB XXI, White Knuckle, fresh Maharaja, and Alaska Barleywine. For out of towners it is a good place to get Deschutes, Alaska, The Bruery, and a lot of other sixers and 22s. This one seems to turn over their beers at a better pace than some of the other BevMos, but it is always wise to look up freshness dates on bottles.
They had two people working the beer department when I was there and both asked if I needed any help. The prices are usually good and if you have their Club Card you can find some deals. They had most of the Deschutes and North Coast beers on discount when I was there.
Aug 07, 2009

Offa from California
3.85
/5
rDev
+5.5%
This is a good store and the best of the three Beverages and More stores where I've shopped, the other two being in San Rafael and Santa Rosa. It has more choices and variety than the other stores.
It has a small selection of glasses, mostly shakers and mostly standard brand names.
It has a pretty good range of US micro brews but in terms of local stuff like Russian River or in terms of really special, harder-to-find micros, it doesn't compare to Bottle Barn up in Santa Rosa or Plumpjack down in Noe Valley, City Beer in South of Market, or Blackwell's in the Outer Richmond. That said, it does have a few micros that other places don't have. It also has a large selection of macro beers, which the other mentioned above don't have.
It has a good range of imports, some not readily available elsewhere (like Moorehouse's beers) and quite hard to find. Some of these, like Lev beers and Belhaven beers, are standard here yet hard to find elsehwere, and it has a stable range of beer choices that one can usually find, not true for the places named above.
The beer also seems to be fresh and the selection well-maintained here.
Prices are reasonable.
Service is average.
Apr 17, 2009
JoshuaCain from California
3.2
/5
rDev
-12.3%
it may be the uncool place to but beer, but I am still here twice a week at least. an amazing selection of craft brews, as well as the best german and bavarian beer selection to be found in the area. prices range from what you'd expect to surprisingly cheap.
service is lame, which I find to be a plus because even though I am a total newbie I can feel like a beer-god when dealing with the people that work here.
the only drawback is that sometimes you could potentially get a skunked bottle so keep an eye on the dates and/or condition of the ones you choose.
Dec 23, 2008
aforbes10 from Iowa
3.5
/5
rDev
-4.1%
This place was (is) right near my hotel on Van Ness. Large selection, split roughly evenly between U.S. (mostly west coast) and imports. Lots of British and Belgian stuff, though nothing hard-to-find. US selection better, with lots of representative locals like Moylans and Anchor. Got an Anchor Smoked Porter to drink. Thought about the Anchor Special Ale Magnum, but then realized i'd never get through it alone. Small cold selection in the back, no singles that i could find. Nothing special, but nice to have near the hotel, especially if you're not from the area and want to try some basic local brews.
Dec 10, 2007
Lupe from New York
3.2
/5
rDev
-12.3%
Nice selection of beers split out by country/region with California micros taking the most aisle space. The cold selection could have been better, but serviceable nonetheless. And a pretty good amount of beer glasses, kegerators, etc . Service was nonexistent, but the cashier was friendly. Prices about average. I agree with those who have reviewed other BevMo's, this place has a good selection but no character. Go elsewhere if you want help or like to chat about beer when making purchases. A good place if you find yourself near by, but no the kind of store you would make your usual spot.
Sep 16, 2007
Beverages & More! in San Francisco, CA
Place rating:
3.65
out of
5
with
9
ratings