Jerome Cervenza Nochebuena Ale
| Cerveza Jerome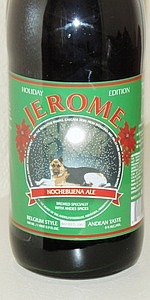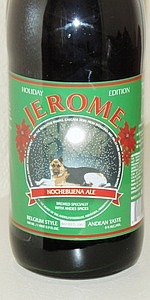 BEER INFO
Brewed by:
Cerveza Jerome
Argentina
cervezajerome.com
Style:
Belgian Dark Ale
Alcohol by volume (ABV):
8.00%
Availability:
Winter
Notes / Commercial Description:
No notes at this time.
Added by younger35 on 01-08-2008
HISTOGRAM
Ratings: 6 | Reviews: 4
Reviews by Viking:
4.29
/5
rDev
+9.2%
look: 3.5 | smell: 4.5 | taste: 4.5 | feel: 4 | overall: 4
Brewed in 2007
Pours a rather dark, garnet-brown color. Head was not overly impressive, and faded quickly. A bit of thin foam stuck around the top of the beer, along the glass.
Toasted malts, tart fruit, and spices fill the aroma. The aroma hints at being similar to an oud bruin, but spicy. Man, this beer smells good.
Flavor starts with a nice, "chewy" toffee-like maltiness. Plenty of spices, as well. Kind of like gingerbread, really. (mental note, try this again with gingerbread cookies) I get some faint, tart fruity notes as well, but very minor. Quite a bit of bitterness in the aftertaste, and I get the impression of anise, even though I really don't taste it. It's one of those odd associations based on the overall spiciness and the lingering bitterness. The bitterness is more pronounced than I expected, even though the label says it has a slightly bitter finish. It's good, whatever it is. Alcohol starts to become noticeable as the beer warms, but is never more than a minor supporting character in the flavor.
Mouthfeel is rather thick, and slightly oily. It has a quality that adds to the "chewy" toffee-like flavor of the brew. Slightly rough, due to the carbonation that I can't really see due to the darkness of the beer.
Overall, this is a fine Christmas Ale, and a good start to my annual sampling of new Christmas/winter brews.
1,357 characters
More User Reviews:
3.56
/5
rDev
-9.4%
look: 4 | smell: 3 | taste: 3.5 | feel: 4 | overall: 4
Bought 500mL bottle at Corti Brothers in Sacramento.
Poured into DeKoninck chalice, followed label advice to pour gently, but I saw I was getting no head so tried to foam it up a little unsuccessfully - no head or lacing to speak of on top of a beautiful translucent dark brown with lots of yeasties floating around. Bottle, incidentally, was a pain in the ass to open due to foil on top - my wine foil cutter didn't fit around the cap, and the usual tactic of just pulling it off with the bottle opener only worked after several attempts.
Gives off a sour cherry / sourdough smell while you're monkeying around trying to get the cap fully removed. Once you've poured it, you might find a slightly licorice, allspice, peppery smell like I did.
The first taste is a nice mean acidic bite with mild sweetness to it. None of the "banana and cloves" that everyone says they taste with Belgians (which, even as a dentist, I never taste cloves despite being exceedingly familiar with eugenol). The first mouthful went down and left me with the sour aftertaste that came through in the aroma, which I found slightly unpleasant. Subsequent sips did not have that; they left me feeling like I had tried some sort of exotic Japanese candy.
In terms of mouthfeel, fills the center of the tongue with a nice burn with every drink just like a good Belgian ought to. Very nice.
Pretty drinkable, but I think that given its cost ($6.39 from an upscale grocery store) I'd rather buy something in a Californian stout if I'm looking for a dark bitter beer like this. I'd be delighted if someone served this to me at their house, however.
~~
Addendum after reading the other reviews of this beer.
The first reviewer referring to it as a pumpkin ale minus the pumpkin is right on. This is actually very similar to Dogfish Head's Punkin Ale, just a bit spicier and more acidic.
1,866 characters
4.36
/5
rDev
+10.9%
look: 3.5 | smell: 5 | taste: 4.5 | feel: 3.5 | overall: 4
Pour: Bottle to tulip glass. Hard pour releases 1.5 finger fizzy, off-white head that dissipates quickly down to a very thin halo and just the slightest touch of remaining lace. Color is a beautiful dark brown with ruby hues, though difficult to see any bubbles in the body... hopefully they're still there, and more substantial than other Jerome beers.
Nose: Wild yeast all over the place. Smells like a Flemish Brown. I cannot wait to taste this beer. Like a wild ale spiced with cinnamon and clove. A Christmas morning. A bowl full of cranberry gumdrops. Gorgeous.
Mouth: The wild yeast that I got in the aroma is completely absent in the flavor... disappointed about that, but then, this probably wasn't intended to be a wild ale in the first place... so no points docked... Flavor is rich and spicy, more cinnamon and clove - gumdrop characters. Finish is spicy and carries an odd taste reminiscent of cigarette ash. I mean, I kind of like it because I've never tasted it in a beer and because obviously (hopefully!) I'm not at risk of lung cancer. A menthol cigarette in a beer. Mouthfeel is a bit thinner than I would like, especially for such full flavors. Alcohol adds another level that I'm loving.
Complex and enjoyable. Holds its own against any holiday beer out there.
1,284 characters


3.35
/5
rDev
-14.8%
look: 4 | smell: 4 | taste: 3 | feel: 3.5 | overall: 3
Picked up a bottle of this at the Boise Co-op for about five bucks and enjoyed with my roommate. I've had a couple other Jerome brews and haven't really been wowed by them. Comes in a 500mL bottle with batch code NA-101 stamped on the side. Drank from my Big Horn Mai Bock pint glass while watching the National Championship game.
Appearance- Pours a dark mahogany that breaks to a dark orange/yellow around the edges. Perfect two finger head forms that slowly recedes to leave a thin cap and nice thick collar. Some splotchy lacing is present but not all that much.
Smell- This brew is loaded with lots of warm winter spices. Very peppery with loads of clove and nutmeg. Reminiscent of a pumpkin brew but I'm not picking up any cinnamon. Full of sweet roasted malt along with a soft floral hop. The spices definitely dominate though.
Taste- This beer reminds me almost exactly of a pumpkin brew, minus the pumpkin. The spices are in full swing with clove, nutmeg and white pepper (think gingerbread cookies). Slightly metallic with plenty of brown sugar and toffee. Maybe a tad cloying but not to the point of it being undrinkable. Once the sweetness wears off a subtle bitterness creeps in and leaves a spicy, bitter aftertaste. The alcohol is slightly detectable but with so many big flavors it gets lost in the background.
Mouthfeel- Full body with a sticky feel and light carbonation.
Drinkability- Overall I'd say this brew is pretty tasty but I'm glad I split the bottle with my roommate. It's a little to sweet for my tastes but the spices do a nice job of keeping it drinkable. Enjoyable as a winter warmer but nothing you'd want to have more than a bottle of at a time.
1,693 characters
Jerome Cervenza Nochebuena Ale from Cerveza Jerome
Beer rating:
3.93
out of
5
with
6
ratings