The Liquidator
| Big Boss Brewing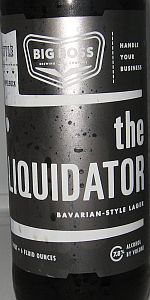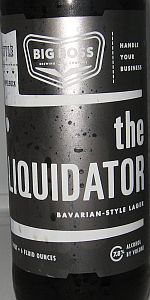 BEER INFO
Brewed by:
Big Boss Brewing
North Carolina
,
United States
bigbossbrewing.com
Style:
Doppelbock
Alcohol by volume (ABV):
8.00%
Availability:
Rotating
Notes / Commercial Description:
No notes at this time.
Added by atsprings on 04-06-2009
HISTOGRAM
Ratings: 9 | Reviews: 7
None found.
More User Reviews:

3.41
/5
rDev
-2.8%
look: 4 | smell: 3 | taste: 3.5 | feel: 3.5 | overall: 3.5
Nice to see some Big Boss brews popping up here in G-boro.Poured a deep rich bronze with a creamy-like 1/2 finger white head that left no lace as it settled.Very light aromas,maybe the lightest aromas for the style I have encountered.A passing caramel whif is what I got from the aromas and I let it sit for a decent amount of time,flavors are caramel dominated with some toasty notes and a bit of sweetish dough.Not bad but seems light for the style.
451 characters
3.06
/5
rDev
-12.8%
look: 4 | smell: 3 | taste: 3 | feel: 3 | overall: 3
Poured to my Bamberger Rastal 0.3L glass
Light brown, Mahogany color with a beige head that rises up an inch or two then fades, with a swirl it will produce a compact, tight-bubble crown.
Aroma- Dried fruit all day long, some brown sugar too.
Mouthfeel, Whoa! is this a Belgian sour ale? Tart flavors all over the place. Not the malt bomb I was expecting. Cherry flavors and a sweetness pervades after the tartness fades. A froth on the palate diminishes the tartness and a small malty profile emerges, barely. Not sure what happened to this one. Did the yeast get squirrely? I love Big Boss' brews. This one is not tatsing like a Doppelbock, but obviously the malt is there. Flavor profile is not where one would expect. But I will continue to support this brewery's products! Maybe next year's will hit the mark. Cheers!
822 characters

3.15
/5
rDev
-10.3%
look: 3.5 | smell: 3.5 | taste: 2.5 | feel: 3 | overall: 4
Okay, first off, this is a good beer. But it is in no way a dopplebock. Having spent 3 years in Bavaria I'll give them a good natured hit on labeling. The brew has a sourness and funkiness you would expect from a Belgian style. The overriding taste is sour cherries as is the smell. Slightly vinegary. There is no biscuit or bread in this brew, what you would expect from a great doppel. It's not as rich and malty as the bottle says. Yet the beer doesn't taste 'off' per se. Just not to style, and in that sense it is very off. They should probably change the label though, it is definately an interesting take on lager beer, and quite refreshing too.
652 characters

3.73
/5
rDev
+6.3%
look: 4 | smell: 3.5 | taste: 3.5 | feel: 3.5 | overall: 4.5
From the retro-tech style label endemic to Big Boss offerings:
"Limited Release 0906 of a batch of 2750, Bottled March 2009"
"Cenosillicaphobia is the fear of an empty glass."
The bomber bottle of "Bavarian-Style Lager" yields its crown with a hiss and pours twinkling-clear reddish-copper-amber goodness into a fat dimpled seidel. A cap of pale beige foam about a finger-and-a-half in thickness puffs up over the liquid, then, relaxing, scatters a few thin, flat, broken rings of lacing onto the sides of the glasa.
The aroma is sweet and malty with a roasted caramel note with a touch of orangey spice and a bit of grainy toffee. A vague apple/pear/orchard-fruitiness grows in stature as the drink warms a bit.
The taste is toasty, nutty malts with the same vaguely spicy, tree-fruity character as the nose. Dilute dark toffee and a pinch of dark chocolate provide mellow sweetness; a scratchy, grainy tannic note and a mildly earthy dryness contributed by the hops onboard the brew lingers briefly in the finish and helps provide a bit of balance. Any alcohol flavors are very well-masked.
The drink is lighter in body than it should be and well--carbonated, making it very easy to drink in spite of the sturdy 7.8% abv indicated on the label.
1,252 characters
3.6
/5
rDev
+2.6%
look: 4 | smell: 4 | taste: 3.5 | feel: 3 | overall: 3.5
Pours caramel brown with nice 1 finger head. Very faint retention but decent thick lacing.
Caramel malt dominates the aroma. Bready, toasty, slight over-ripe cherry in the background.
Hits a little sweeter than expected, but quickly goes tart. More tart than bitter in the finish. Pick up cherries at first, but goes bready just before the tart fruit finish. Slightly fizzy on the back end as well.
Expecting a stronger feel, but didn't deliver. A little too thin for the nose and style.
Not a great drinker, but a good sipper. The tartness gets to be a little too much as you make your way through this 22oz'er.
617 characters
3.7
/5
rDev
+5.4%
look: 4 | smell: 4 | taste: 3.5 | feel: 4 | overall: 3.5
Bottle 948 of 2,750 poured into a Duvel snifter a hazy brown with a decent khaki head that lasts as a thin layer and leaves slight lacing. Aroma is a nice amount of brown sugar, burnt caramel and slight dried fruit. The taste is an interesting amount of sweet malts, fruits and even cherries, not very true to style, and not as good as it was on-tap. The beer is medium bodied with well hidden alcohol. This is one is enjoyable, but like the last reviewer, I'm not sure I call it a Doppelbock.
493 characters
3.69
/5
rDev
+5.1%
look: 3 | smell: 4 | taste: 3.5 | feel: 3.5 | overall: 4
A: dark copper with very little head and no lacing.
S: sweet with dark fruit like figs. There is a hint of malt noticed as well. No distinctive hop aroma noted.
T: sweet fruit with a slight sourness as well. Finishes with the malt flavor. Very complex. Very good though.
M: on the thin side but the fruitness makes it almost chewy.
D: very good beer. Very unique aroma and taste. Quite enjoyable
395 characters
The Liquidator from Big Boss Brewing
Beer rating:
3.51
out of
5
with
9
ratings