Amnesia Bar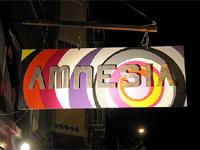 PLACE INFO
Type:
Bar
853 Valencia St.
San Francisco
,
California
, 94110
United States
(415) 970-8336 |
map
amnesiathebar.com
Notes:
No notes at this time.
Added by BeerAdvocate
Reviews: 15 | Ratings: 16
4.34
/5
rDev
+5.1%
vibe: 4.5 | quality: 4 | service: 4.5 | selection: 4.5
What a great find this turned out to be. The subdued red lighting did take a few minutes to get accustomed to. In fact, I asked the bartender to see the beer list, to which he pointed to the large sign above the bar on the wall. How did I miss that? There must have been 30 taps because the huge sign had three columns on the left side that read, "Light", "Dark" and "Belgian". On the right half were the bottled beers, probably another 30 or so.
Seeing that the Racer 5 was on tap, I made that my first choice. There were two other IPA taps; "Censored", which was no longer available, and Speakeasy's Big Daddy. The Belgian selection was pretty good, including Leffe, Chimay White, Maredsous, and Allagash Grand Cru.
But the atmosphere was terrific. A four-piece band, complete with accordian, guitars and floor base and calling themselves "Goucho", played Peruvian music. After about half a dozen instrumental numbers, they were joined by a young lady who sang with a pleasant voice that reminded you of the old Marlene Dietrich movies. The crowd was great and many seemed like locals just out having a fun time. A young husband and wife even brought their well-behaved bulldog while they enjoyed a few pints.
I would definitely recommend Amnesia. Toronado is my favorite pub while in San Francisco, but a trip to Amnesia in the Mission District is well worth the time.
1,382 characters

4.34
/5
rDev
+5.1%
vibe: 4.5 | quality: 4 | service: 4.5 | selection: 4.5
The Amnesia Bar was on my list (coutesy of BeerAdvocate.com) of bars to visit during my visit to San Francisco but was also highly recommended by a friend who lives in SF. Amnesia is located in the Mission on Valencia St. The beer selection is excellent and the bar very friendly with great staff. It's also probably one of the darkest bars i've ever been in being lit during my visit by very dim red lightbulbs. The jazz band playing at the back were fairly unobtrusive and played some cool django style jazz guitar. I had a pint of Maverick Amber Ale.
The number 12 bus passes nearby. Excellent bar, highly recommended.
624 characters
4.64
/5
rDev
+12.3%
vibe: 4.5 | quality: 4.5 | service: 5 | selection: 4.5
Perhaps the second best beer bar in the city, with a few things going for it. The first is the selection. Goes from hard to find Belgians in bottles to a robust selection of locals on tap, with standard Belgians and an eclectic mix of ales on tap in between. Second is happy hour. $2 pints until 8pm. I am an IPA man myself, so it's heaven to have to choose between $2 Big Daddy and Racer 5. The third thing it has in it's favor is the mellow atmosphere. Think of it as the anti-Toronado in this regard.
Absent are the attitude, the excessively loud jukebox, the nasty smell eminating from the bathroom, and the scary gender ratio. The service is only slow because the bartenders are busy being overly nice to people, they have had for the last year or so a Django-type acoustic jazz band playing regularly, the place rarely gets overly crowded, and the patrons are very friendly towards each other.
We actually end up here more than Toronado for our weekly happy hours in large part because the vibe is so much better, even if the beer choices aren't. It may be that the wives steer us this way because of that, but it is also true that we are easily led because of the great selection. If some of us are feeling a little light, it's the best place to drink well for really cheap, and the Belgian selection will satisfy the most demanding of us, so it's a great place to make us all happy.
If you are visiting from out of town, make sure to hit Toronado, Magnolia, and 21st Amendment first, but this would be next on my list.
1,535 characters

4.3
/5
rDev
+4.1%
vibe: 4 | quality: 4.5 | service: 4 | selection: 4.5
i've been frequenting amnesia for a few years now, and for a bar it's size it's got an amazing selection of beers on tap and more in bottles. no hard liquor, just great beers and a house made sangria which should only be had if you enjoy headaches in the morning.
they normally lean towards bigger beers such as stone, chimay, and allagash... lager choices are slim, but i'm not complaining.
they have a really cool way of arranging their beers on their sign.. divided into three categories: light, medium, dark. strange, but it works to a certain degree. maybe the best thing about amnesia is it's sense for variety. not many bars change our their selection as often as them. you can go in there two weeks apart, and you'll notice half of the tap list is totally different, which is merely another reason to stop in there again.
the atmosphere is nice, maybe a bit dark even for a bar, but still nice nonetheless.. seating consists of about ten bar stools and two couches..
if you're in the neighborhood, amnesia is a sure bet...like they say:
"some drink to remember, some drink to forget"
1,106 characters
4.2
/5
rDev
+1.7%
vibe: 4.5 | quality: 4 | service: 4 | selection: 4.5
Amnesia is in the hip part of the Mission District with lots of hip bars and chic trendy, but good restaurants. This is more than a beer joint, it's also a nightclub and on certain nights has music or DJ dancing. Amnesia's interior is Dark and surreal, only lit with the glow of red lamps.Cool and funky. Furnishings are simple and dark. The room has a barrel vaulted ceiling which adds depth to the surrealy forboading atmosphere. The crowd is a mix and depends on the night. Service is quick and friendly. A large chalk board above the bar (also dimly lit in red!) advertises the rotating beer selection. The usual beer selection consists of 10-12 draft taps which pour quality local micro and Belgian beers. The botle selection is a rotation of mostly quality and hard to find Belgian's, as well as, California and Pacific Coast Breweries specialy items.
Amnesia is an whimsical experience in the dark, that changes with every visit. Beer selection will always be Good to Excellent with hard to find Belgians always in the mix. Check it out when in the City!
1,067 characters
Amnesia Bar in San Francisco, CA
4.13
out of
5
based on
16
ratings.