Amnesia Bar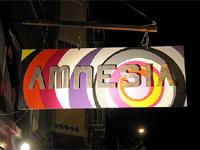 PLACE INFO
Type:
Bar
853 Valencia St.
San Francisco
,
California
, 94110
United States
(415) 970-8336 |
map
amnesiathebar.com
Notes:
No notes at this time.
Added by BeerAdvocate
Reviews: 15 | Ratings: 16
3.29
/5
rDev
-20.3%
vibe: 2 | quality: 3 | service: 3.5 | selection: 4
Valencia Avenue is the heart of SF's hipster culture and Amnesia, conveniently located across the street from the ultra hipster Dave Eggers' pirate shop 826 Valencia, offers what one would expect from a hipster beer bar, minus the PBR. They've got a fine selection of California micros, mostly from the Bay Area and NoCal, as well as a good selection of draught and bottled Belgians.
Monday means bluegrass night at Amnesia, so the whole bar was packed. It's a small space with no ventilation to begin with, and when it fills up it gets tropical inside. I wonder if it's too unhip to install fans. Anyhow, the 'bluegrass' band I saw consisted of a hipster bass player and a guitar-playing fellow who had emigrated from Japan to the US and had fallen in love with country music. His yodeling was a marvel.
Overall, Amnesia is a fun, if slightly chi-chi beer bar. I love San Fran and its hipsters, but spending time here makes me yearn for the views of the Rockies and a booth at Falling Rock in Denver. But, for folks in the Bay Area, Amnesia's worth a look, if only once.
1,077 characters
3.58
/5
rDev
-13.3%
vibe: 3 | quality: 3.5 | service: 3.5 | selection: 4
After looking at the number of reviews and the high score I decided to visit this place with an open mind. I could not open my mind enough to figure out why the scores are so high.
This place is small and kind of stuffy. The copper plated bar, gold painted walls (cracked and brittle), and translucent thin pink and red drapes all over and hanging from the ceiling gives this place the look of an Indian (India) Restaurant or something. Country music was in the background of this dark place that did have a stage and not very many tables.
Brass tap nozzles for all the beers. Did not bother using the restroom here or even look to see where it was. Copper plated bar with wood siding and cushioned stools and chairs.
Service was alright I missed happy hour by thirty minutes, fair enough. When I gave a five to the fairly beer knowledgable bartender, he read my mind and did not bother pulling a dollar out of the cash register.
A good variety of Californian Micro Beers, some out of state, and quite a few Belgians, however no cask. Racer 5 was on the list.
No food.
Pricey
1,093 characters
3.78
/5
rDev
-8.5%
vibe: 3.5 | quality: 3.5 | service: 4 | selection: 4
This bar is located on a great strip of Valencia St. in San Francisco, CA in the heart of the Mission district. The location is prime - easy to get to and in the vicinity of countless other bars and restaurants. They have a great beer selection for such a small place, allowing an entire menu board solely for Belgians (and Belgian styled) brews.
Although this place is pretty small and is lacking in comfortable seating options, they sacrifice some room at the front of the bar for a stage, which greatly improves the atmosphere.
I've been to this place twice, once I saw a punk/emo band for no cover and the other was for karaoke. The karaoke atmosphere was pretty disappointing, but I still enjoy going to this place for their good selection of beers and average prices.
775 characters

4
/5
rDev
-3.1%
vibe: 4 | quality: 4 | service: 4 | selection: 4
I've been to many a show here and have always been impressed by the beer selection and atmosphere. It's definitely a dive, but one with a lot of character. It's a small place with a small bar and few tables, and it gets crowded in the evening, so I'd recommend showing up early for shows or just for drinking. The beer selection is a mix of locals and Belgians, two of the locals being Moonlight (Reality Czeck and Death & Taxes), along with rotating taps from Lagunitas, Anchor, Speakeasy and the like. Prices are very reasonable, especially during happy hour, which lasts until 8 PM I believe. No food, but there are a few decent places in the area that you can eat at beforehand, and I believe they'll allow you to bring food as well. Service has always been good, very friendly bartenders that seem knowledgeable about the beer. A good place overall, I've had some good times here.
885 characters

4
/5
rDev
-3.1%
vibe: 4 | quality: 4 | service: 4 | selection: 4
This is a great beer bar in the mission that doubles as a hipster hangout. They let you bring in food, and will serve you an extensive beer selection including belgians, microbrews, and bottles with a smile. They usually have local art happenings, dj's, great bands, and experimental plays going on. But in terms of a place to get your beer on, get going. I like this bar even when it's crowded because the people are usually friendly and gabby. Also, it gets hot and loud, but nothing a leffe cant fix. Great bar, go to it.
524 characters

4.13
/5
rDev 0%
vibe: 5 | quality: 4 | service: 4 | selection: 4
Holy deja vu, hoping for amnesia, Batman! This used to be The Chatterbox, one of my favorite live music venues from 1987 to 1989.
Now, it's straight out of David Lynch-land. Red silk tapestry in the overhead, soft red lighting that would do any madam proud, deep red and amber lighting, a stage with red velvet curtains. The blonde-wood topped, 5/8 octagon -shaped bar was along the left side. Above the back bar were a series of three blackboards detailing their current offerings. Setting: dark. Like when I was taking Film Noir Studies and we were encouraged to bring internally-lit pens. Red dark, like being inside a Red Velvet Cake. Zounds!
I miss the days of The Chatterbox, but this place holds an unquantifiable draw for me like no other. On every visit of mine to SF in the last three years, I have ended up here, including a meet-up with Francisweizen.
867 characters
4.2
/5
rDev
+1.7%
vibe: 4.5 | quality: 4 | service: 4 | selection: 4.5
Amnesia is in the hip part of the Mission District with lots of hip bars and chic trendy, but good restaurants. This is more than a beer joint, it's also a nightclub and on certain nights has music or DJ dancing. Amnesia's interior is Dark and surreal, only lit with the glow of red lamps.Cool and funky. Furnishings are simple and dark. The room has a barrel vaulted ceiling which adds depth to the surrealy forboading atmosphere. The crowd is a mix and depends on the night. Service is quick and friendly. A large chalk board above the bar (also dimly lit in red!) advertises the rotating beer selection. The usual beer selection consists of 10-12 draft taps which pour quality local micro and Belgian beers. The botle selection is a rotation of mostly quality and hard to find Belgian's, as well as, California and Pacific Coast Breweries specialy items.
Amnesia is an whimsical experience in the dark, that changes with every visit. Beer selection will always be Good to Excellent with hard to find Belgians always in the mix. Check it out when in the City!
1,067 characters
4.29
/5
rDev
+3.9%
vibe: 5 | quality: 4.5 | service: 4 | selection: 4
I must admit suffering a little amnesia myself after hitting up the Amnesia bar. It was that last stop in a short string of beer bars that I was led to by Brewbacca. We had started our night at Toronado so you can imagine that I wasn't in the best of shape by the time we made it to Amnesia. What stands out most in my mind about Amnesia is the color red. Second place goes to the funky band. I think they might have been cross dressers, or maybe just emo kids – I can never tell with emo kids these days, so feminine and all... Then the beer. This place has some great brew. They include several top local brews from Bear Republic, Moonlight, and others as well as a few Belgians. Amnesia was beyond hip and really my kind of bar - dark, funky, and with a hot clientele. I'd be a regular if I lived near by. Bar service was fine and a cute girl at the door let me in for a lot less than the cover after I fed her some line of half drunken BS. Many thanks to Brewbacca for guiding me to this fine establishment.
1,014 characters

4.3
/5
rDev
+4.1%
vibe: 4 | quality: 4.5 | service: 4 | selection: 4.5
i've been frequenting amnesia for a few years now, and for a bar it's size it's got an amazing selection of beers on tap and more in bottles. no hard liquor, just great beers and a house made sangria which should only be had if you enjoy headaches in the morning.
they normally lean towards bigger beers such as stone, chimay, and allagash... lager choices are slim, but i'm not complaining.
they have a really cool way of arranging their beers on their sign.. divided into three categories: light, medium, dark. strange, but it works to a certain degree. maybe the best thing about amnesia is it's sense for variety. not many bars change our their selection as often as them. you can go in there two weeks apart, and you'll notice half of the tap list is totally different, which is merely another reason to stop in there again.
the atmosphere is nice, maybe a bit dark even for a bar, but still nice nonetheless.. seating consists of about ten bar stools and two couches..
if you're in the neighborhood, amnesia is a sure bet...like they say:
"some drink to remember, some drink to forget"
1,106 characters
4.34
/5
rDev
+5.1%
vibe: 4.5 | quality: 4 | service: 4.5 | selection: 4.5
What a great find this turned out to be. The subdued red lighting did take a few minutes to get accustomed to. In fact, I asked the bartender to see the beer list, to which he pointed to the large sign above the bar on the wall. How did I miss that? There must have been 30 taps because the huge sign had three columns on the left side that read, "Light", "Dark" and "Belgian". On the right half were the bottled beers, probably another 30 or so.
Seeing that the Racer 5 was on tap, I made that my first choice. There were two other IPA taps; "Censored", which was no longer available, and Speakeasy's Big Daddy. The Belgian selection was pretty good, including Leffe, Chimay White, Maredsous, and Allagash Grand Cru.
But the atmosphere was terrific. A four-piece band, complete with accordian, guitars and floor base and calling themselves "Goucho", played Peruvian music. After about half a dozen instrumental numbers, they were joined by a young lady who sang with a pleasant voice that reminded you of the old Marlene Dietrich movies. The crowd was great and many seemed like locals just out having a fun time. A young husband and wife even brought their well-behaved bulldog while they enjoyed a few pints.
I would definitely recommend Amnesia. Toronado is my favorite pub while in San Francisco, but a trip to Amnesia in the Mission District is well worth the time.
1,382 characters

4.34
/5
rDev
+5.1%
vibe: 4.5 | quality: 4 | service: 4.5 | selection: 4.5
The Amnesia Bar was on my list (coutesy of BeerAdvocate.com) of bars to visit during my visit to San Francisco but was also highly recommended by a friend who lives in SF. Amnesia is located in the Mission on Valencia St. The beer selection is excellent and the bar very friendly with great staff. It's also probably one of the darkest bars i've ever been in being lit during my visit by very dim red lightbulbs. The jazz band playing at the back were fairly unobtrusive and played some cool django style jazz guitar. I had a pint of Maverick Amber Ale.
The number 12 bus passes nearby. Excellent bar, highly recommended.
624 characters

4.36
/5
rDev
+5.6%
vibe: 4.5 | quality: 4.5 | service: 4.5 | selection: 4
This is an awesome dark bar in the mission. The lights are red and dim. Beers are cheap and selection is good. Two moonlights on draught, a few russian river, and some notable imports as well. I had three great conversations here. One with the 'tender/owner, one with a really nice local couple, and one with a guy from Quebec. Including a few minutes of rusty back and forth Quebecois ;-) So this definately scored high on ambiance, and clientele. Quality of the beers was great, and service was fast. I didn't eat, as I had to gorge myself on moonlight pils, since this was my last night in SF. Oh well, there is always next time, and there will be a next time. Just another great bar in San Francisco. I've yet to hit a bad one...
733 characters
4.44
/5
rDev
+7.5%
vibe: 4 | quality: 4.5 | service: 4.5 | selection: 4.5
Out to San Francisco to visit my sister, who happens to live around the corner form this nice little spot. Very dark, red lighting makes for a clubby vibe, good tunes and a cool atmosphere over all. Theyve got a nice selection of beers on tap, good local stuff, I tried The Lagunitas Maximus, top notch, and the Brown ale from Humboldt Brewing was really nice too. They also carry a lot of Belgians on tap and in the Bottle, I am really not into the Trappistes and Abbey ales being on tap, i would rather focus on local stuff on tap because i think it will be in the best shape more often than not. But that being said, the selection is great. If your strolling through the mission, dont forget to check out Amnesia
715 characters
4.64
/5
rDev
+12.3%
vibe: 4.5 | quality: 4.5 | service: 5 | selection: 4.5
Perhaps the second best beer bar in the city, with a few things going for it. The first is the selection. Goes from hard to find Belgians in bottles to a robust selection of locals on tap, with standard Belgians and an eclectic mix of ales on tap in between. Second is happy hour. $2 pints until 8pm. I am an IPA man myself, so it's heaven to have to choose between $2 Big Daddy and Racer 5. The third thing it has in it's favor is the mellow atmosphere. Think of it as the anti-Toronado in this regard.
Absent are the attitude, the excessively loud jukebox, the nasty smell eminating from the bathroom, and the scary gender ratio. The service is only slow because the bartenders are busy being overly nice to people, they have had for the last year or so a Django-type acoustic jazz band playing regularly, the place rarely gets overly crowded, and the patrons are very friendly towards each other.
We actually end up here more than Toronado for our weekly happy hours in large part because the vibe is so much better, even if the beer choices aren't. It may be that the wives steer us this way because of that, but it is also true that we are easily led because of the great selection. If some of us are feeling a little light, it's the best place to drink well for really cheap, and the Belgian selection will satisfy the most demanding of us, so it's a great place to make us all happy.
If you are visiting from out of town, make sure to hit Toronado, Magnolia, and 21st Amendment first, but this would be next on my list.
1,535 characters
4.64
/5
rDev
+12.3%
vibe: 4.5 | quality: 4.5 | service: 5 | selection: 4.5
First and foremost, Amnesia is a hip little place to be in a hip neighborhood with hip people. Its a hipster joint. For hipsters. Now that thats out of the way...
The atmosphere is very crimson. Dim with red notes everywhere and chic lights and Balinese puppets. The place is really cool, but too small. It has a bar run on one side with couches and table and a makeshift stage at the end. When I went there was an awesome jazz band playing and its seems like live music is standard here.
The service was quick, spot on, friendly. Really, nothing to knock here.
The selection was west coast killah! Let's see... They had Moonlight, Lost Coast, Kwak, and more on tap with a great bottled list. There selection was diverse, interesting, and mostly quality. They divide their selection into three catergories: Light, Dark, and Belgian, and price accordingly, 4, 5, 6. I know, its a bit generalized but it works.
Amnesia is a cool place to be. It is definitely a bar that is greater than the sum of its parts; the music, beer, service and atmosphere are all top notch and mesh together perfectly. The hipster vibe can be a little off putting. My friend and I didnt feel quite cool enough here so we finished our pints and made our way up the street to the Toronado. Good times all around.
1,297 characters
Amnesia Bar in San Francisco, CA
4.13
out of
5
based on
16
ratings.