Brown Jug Warehouse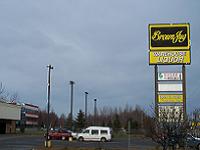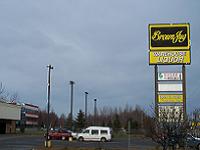 Store
4140 Old Seward Hwy
Anchorage
,
Alaska
, 99503-6030
United States
(907) 563-3815 |
map
brownjugalaska.net
Notes: The warehouse now has a growler bar in the back right corner of the store. Most of the beers on tap are Alaskan but from breweries that don't bottle or aren't within easy travel distance to Anchorage.
Reviews by Cynic-ale:
4.23
/5
rDev
+5.8%
vibe: 3.5 | quality: 4.25 | service: 4.25 | selection: 4.5
More User Reviews:

4.88
/5
rDev
+22%
vibe: 4 | quality: 5 | service: 5 | selection: 5

3.92
/5
rDev
-2%
vibe: 4 | quality: 3.75 | service: 4 | selection: 4


4.39
/5
rDev
+9.7%
vibe: 3.75 | quality: 4.25 | service: 4.75 | selection: 4.5
OK, This place hasn't been reviewed in a couple years so I thought it was time for a update. I've been in Anchorage for a about a year and this the place I go to get my beer most of the time. Mostly because its on my way home from work and La Bodega is a little out of my way. But these guys have almost the same selection as La Bodega they might be missing a few beers here and there but they make up for it with their growler bar. The current beer guy that works here is on point! He is getting his hands on all that he possibly can that gets distributed to Alaska and the 25 or so taps at the growler bar do not disappoint! and he gets the lowest possible price he can. Most of the 25 taps are local alaskan beer but about 10 or so are the latest Stone, Deschutes, or Sierra Nevada or Southern Tier releases. and he is constantly working on getting more stuff. Don't pass this place up if you are visiting Anchorage, they have to best selection of local beer.
962 characters

4.44
/5
rDev
+11%
vibe: 4 | quality: 4.5 | service: 4.5 | selection: 4.5
Wow, that growler bar in the back was like finding beer nirvana. And the guy working the counter was very pleasant, knowledgeable, and eager to talk Alaskan beers. I even mentioned one to him that would be great to see on tap and he made a note to inquire about it. That part of the store alone made it worthy of many return trips.
As for the rest of it, they have a great selection that spirals all over the store. Bombers galore, 6 and 12 packs, cases, refrigerated or room temp, take your pick. The selection included all the distributed AK beers, SN, Anchor, Avery, Stone, just to name a few. Many, many more. The growler bar also had several Alaskan beers that are not in the distro channels such that the only other way to try them would be to make a trip to the source. You can get full size 64oz growlers or "junior" sizes at 32oz.
Outside of the growler bar, the service is somewhat minimal, but really fairly standard. Atmosphere, is, well, kind of like a warehouse, but it's a warehouse packed with fantastic brews.
By the way, the prices here are some of the best I have seen around town. Midnight Sun bombers were about $2 cheaper here than most other places I have been lately.
1,194 characters
3.25
/5
rDev
-18.8%
So, great quality selection that you'd expect from a warehouse of liquor, beer, etc. They do have a huge variety of bottles, that one should never get bored with.
Everyone was worried when they got bought out by a major Canadien firm a year ago, but the growler bar that has been added is a fantastic addition. It might keep me coming back here from time to time rather than La Bodega, which I find much more appealing. However, during my first visit to the Warehouse to pick up growlers from the growler bar, I had a pretty negative experience with the service. The guy pouring was acting pretty snobby to some people who were obviously a little "green" when it comes to beer knowledge, but they were showing an interest in the craft offerings. He was speaking pretty condescendingly to them. You could tell they were starting to feel a bit sheepish, so I decided to step into the conversation and try to advocate a little bit. I saw what he was pouring them from the tap and I asked, "Is that the Midnight Sun XXX DIPA?" (The XXX DIPA pours almost black in color and is roasty and delicious. It was actually the Midnight Sun Berzerker, which is similar in color.) He responded back so annoyingly and cocky, "Are you kidding me bro?! Have you ever seen beer? Do you see how dark this is? It's a porter. IPAs are light." He was such an annoying dope, I just shook my head and blew him off. It's too bad. He was not the advocate that place needs for their cool new craft bar.
Other than that one bloke, this place is pretty great.
1,532 characters
3.7
/5
rDev
-7.5%
The brown jug warehouse is a great place to go if you cant find it at Eds brown jug on old seward. Good selection of beers from around the world in all sizes up to the occasional 3L magnum. The service could be better. It is good and people will help you find what you want, but they can be undereducated on world beers and sometimes have no idea where they are and just point you to the section. They will hold things for you overnight though if you call in. Good selection and the best prices in town.
503 characters

3.85
/5
rDev
-3.8%
This is the best spot in Anchorage for all your adult beverage needs. You will find brown jug in every corner of Anchorage, but this is their main store. Prices are always slightly cheaper at the warehouse than their other stores. The beer selection runs the spectrum. They carry everything from cases of your everyday macros to a good selection of Belgian ales. They have an excellent cross section of Alaskan and west coast craft brews. Prices are some of the best in town when compared to Oaken Keg or Fred Meyer. Brown Jug beats both of them in selection as well. A proper beer run that includes a stop at the Brown Jug Warehouse and nearby La Bodega will give any beer enthusiast plenty of material to work with.
717 characters

3.25
/5
rDev
-18.8%
Perhaps the most reliable go-to place in Anchorage for good beer, the Brown Jug Warehouse in Midtown is relatively easy from most Anchorage locations. Bus goes down Old Seward. Plenty of parking. About four blocks stumble from both Moose's Tooth and La Bodega (another excellent beer store.)
You walk in to a big, somewhat separated wine area on the right, and about twenty rows of wine, liquor, and beer to the left. Beer is out warm, and with about 12-15 cold case doors of good beer. (And more with shitty beer, but I have no idea how many.) They do kegs on request. I really wish that ALL of the micro/craft beer was refrigerated, including especially the rare stuff (see below about Hardys and Lees.) I'm dinging them a little for quality due to their failure to keep the rare stuff cold.
Selection runs from standard Alaska good beer, including most of the range of currently available bombers and six packs of Alaskan, Midnight Sun, Stone, Deschutes, Unibroue, Avery, Great Divide, Rogue, Full Sail, Sierra Nevada, and so on. Prices for American micros and craft are average for the state (think $5 for most good, mass release bombers), A big Belgian selection that is slightly pricey but pretty comprehensive for the South (i.e., Lower 48), much less Alaska. Some fun surprises at decent prices: a good selection of vintages of Thomas Hardys and J.W. Lees, for example.
Price and value is a little tough to evaluate: I paid $3.99 earlier today for a bomber of Stone Ruination which I was quite happy with, on the other hand, $15.99 for a six pack of (12 ounce) Ruination is stupid. When they have sales, they range from decent ($3.79 Rogue bombers) to excellent ($3.99 bomber of Great Divide Oaked Yeti; $32 750ml Baker's bourbon.) Generally the sales are better on liquor than beer. Some local and Alaska stuff can definitely be had at better prices elsewhere: six packs of basic, mass released stuff like Alaskan Amber for $8.99 and $9.99 is a little ridiculous. Midnight Sun Envy and Greed seem endlessly available here, which is nice, but at $5-$6 can be had for less elsewhere in town. And clearly they do more volume than La Bodega, so it's a little surprising to pay $0.20-$0.70 less per bomber for, say, Avery at La Bodega than Brown Jug. Overall, I'd say good prices when on sale, and tolerable the rest of the time, but nothing to cheer about.
A nice added bonus is the glass recycling dumpsters across the parking lot, since you won't find curbside recycling bins while wandering around half-drunk in Anchorage.
Expect 100% ID carding, of your entire group, if *ANY* of you look under 50. I truly don't mind (I'm somewhat over 30,) but I've seen people get a little pissy with them.
The staff at the registers are generally friendly and fun to talk to. The beer floor staff range from average, halfheartedly asking you if you need help, to abysmal (the older guy with the somewhat messed up eye, who has been a dick to me and to friends on more than one occasion without any provocation.) In general, the beer staff don't know any more than the average informed (BA) customer about the beer, and sometimes far less. A few times when I've asked if they expect to or might be able to get something, I've been shot down, or blown off and told to talk to a manager. I've stopped asking. So, sadly, while the cashiers tend to be pretty nice people, the service basically sucks (especially compared to La Bodega and Gold Rush.)
Other Brown Jug locations range from WAY less selection (downtown on 5th Ave near I Street, though it's a small shop) to decent (Spenard Road & Northern Lights, and Northern Lights & Lake Otis.) Prices seem identical between the locations. Prices at Brown Jug tend to be a little better than most Oaken Keg stores, and a little higher than Gold Rush.
Overall, it's often a location thing for me: where do I happen to be when I want to get tonight's fun beer? And if it's Brown Jug Warehouse, do I not expect to need any help whatsoever with finding something?
4,032 characters
Brown Jug Warehouse in Anchorage, AK
Place rating:
4
out of
5
with
11
ratings