Bacchus Cornelius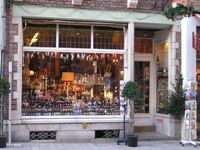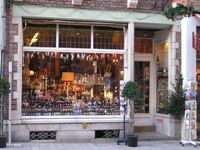 Store
Academiestraat 17
Brugge
, 8000
Belgium
+32 50 345 338 |
map
bacchuscornelius.com
Notes:
Reviews: 9 | Ratings: 11
Reviews by dirtylou:
4.1
/5
rDev
-4.7%
vibe: 4.25 | quality: 4 | service: 4 | selection: 4.25
Nice shop a bit on the north end of the inner core, but convenient to just about everything in Brugge.
As with many shops in Belgium, half the fun is poking around in the nooks, crannies and corners trying to take inventory of what may be hiding out of your site. A fair selection of lambics, but nothing completely out of the ordinary. One or 2 fantomes, including the infamously horrific Magic Ghost. A decent stash of De Struisse brews too, but I assume you're better off from a selection and price standpoint at the proper De Struisse shop
544 characters
More User Reviews:
4.6
/5
rDev
+7%
vibe: 4.75 | quality: 4.5 | service: 4.5 | selection: 4.75
Best selection in town for rare or vintage offerings. Markups were reasonable. Bottles are kind of strewn about and it made for fun treasure hunting. The staff is super helpful as well in terms of tracking things down and pricing (a lot of bottles are not marked).
264 characters
4.25
/5
rDev
-1.2%
vibe: 4.25 | quality: 4.25 | service: 4.25 | selection: 4.25
This place stands out in Bruges because while it is a little on the expensive side it was one of the only spots with different, unusual, hard to find or more coveted selections. Almost every other place in town has the same stock. This shop had limited Cantillon, Struise and Drie Fontenien beers, enough said. Service was also warm and helpful.
345 characters
4.56
/5
rDev
+6%
vibe: 4 | quality: 4.25 | service: 5 | selection: 4.75
A bit pricey compared to other shops in Brugges. Easy comparison was the uptick on the price of Westvleteren compared to other shops in the town (literally every shop had some). The woman that was running the place was very helpful and knew much about the beers. Liked that she made sure that I really wanted Westy 8 and blonde, not the 12. Basically expected that the 12 was what everyone would want.
401 characters

3.75
/5
rDev
-12.8%
vibe: 3.75 | quality: 3.75 | service: 3.75 | selection: 3.75

4.53
/5
rDev
+5.3%
vibe: 4.5 | quality: 5 | service: 4.5 | selection: 4
Just off the main square in Brugge, Bacchus Cornelius sits on a busy street with a hanging beer sign above the door. The extravagant window displays indicate what's inside.
During a recent trip to Belgium, I visited a number of bottle shops in both Brugge and Brussels; this was by far my favorite. I didn't seem to find much rhyme or reason to the shelves (besides beers vs glassware), but that added to the experience of searching through bottles. It wasn't the largest selection, but the quality of bottles was tremendous. My purchase consisted of a De Dolle Mad Bitch, Cantillon 100% Bio Gueuze, and a De Cam Kreik. The girl working the store was also very helpful and friendly, and talked with me for a few minutes about a number of beers. If going to Brugge and want pick up some bottles, definitely hit up Bacchus Cornelius.
833 characters
4.35
/5
rDev
+1.2%
Brugge is full of Beer Shops, I think this is the 4th I've reviewed on here!
Always reminds me of a dispensing chemists with its glass topped counter on the left as you walk in and the high shelving on the right. The only drug they sell however is alcohol.
There is a backroom, also full of beer, but not so dispensary in appearance. Glasses, ties and other beery stuff is also available.
Friendly and stocking a few beers the others guys don't. My advice is to check them all out if you have the time and buy a couple from each place if you must, but please use the joints like this and Bierboom otherwise the city centre ones will get all the trade.
654 characters

4.5
/5
rDev
+4.7%
I had not known about this shop until my last trip to Brugge with my wife, bro and his fiance. We stumbled upon it on our walk from our B&B to the center of town. The atmosphere in here is really nice with bottles spread all over the store from front to back. I picked up a cool special edition Duvel glass and noted several other great glasses and bottles as well. In the back I ran across a bottle of Black Albert and several vintages of Gouden Carolous Cuvee. Prices seemed reasonable and the shop owner was very nice. I took home a brochure from the place and found out that they have a tasting bar where you can try beers you bought which is cool. Will have to try that on our next trip.
692 characters

4.65
/5
rDev
+8.1%
This is my favorite of all the beer places visited in Brugge, mainly because of the atmosphere. The Westy 12s were twice as expensive there as at the Bier Temple though, so make sure you shop around if you're looking for a Westy.
I was greeted by the nice young woman who owned the store (her husband owns the chocolate place immediately nextdoor). I told her I was looking for some glassware and she took the time to help me find everything I was looking for. She also had some vintage Westmalle glasses and one vintage St. Sixtus in the backroom that she brought out for me when I asked if she had any rare items. She then individually wrapped the 6 glasses I bought, and then put each of those into an empty crate for me to take home. Nice quiet place to do some beer shopping. Highly recommended!
801 characters

4.3
/5
rDev 0%
I really liked this beer-shop. First off, the service was wonderful... was greeted by a very nice young lady and young man who offered some assistance but also gave leeway for me to just browse around. About the time I was ready to rifle off some questions, they would go out of their to either find some of my requests in their cellar, or at least recommend something comparable. The selection was pretty good... not as extensive as a few others, but they had some true gems in there. Pricing was also very reasonable. Overall impression is that I'll be going back to this beer-shop my next stop-over in Bruges.
612 characters
Bacchus Cornelius in Brugge, Belgium
Place rating:
4.3
out of
5
with
11
ratings