Quick 6 Beer & Food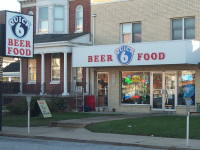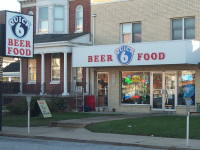 PLACE INFO
Type:
Eatery, Beer-to-go
1510 W Market St
York
,
Pennsylvania
, 17404-5415
United States
(717) 846-8646 |
map
Notes:
No notes at this time.
Added by wesblount on 12-13-2006
Ratings: 11 | Reviews: 9
Reviews by Slatetank:
3.95
/5
rDev
+13.5%
vibe: 4 | quality: 4 | service: 4 | selection: 4 | food: 3.5
When I first moved to York, PA this was the first six pack shop I went to. It basically looks the same 11 or 12 years later. I like the way the place is set up and have spent time relaxing in the back with a cup of homemade soup and ale. When you walk in there is a lot of space and place to get draft beer with growlers, hot sauces and seasonal products. I saw at least six varieties of Fests when I visited yesterday.
I got friendly service and was pleased with the easy to read pricing. The guy behind the counter and I talked briefly about Dogfish head and I was taken care of quickly. I remember a time when the had Quick six glasses as a gift with purchase, which was cool. I used to live about a mile from the location which is near the fairgrounds in York, so it was hard to stay away for too long.
The selection is good, but there are other places that have much better selection that I have been to recently. I do like the way the imports - Belgians, German, English, and the rest are grouped. I think they carry a lot of malternatives and macros, but it has a lot to do with the area also. The draft selection is about 6 beers 3 micros - Troegs, Lancaster, Hook and ladder and Yuengling and a couple macros. I picked up a mixed six and a six of Troegs for about $25.00 but a couple of those were high gravity beers so It is pretty reasonable.
I will continue to support Quick six since the food is great, the atmosphere is that of a family restaurant-relaxed and they continue to carry decent beer like DFH, Rogue, Troeg's, Magic Hat and Sierra Nevada. For a place that's less than 5 miles away you really can't complain.
Edit - I recently returned and found the selection to include beers from Maine and more seasonals like Saranac Oatmeal, Sierra Nevada ESB and the Longshot sampler up to 5 from 3.5 considering I was able to taste new local Spring House here first.
1,888 characters
More User Reviews:

3.71
/5
rDev
+6.6%
vibe: 3 | quality: 3.5 | service: 4 | selection: 4
I didn't eat here so I can't speak for the food. Vibe was a little off putting, I didn't get a greeting when I walked in the store and there were two workers chatting up a storm (and swearing throughout). The staff did later answer a couple questions I had though and they were helpful. I found some cool stuff that not many other stores in the area stock, and they let you make a six pack out of any of their singles. My biggest issue was there weren't clear prices marked for a lot of what I was interested in so I kind of took my chances and ended up paying more than I would have liked. I found one 2 year old stout (in which case being old actually improves it!) so check the dates.
687 characters
3
/5
rDev
-13.8%
vibe: 3 | quality: 3 | service: 2.75 | selection: 3.25


2.28
/5
rDev
-34.5%
vibe: 2.5 | quality: 2.25 | service: 1.75 | selection: 2.75
I live in York and this was always my "go to" for craft sixers and random new bottle. I remember paying $10 for a bottle of Arrogant Bastard a few years ago when craft brews were really beginning to go mainstream. The bombers are way overpriced and you can tell they've been sitting there for a while. The selection is limited compared to bottle shops in Maryland and Eastern/Western Pa. Service is non-existent and often the prices of some beers are a mystery until you reach the register and it empties your wallet. Any place that I pay $13 for a World Wide Stout is obviously not in business to advocate beer but to turn a profit on a growing industry.
I'd like to open up a challenge to those in York. Open a better bottle shop than what we have. It's much-needed. Thank you. If you're interested in this, let me know. I would love to open a beer-minded shop to supply a proper experience to fellow York BAs.
914 characters

2.81
/5
rDev
-19.3%
vibe: 3 | quality: 2 | service: 3 | selection: 3.5
I stopped in to Quick 6 looking for some bombers and was very dissatisfied with my experience. Quick 6 and a sub shop and there are ovens in the front of the building making it about 77-80 degrees in the shop. The beer was not in a cooler so it was exposed to both heat and light all day. I realize this is a problem in most bottle shops but I try to avoid buying beer that is sitting in uncomfortably warm temperature. Their selection was average to slightly above average but the prices are so unreasonable that I will never shop there. I like trying new beers but I can wait until I can find them at a reasonable price (most likely when I travel outside of PA).
664 characters

4.15
/5
rDev
+19.3%
A small little six pack shop. They have coolers filled with a lot of BMC stuff, but they also have a good amount craft bombers and 6 packs available. There are not a ton of items, but enough to get a fix if you are craving some easy to find craft beers. Troegs, DFH, Weyerbacker, Stone, Rogue and Sierra Nevada are the main craft products on sale. Every beer I looked at was fresh. They also have a small area of beers that are not in a cooler. A better selection here. In addition, they do have a few beers on tap.
The staff is extremely friendly and knowledgable. That is a huge plus to have some friendly service!
Not a bad place to stop and get some bombers or 6 packs. For the most part you won't find those 'rare' beers, but it has ample selection to cure your craft fix.
779 characters
4.5
/5
rDev
+29.3%
Its been awile since anyone reviewed this place so i felt the need for an update was in order! This lil place is on the way up. An increasing number of micros, as well as some hard to find bottles (SN Fritz & Kens, Stone R.I.S., even picked up a Brookly Black Ops here last week!). The staff is very helpful, and they know their beer. If there is anything u can think of that they dont have they will try to bring it in for you (just inquired about Southern Tier Choklat and Mocha, and am pleased to report that those beers are on the way as I type). If you havent been there for awhile, check it out, you wont be sorry you did!!
629 characters
3.5
/5
rDev
+0.6%
vibe: 3.5 | quality: 3.5 | service: 4 | selection: 3
Stopped here on a recent trip to York. The store was smaller than expected, with restaurant seating towards the rear. The establishment seemed clean and well maintained. The coolers however contained at least 65-70% macros. There are micros and seasonals, as well as a small selection of imports. All beers were available as singles, a big plus. The staff was pleasent and helpfull. The prices were about on par for PA, meaning about 20% to high. Overall a decent but small and limited place to shop.
500 characters
3.85
/5
rDev
+10.6%
I was looking for Stegmaiers Holiday Ale but was able to find it at a beer distributer in York. While I was there I decided to stop at the two Quick 6 stores to see what they might have. I have to agree with everything that Phatz said about this place.They have a nice selection of Belgiums, as well a good number of Eastern Pennsylvania microbrews. The stock looked fresh and was neatly arranged and well labelled as to price. Prices were preety comparable to other six-pack stores in York or Lancaster. Probably worth a stop if you are in the area but not worth making it a destination.
588 characters
4
/5
rDev
+14.9%
What an interesting place. It is worth a visit *if* you are in the area. As far as great beer stops in West York, I don't know of many so it is nice to see even a small place putting forth a great effort. Enter. Clean, well lit friendly and inviting. Greeted with a warm smile and a "Let me know if there is anything I can help you find." The service was exceptional. I explained my interest in craft beer and locating sources to acquire it. She was very helpful and knew about craft beer and the breweries they could get beer form. They have the full line from Lindeman, Ommegang - Duvel, Chimay, all the PA micros Tröegs, Victory, Weyerbacher, LncBC, Penn, ABC, and regionals - DFH (including the top shelf ones like D'extra), Magic Hat, RedHook, Rogue and of course SA & SN. They had the Anchor beers and Great Divide and a few from out west that she said they can get more of. They even had two or three Belgian Lambics that even I did not recognize.
The best thing about Quick 6 is they will fill growlers. Draft beer to go at 6-pack shop? That's right. They have six tap handles with four craft beers on tap. Tröegs Mad Elf, Rogue Dead Guy, and Anchor OSA Christmas. The woman serving also knew and cared about beer telling me that this years OSA is going of much better with many people than last years. She thought Last years is better now with a year on it; the spices have mellowed out a bit, but this years is great fresh.
Write or wrong doesn't matter this is a place that cares about beer. Same owner as the other location on Mount Rose Ave and one time owner of the Location that is now Thirsty's.
In addition to beer they have a menu of hot and cold sandwiches and soups. They have a few seats to eat a sandwich but not quite a beer bar per se' but it is quaint. If I worked around the corner I might be tempted to sneak an OSA with my sub at lunch break ;-)
So don't cross the ocean just to go out of your way to get here, but if you are in the neighborhood. Stop in.
Hope this is helpful.
Cheers!
2,029 characters
Quick 6 Beer & Food in York, PA
Place rating:
45.5%
out of
100
with
11
ratings