Struise / Mikkeller (Elliot Brew)
| De Struise Brouwers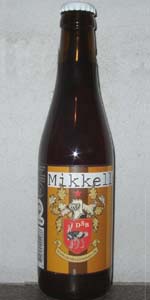 BEER INFO
Brewed by:
De Struise Brouwers
Belgium
noordhoek.com
Style:
American Double / Imperial IPA
Alcohol by volume (ABV):
9.00%
Availability:
Rotating
Notes / Commercial Description:
Brewed at Deca Services, Woesten-Vleteren, Belgium.
Ingredients: Water, malt, hops, candy sugar, ale yeast and spices.
According to the brewers, this is the hoppiest beer ever brewed in Belgium.
Added by BeerAdvocate on 10-29-2007
Reviews: 288 | Ratings: 421

4.38
/5
rDev
+11.5%
look: 4.5 | smell: 4 | taste: 4.5 | feel: 4.5 | overall: 4.5
Appearance: It's extremely cloudy with small chunks of sediment floating around. Color is golden brown. Wow! What a head! It's a whopping three fingers deep and with lace that sticks to glass like glue. It has quite possibly the best retention I've seen to date. The head lasted throughout consumption.
Smell: Loads of grapefruit and mango sweetness hit you up front. Caramel malt and brown sugar blend well and give the aroma of balance. Hops are a bit floral and piney in character. Interesting mix. A bit of a bready-yeast emerges last.
Taste: Sweet citrus flavors are deep and sweet. Much deeper than the smell would suggest. There's grapefruit, pineapple, apple, pear, and mango. Caramel malts give it a great backbone. The bitter flavor emerges once hops kick in, but it's not overwhelmingly bitter. There definitely is a floral character to the hops. It really is a unique (and very good) flavor for DIPA. It finishes bitter and dry. Leaves a bit of a bready taste.
Mouthfeel/Drinkability: It's medium bodied and carbonation is excellent. Drinkability is very high considering its stature. I find myself wanting another. The 11.2 oz. just isn't quite enough. This is a unique DIPA that's well worth a try. It's my first experience with Mikkeller and I'm walking away impressed. Seek it out.
★
1,300 characters
4.03
/5
rDev
+2.5%
look: 4.5 | smell: 4 | taste: 4 | feel: 4 | overall: 4
The bottle pours into my tulip glass a somewhat hazy amber with orange highlights. A big, frothy creamy head rises with the pour and lingers, leaving sticky lacing trails across the side of the glass. Aromas start with a good mix of citric, herbal and earthy hops. There's a nice caramel, somewhat bready malt underneath. Spiciness comes across in the nose and works well with the sweet tinge. Quite fruity as well. An interesting take on the style.
First sip brings a sweet caramel malt upfront followed by a fruitiness. The hops roll in with citric, herbal and earthy tones intermingling. As it flows down a spicy quality emerges along with yeasty tones that's quickly followed up by a solid blast of bitterness that cuts through the sweetness of the brew. The brew finishes with linger hops atop a mix of sugar and spice. Tasty.
Mouthfeel is medium bodied with a nice creaminess about it and solid moving carbonation. Goes down rather easily for a 9% brew and lends itself to being quite drinkable. The sweetness does a good job of counterbalancing the bitterness. Overall, I can't say I've had a Imperial IPA from Denmark or Belgium before, but this one hits the spot and is a tasty rendition!
★
1,199 characters
4.22
/5
rDev
+7.4%
look: 3.5 | smell: 4 | taste: 4.5 | feel: 4.5 | overall: 4
This imperial IPA from Mikkeller and Struise pours a bright amber orange color. The head is light beige, massive, gooey, and just might be permanent. The aroma is of orange, apple and spice. The flavor is both sweet and bitter. The hop profile is fruity and earthy and has quite a bitterness to it but not as big as the 130 IBUs claim. The sweetness comes from the candy sugar, and the toasty and caramel malts. The yeast and added spices provides an underlying fruit and peppery tone that is pervasive from start to finish. The brew starts juicy sweet, goes to hop bitter then finishes dry. It is very well put together and the best Danish Imperial IPA I have ever had :-)
★
673 characters
4.28
/5
rDev
+8.9%
look: 5 | smell: 4.5 | taste: 4 | feel: 4 | overall: 4.5
Did a complete double take when I saw this on the beer menu at Max's the other day. A collaborative effort between Struise and Mikkeller??? How cool is that!
The beer pours a hazy rust color with outstanding head retention and lacing. The beer has a beautiful IPA nose with lots of citrus; in this case lime, lemon and grapefruit. The beer is very complex on the palate, although not as hoppy as I would expect (and like) for a DIPA. However, the flavor profile in this beer is otherwise pretty unique, with flavors of orange, cherry, walnut, quinine and even grape cool-aide. The beer is quite well balanced IMO, and is very drinkable for its abv. The beer has a medium bodied mouthfeel and finishes quite well with a hint of caramel. As noted above, the abv. is pretty well disguised, and the beer does not taste like a 9% abv. beer.
A very solid effort. Exactly what I would expect from these fine brewers.
★
911 characters
4.13
/5
rDev
+5.1%
look: 4.5 | smell: 4 | taste: 4 | feel: 4 | overall: 4.5
This pours a tawny orange amber tone into a fluted Bokrijk tulip.
After a couple gentle pours and sips, the bottle was upended into the glass, forming a poofy meringue head above the rim of the glass. Foam inside the glass is sparkly and sudsy.
Gentle fruit aromas of pear and lemon, some grassy hay too. After a few sips, it reminds me of an IPA version of Moinette. Soft flavors of pear, low candi sugar sweetness, with some dry, spicy hops in the middle and toward the end. Aftertaste is only mildly bitter. Body isn't overly carbonated or syrupy, it's rather mild for a DIPA. Interesting choices of hops and yeast give this a unique character, definitely worth a try. Alcohol is hidden until you start feeling it midway through the glass.
If there were some magical way to get this ultra-fresh (without a plane ticket to Denmark), I would jump at the chance to try it.
★
877 characters
3.78
/5
rDev
-3.8%
look: 4 | smell: 3.5 | taste: 4 | feel: 4 | overall: 3.5
This brew pours a hazy, golden amber color, with a single finger of foam. As the foam dissipates, it leaves big gobs of lacing on the glass. Smell is of a bit of fruit, some earthy hops, some sweetness, and some flavors I can't quite pin down. Taste is much more diverse, as a variety of fruit comes in and out of the mix. Hops are dominant as well, with a grassy, earthy flavor blending with the overall fruitiness. A malty sweetness is present as well. Alcohol's a bit hotter than I'd like in this, but not overpoweringly so. You know it's there. It's thick and viscous, almost more barleywine-like than a DIPA, with a smooth finish and long-lasting flavor. It's a solid DIPA, but not something I'd want to have more than one or two of in a night.
★
749 characters
4.03
/5
rDev
+2.5%
look: 4.5 | smell: 4 | taste: 4 | feel: 4 | overall: 4
Poured from an 11.2oz bottle into a Hommelbier tulip.
A: Pours a hazy, glowing, bright-orange color with a creamy, towering, four-finger head that's slightly off-white in color. This just destroyed the glass with lace!
S: Interesting blend of aromas. Alcohol, grapefruit, pear, candi sugar, fruity Belgian yeast, caramel, sweet malt, and apple. The scent of freshly mown hay pops up as it warms.
T: Sweet candi sugar, lightly toasted malt, caramel, apple, and grapefruit, right off the bat. Towards the middle pear, spice, and alcohol begin to emerge. Very earthy hoppiness.
M: Starts off pretty juicy and sweet but takes a sharp left turn and becomes quite dry, bitter, and peppery as the middle and finish progress.
D: Really pretty good. The alcohol presence was a tad strong but not off-putting. Would like to drink more of this if it weren't so stoopid expensive!
★
874 characters

3.26
/5
rDev
-17%
look: 4 | smell: 3 | taste: 3.5 | feel: 3 | overall: 3
An unfiltered looking amber bordering on russet color. Pours with an overly large head, creamy as hell and lasting forever leaving a thick layer of gummy lace.
Nose seems to be laid back and just lacking overall. A big spicey orange peel aroma with a dusty earthy hops and stone fruit underlying. Just lacking that standout quality that smacks you in the face nose wise.
A good solid beer. Not overly bitter but a good amount of hop punch in the middle and into the finish. Again nothing really sticks and jabs at you. Very laid back perfumey and spicey with peach and nectarine with a yeasty appeal. A little thin and big alcohol burn on the finish. A good beer but just not stand out.
★
688 characters
3.75
/5
rDev
-4.6%
look: 4 | smell: 4 | taste: 3.5 | feel: 3.5 | overall: 4
11.2 oz., 9% ABV, 130 IBU. Amber color, with some gold highlights. Lots of bubbles streaming from the bottom. Thick pillowy white head. Great retention, and nice patches of lace.
Nose full of citrus fruit and spices. Some candi sugar sweetness detected as well.
Caramel malt base with some canidi sugar. Citrusy bitterness, with some spices that give it a bit of a Belgian feel. Leans more on the hoppy side, but 130 IBU seems exaggerated to me.
Frothy carbonation, with a lighter body in feel. Interesting . Some warming from the alcohol.
★
544 characters

4.33
/5
rDev
+10.2%
look: 4.5 | smell: 4 | taste: 4.5 | feel: 4 | overall: 4.5
A-Cloudy golden robe with a thick cap that slowly fades, but lingers.
S-Heavy hops on the nose, with citrus tones, in addition to rich apricot, spice, and honey.
T-Very pleasant mix of spice, golden, dry fruit, and hops. This brew combines the characteristics of a blonde with extra hops, and the result is pleasing. The taste is rich and sweet, but not cloying, and the finish is clean, rinsing away the sweet nectar-like palate with well-balanced bitterness. A fellow taster said it reminded him more of a trippel, which is right on, and seems to agree with other tasters' descriptions.
M-The smoothness and creaminess are deceptive. It's hard to believe this is 9% abv.
D-I enjoyed this one. It is both interesting and good, and it goes down easy.
★
757 characters

4.23
/5
rDev
+7.6%
look: 4.5 | smell: 4 | taste: 4.5 | feel: 4 | overall: 4
Poured a light golden orange color with a very fluffy white head that builds up to several inches tall and stays there as I continue to sip this one. Smell is of plenty sweet malt with a lot of Belgian yestyness to it. The Double IPA style is very apparent with plenty of citrus notes like lemon and lime. Taste is very sweet with the candi sugars and the citrus notes following the smooth mouth feel. A very nice American style by two of the hottest breweries in Europe at the moment.
★
485 characters
4.46
/5
rDev
+13.5%
look: 5 | smell: 4 | taste: 4.5 | feel: 4 | overall: 5
Bottle states: Special Brew by Struise and Mikkeller as a tribute to joint ventures. Brewed and bottled at Deca Brewery, Woesten-Vleteren, Belgium. RateBeer Special release Worldwide Master's Series. SM No. 12 - Elliot Brew
I poured a 330 ml white capped bottle into a chalice.
A: It poured a massive three finger slightly off white head with a blend of giant and dense small sickly bubbles that slowly receded to a full thick cover over the liquid and left a dense thick curtain.The body was a dense and cloudy golden-orange.
S: It had lots of gently toasted malts and yeasts as well as floral and citrusy yeasts and white spices.
T: This is a complex brew that has a bready malty initial flavor complemented by lightly lemony citrusy hops and a subtle blend of white spices. The alochol is well hidden but leaves a nice clean and warm aftertaste.
M: Creamy and medium bodied with a smoot full balance of malts, yeast and hops.
D: Smooth and creamy. Wonderfully easy brew to consume. Very trippel like characteristics. I could easily take this one long into the night.
★
1,077 characters
4.06
/5
rDev
+3.3%
look: 5 | smell: 4 | taste: 4 | feel: 4 | overall: 4
Bottle courtesy of fonefan: Poured a dirty hazy beige color ale with a super huge foamy head with excellent retention and some great lacing. Aroma consists of Belgian sweet malt with an interesting mix between some floral hops and some citrusy hops. Taste is an interesting mix between on one side: spicy yeast and medium sweet Belgian malt base with on the other side some very nice floral hops with a medium citrusy grapefruit bitter ending. Full body with great carbonation and no apparent alcohol. It kind of reminds me of Triple Chouffe with less intensity and a more balance approach.
★
590 characters
Struise / Mikkeller (Elliot Brew) from De Struise Brouwers
3.93
out of
5
based on
421
ratings.