Struise / Mikkeller (Elliot Brew)
| De Struise Brouwers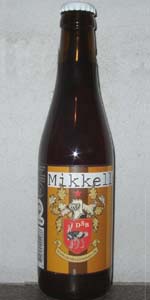 BEER INFO
Brewed by:
De Struise Brouwers
Belgium
noordhoek.com
Style:
American Double / Imperial IPA
Alcohol by volume (ABV):
9.00%
Availability:
Rotating
Notes / Commercial Description:
Brewed at Deca Services, Woesten-Vleteren, Belgium.
Ingredients: Water, malt, hops, candy sugar, ale yeast and spices.
According to the brewers, this is the hoppiest beer ever brewed in Belgium.
Added by BeerAdvocate on 10-29-2007
Reviews: 289 | Ratings: 422
3.17
/5
rDev
-19.3%
look: 5 | smell: 3 | taste: 3 | feel: 3.5 | overall: 3
Bright dark orange colored beer with a large frothy, long lasting head that could only come from Belgium. Nose shows traces of fruity hops (peach, nectarine.) It's a sweet, sugary beer with a slightly diminished, but bold hop presence. Notes of peach, with a touch of lemon. Out of balance and a bit to sweet for me.
316 characters
3.11
/5
rDev
-20.9%
look: 5 | smell: 4 | taste: 2.5 | feel: 3.5 | overall: 2.5
11.2 oz. bottle,
A: Pours a cloudy burnt orange, with a full, fluffy white head and plenty of Belgian-style lacing.
S: Ripe hops, the smell of fresh grapefruit, and sugary candy.
T: Bitter melon and pine, some cantaloupe, mixed with yeasty Belgian beer is what it tastes like. Not sure the malt really melded well with the hop character, it was just all right for me.
M: Full, but light carbonation, fairly medium-bodied, and very resiny.
D: An interesting beer collaboration, but at $8+ a bottle, I don't think I'll buy it again, but I'd drink it again.
559 characters

3.08
/5
rDev
-21.6%
look: 3.5 | smell: 3 | taste: 3 | feel: 3.5 | overall: 3
Pours a deep almond color, by far the darkest IPA I have ever seen. Massive creamy colored head forms and does not go anywhere with at least a finger of froth. Foamy lacing sticks to glass all over and reminds me of shaving cream. Hazy due to the yeast and pretty much opaque.
Smell is interesting. Lots of dark fruits and molasses. Less hop than expected yet still some pine and floral notes.
Flavor is all over the place. Hops start things off with a solid soapy, pine-like punch. Dark fruit flavors of dates and raisins along with molasses sweeten things up. There is even a hint of roasted malt in the end which tastes like wheat toast and almond. Interesting combination of flavors but not true to the style.
Full bodied with a slick texture. Semi-low carbonation but this is fitting. A little on the heavy side for a DIPA.
It is interesting to see a Belgian brewer make an American style beer. Don't get me wrong, I do like this beer. It has a very complex flavor profile which is well balanced. I gave it average marks because it simply does not fit the style. It was too dark, too sweet, slightly too thick and was lacking the hop dominance and crisp, dry finish that I expect out a DIPA. That said, I still enjoyed it.
1,231 characters

3.07
/5
rDev
-21.9%
look: 3 | smell: 3.5 | taste: 3 | feel: 3.5 | overall: 2.5
Had this tonight thanks to jac5084 and poured into two glasses...
A: Pours a very light muddy brown. Not very appealing look. It also pours with a four finger tan head. Tons of thick yeast sediment floats in the glass.
S: Very spicy hops. Smells like Hallertau or Saaz. Very floral and with some clove, skunky aromas, and spices. Not many hops.
T: Very sweet with honey, stale bread, caramel, and some spice. There is an astringent skunk aftertaste that lingers in your mouth FOREVER. Very bad aftertaste that lingers.
Overall, I'm sure this was better a bit fresher, and I'm glad I tried it, but not one of my favorites.
625 characters
2.97
/5
rDev
-24.4%
look: 2.5 | smell: 3 | taste: 3 | feel: 3 | overall: 3
Appearance: hazy. Lacing. Dark brown color. doesn't look appetizing.
Smell: can't tell of anything here at all. ever so slight malt aroma. no hops.
Taste: nice flavour of hops here. good balance with the malt.
Mouthfeel: heavy. Not doesn't match the style.
Overall: Might order again but doesn't match the style very well.
329 characters
2.84
/5
rDev
-27.7%
look: 4 | smell: 2.5 | taste: 2.5 | feel: 4 | overall: 3
11.2oz bottle poured into a pint glass.
Pours a cloudy dark amber/copper with a big fluffy/sticky light brown head. Nose is a bit off-putting, it's slightly medicinal and a bit hoppy with yeast dominating.
Ehh. Mouthfeel is nice, lots of sharp carbonation. However the taste is not an IIPA, it's a bit bitter sure but it's got some really funky belgian flavors here that are really throwing it off. It almost has a urine after taste to it. borderline drain pour, don't seek this out. Skip it and get a bashah.
511 characters

2.81
/5
rDev
-28.5%
look: 4.5 | smell: 3.5 | taste: 2.5 | feel: 2 | overall: 2.5
Bottle served into Struise stemware. This was the 2009 vintage, "SM No. 12". Reviewed in Belgium in Summer 2011. Reviewed from notes. I love both breweries so expectations were high.
A: Pours a one finger head of amazing cream, brilliant thickness, and incredible retention (over six minutes before I couldn't wait any longer) for the style. Semitransparent ruby colour. Incredibly appealing.
Sm: Bright light fruit esters. Very pleasant. Raspberry, cherry. A bit musty, but it's three years old. Yeasty. A moderate strength aroma.
T: Bright fruit esters - mainly raspberry. Cherry as well. Darker fruit is more buried, and likely was helped by the aging. Complex and delightful. The yeast is a bit unpleasant - I'd pour without it if possible. Adds some astringency. The alcohol comes through in the taste a bit, which is unpleasant. Sort of musty, but it aged well. Hoppy but sadly imbalanced. I expected more from this beer. Built pretty well for the style, but far from exemplary.
Mf: Coarse in the second half and even a bit dry on the finish. Smooth and wet in the open. Balances well and suits the style, but doesn't complement the general tone of the flavours in the body.
Dr: High ABV, hard to drink quickly, and at a high price by Belgian standards (6 euro). Too yeasty; I don't know if aging was a good idea. The mouthfeel spoils it. Far too coarse.
1,370 characters
2.78
/5
rDev
-29.3%
look: 4 | smell: 3.5 | taste: 2 | feel: 4 | overall: 2.5
Brewed for ratebeers Worldwider Master Series by the Struise Brouwers and Mikkeller at Deca Brewery in Belgium.
A: Large head which lasts long, misty amber coloured. Looks great
S: Very hoppy, a hint of fruits. Smells pretty spiced too.
T: I'm not used to this kind of beer, very very bitter. The bitterness hides most of the other flavours, i'm apparently supposed to pick up, altough i taste a hint of rock candy.
M/S Carbonation is fine, alcohol isn't really noticeable "thanks" to the bitterness
Overall I really don't like this beer, but i guess it has more to do with me and this style than the beert itself.
I'll give 2 for taste to be a bit neutral, but if I were to be completely honest I would give it less. This just isn't my cup of tea.
755 characters
2.68
/5
rDev
-31.8%
look: 3.5 | smell: 3 | taste: 2.5 | feel: 2.5 | overall: 2.5
11.2 oz bottle from batch A-3-09. No idea what that means!
Pours a dark muddy orange that leans hard towards brown. Head rises to a good half inch of white then settles to a thin but nearly complete cover.
Smells of bread, sugar, and light orange. Fruity esters from the Belgian yeast are also present.
Booze and astringency is present throughout. Big doughy breadiness, some faint citrus hops, and yeast. Bitterness is firm but fair and not overpowering.
Light and dry with a yeasty blanket to wrap the proceedings.
Meh, one and done if I finish this bottle. Grappling with the price tag I had a feeling this might let me down. I'm not a big fan of Euro hop vehicles and this is no exception.
700 characters

2.61
/5
rDev
-33.6%
look: 3.5 | smell: 2.5 | taste: 2.5 | feel: 3 | overall: 2.5
After pouring this beverage into my specially designed Dogfish IPA glass, I'm looking at 3/8 glass of copper-toned beer and 5/8 glass of foam that would make Mr. Bubble envious. The head is so unbelievably thick. This was a new arrival days ago at my local spot, and I've done nothing other than put it in the fridge. It comes from a long way away, but I don't understand this head. As it settles and I add a BIT more of the liquid from the 11.2oz bottle, the head foams to beyond the rim of the glass; fortunately, it's so thick and bubbly that it doesn't even spill as it continues to sit higher than the top of the glass. The head looks like foamy shaving cream, but the beer underneath it looks pretty good.
I have some difficulty smelling the beer because there's so much gosh durn head. Directly smelling the bottle offers that candied sugar odor, reminiscent of cotton candy. This is a sweet-smelling IPA, and I notice the label says "Belgian Beer." I suppose that's more origin than style.... Unfortunately, I don't smell the grapefruit or any other hop characteristic. I smell candied sugar.
The taste is certainly unique: the initial effect is a pleasant sweetness--not nearly as overpowering as the smell suggests. The aftertaste, however, is like a rubbing alcohol. It's not like a nice kick from a powerful alcoholic beverage, but a medicinal edge that makes me react like a kid: I don't want any more medicine.
I want to credit the mild sweetness. Based on the smell, that's where I really know the hop presence exists--if it weren't for considerable hops, this would be liquid cotton candy. I can't detect what spices are present. There's something in here that really tastes like a medicine. It's like a root. I want to make a guess, so I'll guess ginseng. Yep, there's ginseng root in this here beer.
As a pour the last sip of this beverage into my glass, I'm again impressed by the foamy, creamy-thick head. It's like frothed milk on a cappuccino. When judging drinkability, there's agreement that it's vaguely how much you appreciate the overall drinking experience. When the foamy head is the most oddly impressive thing about a beer, what does that say?
2,178 characters
2.6
/5
rDev
-33.8%
look: 5 | smell: 2.5 | taste: 2 | feel: 2.5 | overall: 3.25
I"m assuming this is the right beer, image on beeradvocate and the bottle vary a bit and this beer is simply not named. Either way double IPA with candi sugar and spices to mix things up and brewed for some ratebeer crap. I mean yeah I mean crap.
Do you like head? Well we have your perfect beer. 3-4 inches of thick white sticky sugary head, lacing that few beers can match and a merky all be it wonderful looking IPA body.
Sugary is right, you can get a sugar high just off the aroma with aprocotes, spices, caramel, and intensely sweet sugar this is an interesting beer.
There's so much sugar here that a beer with 130 ibus only has a lingering hoppy bitterness at the very finish that lingers thanks to the body. Or maybe a beer so hoppy that it remains slightly bitter even with so much malt. Your call. Sharp alcohol and hop notes are hidden under a massive amount of sugar, caramel, fruity esters (perhaps from yeast and not hops, it is hard to tell), and well hop flavors.
Given the head I expected a rich and creamy beer. Instead it is a bit sharp and very acidic. It still is a bit ore refreshing that many 9% beer so mixed feeling here.
I really can't recommended this beer. It isn't bad and it is a HUGE beer so that might work for many, most. Either way I like and I dislike. I'd say a novelty beer that isn't awful and thus worth a shot, but don't expect too much.
1,386 characters

2.55
/5
rDev
-35.1%
look: 4 | smell: 1.5 | taste: 3 | feel: 3.5 | overall: 2
Poured into a MJ tasting glass. Pours a slightly hazy copper with a huge, big bubbled, very light tan head of about three fingers. Head slowly drops.
Aromas of feet, yeah, feet, musky, earthy, tobacco, wet dog. What the hell is in this beer?
Flavors of earthy hop bitterness, some big malt backbone. Grassy and herbal. Finish is long and bitter.
Mouthfeel is puckering bitterness, mouthcoating bitterness. Dry. Body is medium.
Overall, flavors are better than the aroma. But to me, it's just a mess. Must be the spicing. Glad I got to try it, but won't be coming back.
572 characters

2.46
/5
rDev
-37.4%
look: 4 | smell: 3 | taste: 2.5 | feel: 3 | overall: 1
Vintage 2009.
This beer exploded with foam when I popped the cap. Poured into my glass, the head just kept rising and rising. Took a few minutes to pour the whole thing out. Great retention though, and it left beautiful sticky lace all over the glass as I sipped. Smells like toffee, caramel, and warm syrup. The citrus/pine I was expecting is absent. Huh.
The mouth was a little flat and under-carbonated. The explosion on opening may have lessened this characteristic. This is a very syrupy beer, almost chalky. The bitterness was very dull and grating, but it was big. No citrus flavors at all. Just a sugary, syrupy, weirdly bitter mess. Wow. I had huge expectations for this, but it let me down big time.
712 characters
2.18
/5
rDev
-44.5%
look: 3 | smell: 2.5 | taste: 2 | feel: 2 | overall: 2
A - 1 finger creamy head, cloudy brownish tinge of amber.
S- sweeet! No, literally, sweet. a very respectable nose of misc hops.
Taste/Mouthfeel - Mehhh. :( Watery thin viscosity. The taste does linger as stated on the label. But thats about it. 216 IBU's? This makes me wonder who tested it or how old this batch is: Bottle says: Vintage 2011 SM NO.
Overall - Meh. Meh. Meh. Don't get me wrong, a valiant attempt by the Belgians for a DIPA, but a successfully disastrous venture. Do not seek, Do not destroy.
PP (Price Point) - Unknown, a gift.
550 characters
Struise / Mikkeller (Elliot Brew) from De Struise Brouwers
3.93
out of
5
based on
422
ratings.