Schommelpeird
| De Struise Brouwers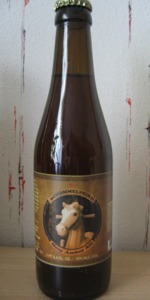 BEER INFO
Brewed by:
De Struise Brouwers
Belgium
noordhoek.com
Style:
Belgian Strong Pale Ale
Alcohol by volume (ABV):
12.00%
Availability:
Limited (brewed once)
Notes / Commercial Description:
Belgian interpretation of "a really amped-up ESB."
Added by ggaughan on 03-08-2009
This beer is retired; no longer brewed.
Reviews: 12 | Ratings: 17
4
/5
rDev 0%
look: 4 | smell: 4 | taste: 4 | feel: 4 | overall: 4
276th Review
33cl poured into a (small) Westy chalice
Vintage: 2009
BB: March 2013
Shared with kscaldef while he was in Dublin.
A: Hazy amber tint of orange. A quarter (light khakis) head on gentle pour.
S: Earthy overtones of wheat, white pepper, and orange zest. Slight hint of caramel sweetness and dull floral notes. Good hop profile here too. Smells yummy!
T: Soft pale malt with white pepper and (sweet) caramel overtones to round this out. Hints of Belgian yeast, earthy hops, and mild citrus. Sweetness is surely pronounced for this beer, but I was most surprised by the hop profile and how it has not entirely faded yet. Very enjoyable stuff.
M: Medium body with loads of carbonation.
O: As mentioned before, I wouldn't have guessed this beer was a few years old based on the hop profile of it. Really enjoyable stuff, but drink quickly...it might fade before the BB date.
★
887 characters

3.53
/5
rDev
-11.8%
look: 4 | smell: 3.5 | taste: 3.5 | feel: 3.5 | overall: 3.5
A 330ml bottle with a BB of March 2013. A limited edition brew that features a rocking-horse on the label. Acquired from a Belgian webshop.
Poured into a Duvel tulip. Massive gusher - the bottle contents go everywhere upon opening! A very hazy brownish-amber; the chunky yeast adds a greyish tone. Forms a huge head of creamy white foam that lasts for several minutes before reducing to a surface layer. Aroma of dry, yeasty malt with notes of coriander, orange peel and aromatic citrus hops.
Tastes of yeasty malt with a hoppy/herbal bitterness. Notes of earthy yeast, citrus, orange peel and faint coriander. The flavour has a spicy quality and a herbal bitterness. An astringent hint of solvent upon swallowing. Mouthfeel is spicy and full-bodied, with a very dry finish. Slightly puckering. Aftertaste of ethanol/solvent, yeast and bitter hops.
Hmmmm - interesting but a bit odd. The label describes this as a light, hoppy amber ale, but my impression is that it vaguely resembles a tripel with herbs. It could be that the beer has some age on it and the character has mutated over time. Very yeasty - the dominant flavour. Aromatic hops are present, but also coriander and a herbal note. The alcohol comes through rather intensely at the end, leaving an astringent burning sensation on the tongue. OK, but not one of de Struise's best brews.
★
1,349 characters
3.93
/5
rDev
-1.8%
look: 4 | smell: 3.5 | taste: 4 | feel: 4.5 | overall: 4
A: Cloudy, hazy brown in color. Nice creamy foam with good retention.
S: Sweet butter caramel malts, spiciness, nuts. Faint hoppy scents.
T: Malty upfront, caramel, bitter chocolate. Toasted aromas. Brown sugar, fruity bitterness on the finish. Undetectable alcohol.
M: Medium thick bodied with a dry finish, very easy to drink.
O: Quite a surprising beer. Hops are really faint, probably due to the age of this beer. But the malty character is very pleasant too. Not too heavy, thanks to its dry finish. Nice.
★
514 characters

4.05
/5
rDev
+1.3%
look: 4 | smell: 4 | taste: 4 | feel: 4.5 | overall: 4
11.2 oz. Bottle poured into my Duvel tulip. Thanks to Doug (Douglasjamjak), for affording me the opportunity to sample another rather rare De Struise brew.
Appearance: Gushed out of the bottle upon opening, poured a cloudy brown, and looked just like apple cider with a head. The head built to frothy tan 1" before receding to a 1/2". Nice lacing.
Smell: Spicy floral hops, big hop aroma.
Taste: As it smelled, not sure on the age of this bottle, but the hop flavor was up front and strong, there was a creamy malt backbone that added something good to the flavor profile but it's hard to put my finger on exactly what the flavor is. You will have no idea that this beer has an ABV of 12%, the alcohol is completely masked.
Mouthfeel: Thicker and creamier than any traditional Belgian Strong Pale Ale.
Overall: A very different beer for the style as once more Struise produces something well crafted and unique with a ton of flavor. I think lovers of hoppy beers would really enjoy this one. Once again, I'm happy to have had the opportunity to try it.
★
1,065 characters
4.09
/5
rDev
+2.3%
look: 3.5 | smell: 4.5 | taste: 4 | feel: 4 | overall: 4
33cl bottle poured into a cervoise. Gusher warning here, the cap came off and the liquid followed right on behind it. As the brew settles in my glass, it appears a murky color of almost brown tea. Despite a careful pour and leaving several ounces behind in the bottle, lots of particulate still makes its way into the glass. A solid 2 fingers of frothy, lightly tanned head forms and completely coats the glass with an entire wall of webbing pattern. Pretty solid retention to the cap for a brew of 12% strength.
The smell of this brew is strikingly tea-like. It has an herbal component that is lightly minty. A bready base of grain is present that provides a mild sweetness and overall grainy feel to the nose that is quite toasted. I don't really pick up on the 12% alcohol until the brew really warms up and even then it seemingly has a cooling appeal to it instead of being solvent or fusel by any stretch. There are fruity undertones throughout that round out the aroma. This has a feel of being like an ESB on steroids.
The taste confirms, this is quite a hoppy brew. There is a pretty significant bitterness with this, moreso than I was expecting. The flavoring is like a jacked up ESB. Despite the bitterness, there are plenty of herbal to tea-like hop flavors and a very toasted bready to biscuit grain flavoring that provides a mild sweetness for the hops to play off of. The yeast is present imparting a creamy fruit flavor mildly like pear mixed with something like mint and more tea aspects.
This is a medium to full bodied brew with an initial surge of effervescent carbonation. As the experience goes on, the carbonation becomes tame and very enjoyable. For 12% the alcohol is well integrated. What an interesting brew this was. I certainly got the feel of this having tea-like qualities mixed with an imperialized ESB of sorts. It still has quite a bit of hoppy flavoring for being 2 years old. In a way I wish I could of tried this fresh to see the bright hop elements but as-is I really enjoyed this.
★
2,021 characters

4.3
/5
rDev
+7.5%
look: 4 | smell: 4 | taste: 4.5 | feel: 4 | overall: 4.5
Look: the beer pours a hazy yellow-orange color with a white fluffy head.
Smell: Sweet caramel, full of fruits (lemon, orange peel, peach and grapefruit).
Taste: Full of fruits again (grapefruit, mandarin, orange), malts and caramel. Spicy dry hoppy aftertaste.
Mouthfeel: medium body, medium smooth carbonation.
Overall: A nice beer. Pity it is so limited available.
★
369 characters
3.69
/5
rDev
-7.8%
look: 5 | smell: 3.5 | taste: 3.5 | feel: 3.5 | overall: 4
Bottle: Poured a cloudy light brown color ale with a super large foamy head with good retention and some good lacing. Aroma consists of medium floral hops with sweet malt base. Taste is also dominated by a sweet malt base with light residual sugar notes and a somewhat tired hoppy finish veering more on the floral side of things. Body is full with good carbonation and alcohol very well hidden. Well brewed though hoppy flavours were a bit off and probably not that necessary.
★
477 characters
3.53
/5
rDev
-11.8%
look: 4 | smell: 3.5 | taste: 3.5 | feel: 3.5 | overall: 3.5
Urbain shared this with me at the old school, poured between us and his new assistant. He described it as a strong bitter, and said he made it for a festival several years ago.
It poured a hazy dark orange color with a big poof of foam. It smelled hoppy but aged, this must have been plenty hoppy when fresh. I got some yeasty aromas too. I don't know how he does it but the alcohol is very well hideen on this. Maybe he labeled it higher than the actual ABV :)
Nice malty sweetness up front, with some slight bitterness in the aftertaste. The hops aren't flavorful any more, but with this much age I guess it can't be helped. Extremely easy to pound even at this age, and our glasses disappeared quickly.
I'm very appreciative to Urbain for the chance to try this rare bottle.
★
780 characters
3.85
/5
rDev
-3.8%
look: 4 | smell: 4 | taste: 3.5 | feel: 4.5 | overall: 4
Pours dark cloudy grapefruit and orange melange. The aroma is grapefruit rind. Full mouthfeel, and well hopped with a citrus imparting hop. Taste of grapefruit, mandarin and caramel and toffee. It grew on me.Alcohol well hidden.Bottle from trade with Madmitch76.
★
262 characters

4.25
/5
rDev
+6.3%
look: 4.5 | smell: 4.5 | taste: 4 | feel: 5 | overall: 4
Unlabeled bottle shared with Urbain at the farm. Served in a Struise tulip. Urbain told me that this batch was 10%, that the name translates to "Rocking Horse", and that it was a very strong version of an English Bitter or ESB.
A - Big blonde foam with great retention and lots of sticky lacing. Hazed light orange-brown color with lots of bubbles racing upwards to the top of the glass.
S - The smell is terrific, but somewhat "off-style" (for either an ESB or a BSPA). Dank weed, orange zest, and earthy hoppiness pervade - I think Urbain mentioned Challenger, Cascade, and a few hops with Gold/Golden in the name - it was mildly reminiscent of the amazing Minneapolis Town Hall Golden Leaf Pale Ale. The amazing hop bouquet was balanced by a healthy amount of toffee malts.
T - The taste was also quite nice, with plenty of zesty orange, spices, hop bitterness, and bready malts. The aftertaste has a nice bitter kick to it as well. I wish some of the dankness has translated a bit better to the taste. The ABV is exceptionally well hidden (I think Urbain used the word "treacherous").
M - I really loved the medium-thick body and dry finish - it really supported the higher gravity quite well. There's a touch of carbonation tingle, but it never gets burning or excessive.
D - The bottle we shared went down super easy, a little too easy. This beer is a fantastic way to get totally wrecked. The booze does come out a little bit in the smell as the brew warms up, but otherwise you'd never know how strong it is.
Another excellent beer from de Struise. I hope it eventually ends up in North America.
★
1,609 characters
4.35
/5
rDev
+8.7%
look: 4 | smell: 4 | taste: 4.5 | feel: 4.5 | overall: 4.5
33 cl bottle thanks to Kim over in Belgium, poured into a tulip glass, golen yellow color with orange highlights, also a bit hazy, 3/4 white soapy head, some retention but not much lacing, aroma is made up of lots of citrus, decent hop scents, mild Belgian yeast, pepper, oranges, and strawberries, flavor starts off yeasty but also has some citrusy hops, some bitternwss mixed with mild spices in the middle, finish is also yeasty and has a very mild alcohol burn, stays bitter as it warms and never gets too sweet or boozy, medium bodied, good amount of carbonation, yeasty, bitter, and citrusy mouthfeel, could drink this bottle and then some, very balanced and cannot taste the twelve percent much, nice twist on a Belgian style, would drink again, recommended
★
764 characters

4.3
/5
rDev
+7.5%
look: 4 | smell: 4 | taste: 4.5 | feel: 4 | overall: 4.5
33 cl bottle tasted at the Pre-ZBF fest at Alvinne. Beer label describes this as a hazy amber ale. The name Schommelpeird means rocking horse. It was named and brewed for the Waregem Beer Festival 2009 held at the Red Path, hippodrome of Waregem. This is the biggest horse race event in Belgium.
The beer poured a hazy yellow color with a thick off white head. The nose was a bit sweet, lemony and piney as well. The taste presents a solid hop character, a bit piney, citrus but there is also a present malt backbone that makes for a very well balanced, easy to drink beer despite the abv of 12%.
★
599 characters
Schommelpeird from De Struise Brouwers
4
out of
5
based on
17
ratings.