Den Grooten Tocht
| De Struise Brouwers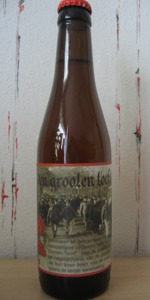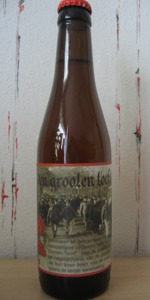 BEER INFO
Brewed by:
De Struise Brouwers
Belgium
struise.com
Style:
Belgian Pale Ale
Alcohol by volume (ABV):
6.00%
Availability:
Limited (brewed once)
Notes / Commercial Description:
No notes at this time.
Added by xpimptastikx on 09-12-2009
This beer is retired; no longer brewed.
HISTOGRAM
Ratings: 13 | Reviews: 9
Reviews by PapaEugene:

4.24
/5
rDev
+15.5%
look: 3 | smell: 4 | taste: 4.5 | feel: 4 | overall: 4.5
Quick visit to beerbuddy rvdoorn last night to pick up some stuff. No plans to stay but when he offered me a struise beer I didn't know yet.... well... why refuse.
A: Poured into a WV glass. A hazy dark yellow color with a head that I missed since I looked in another direction (for 3 seconds) while rvdoorn poured the beer.
S: It's rather fruity, something herbal and clearly a dark candi sugar sweetness.
T: Wow, the taste of fresh yellow fruits. Similarities with the Westmalle extra. Dark candi sugar again, orange zest. The slowly growing bitternest makes the orange sensation almost a grapefruit one.
M: Low carbonation with a dry finish. A light but very pleasant body.
D: Just great. Could go with this beer whole night.
733 characters
More User Reviews:
3.58
/5
rDev
-2.5%
look: 4 | smell: 3.5 | taste: 3.5 | feel: 4 | overall: 3.5
Thanks to bu11zeye for sharing this bottle.
The beer pours a hazy medium yellow color with a white head. The aroma is grainy with some malty sweetness. Not to much hop character in the aroma. The flavor is more of the same with a lot of malt combined with some spices and wheat character. Medium mouthfeel and slightly fizzy on the carbonation.
Not a bad beer by any means, just not too terribly exciting and memorable.
423 characters
3.65
/5
rDev
-0.5%
look: 4 | smell: 4 | taste: 3.5 | feel: 3.5 | overall: 3.5
Bottle: Poured a slightly cloudy dirty beige color ale with a medium foamy head with OK retention and some lacing. Aroma of Belgian malt with balanced sweetness and some bready yeast with a light spicy finish. Taste is alos dominated by a potent Belgian malt backbone with lingering sweetness and a light spicy bready yeast finish. Body is above average with good carbonation. Well done thought lack a bit of character coming from this brewery.
444 characters

3.7
/5
rDev
+0.8%
look: 3.75 | smell: 3.75 | taste: 3.75 | feel: 3.75 | overall: 3.5
Earlier 2013 Rating: 2008 Vintage bottle @ In de Verzekering tegen de Grote Dorst during the Tour De Geuze. Pours a murky, very hazy orange with a greyish white head, only on the sides. Smell is dusty cellar, oxidized, murky, lightly rotting, very overripe dark fruit, dust, lightly watery,… Taste I surprisingly good, sweet mouldy, sugar, light overripe fruits, oxidation, rather sweet still, dying thick yeast, sweet spices,… Little carbonation but aptly fuller body. Obviously this beer cannot survive for long but good cellaring kept this drinkable and quite enjoyable.
577 characters


3.15
/5
rDev
-14.2%
look: 3.5 | smell: 3.5 | taste: 3 | feel: 3 | overall: 3
A - Pours a hazy gold. Foam builds up the neck of the bottle as soon as it's open but this strangely doesn't translate into more than a couple of fingers of head, even with a fairly hard pour. Head recedes to a thin cap, but is easily refreshed to a finger in thickness.
S - Light herbal hops, lemon, medicinal phenols, breadiness, slight grassiness.
T - Starts with lemon and a sweet bready note. A rounded tropical fruit flavour in the middle and light herbal hops towards the end. The finish is dry, bitter and lingering.
M - Light to medium body with almost non-existent carbonation. Doesn't work for me. The hops cleanse he palate, but need help.
D - A disappointment. Nothing offensive, just quite average. Will stick to other De Struise beers.
754 characters


4.42
/5
rDev
+20.4%
look: 3.5 | smell: 4 | taste: 4.5 | feel: 4.5 | overall: 5
Bought this beer at the Molen Brewery. Poured into a Westvleteren glass with my beerbudy PapaEugene. The beer pours a bit hazy, dark-yellow color with a white head that disappeared incredibly fast into a minimal lacing.
Smell: full of fresh fruits (mango, citrus) yeast, and candi sugar.
Taste: Very fruity again, sweet fruits to be more precise. Candi sugar again, coriander, and bitter orange zest. The beer starts sweet, but slowly a very nice bitterness appears that lasts very long. Finish is very dry.
Mouthfeel: Thin bodied, medium carbonation that tingles the tongue strongly.
Overall: A very very nice session beer. I can drink this whole evening!
661 characters

3.67
/5
rDev 0%
look: 3.75 | smell: 3.5 | taste: 3.75 | feel: 3.5 | overall: 3.75
3.88
/5
rDev
+5.7%
look: 4 | smell: 3.5 | taste: 4 | feel: 4 | overall: 4
First off I can only assume this beer, delivered to the UK from the Struise beer shop has been dropped at some point, as when I opened it a torrent of foam came out. (and this is from a beer that has been standing upright for over an hour...)
Poured from the 330ml bottle into a Chimay goblet.
Pours a light amber colour.
Smells strongly of yeast and slight hops.
Tastes again strongly of yeast, some hops and malts balancing each other and quite a nice freshness too, along with a sour tang.
Overall quite nice, refreshing and tasty but nothing amazing.
561 characters

3.76
/5
rDev
+2.5%
look: 4.5 | smell: 3.5 | taste: 3.5 | feel: 3.5 | overall: 4.5
Thanks to Jeffo for the hookup on this one. Served in a Struise cervoise. Lot A, best before June 2012.
A - Pours with a few fingers if eggshell foam that settle to a thin cap, leaving behind glass-coating lace. The body is an attractive hazed apricot color, with some visible carbonation.
S - Belgian yeast, bread, some light lemony citrus and herbal notes, a hint of spice as well.
T - Taste is very much the same. An initial burst of herbal hops, spicy esters, and light lemon followed by heavy yeast, grain, and bread. Light bitterness in the aftertaste.
M - Spritzy, zesty carbonation that thankfully doesn't burn too much. Medium body has sufficient heft for 6%. Dry finish is quite pleasant.
D - It's a solid, but unspectacular Belgian Pale Ale. A rare tick, but not one I'd seek out again - not a huge step up over other more available Struise offerings. Easy to finish in any case!
895 characters
4.15
/5
rDev
+13.1%
look: 4 | smell: 4 | taste: 4 | feel: 4.5 | overall: 4.5
I stopped by the Deca brewery and got a mix of all the De Struise they had to offer. When I got back, I realized no one has had this. Finally I get to add something to BA!
Ingredients: Water, malt, hops, yeast, spices, and candi.
No. 03 Blonde Ale
A - Hazy straw color with 1" off white head. Dots of lacing and web of head left a top the beer.
S - Malt, yeast, and a touch of hops.
T - More hops in the taste than expected, with much less yeast than expected.
M/D - Perfect carbonation with an excellent finish. Very light in my gut. I could drink this for awhile.
583 characters
Den Grooten Tocht from De Struise Brouwers
Beer rating:
3.67
out of
5
with
13
ratings