Black Damnation V - Double Black
| De Struise Brouwers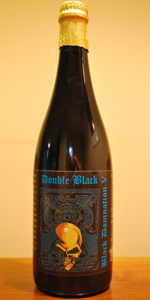 BEER INFO
Brewed by:
De Struise Brouwers
Belgium
noordhoek.com
Style:
American Double / Imperial Stout
Alcohol by volume (ABV):
26.00%
Availability:
Rotating
Notes / Commercial Description:
100% of Cuvée Delphine was used that was ice distilled to 26% of alcohol volume.
Added by alcstradamus on 03-14-2010
Reviews: 113 | Ratings: 351
4.55
/5
rDev
+4.1%
look: 4.5 | smell: 4.5 | taste: 4.5 | feel: 5 | overall: 4.5
Thank you Eric (aka TurdFurgison) for this incredible treat at Dark Lord Day... I saved my tastebuds so well all day and this one ended my ability to review ;)
Pours a nice dark brown, almost black. A few bubbles across the surface. Pours so thick and coats the glass. Smells, potent! Tons of roasted cocoa and coffee. There is a solid presence of dark fruits as well that come through as it warms. Very complex. Smells just a touch boozy. Taste is overwhelming. The roasted malts add a touch of bitterness that keep this from being a solid 5 but the dark fruits coming through couple nicely with the sweetness. Its a very powerful combination of fairly well balanced chocolate, fruit, roast, coffee, and other dark malty characteristics. The alcohol is almost completely undetectable. If I had to guess I'd put this at 12% or so.. until the glass was empty of course. The mouthfeel is great, so thick and full. Overall, phenomenal mind blowing beer!
★
951 characters

3.73
/5
rDev
-14.6%
look: 4.5 | smell: 4 | taste: 3.5 | feel: 4 | overall: 3.5
I've had this from the bottle @ DLD (thank to Eric aka Turd) and on-tap last night at the West Lakeview Liquors Meet & Greet Event w/ Urbain. Obviously, Urbain brought the keg...
A - Pours black, slight tan-colored head, some bubbles here and there. There's a huge motor oil quality to this beer, as it leaves a brownish/gold hue that coats the entire glass. Sticky, viscous, black...damn(ation)!
S - Smells like booze, lots of char, roast, some chocolate. There's not much sweetness (some chocolate, some dark fruits), as it's covered up by the huge booze and char. It smells like what it is, a huge monster of a beer.
T - Slight dark chocolate, dark fruits, lots of char, lots of booze. There's a harsh/char hot boozy note on the finish that makes me grab my water after every sip. A little off-putting, but I contribute this to the huge amount of alcohol in this beer.
M - Full, rich and viscous, light carbonation, creamy finish.
O - I enjoyed sipping on this one on two occasions, but one or two 4oz pours is just enough for me. I'm not dying to try this again in the near future, but would love to see how this ages down the line. I'm sure the booze will smooth out and make it more enjoyable. It's good but a little too much for me at the moment.
★
1,258 characters

4.92
/5
rDev
+12.6%
look: 4.5 | smell: 5 | taste: 5 | feel: 4.5 | overall: 5
Yeah, I managed to get some bottles of this black gold, thanks struise for the perfect shipping! Pours a deep black color, the beer is very oily in the glass, it almost sticks to the sides. Taste: the beer is indeed a concentrated version of cuvee delphine. roasted malts, with hints of concentrated coffee, chocolate, bourbon, vanilla and much more, so complex. Taste is sirupy like and very rich in the mouth. Sensations of coffee, chocolate, smooth alcohol, vanilla, rich burned malts and honey and bourbon again. One of the best beers I ever had, with great aging potential
★
577 characters
4.45
/5
rDev
+1.8%
look: 4.5 | smell: 4.5 | taste: 4.5 | feel: 5 | overall: 4
I had this pour at the brewery, in a smallish goblet (maybe 6oz). The beer is dark black (good name) and opaque, with a thick and in places spidery tan foam, dirty looking and impressive. It was served somewhat cold, and based on Urbain's suggestion I let it warm up before finishing it.
The aroma is nice, dark roast and cocoa, massive smelling but without alcohol on the nose. As it warmed I got more dark fruits, this really seems a beast based on smell. Taste too, this has similarities to Black Albert but is thicker and more concentrated. The malts are roasted to the point of light char, not bad against the other big flavors. Again nothing near 26% was detectable in the taste.
The body seems just a little thicker as it warms, or it could be suggestive, anyway it matched the big flavors in a nice way. Still enough carbonation to give a prickly feel with each drink. Excellent, 750mL will be too much for one person though. I think a little goes a long way.
★
970 characters

5
/5
rDev
+14.4%
look: 5 | smell: 5 | taste: 5 | feel: 5 | overall: 5
Had this at the borefts beer festival. Ron brought me a glass and I passed after he explained to me what it was... why... simply becuase most freeze/thaw concentrated beers are alcoholic and this puts me off. He guaranteed that this was not the case with this beer.
Wow, this dark, thick brew amazed me. Black fruits up front, hint of cherries, roasted malts and some wooden tones and I almost could not believen that this beer was 26%!!??
Great job Struise. Like it!
★
469 characters
4.62
/5
rDev
+5.7%
look: 4.5 | smell: 5 | taste: 4.5 | feel: 4.5 | overall: 4.5
I had this beer for my last beer at the Alvinne beer festival. I was curious to try it seeing as I'd never had a beer with a 26% abv before.
The beer was very dark, almost black in color and was thick almost looked like a dark maple syrup. There was a small amount of coffee colored head. The aroma was strong of malt, coffee, vanilla, and a bit of fruit (possibly cherries). The taste was interesting with multiple flavors going on. I only had a sample of this beer and it definitely left you wanting more.
★
508 characters
4.5
/5
rDev
+3%
look: 4.5 | smell: 4.5 | taste: 4.5 | feel: 4.5 | overall: 4.5
wow a 26% abv with a head on it, that is some amazing beer engineering. Thick dark black hole like color, strong roasted dark malt with coffee, hints of bourbon, and vanilla in the nose. Taste is all the greatness of the aroma and more, so much to dissect with this beer. High abv makes this a slow sipper and final beer of the night, but what a beer it is. So thankful that I ended the night at the Alvinne fest with this beer.
cheers
Cory
★
440 characters

4.65
/5
rDev
+6.4%
look: 4.5 | smell: 4.5 | taste: 5 | feel: 5 | overall: 4
Had on tap at the Alvinne Craft Beer Festival, March 4-5, in Belgium.
This brew is so thick, there were some problems pouring it from the tap. Body is very dark with a thick brown creamy head which has lasting retention, and leaves lots of lacing.
Smells of dark roasted malt, chocolate, dark fruit, vanilla.
Tastes sublime. The eisbock process really concentrates the Black Albert flavors in a good way. Taste is similar to the nose, with a strong charred malt bitterness that is well balanced by sweetness, with some fruit, dark baker's chocolate, espresso, and hint of vanilla, wood, and bourbon. Nice long somewhat bitter finish. The flavors are so strong that the alcohol is not noticeable.
Body is viscous, with moderate carbonation, it has an ultra creamy mouthfeel and is very rich, coating the mouth and tongue.
This is a big beer, loaded with flavor and alcohol. Definitely very drinkable, but must be sipped. The 26% ABV is impressive, all the moreso because of all the good flavor that goes along with it.
★
1,026 characters

5
/5
rDev
+14.4%
look: 5 | smell: 5 | taste: 5 | feel: 5 | overall: 5
had this beer two times now. The first time at the borefts beer festival and the second time at the struise brewery. The beer looks extremely dark,and when one shakes the glass a bit, it looks a bit like thick syrup. The smell is full of black fruits,some cherry,vanilla,wood,roasted malts and alcohol. Taste is exactly the same as the smell,with some creamy,salty undertone.nicely balanced bitterness. Mouthfeel is perfect,it almost sticks to the tongue. Overall a great beer,altough too high in abv. I just dont like this fashion in the world of beer to make beers with such high abv....,although the alcohol is extremely well hidden. damm,this stuff is good,hell yeah!
★
671 characters
5
/5
rDev
+14.4%
look: 5 | smell: 5 | taste: 5 | feel: 5 | overall: 5
My buddy Scott and I took a trip up to Poperinge for some beer visits, and biked up from the train station to De Struise. We had a tour and tasting by (I believe) Carlo, one of the brewers. After some amazing beers, they let us try a cooled keg of Black Damnation V to be sold that day.
This beer was ridiculously delicious. 26% goes almost unnoticed. Its very, very thick with flavors of roasted malt, dark fruit/cherry notes, vanilla. Huge tan head tops a black body. But this does not do it justice.
Take a pint of the best stouts on beer advocate and concentrate their flavors into a single shot, then you're somewhere close to this beer. It is revolutionary, and may well change the standard.
★
699 characters

4.5
/5
rDev
+3%
look: 4.5 | smell: 4.5 | taste: 4.5 | feel: 4.5 | overall: 4.5
The Struise Brouwers were at the Borefts festival in Bodegraven, the Netherlands with a lot of super beers. In De Molen, a fine dutch brewery, were a lot of good breweries but the best brewer was The Struise.
I was there with my buddy Jeffo and he already explained this beer in the review before me. I can not add more to it than he did.
I did not notice the alcohol at all. This was one of the highlights of the 2010 festival. I am sure Urbain and his collegues have made a lot of friends with their beers.
★
510 characters
4.76
/5
rDev
+8.9%
look: 5 | smell: 4 | taste: 5 | feel: 5 | overall: 5
Served at the De Struise table at the 2010 BOREFTS Beer Festival at De Molen in Bodegraven. Poured so generously by David working the taps.
Four oz taster. Listed at 26.8%
APPEARANCE: Pours a larger, super thick looking, tan head with great retention. Head slowly fades and leaves lots of clingy lacing down the sides of the glass. Pitch black body with zero carbonation evident. Head eventually fades to a thin swirling wisp and a ring. Only a ring remains but leaves a few dots of lacing down the glass. Doesn't get any more impressive than this at 26%. Looks menacing.
SMELL: Tough to pick up anything while so cold, but once it warmed up closer to room temperature, the aromas came to life. Lots of roasted malts, with strong aromas of baker's chocolate and some espresso notes. Bolder imperial stout aromas, with heavier emphasis on the roasted and charred malts.
TASTE: Like Cuvee Delphine on steroids. Lots of roasted and charred malts, dark baker's chocolate and espresso flavors, with hints of bourbon as well. Some faint vanilla notes and wood from the barrels. A big, bold, lingering roasted and barrel influenced aftertaste includes a touch of bitterness and spicy yeast notes. Amazingly enough, there's not a touch of that 26% to be found. Really wonderful stuff.
PALATE: Full body and very thick and luscious on the palate. Medium carbonation and extremely smooth. No alcohol noticeable on the swallow, and finishes slightly dry. Way smoother than I had expected.
OVERALL: This was the hit of the evening for me; the only beer I went back to for a second pour. I'd been anxiously awaiting this one for quite some time, and it didn't disappoint. The Double Black reminded me of what I loved so much about that first batch of Cuvee Delphine many moons ago, but then amped up to the tenth degree. A big, bold, bruiser of an imperial stout, with a look and feel that makes you forget that it's ¼ alcohol. Hopefully our beer paths will cross again sometime. Thanks to the guys at De Struise for brewing such a gem and brining it to the festival, and thanks to Dave for the expert pours.
★
2,107 characters

4.32
/5
rDev
-1.1%
look: 4 | smell: 4.5 | taste: 4.5 | feel: 4 | overall: 4
75cl bottle I picked up at the Alvinne bottle shop in Belgium and shared with friends at TJ's on 29.12.08. The beer poured a black so black and dense with a deep tan head but no real carbonation. The aroma had has some dark chocolate notes, wood as well. The taste is dried fruit and chocolate up front with some high abv notes although this is a pretty drinkable beer but best shared with friends. Definitely pick it up if you can.
★
432 characters
Black Damnation V - Double Black from De Struise Brouwers
4.37
out of
5
based on
351
ratings.