Pannepot Wild
| De Struise Brouwers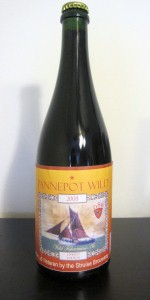 BEER INFO
Brewed by:
De Struise Brouwers
Belgium
noordhoek.com
Style:
Quadrupel (Quad)
Alcohol by volume (ABV):
10.00%
Availability:
Limited (brewed once)
Notes / Commercial Description:
No notes at this time.
Added by MasterSki on 03-14-2010
This beer is retired; no longer brewed.
Reviews: 48 | Ratings: 93

4.8
/5
rDev
+16.5%
look: 4.5 | smell: 4.5 | taste: 5 | feel: 4.5 | overall: 5
Reviewed from my notes. I enjoyed a chalice of this rare beverage on tap at Ebenezer's Pub, the finest beer bar on Earth. The beer looks very much like its non-wild cousin. It is dark black in color with a big tan foam head. The receding head leaves behind a great pattern of lacework. There is visible carbonation clinging to the sides of my glass as well as rising from the bottom. I can can begin to tell this is a very different beer from the Old Fisherman's Ale once I begin to smell it. The complex spices I am familiar with are present. But I can also detect a sweet aroma, with notes of cherry and vanilla. All of this is rounded out with a healthy does of funk. When I sip, the flavor starts out bold, being both malty and creamy. There is a champagne-like crispness in the finish. I am hit with the sour funk right as I swallow. It is a very interesting flavor, as the wintery spices are still present throughout the beer. The wild yeast works well and adds a lot to this beer. I didn't think you could improve upon Pannepot, and thought this may not actually be a better beer, it is most certainly its equal. The body is of medium intensity and very creamy--much creamier than I remember the non-wild version of this beer being. There is a lot of carbonation that I can feel playing on my tongue. There isn't much coating, but what is present is bitter and sweet, but not sticky. It is most impressive for a quad. Like all of the other De Struise beers I've tried, this is oh so drinkable. the alcohol and funk never get too strong. I could drink this all day. If you can, get yourself to Lovell, Maine and order a glass.
1,632 characters

4.33
/5
rDev
+5.1%
look: 4.5 | smell: 4 | taste: 4.5 | feel: 4 | overall: 4.5
I'm just enjoying a whole bottle of this beer. The bottle looks great, the beer in the glass also. Deep black, creamy head. Dry-malty aroma. Starts strong-malty, a bit alcoholic, rusty, dry. Some fruity notes of grapes and raisins. Also a little bit smoky. Intense finish, frutiy again, a bit like a good dry red wine. Gets better with every sip. Very drinkable. A great brew!
376 characters

4.27
/5
rDev
+3.6%
look: 4.5 | smell: 5 | taste: 4 | feel: 4 | overall: 4
Huge thanks to tpd975 for cracking this bottle at the RBWG at Redlight Redlight. Served in a tulip-shaped taster glass.
A - Looks a lot like regular Pannepot - dark, dark, brown color that verges on black. Big off-white foam that eventually dissipates to a thin cap and leaves a little lacing. Maybe not quite as attractive as the normal version, but still quite nice.
S - You can definitely pick out the funk - I actually find regular Pannepot a little funky to begin with, but this is substantially more amped up. There's a lot of sweet fruitiness to the brett, with some light acetic acid and red wine in there as well. As expected, there is the regular backdrop of anise, dark fruits, and spices, but they've been pushed into the periphery. No trace of booze in the nose, which is an improvement over other Pannepots. Wonderful stuff.
T - The taste is a bit of a letdown compared to the aroma - it's a bit medicinal and slightly sour, and there is a large amount of earthy and tannic bitterness in the finish that I don't remember being present in any other variant of this beer. This is all in addition to the dark fruit and licorice malt backbone. Spices are less present here than in the nose. Again, it's less boozy - I was beginning to wonder if it was 100% wild fermentation (and thus a lower ABV), but after the description it starts out as regular 10% Pannepot before going into the barrels. I guess the added flavors and aging have tempered the heat of the young beer a bit. It's probably a 3.75 but I'll round up and be a little tougher elsewhere.
M - The carbonation is a little lower than I expected, particularly for a Struise beer. I actually thought it could use a little more sprtiz and effervescence to highlight the gueuze-like qualities. Soft, smooth, medium-full body, with a nice dry finish and minimal heat.
D - A very interesting experiment, but again I'm not sure it improves on the original beer. The aftertaste was pretty intense and would slow me down more than the ABV, although the entire 750ml bottle would slow down even the most intrepid drinkers by the end. I'd certainly have it again, but I doubt I'll ever have the chance - unless Urbain makes more (wink, wink, nudge, nudge).
2,221 characters
Pannepot Wild from De Struise Brouwers
4.12
out of
5
based on
93
ratings.