Catso
| De Struise Brouwers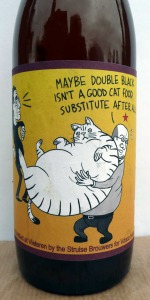 BEER INFO
Brewed by:
De Struise Brouwers
Belgium
struise.com
Style:
Saison / Farmhouse Ale
Alcohol by volume (ABV):
5.00%
Availability:
Limited (brewed once)
Notes / Commercial Description:
No notes at this time.
Added by MasterSki on 01-24-2012
This beer is retired; no longer brewed.
Reviews: 14 | Ratings: 24

4.57
/5
rDev
+15.1%
look: 4 | smell: 4.5 | taste: 4.5 | feel: 4.5 | overall: 5
Got this bottle at the Borough Market in London. Poured into my large Gulden Draak tulip, Catso is dark gold with a white head leaving light lace.
Smell is sweet lemon and lime citrus, pithy and phenolic as well.
Taste is delicious. This is a really complex saison, living up to the billing on the label. Esters cover the full gamut of saison, with lots of bubblegum and tropical fruits, as well as some peppery spice. Additionally, there is firmly herbal hoppiness, with a bitter, clean grainy finish. Plastically phenols.
Mouthfeel is dry and light, although the yeast softens the bite of the crispness.
Drinkability is high, I really loved this saison. Hits all of the classic notes, the full range in one well executed package. Really glad I grabbed this, would love a keg of it!
791 characters

4.43
/5
rDev
+11.6%
look: 4.25 | smell: 4.25 | taste: 4.5 | feel: 4.5 | overall: 4.5
Poured into Ultimate beer drinking glass from Dartington
Hazy amber gold body with huge proud white headwith a perfect mixture of buubles that completely covers the surface by at least 2mm even to the bottom of the glass.
Big fruity aromas, Lemon hints of peach and Citrus scented candles.
Pure refreshment is the best and most concise way to describe tast all the aromas are present in the taste Fruity without being sickly sweet, not in the slightest bit tart.
Sits nicely on the tongue till leaving on the slightest bitter sour note.
Finely balanced with the carbonation making it so sessionable
A great beer, thirst quenching but not bland, complex but in no way overpowering.
686 characters
4.23
/5
rDev
+6.5%
look: 4.25 | smell: 4.25 | taste: 4.25 | feel: 4 | overall: 4.25
Poured from the bottle into a tulip glass.
An opaque apricot yellow and orange body, with a real nice creamy pinhead filled head, bleach white in color is presented off the pour. Good streams of white carbonation slowly crawl along the edge of the glass. Top sits like a dolop of whipped cream with a soft retention.
Real interesting nose, kind of hard to describe this one. Hints a little bit of sweet candy sucrose, but a bready flowery floral mixture behind it. Creamy hints of milk. light spicy character with a matching sweetness almost cardamom. Really nice.
Really nice palate. Good mix of sweetness, light club soda dryness, and big Perrier mineral finish. Palate has some sweet malts, with an interesting spiced sweetness that hits somewhere beteween clove and cardamom. Light bodied and spritzy feel with a muted dull orange fruit sense going with it. Finished incredibly clean.
Real easy drinking beer, and a very unique tasting saison. Real memorable I am glad I tried it, very subtle and nuanced but something very special going on here.
1,054 characters

4.15
/5
rDev
+4.5%
look: 4.5 | smell: 4.5 | taste: 4 | feel: 4 | overall: 4
A 330ml bottle with a BB of Nov 2014. Picked up a few months ago from the Struise shop in Bruges. I like the cartoon label, although I have no idea what it means or what the name has to do with the beer. A blonde Belgian beer fermented with French saison yeast.
Poured into a Delirium chalice. Bottle-conditioned. A hazy golden-amber hue with plentiful carbonation. Produces a large head of creamy white foam with good retention; this slowly subsides to a surface layer. Aroma of fruity, earthy yeast esters with hints of clove, herbs and a variety of phenolic notes. Underpinned by subtle grainy malt and stewed hops. Complex and interesting.
Tastes of earthy yeast with a hint of light malt and a dry finish. Notes of herbs, clove, phenolics, a general fruitiness and stewed hops. Highly attenuated, with a restrained bitterness upon swallowing and a mild twinge of alcohol in the background. Mouthfeel is smooth, dry and tingly, with a nicely rounded body. Quite astringent, with an aftertaste of earthy yeast and herbs.
Tasty - an interesting beer with a subtle complexity. Nothing in-your-face about it, but the yeasty character is pleasant and well-balanced. Dry but surprisingly drinkable, I think this would be nice on a hot day. Well crafted and well worth trying if you have the chance.
1,299 characters

4.05
/5
rDev
+2%
look: 4 | smell: 4 | taste: 4 | feel: 4.5 | overall: 4
Thanks to Thirstybird for muling this beer from Germany. 375ml bottle served in a cervoise. Batch no. 44 indicated on the label. Pours a golden-orange with a hazy clarity and a tight, bright white, quarter inch head. Thick swirls of lacing are revealed during the tasting and exhibit excellent adhesion. Nose reveals citrus zest, a hint of spice and a trace of hops. Taste follows nose; however, it comes off a bit watered down, albeit very pleasant. Flavor profile is fairly clean for the style, but a light yeastiness also presents. Mouthfeel is light in body with a carbonation level that falls just shy of prickly. Acidity is pleasant and palate cleansing without being overly harsh. Overall, a very drinkable beer that I would certainly re-visit again if the opportunity presents.
785 characters
4.03
/5
rDev
+1.5%
look: 4 | smell: 4 | taste: 4 | feel: 4.25 | overall: 4
Poured from a 330ml bottle into a Fullers snifter glass.
Pours an unfiltered looking dark golden colour, with a fairly lively white head.
Smells very fresh, spicy hops and doughy malts.
Taste reflecting the smell, with a very slight lemony sourness added in to liven things up a bit. Slightly more wholesome mouthfeel than I'd expect.
Overall a great, refreshing and tasty beer.
383 characters

4
/5
rDev
+0.8%
look: 4 | smell: 4 | taste: 4 | feel: 4 | overall: 4
2012 Rating, rated shortly after the release.
Label – second in the cartoon series, honestly didn't think they would continue this series at first, fun little cartoon, more I cannot possibly demand
Appearance – bright hazy apricot with a solid, stable white head
Smell – damn weird in a good way, very farm/barnyard, hay, smells like a freaking field, dandelions, lots of chamomile, apricot, Belgian esters, musty, apricot
Taste – like those herbal teas, camomile, dandelions, lots of hay, barnyard, saison yeast, soft peaches, hoppy as well, soft fruity hops, herbal, Belgian esters, spices, light white pepper, spices, hop in the finish, good weird, quite saison like
Body – lightly hazy, yeasty, a bit too light
Overall – this is a quite interesting saison to say the least, recommended
809 characters

4
/5
rDev
+0.8%
look: 4 | smell: 4 | taste: 4 | feel: 4 | overall: 4
Funny label, cool little saison. Beer shared by someone at a recent tasting, thanks! Beer is yellow and hazy with a thin white head of small bubbles, no lacing, low retention, moderate to low carbonation.
Aroma was sweet with a mild yeastiness.
Beer is light in body with a mildly dry finish, a decent yeast palate, a little spice, interesting beer. It was fine and I'd have it again if offered.
397 characters

4
/5
rDev
+0.8%
look: 4 | smell: 4 | taste: 4 | feel: 4 | overall: 4
Bottle from Etre Gourmet. Not sure why Struise isn't stocking their own beers in their webstore. Served in a Surly pint glass. Best before November 30th, 2014.
A - A gentle pour rouses a quarter-finger of white foam that has good retention and settles to a near-complete cap and thicker collar. Hazy, slightly murky, peach juice body that is appropriate for the style.
S - The aroma is strangely evocative of ginger ale, with some spicy yeast and bubblegum as well as some earthy and lemony hop flavors. Still, I think I might assume this was ginger beer in a blind tasting.
T - Taste is a little more in line with what I was expecting. Fruit sweetness up front before yielding to cereal grains and yeast in the finish. Mild tangy lemon aftertaste with low hop bitterness.
M - Surprising heft for only 5% with pleasant moderate carbonation. Creamy and smooth, with a lightly sticky finish. Enjoyable but someone out-of-character for the style.
D - A flavorful lower alcohol beer. I'm not going to order any more bottles from Europe, but I might grab a bottle or have this on-tap occasionally if it were available.
1,118 characters
3.98
/5
rDev
+0.3%
look: 4.5 | smell: 4 | taste: 4 | feel: 3.5 | overall: 4
11.2 oz bottle into a tulip. The brew appears a clouded light golden yellow color with a strong 2.5 finger white head. The cap slowly fades to a half finger that maintains throughout the duration from rising bubbles that support it. A light swirl revives and places spots of lace on the glass.
The smell is earthy with some yeasty spice faintly like clove before giving way to a fresh fruit character. It smells lightly of pear and apple with quite a bit of citrus elements somewhat like lemon or oranges towards the back. There is a grainy quality about this brew smelling of wheat. As it warms up, the aromatics get progressively more lemon-like and enjoyable.
The taste is yeasty with a hint of clove, mild bubblegum and banana. Wheat is present giving a bit of cereal-like sweetness almost like oats but not quite. Very fresh tasting with all characteristics of the french yeast being well represented and no one aspect outplaying the other. A light kiss of fruity lemon, pear and apple are after afterthought in the background.
This is a medium to full bodied saison that is somewhat thick, creamy and smooth for the style instead of the normal crisp and light/effervescent character, but I like it. It boasts a modest level of carbonation that keeps things lively despite the heavier than expected feel. The alcohol is masterfully integrated and comes out with a minor fruity accent at times. Overall this is a solid brew by Struise, worth seeking out if you enjoy saisons.
1,482 characters
3.98
/5
rDev
+0.3%
look: 4.5 | smell: 4 | taste: 4 | feel: 3.5 | overall: 4
Cloudy straw colour with a smooth and creamy white head. Decent head retention. Good.
Banana and citrus aroma with some big clove and earthy hop notes. Quite a good saison. The almost straw aroma is about right.
Wheat and light malt. Lots of bitterness and hop. There is some citrus here. The earthiness is surprising but the whole comes together well.
Medium light body with plenty of carbonation. Good.
A decent saison. Quite bitter and hoppy but it all works. I like this.
483 characters
3.97
/5
rDev 0%
look: 3.5 | smell: 4 | taste: 4 | feel: 4 | overall: 4
Poured from the bottle into my snifter.
Appearance: The beer pours a cloudy golden color with an amber/orange hue. There is a layer of off white head that fades quickly to a ring around the edge of the glass.
Smell: This beer is quite fruity and light, but there is a strong Belgian yeast like spice note as well. I'm getting some banana and fruity bubble gum.
Taste: Quite light with no real sweetness here. I'm getting the fruit notes from the smell, but they're more subdued. There is a bitterness that works well with the other flavors and carries the beer to the finish of the sip. Getting some spice like notes from the yeast as well.
Mouthfeel: Medium body with aggressively tingly carbonation and a very dry finish.
Overall: I enjoyed this beer. Nice and light, a very easy drinker. The taste could have been a bit more assertive in the finish. I would definitely have another.
891 characters
3.64
/5
rDev
-8.3%
look: 3.5 | smell: 3.75 | taste: 3.5 | feel: 3.75 | overall: 3.75
Cloudy blonde with white film that trails.
Anisey herbal thing on the nose with some wheat and lemon blossom.
Lemon rosemary chicken thing.
Lemon cough drop linger.
Round, smooth, medium to light.
Easy drinking blonde with a bit of extra character. Dry and crisp. Not up to much as a saison, though.
304 characters
3.5
/5
rDev
-11.8%
look: 3.5 | smell: 3.5 | taste: 3.5 | feel: 3.5 | overall: 3.5
Bottle: Poured a golden color ale with a large white foamy head with good retention and some light lacing. Aroma consists of sweet malt with light fruity and funky ester. Taste is also a mix between some fruity ester with a sweeter then expected malt base with light funky notes. Body is about average with good carbonation. Nothing complex and maybe a tad too sweet but ends up being a pretty good and easily drinkable Belgian ale.
432 characters
Catso from De Struise Brouwers
3.97
out of
5
based on
24
ratings.