XXX Rye Triple Ale
| De Struise Brouwers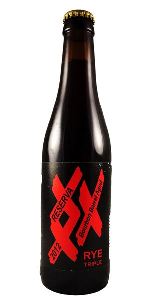 BEER INFO
Brewed by:
De Struise Brouwers
Belgium
struise.com
Style:
Quadrupel (Quad)
Alcohol by volume (ABV):
10.00%
Availability:
Rotating
Notes / Commercial Description:
No notes at this time.
Added by MasterSki on 08-22-2012
Reviews: 14 | Ratings: 110
4.15
/5
rDev
-1.2%
look: 3.75 | smell: 4.25 | taste: 4.25 | feel: 3.5 | overall: 4.25
On tap at Congregation Ale House in Pasadena, CA.
Pours a hazy orange with a foamy beige head that settles to a partial film on top of the beer. Small streaks of lace form around the glass on the drink down. Smell is of malt, grain, honey, fruit, and yeast. Taste is much the same with a fruity flavor on the finish. There is a mild amount of spice bitterness on the palate with each sip. This beer has a lower level of carbonation with a slightly crisp but sticky mouthfeel. Overall, this is a very good beer that is tasty but quite sweet.
541 characters
4.2
/5
rDev 0%
look: 4 | smell: 4 | taste: 4.5 | feel: 4 | overall: 4
On-tap at Mugs Alehouse, Brooklyn, NY
A: The beer is slightly hazy reddish amber in color. It poured with a half finger high dense tan head that gradually died down and left a patch of bubbles on the surface and a thin collar around the edge of the glass.
S: There are moderately strong sweet aromas of candi sugar, fruits (apples seem to stand out in particular) and pale malts in the nose.
T: The taste is similar to the smell. As the beer warms up, hints of spices from the rye become noticeable towards the finish and the overall taste gains complexity.
M: It feels medium-bodied and slightly thick on the palate with a low amount of carbonation.
O: The beer definitely tastes strong and has hints of alcohol, but the complexity of the flavors makes this a pleasant beer to sip.
783 characters
3.87
/5
rDev
-7.9%
look: 4 | smell: 3.75 | taste: 3.75 | feel: 4.25 | overall: 4
750ml cork and capped offering poured into a matching Struise cervoise. The brew appears a clear copper to mahogany color with reddish clarity seen through the body. A yellowish tan finger fades slowly leaving patches of lace on the glass.
The smell includes a minor note of minerals and dark fruits like raisin or plum/prune. Plenty of neutral alcohol esters blend to a toasty rye grain aspect that emerges more as it warms up. There is a hint of belgian candy sweetness contrasted by herbal hops.
The taste is that of caramel or toffee malt with minerals and alcohol like pear or apple skins. Some fruity alcohol and toasty rye imparts almost a buttery aspect into the finish. The rye is a unique twist here as it takes the standard strong dark belgian struise offering off in a slightly different path.
This is a medium to fuller bodied brew with a modest to lighter level of carbonation. There is a lot of toasty malt character and alcohol here but it all plays well together. My only gripe is the trace mineral inclusion. All things considered, this is another fine offering from De Struise.
1,099 characters
4.49
/5
rDev
+6.9%
look: 4.25 | smell: 4.5 | taste: 4.5 | feel: 4.5 | overall: 4.5
Poured on tap at Churchkey into a tulip glass.
Nice mellow red amber body, hints at chestnut brown. A bit of see through clarity but very dark. Light and tan foamy top head in appearance, some mild lacing while drinking.
Real nice bouquet on this brew. Spice muted notes of cinnamon. Lots of dried brown fruits mostly fig. Even a faint hint of toast with barely a hint of sweetness.
Chewy palate, with hints of banana and a light sweet sense of candi sugar in the mid palate. Finish has classic rye malt dryness with a tannic nutty aftertaste. A warming quad like sense of grape as the beer warms up.
Super drinkable,unique, very memorable for the style.
658 characters

4.28
/5
rDev
+1.9%
look: 4.5 | smell: 4 | taste: 4.5 | feel: 4.5 | overall: 4
On-tap at Northdown. Served in a tulip.
A - A finger of dirty blonde foam settles to a thin cap and thick collar, leaving behind plenty of lace. Hazed dark cider body that's unusually dark for a tripel - must be all that rye I guess?
S - Candi, green apples and grapes, rye, fruity esters with some midly phenolic and spicy yeast notes as well. Alcohol shows up a touch, but not excessively so for 10%.
T - The taste has more of a rock candy flavor going before yielding to an anise-laden finish that's surprisingly bitter. There's a kiss of zesty rye malt mid-palate. As it warms up it becomes increasingly jammy, with apple flesh, berries and grapes making an appearance. Again, there's a touch of alcohol present.
M - Smooth, medium-full body, with lower carbonation. Super dry, particularly in the finish, which I'm guessing is a result of the rye. A bit of alcohol warmth that matches the perceived booze.
D - I drank a tulip relatively easily. A very unique tripel, and successful for me as it manages to avoid being excessively cloying or phenolic. Not a beer you could drink in excess, but I'd order this again if I saw it on-tap.
1,144 characters

4
/5
rDev
-4.8%
look: 4 | smell: 4 | taste: 4 | feel: 4 | overall: 4
Poured a orange tinted gold with decent head and lace on top of an aroma that is characterized by a bourbon-based woodiness with vanilla and some candi sugar, yeast and booze as well as touches of tropcial fruit - definitely not your average triple's aroma. The fruit taste is minimal in this triple but that's fine with me as the beer is smooth, light to medium bodied, not boozy but touches of bourbon come through, some real good malt sweetness and that's my preference. Crisp, clean finish complements a unique beer.
520 characters
4.33
/5
rDev
+3.1%
look: 4.5 | smell: 4 | taste: 4.5 | feel: 4 | overall: 4.5
Poured from tap at the brewery. What I like about this brew right off the bat is its color...tripels can be very light in color, but this is deep amber red (must be the rye??)...it just seems a bit more appealing. Smells of sweet belgian yeast and malts, but you really do smell the bitter rye. Great fruity malts and belgian yeast flavors and a great stingy rye feel. A really unique and flavorful tripel...go have one!!!
422 characters

4.03
/5
rDev
-4%
look: 4 | smell: 4 | taste: 4 | feel: 4.25 | overall: 4
Sampled from a 33cl bottle purchased at the De Struise shop in Bruges. Best by 26-12-2018.
Reddish amber with a murky finish and a small beige head. Some rye and some bourbon in the aroma along with sweet malts. The bourbon is well behaved in the taste along with rye and rich, sweet malts. A chewy feel with a low carbonation.
It would probably be even better with some age but I like it.
391 characters

4.37
/5
rDev
+4%
look: 4 | smell: 4.5 | taste: 4.5 | feel: 4.5 | overall: 4
750ml corked a capped bottle served in a Karmeliet tulip glass.
A: Pours a clear (but bit hazy) copper color forming a medium thin bubbled yellow head. Medium retention and lots of lingering and molasses left in the glass. A thin layer remains forever on the top
S: Sweet caramel, grapes, wood, whiskey, candy, bubble gum and alcohol. Perfect in the nose being a bit boozy to be just perfect. A very malty and fruity beer. The rye gives it a very smooth texture and balance. The cherry wood is just wonderful
T: Very sweet and fruity upfront. Again, strong notes of wood, whiskey and grapes. The notes of rye are a must. It gives it a great texture and taste to the beer. Notes of candy sugar and roasted malts. Belgian bready yeasts. Spicy and complex. End is quite boozy. Light hops bitterness, as expected
M: Heavy, creamy, smooth and molasses body. Light carbonation and a sweet, malty and woody aftertaste
O: Good drinkability. Just another De Struise masterpiece
973 characters

4
/5
rDev
-4.8%
look: 4 | smell: 4 | taste: 4 | feel: 4 | overall: 4
Picked this up at a great little beer store in Arlon, Belgium, Miorge Mihoublon. Cloudy dark mahogany pour with a two finger off-white head with good retention and lacing. The nose is malt forward with hints of caramel, dark fruit, apple, rye bread, booze, toffee, tobacco, and subtle bubblegum. The taste mirrors the nose with hints of brown bread, caramel, green apples, toffee, rye, booze, and dark fruits. The mouthfeel is medium bodied with minimal carbonation and good balance. Overall, a nice Triple, but nothing all that special...
539 characters
4.27
/5
rDev
+1.7%
look: 4.25 | smell: 4 | taste: 4.5 | feel: 4 | overall: 4.25
On-tap at Redlight Red Light.
I'm a fan of all the De Struise I've ever had, so I went in with a good bit of bias, but I genuinely thought this was delicious. In many ways, (color, taste, even mouthfeel) this has some of the qualities of a quad. But the split personality is fine by me. Lighter than a quad, it still has some of the dark, deep sweetness. Not too sweet, certainly, but very pleasing. I wouldn't want to drink a great deal of this in one sitting, but the stemmed glass 1/4L provided here in Orlando was perfect.
527 characters

4.42
/5
rDev
+5.2%
look: 4.5 | smell: 4.25 | taste: 4.5 | feel: 4.25 | overall: 4.5
2013 vintage
Poured into trappist goblet.
L: Turbid dark brown with a weak foam head.
S: Bourbon, sweets , dark fruits and wine notes.
T: Rich , complex, powerful.Caramel and raisin.
F: Pleasant aftertaste.
O: Very very impressive beer. First try was in Brugge and still love it.
285 characters
4.48
/5
rDev
+6.7%
look: 4.5 | smell: 4 | taste: 4.75 | feel: 4.5 | overall: 4.5
APPEARANCE - No head, dark opaque, amber.
AROMA/SCENT - Malts, pine, sweet.
TASTE - Malts, sweet, nutty, coffee, bread.
MOUTHFEEL/PALATE/TEXTURE - Thick, warming, heavy, syrupy.
VALUE - $8 for 8-oz draft. Why so little?
OVERALL/DRINKABILITY - Nice rye taste. ABV well-hidden.
282 characters

4.12
/5
rDev
-1.9%
look: 4 | smell: 4.5 | taste: 4 | feel: 4 | overall: 4
It has a dark amber color, and a big beige head. Overwhelming aroma of dark fruit, and some bourbon notes. Taste is a mixture of candy sugar, cereal, coffee and some woody, alcohol accent from the barrel aging. The alcohol is very noticeable in the taste, but in a very balanced and smooth way. Liked it a lot.
310 characters
XXX Rye Triple Ale from De Struise Brouwers
4.2
out of
5
based on
110
ratings.