Struise Tsjeeses Reserva (Bourbon Barrel Aged)
| De Struise Brouwers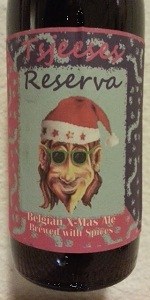 BEER INFO
Brewed by:
De Struise Brouwers
Belgium
|
website
Style:
Belgian Strong Pale Ale
Alcohol by volume (ABV):
10.00%
Availability:
Rotating
Notes / Commercial Description:
2011 Vintage - Pink & Purple label.
Added by MasterSki on 08-27-2012
Reviews: 34 | Ratings: 172

4
/5
rDev
-3.4%
look: 4 | smell: 4 | taste: 4 | feel: 4 | overall: 4
Beer bottle (33 cl.) purchased from La Cervoiserie, and tasted in 2013.
Appearance : amber color with tan foamy head.
Smell : caramel, yeasty and bourbon aromas.
Taste & mouthfeel : sweet malty and light fruity flavors, spicy and woody finish.
Drinkability : a good beer in the style Belgian Strong Ale (vintage 2011).
★
319 characters

3.97
/5
rDev
-4.1%
look: 3.5 | smell: 4 | taste: 4 | feel: 4 | overall: 4
Picked this up at a great little beer store in Arlon, Miorge Mihoublon. Vintage 2011, best before 26-12-2017. Hazy copper-amber pour with two finger off-white head that fades quickly with decent lacing. Fruity, woody, spicy nose with hints of caramel, clove, raisins, and just a touch of banana, vanilla, and booze. The bourbon is conspicuously absent. The wood and fruit carry through nicely to the taste as well. Hints of oak, dates, plum, caramel, vanilla, apricot, grass, and as it warms and opens up, a very subtle bit of bourbon. The mouthfeel is medium bodied and slightly syrupy with a nice woody, subtly bitter finish. Was hoping for a bit more of the bourbon to come through, but as always, another winner from De Struise!
★
732 characters
3.97
/5
rDev
-4.1%
look: 3.5 | smell: 4 | taste: 4 | feel: 4 | overall: 4
2013. Pours a nearly opaque red orange, fizzy off-white head. Smell: plenty of bourbon here, caramel, cherry, mildly boozed pear and plum, brown sugar. Taste: boozed pear and peach in syrup, cherry cola, fleeting toasted brown bread, brown sugar; herbal, vanilla note; oaky, bourbon-y, peach skin in the finish. Belgian barleywine with substantial but in no way dominating barrel contributions.
★
394 characters

3.94
/5
rDev
-4.8%
look: 3.75 | smell: 4 | taste: 4 | feel: 4 | overall: 3.75
2013 Reserva.
A- Pours into a snifter with a red-brownish muddy appearance and a small off-white, light tan cap forming just a thin sheet atop the brew. This frothy pillow dies down to a thin ring and spotty lacing is rare.
S- Really just reminds me of the base brew that has been aged a few years and the barrel is all but lacking at this stage. A massive dose of dusty old, spiced dried dark fruits and sweet long-chain sugars. Toasty brown barley.
T- For the most part similar to the nose with the barrel bringing just a touch of faded out, degraded old oak wood and a tiny bit of vanilla. A bushel of dark fruits that have been dried like raisin, dates and sweet plums. Belgian yeast spiciness and yeasty bread tie things up.
MF- A really thick body with an oily, slick feeling on the palate. Carbonation is towards the lower side but perfectly appropriate with the rich flavors present.
A barrel-aged brew that feels like it really went into a barrel that was mostly devoid of spirit or re-used. A great base brew that ages like a fine wine but a bit of bourbon influence would bring this over the top.
★
1,112 characters

3.92
/5
rDev
-5.3%
look: 4 | smell: 3.25 | taste: 4.5 | feel: 3.5 | overall: 3.75
Pours up a murky apple juice look. Decent white head, subtle lacing. Smells of green sour apples, lemons, candy sugar. Tastes is a trip. It starts with a crispy Belgian carbo bite, subtle caramel malts explode into tart fruits. Banana peel, cherries, red apples. Then muttles into an earthy, oaky, lil bit of vanilla finish. Musty, yet clean. Sticky mouthfeel. Medium bodied. Very tasty you rapscallions.
★
404 characters

3.77
/5
rDev
-8.9%
look: 4 | smell: 3.75 | taste: 3.75 | feel: 3.75 | overall: 3.75
33cl bottle - 2011 vintage, batch 11. Pours an amber hue with a loose, half inch, off-white head that dissipates into a consistent soapy skim. Nose expresses ethanol, candi sugar and something slightly herbal. Taste follows nose with a hint of toffee and candied fruit, but some hops bittering cuts through the flavor profile. A trace of anise and medicinal at the back. Mouthfeel is light-medium in body with a slightly oily texture. Carbonation is lively - a bit too assertive and somewhat gassy. Overall, this beer comes off as a barrel-aged Belgian Strong Pale. I liked, but didn't love this beer as there really was no impression of the bourbon character present for me. Pretty much the same as the Port version in my opinion; however this offering had a more pronounced ethanol character.
★
794 characters

3.55
/5
rDev
-14.3%
look: 3.5 | smell: 3.5 | taste: 3.75 | feel: 3.5 | overall: 3.25
Tsjeeses Reserva (Bourbon Barrel Aged). 10%. Bottle served into a Samuel Smith's nonic glass at a tasting. Reviewed from notes.
A: Pours a one finger khaki colour head ofnice cream and thickness. Retention is impressive for the high ABV; around two minutes. Body colour is a clear copper. No yeast particles are visible. No bubble show.
Sm: Pale malts, caramel, spice, ginger, cane sugar, honey, pineapple, bright fruit, and honey sweetness. A moderate strength aroma.
T: Spice, cane sugar, pale malts, honey, fruit acidity on the climax, ginger, malty sweetness, and an oak tone. Subtle hints of artificial vanilla. I get hardly any bourbon or stonefruit. A bit imbalanced.
Mf: Quite tingly and wet. Good thickness and carbonation.
Dr: Quite drinkable for the high ABV. I like it, but the bourbon is very restrained. Alcohol does come through a bit. Another solid brew from De Struise.
Low B
★
904 characters

3.47
/5
rDev
-16.2%
look: 3.75 | smell: 3.5 | taste: 3.25 | feel: 4 | overall: 3.5
Bottle from Etre Gourmet. Served in a snifter.
A - It's a gusher. White foam settles to a collar, wisps, and minimal lacing. Hazed amber-orange body.
S - Very oaky, with tons of fruity yeast esters and a bit of peppery spice. Minimal bourbon character; I probably would have guessed wine or even fresh oak barrels to be honest. Malt imparts some candi sugar and red fruit flavors.
T - Taste is similarly high on fruity Belgian yeast, and oak, with perhaps a bit more vanilla this time around. Bourbon is nearly undetectable. The flavor seems somewhat muted relative to the aroma, and what is there is mostly yeast and wood. Alcohol is well-concealed, I guess.
M - Medium body, with pleasant moderate carbonation. Very oaky and dry, with a crisp and surprisingly clean finish. Minimal alcohol warmth.
D - I'm wondering if an infection cleaned out a lot of the residual sugars. Pretty disappointing, and very little of the advertised bourbon character; guessing the barrels dried out too much before they were used. I preferred the port version, but I guess I'm in the minority.
★
1,081 characters
3.42
/5
rDev
-17.4%
look: 3.75 | smell: 3.5 | taste: 3.25 | feel: 3.5 | overall: 3.5
2011 vintage
Pours murky coppery-amber body with orangeish glow, capped by an inch of beige head that
eventually sets to stable veil.
The advertised bourbon barrel is nearly imperceivable to the nose initially, but grows as
the beer warms. Aroma is mostly spice and fruits: spicy phenols and esters reminiscent of
oxidized apple slices, sultanas and oranges play the dominant role supported by brown sugar and musty undertones.
The bourbon that yields warming sensation is obnoxiously evident when it comes to the flavor
featuring prominent oak-character, apple, orange and sultanas, peppery phenols and phenolic
bitterness that lasts throughout the finish. The bourbon is just to hot and doesn't integrate
well - the abandoned non-bourbon oak barrel-aged version was a way better.
Bourbon barrel-aging is a great tool to hide flaws of poorly crafted brew or to add complexity to the base-beer. Neither is needed with Tsjeeses. It's a pity so many brewers succumb to the BBA trend to please the masses even at the cost of spoiling the beer. (330 ml, BB 12-26-2017, into tulip).
★
1,089 characters
Struise Tsjeeses Reserva (Bourbon Barrel Aged) from De Struise Brouwers
4.14
out of
5
based on
172
ratings.