Struise Tsjeeses Reserva (Bourbon Barrel Aged)
| De Struise Brouwers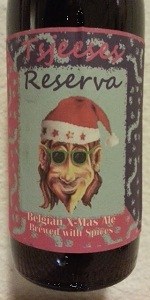 BEER INFO
Brewed by:
De Struise Brouwers
Belgium
struise.com
Style:
Belgian Strong Pale Ale
Alcohol by volume (ABV):
10.00%
Availability:
Rotating
Notes / Commercial Description:
2011 Vintage - Pink & Purple label.
Added by MasterSki on 08-27-2012
Reviews: 39 | Ratings: 192
4.34
/5
rDev
+4.6%
look: 3.5 | smell: 4.5 | taste: 4.5 | feel: 3.5 | overall: 4.5
On Tap (2010)
Churchill's Pub & Grille
San Marcos, CA
(Aged for 2 years)
A hazed golden amber with a very small, creamy off-white head. Leaves the glass with large collections of bubbles of stick. Unremarkable, but it definitely makes me want to drink it.
Lots of fruit elements coming through in the aroma (from the hops and yeast) in the way of sun-dried cherries and figs, some pepper, dried grapes that are turning to raisin, and oak. Really, this is quite the complex aroma. There's only a very mellow bourbon character to this, but it's there, and incredibly well integrated. However, the interesting, complex, divine yeast character is what separates this beer. It's quite nice.
The flavor is just as complex as the aroma, and express a lot of similar characteristics. Lots of dark fruits and oak shine through, along with a moderate bitterness, and some integrated, and complementary bourbon. It comes in to lend a spice not found in most barrel-aged offerings. An exceptionally drinkable, complex beer.
Medium bodied with moderate carbonation. I suppose I would like this to have more carbonation, especially for the style, but it's a tough thing to complain about when a. the beer is barrel-aged b. it's over two years old, and c. it's this darn delicious.
This one was not only interesting, but it was marvelously delicious. I would like to have this one again and will if I can ever find it.
1,411 characters

4.35
/5
rDev
+4.8%
look: 4 | smell: 4 | taste: 4.5 | feel: 4.5 | overall: 4.5
I bought this bottle some weeks ago when i had my Belgium day: picking up Westvleteren and the up to Struise.
Poured this one in the Struise glass as it should be. Nice pour with lots of head and some carbonation. Nice lacing which sticks in the glass. The fluid is a bit cloudy but not much. Nice lightbrown/copper colour. Smell of bourbon but not too overwhealming.
Taste is good with the 10 percent of alchol very well hidden but also giving a good contribution to the beer. Well balanced and tasty.
505 characters
4.35
/5
rDev
+4.8%
look: 4.25 | smell: 4.25 | taste: 4.5 | feel: 4.25 | overall: 4.25
2013 vintage. To me, Struise concoctions are either hit or miss, very few "meh" beers because they brew on the edge. This one is a definite hit. My new favorite Christmas beer!
176 characters

4.37
/5
rDev
+5.3%
look: 4.5 | smell: 4.25 | taste: 4.5 | feel: 4.25 | overall: 4.25
2013
Reddish hue, even the head has a slight reddish tint to it. Huge foamy head with big bubbles. Very belgian.
Unfortunately no bourbon on the nose. Faint at best.
Aroma: cherry is what i get most. Belgian yeast, dark fruits, specialty malts??
Flavor: very complex flavor. So much going on im finding it hard to isolate the flavors. Dark fruits, plums, faint cherry, slightly tart but sweet malty flavor too.
I didnt know what to expect besides bourbon and although i didnt really pick up on it, this is still a great beer.
531 characters

4.39
/5
rDev
+5.8%
look: 3.25 | smell: 4.25 | taste: 4.5 | feel: 4.75 | overall: 4.5
Bottled and possibly bottle conditioned and definitely a gusher
Pours a browns sugar body with splatterings of tan head
Smells like bourbon and barley sugar
That's the flavour
Just so solid
189 characters
4.4
/5
rDev
+6%
look: 3.75 | smell: 4.25 | taste: 4.5 | feel: 4.5 | overall: 4.5
2013 vintage. Pours hazy, orange-brown in color with minimal head. Taste is raisin, caramel, vanilla, oak, PALE MALT, and bourbon. Tastes like an English barleywine. There is a dryness that comes from the wood, but this beer is heavy bodied, very sweet with moderate to low carbonation. One of the more complex and better beers I have had in the style. A real treat. Well worth seeking out.
396 characters

4.4
/5
rDev
+6%
look: 4.5 | smell: 4.5 | taste: 4.5 | feel: 4.5 | overall: 4
330ml bottle served in a Duvel Tulip glass.
Lot C from 8/2010.
A: Pours a deep amber color which is slightly cloudy. Forms a huge yellow creamy head with good retention and many lacings formed and left. A thin layer remains for long time and the lacings are quite molasses
S: Absolutely delicious nose. Sweet, spicy and veeery woody. Strong notes of Bourbon. Fruity with notes of grapes. Very malty too. Some flowery hops and alcohol
T: Perfect. Slightly sweet upfront. Very fruity with strong notes of grapes, oak, caramel malts, whiskey and spices (black pepper and cinammon). Considerable hops bitterness in the end
M: Heavy and molasses body. Medium carbonation. Bittersweet and woody aftertaste
O: Excellent beer. Very whiskey and spicy. A beer to be slowly appreciated
782 characters

4.42
/5
rDev
+6.5%
look: 4.75 | smell: 4 | taste: 4.5 | feel: 4.75 | overall: 4.5
2012 vintage. I was expecting a spiced up Belgian but no spices on the pallet, no barrel age notes either? just Carmel and warmth from the 10%. Very impressed, This has aged very well. definitely worth seeking out later vintages and enjoying during the holiday season. 4.50
274 characters

4.46
/5
rDev
+7.5%
look: 4.25 | smell: 4.5 | taste: 4.5 | feel: 4.25 | overall: 4.5
Poured from 0.33l bottle into goblet. Vintage 2014.
L: Turbid dark copper/amber color with a weak foam head.
S: Deep sweet smell. Bourbon. Complex.
T: Bourbon, sweets,caramel, lacrice. A little bit spice in aftertaste.
F: Great balanced. Low carbonation.
O: Tsjeeses is great but this one is even better.
305 characters
4.55
/5
rDev
+9.6%
look: 4.5 | smell: 4.5 | taste: 4.5 | feel: 5 | overall: 4.5
Not sure which 'reserva' I got here. It says 'Nr. 11 Xmas brew' 'Aged 6 months on oak' (not clear which oak, but nevermind)... bb 12-12-2012.
Bought it today.
Beer is murky brown, thin beige head.
Smell is very very good. It's fruity, tart like some wine (makes me think I could have the port barrel after all). Taste is mild and bittersweet. Malt and caramel, some figs, some cream too. Incredibly soft mouthfeel, the abv is very well covered. You wouldn't think it's 10%. Very smooth and drinkable.
Struise has become one of my favourite Belgian brewers. Surely top 5, likely top 3. A must try. Very recommended indeed.
623 characters

4.58
/5
rDev
+10.4%
look: 4.25 | smell: 4.25 | taste: 4.75 | feel: 4.5 | overall: 4.75
This was the winner at our annual winter beer tasting party! (Four reviewers, 20 beers)
Very complex and yummy. Kudos to the talented brewers at Struise!
Tasty with fruit and spice notes , then dark fruit with caramel and vanilla hints of pepper and earthy woods. the oak is there and bourbon undertones.
We've had the regular Tsjeeses for the past few years and it alwasy scored well but this is a step up and will be on the list every year as long as they are producing it.
478 characters
4.59
/5
rDev
+10.6%
look: 4 | smell: 4.25 | taste: 4.75 | feel: 4.75 | overall: 4.75
One of the few remaining bottles left at Bruery Provisions before its closure, yet the small selection may had been the reason why picked up this bottle. Belgian Xmas ale is a good thing, seeing one with a year of age makes the anticipation more anxious. From a 330 ml bottle, on to the beer:
Toasted orange that accidently received a dash of Christmas red.The head on top forms an inch thick, dropping to a lace around the glass. A pleasant nose, mixing some Xmas pudding, plums, candied fruit, rum, raisins, and some alcohol.
It's very flavorful, and despite that is actually quite mellow overall. That makes it even better. The flavors of pineapple, dark rum, raisins, brown sugar....oh, here's the bourbon. There's a hint of chocolate too. It just gets better and better. Add that to the great mouthfeel, which is full bodied yet very soft on the palate, as is the carbonation. Unlike the aroma that gives a little booze, I can't find the alcohol in the beer's taste. Incredicble. The soft aftertaste of rum soaked raisins makes an uplifting final impression.
I had been thinking that I backed myself into a corner after trying some many beers over the last year (many which I approved), but nothing WOW!!! (except for Stone Enjoy by IPA) to my liking. It's great to get that feeling again, and Tsjeeses Reserva is just the medicine that I needed. If you can find it, get it now!
1,387 characters
4.75
/5
rDev
+14.5%
look: 4.75 | smell: 4.75 | taste: 4.75 | feel: 4.75 | overall: 4.75
From cervezasespeciales. In Teku glass. Watching John Wick. Although is prettt good, I prefer the flavor and aroma profile of the port version. In any case, a great brew
169 characters

4.82
/5
rDev
+16.1%
look: 4 | smell: 4.5 | taste: 5 | feel: 5 | overall: 5
A-dark amber with a thin almost non existent white head. lots of floaties. motionless body. looks heavy and still, like a swamp.
S-very strong pale belgian malts. very malty, lots of caramel and sugars. some rawness. very big smelling. intimidating almost.
T-holy snikies. this is amazing. this is a perfect BSPA. comes in with toasty pale belgian malts and caramels and spices, quite impressive with the spices. peppercorn mostly. the after-taste though...it comes very late, but with a great hit of bourbon barrel. wow this is complex, and not subtle whatsoever.
M-good medium to heavy carbonation with a fairly dry finish
O-Might be the best BSPA I've ever had. Wow. it might also be the only barrel aged BSPA i've ever had...and it works. Dang, this brewery will not let me down!! please go out and find this, if you can't find it, message me and I will help you out!!
876 characters
Struise Tsjeeses Reserva (Bourbon Barrel Aged) from De Struise Brouwers
4.15
out of
5
based on
192
ratings.