Struise Tsjeeses Reserva (Bourbon Barrel Aged)
| De Struise Brouwers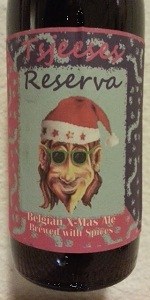 BEER INFO
Brewed by:
De Struise Brouwers
Belgium
|
website
Style:
Belgian Strong Pale Ale
Alcohol by volume (ABV):
10.00%
Availability:
Rotating
Notes / Commercial Description:
2011 Vintage - Pink & Purple label.
Added by MasterSki on 08-27-2012
Reviews: 34 | Ratings: 171

4.25
/5
rDev
+2.7%
look: 4.25 | smell: 4.25 | taste: 4.25 | feel: 4.25 | overall: 4.25
Pours a browned golden with nice resilient creamy looking white head and nice spotty lacing.
Smell is bourbon, barleywine-y, a tad vinous. Seems a little crayony which reminds me of other De Struise BA beers- perhaps oxidation, or perhaps the barrel, perhaps a bit of both. It's hard to tell. Bit of mint and menthol, somehow it almost reminds me of Gratitude.
Taste is surprisingly smoky at first, tastes almost like this was aged in Scotch barrels. The smoke isn't overbearing at all though, merely an opening and then a a conclusion to the fruity flavours. Quite drying and even bitter in the finish. Probably just the bourbon bite manifesting itself as smoke and a burnt quality.
Mouthfeel has hints of mint, of course the aforementioned smoke. A wee bit of sourness. Decently sweet but can't really nail this down as either dry or sweet- it bounces around a bit. Barrel is dry, base beer is kinda sweet.
Definitely reminds me of the base beer with a nice BA element added. Leagues ahead of the Port version.
★
1,016 characters
4.35
/5
rDev
+5.1%
look: 4.25 | smell: 4.25 | taste: 4.5 | feel: 4.25 | overall: 4.25
2013 vintage. To me, Struise concoctions are either hit or miss, very few "meh" beers because they brew on the edge. This one is a definite hit. My new favorite Christmas beer!
★
176 characters
4.08
/5
rDev
-1.4%
look: 4.25 | smell: 4.25 | taste: 4 | feel: 4 | overall: 4
Very similar in taste profile as the normal Tsjeeses with a hefty fig, grape & apple flavors with some medium bready malt. It is huskier & slightly more mellow, and you can definitely sense the oak & even a very distant bourbon. Better than the normal Tsjeeses, if only because I felt that was a little sharp & boozey, the aging helps balance out the flavor profile.
★
368 characters

4.14
/5
rDev 0%
look: 4 | smell: 3.75 | taste: 4.25 | feel: 4.5 | overall: 4.25
2011 Edition; consumed in Mar 2015
A: Deep amber-brown, like a rotting apricot. SRM19-20ish. Minimal head, as expected, and recedes to a thin wispy white skin quickly.
S: Waxy-fruitlike scent, like a scented candle trying to mimic fruitcake. Stone fruits under barlywine, yeasty bread and stone fruits come to mind.
T: Follows the nose mostly with the yeast and stone fruits shining forward in a more highlighted fashion, figs and other dark fruits present too. Very clean and dry on the palette. Taste evolves as it warms, like the finest quads. Bourbon and Oak just a minor accent, but there
M: Carbonation is minimal (age?) alcoholic warmth is well-masked but present. There's a creaminess that is very pleasant.
Overall, a very nice beer even at 4 years. I have one more and I am torn about keeping it until Christmas as I do not feel like this beer has much time left in storage and the complex flavors are very enjoyable now. Drink now or forever hold your peace :)
★
983 characters
4.55
/5
rDev
+9.9%
look: 4.5 | smell: 4.5 | taste: 4.5 | feel: 5 | overall: 4.5
Not sure which 'reserva' I got here. It says 'Nr. 11 Xmas brew' 'Aged 6 months on oak' (not clear which oak, but nevermind)... bb 12-12-2012.
Bought it today.
Beer is murky brown, thin beige head.
Smell is very very good. It's fruity, tart like some wine (makes me think I could have the port barrel after all). Taste is mild and bittersweet. Malt and caramel, some figs, some cream too. Incredibly soft mouthfeel, the abv is very well covered. You wouldn't think it's 10%. Very smooth and drinkable.
Struise has become one of my favourite Belgian brewers. Surely top 5, likely top 3. A must try. Very recommended indeed.
★
623 characters

4.2
/5
rDev
+1.4%
Pours a medium brown color with minimum head, seems pretty carbonated. A TON of sediment on the bottom. Wow, on first sip this is a delicious beer. As soon as it hits my tongue the first thing i taste is dark fruit such as raisins and dates, a touch of caramel to give it some sweetness, and cinnamon. Then comes the bourbon taste with a little bit of oak. This causes the overall taste to be slightly sweet, any more and I may not have enjoyed it as much as I did. The more you drink the more your taste buds will be overwhelmed by the rushes of flavor. This is one of my favorite Christmas beers to date.
★
613 characters

4.37
/5
rDev
+5.6%
look: 4.5 | smell: 4.25 | taste: 4.5 | feel: 4.25 | overall: 4.25
2013
Reddish hue, even the head has a slight reddish tint to it. Huge foamy head with big bubbles. Very belgian.
Unfortunately no bourbon on the nose. Faint at best.
Aroma: cherry is what i get most. Belgian yeast, dark fruits, specialty malts??
Flavor: very complex flavor. So much going on im finding it hard to isolate the flavors. Dark fruits, plums, faint cherry, slightly tart but sweet malty flavor too.
I didnt know what to expect besides bourbon and although i didnt really pick up on it, this is still a great beer.
★
531 characters
3.42
/5
rDev
-17.4%
look: 3.75 | smell: 3.5 | taste: 3.25 | feel: 3.5 | overall: 3.5
2011 vintage
Pours murky coppery-amber body with orangeish glow, capped by an inch of beige head that
eventually sets to stable veil.
The advertised bourbon barrel is nearly imperceivable to the nose initially, but grows as
the beer warms. Aroma is mostly spice and fruits: spicy phenols and esters reminiscent of
oxidized apple slices, sultanas and oranges play the dominant role supported by brown sugar and musty undertones.
The bourbon that yields warming sensation is obnoxiously evident when it comes to the flavor
featuring prominent oak-character, apple, orange and sultanas, peppery phenols and phenolic
bitterness that lasts throughout the finish. The bourbon is just to hot and doesn't integrate
well - the abandoned non-bourbon oak barrel-aged version was a way better.
Bourbon barrel-aging is a great tool to hide flaws of poorly crafted brew or to add complexity to the base-beer. Neither is needed with Tsjeeses. It's a pity so many brewers succumb to the BBA trend to please the masses even at the cost of spoiling the beer. (330 ml, BB 12-26-2017, into tulip).
★
1,089 characters

4.58
/5
rDev
+10.6%
look: 4.25 | smell: 4.25 | taste: 4.75 | feel: 4.5 | overall: 4.75
This was the winner at our annual winter beer tasting party! (Four reviewers, 20 beers)
Very complex and yummy. Kudos to the talented brewers at Struise!
Tasty with fruit and spice notes , then dark fruit with caramel and vanilla hints of pepper and earthy woods. the oak is there and bourbon undertones.
We've had the regular Tsjeeses for the past few years and it alwasy scored well but this is a step up and will be on the list every year as long as they are producing it.
★
478 characters
Struise Tsjeeses Reserva (Bourbon Barrel Aged) from De Struise Brouwers
91
out of
100
based on
34
ratings.