Macadame
| De Struise Brouwers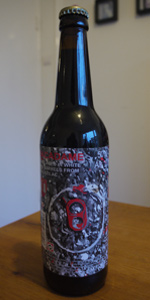 BEER INFO
Brewed by:
De Struise Brouwers
Belgium
struise.com
Style:
American Double / Imperial Stout
Alcohol by volume (ABV):
10.00%
Availability:
Limited (brewed once)
Notes / Commercial Description:
No notes at this time.
Added by Jeffo on 12-20-2012
This beer is retired; no longer brewed.
Reviews: 5 | Ratings: 27
4.03
/5
rDev
+4.1%
look: 3.5 | smell: 4.25 | taste: 4.25 | feel: 3 | overall: 4
Beer immediate foams out on opening. Near gusher. Luckily I'm ready with a glass and near the sink. Save all of it, but I've found this brewery over carbs our has some issue with control. That said they generally make delicious beers.
Eventually the glass full of foam settles out to a quarter inch mocha colored cap. The dark cola colored beer is nearly opaque.
Scent is of wood, dark sugar, chocolate and a bit of coffee. Slight hint of boozy alcohol and a touch of vanilla. The oak is not overwhelming, which is a nice change of pace compared to some that come off over the top.
Taste is very pleasantly balanced. Begins with a touch of bitter dark chocolate and smooths out to a complex mix of vanilla, oak, and anise. Off dry finish.
Mouthfeel is full bodied and very active carbonation. Really too much carbonation that detracts and distracts from the beer. Someone needs to sort out the level of carbonation in their beers to really take them to the next level. I imagine this to be an easy fix.
1,008 characters
3.93
/5
rDev
+1.6%
look: 3.75 | smell: 3.75 | taste: 4 | feel: 4 | overall: 4
Big thank you to Jeffo for this and all of the other killer beers!!
Appearance. Pours a deep chestnut brown with some red coming through at the edges. Topped with a massive 3+ fingers of thick tan head.
Smell. Woody white wine and chocolate, green apples, and a bit of a spicy funk going on. Interesting for sure.
Taste. Sweet white wine, very woody, cocoa, some sweet dark fruits, a bit of well roasted malt in the finish. Again, very interesting.
Mouthfeel. Full body, medium-low carbonation.
Overall. A very interesting beer (did I mention that yet??). I've tried a couple beers that have attempted a decent outcome like this with a stout in wine barrels, but this is the first that I've enjoyed one. Thanks again Jeff!
728 characters
2.96
/5
rDev
-23.5%
look: 4 | smell: 3 | taste: 2.75 | feel: 3 | overall: 3
500ml bottle into a matching 33cl struise cervoise. The brew is a very dark cola brown with 3 fingers light brown froth for a head that fades back to a finger. Rising bubbles maintain a finger seemingly throughout the duration. A swirl effortlessly revives the cap.
The aroma is chocolate fudge and roast with a hint of coffee that takes an immediate turn towards wild and tangy. As it warms up and is swirled, some vinous and stronger alcohol notes emerge along with some sulfur and minerals.
The flavor doesnt really come together as enjoyable as the aroma started off. Instead of having a blend of roast and barrel, the tongue is met with sulfur/cheese as well as minerals and more sulfur. If you can get by that initial shock, there is some raison-like dark fruity alcohol and roast faintly like coffee. Herbal hops are also present towards the back. It displays a warmth across the back that draws a bit more focus towards the barrel aging.
This is a medium to lighter bodied brew that is slightly over-carbonated. Right out the fridge, I popped the cap and the bubbles started to rise up through the neck of the bottle. Had it not been chilled, it could have been interesting. Not my favorite struise offering by any stretch but worth a try. It certainly displays the advertised wine component but I am not sold on this really coming together as well as it could have.
1,377 characters

4.31
/5
rDev
+11.4%
look: 4 | smell: 4.25 | taste: 4.5 | feel: 4 | overall: 4.25
Thanks to Bart for snagging this for me from the Struise beer store! Thankfully I read Jeffo's review as it would have been a gusher had I not been careful opening it. Dark brown-black pour with a two finger tan head that fades quickly with nice lacing. Subtle roast and strong vinous notes dominate the nose along with hints of cola, raisins, cocoa, and just a touch of funk. Very funky-sour and unique taste that like the nose, is dominated by the Monbazillac wine barrels. Subtle fruity sweetness is complemented nicely by roasty chocolate, licorice, and a bit of burnt espresso and bourbon on the finish. The mouthfeel is slightly fizzy and a bit thin for a stout, but finishes with a subtle creaminess and peppery bite. Overall, this was a pleasant surprise. It's definitely not your typical big barrel aged stout, but it's unique enough to make it very interesting.
871 characters
4.04
/5
rDev
+4.4%
look: 3 | smell: 4 | taste: 4.5 | feel: 3 | overall: 4
Thanks to Bart for picking these up for us. Excited to try a new Struise stout that has nothing to do with Black Albert.
From a 500ml bottle into a snifter
Imperial stout aged in white wine barrels from Monbazillac & AJ.
APPEARANCE: Foamed out upon opening, so a careful pour comes out murky, light brown and yields a two finger, medium looking, light tan head with good retention. Slightly fizzy as well. Bistre brown body with higher levels of carbonation. Head slowly fades to a foam cap. A ring and splotchy wisp remain but leave no real lacing down the glass. Foaming was orginally out of control after opening, but it calmed just fine.
SMELL: White wine for sure. Light roasted and mild chocolate notes, with green apples and funky barnyard notes from the wine barrels. Definitely queuze qualities like a lambic / stout blend. Good stuff, though I'd like to see more stout come through for top marks.
TASTE: White wine, green apples, barnyard funk with dark chocolate and roasted cacao flavors up front. Bold and lingering finish of cacao, burnt and charred malts, white wine with green apples and funky notes. A sour-stout with a good dose of wine barrel. Interesting and unique.
PALATE: Medium-light body with higher levels of carbonation. Creamy on the palate, goes down smooth and finishes with a burn at the swallow. Slightly mouth-coating. A definite wine feel on this one, but creamier on the palate.
OVERALL: The wine barrel has definitely taken the lead roll here. Very wine-like stout, and the feel has defintely been heavily influenced by the barrels. This could be a De Cam Gueuze and Black Albert blend. Really nice if you're into stouts and lambic and like to see how they can work together, though it's sour heavy enough that some stout lovers might find this off-putting. Still, a cool beer that's definitely worth tracking down if you're into this type of stuff.
1,897 characters
Macadame from De Struise Brouwers
3.87
out of
5
based on
27
ratings.