Red Wheat

Bear Republic Brewing Co.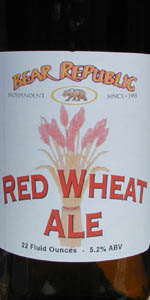 Write a Review
Beer Geek Stats:
| Print Shelf Talker
Style:

ABV:

5.2%

Score:

85

Avg:

4.02

| pDev:

8.46%

Reviews:

14

Ratings:

From:

Avail:

Retired (no longer brewed)

Wants

Gots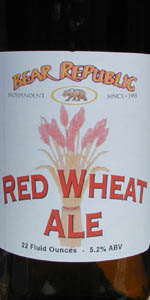 Notes:
Reviews by TheLongBeachBum:
TheLongBeachBum from California
3.83
/5
rDev
-4.7%
look: 4 | smell: 3.5 | taste: 4 | feel: 3.5 | overall: 4
Presentation: Sampled at the Brewpub on a wet and windy Monday lunchtime.
Appearance: Full Pint to the brim, deep red, clarity is stupendous. Off-white thin but resilient head breaks slowly and leaves no lacing on the glass. Solid conditioning though.
Nose: Caramel malts with a sweet hint to it. Some bitterness threatens to break out at the finish, nice aromas, but I recall that this had an average strength nose.
Taste: The bitterness and hops are far more discernable in the body than in the nose. Sweet malts are nicely balanced with the middling hop oils and finishing bitterness which has a wheaty softness.
Mouthfeel: Average feel but this one does have a lovely soft feel to it, is that the Wheat maybe?
Drinkability: A refreshing Pint after the earlier El Oso. I loved the softness that this brew exhibited.
Overall: More Red than Wheat, I would have preferred it the other way around but a nice brew nonetheless and unlike the El Oso, this is one I would return to again.
Jan 15, 2006
More User Reviews:
rajendra82 from Georgia
3.71
/5
rDev
-7.7%
look: 4.5 | smell: 3.5 | taste: 3.5 | feel: 4 | overall: 4
Hand bottled by BA RedwoodGeorge from a 5 liter keg using counterpressure filler, this 22 oz. bomber was beautifully labeled as well. The heady pour into the Weizen glass provided evidence that he knew how to work the equipment. The body was a lovely shade of copper, with a one to two finger thick head and a high degree of clarity. The looks were just about right for a beer calling itself Red Wheat.
The smell was purely that of a American Pale Ale driven by citric hops. While this was a pleasant smelling beer, I was expecting more Weizen qualities in the nose. Similarly the taste was a bit cleaner than I anticipated, with a simple spicy hoppy bitterness and a bone dry body. No indication here of wheat ale traits like banana, or clove. This felt a little more complex than an average APA, and a little thicker too. Easy to drink the whole 22 oz. bomber, but could have been a contender with a little more wheatiness.
Mar 12, 2006
mntlover from Tennessee
4
/5
rDev
-0.5%
look: 4 | smell: 4 | taste: 4 | feel: 4 | overall: 4
Again from George's massive project, bottled on Feb 16, 06
Pours a light brown with some amber hints or maybe its the other way around doesn't matter really. Sports a smaller cream/light tan head thumb sized maybe a touch more but leaves a good supply of lace on my glass.
Aroma is nice malty some caramel hints mixed in with the light wheat notes lots of nice hops in the nose piney/ herbal.
Taste is nice hints of caramel again some light wheat notes and again right into the hops nice piney with some herbal spice good flavors. Again this is nice simple but flavorable not really what I would call an American Pale Wheat because this is actually tasty has good flavors.
Mouthfeel is a good medium nice level of carbonation just enough to do the job and be unnoticed.
Drinkability is good very good, would make a hell of a sessions brew in my home pub. Thanks George for this treat I wouldn't get to try otherwise best damn American Pale Wheat Ale I have had.
Feb 27, 2006
mentor from Colorado
4.46
/5
rDev
+10.9%
look: 5 | smell: 4 | taste: 4.5 | feel: 5 | overall: 4.5
Bomber provided by Redwoodgeorge, who counter-pressured filled it from a keg (this beer is not bottled by the manufacturer). Super-huge thanks. Pours a one finger off-tan/white fluffy head that slowly settled to a thin layer. This part stayed around the entire duration and made nice lacing on the inside of the glass. Crystal clear liquid that's light rust in color. Light orange-amber. Smells of honey, orangey hops, a bit of pith, some candy-ish sweet, and a hint of co-humulone (that means grassy rough from hops). Tastes wet sweet and fruity with nice hop orange character supported by a modest hop bitter that rises a bit in the end leading to a modestly grassy finish. I find caramel and peaches with some iron. Grapefruit pith is a background characteristic. It's got a musty character remniscent of rye. Now that I'm drinking it, I wonder if the 'Red" part of the name comes from this being a beer made with some red rye. Wet sweet from start to finish with a creamy character to the mouthfeel. Modest carbonation is spot on, as it allows the creamy character of the mouthfeel to shine. This beer is really delicious. Some wheat comes across in the sweet malt flavor and this beer is lacking the phenolic (ie, clove) characteristic commonly found in german wheat beers. I think there may be some alcohol, but it combines with the pith and a dash of acrid carbonation that makes a brief appearance. I'd summarize this beer as well blended. The flavors feed and support each other and are all well-moderated so as to make for a very pleasant experience. As the beers has warmed and my taste buds have habituated to the flavors, some of the rougher hop character is beginning to dominate, especially in the end and aftertaste. The aftertaste has a flat dry character that I've come to associate with lupulin oils. It's not so lupulin as to actually come across as hop oils. It's just a drying flatness on the tongue that allows the hop bitterness to deepen a bit and persist a bit longer.
Mar 10, 2006
merlin48 from Kentucky
4.1
/5
rDev
+2%
look: 4 | smell: 4 | taste: 4 | feel: 4 | overall: 4.5
Received from RedwoodGeorge as part of his bottling project. Many Thanks! Pours an ultraclear, copper orange body with a one finger beige head. Generous patch lacing adorns the pint glass.
Aroma is hops. Spruce pine and grapefruit. Some wheaty notes lend a toastiness.
Mouthfeel is medium bodied and well carbonated. Slightly grainy, with a mild sting from the prominent hops.
Taste is well balanced, overall, but surpisingly hoppy for the style. Prevalent pink grapefruit and pine dominate, but toasty and grainy wheat are easy to pick up. Finishes dry and hoppy, but well balanced and tasty. Another winner from Bear Republic.
I am a huge fan of this brewery and this effort doesn't disappoint. The assertive hops presence makes for a pleasantly drinkable brew out of a style I normally find bland. This one reminds me of the excellent, Hop Rod Rye, except with wheat. Very well crafted. Thanks, George!
May 20, 2006
BuckeyeNation from Iowa
4.42
/5
rDev
+10%
look: 4 | smell: 4.5 | taste: 4.5 | feel: 5 | overall: 4
Received from RedwoodGeorge as part of his recent Home Bottling Project. Finely hazed dark apricot with butterscotch borders. The head looks wonderful and is as much a testament to George's skill in re-bottling as to Bear Republic's skill in brewing. The color of buttery shortbread (with a generous orange tint), the foam is exceptionally thick, rich and creamy. Its rumpled surface loses altitude slowly and deposits a respectable amount of lace as it does so. Not the typical APWA look, but definitely a good one.
What a surprise, hops dominate the nose! Even though I truly am surprised, I shouldn't be. Bear Republic is one of my very favorite breweries precisely because they giddily add hops to everything that they brew. Why wouldn't they stuff their pale wheat with them as well? The beer is unrecognizable as the stated style, by the aroma anyway, but then most pale wheats don't smell like anything good anyway. Have you ever smelled wheat? One of the best pale wheat noses going.
No surprises on the palate. No surprise that the beer is good and no surprise that is tastes the way it does given the ingredients. I don't know that I've ever had a beer quite like Red Wheat Ale before. It pounds the tastebuds with twin cannons known as 'wheat' and 'hops' and still manages to maintain perfect balance between the two.
The wheatiness is evident by an amazing amount of sour tanginess, more so than in most versions of the style. That's probably because this beer is as chock full of wheat as it is with hops. That sourness isn't a negative as far as I'm concerned, but it might become a little wearing by the bottom of the bomber. Without the hops running interference, it might have crossed the line.
Speaking of hops, Red Wheat is the hoppiest version of the style since Gumballhead. This is a much different beer (more malt, more sourness, bigger body, slightly less hoppiness), but even so, a rough comparison with Three Floyds's masterpiece wouldn't be out of the question. Beyond at least one member of the '4-Cs', and probably more than one, I couldn't guess as to the hop bill. Lemon over orange over grapefruit.
There's no question that, thanks to wagon loads of red wheat, Red Wheat has the biggest body that any version of the style has ever aspired to. Naturally, since I love big-bodied beer, I'm on board with this one in a big way. I've just noticed how much mouth-coating takes place on the finish (think orange juice). The quiet amount of carbonation is middle of the bull's eye perfect. The more I drink--keeping style firmly in mind--the more I'm convinced that the mouthfeel on this beer is, indeed, perfect.
Despite my fears that drinkability would suffer because of the unrelenting wheaty and citric sourness, such is not the case. One bomber at a time is plenty though (a good thing since that's all I have). Bear Republic, if I may be permitted to repeat myself, is a great, 'hopheads are in charge' brewery. Red Wheat Ale is evidence that they can pull any old style out of a hat, put an interesting twist on it and come up with yet another brilliant beer.
Apr 13, 2006

Zorro from California
4.17
/5
rDev
+3.7%
look: 4 | smell: 4.5 | taste: 4 | feel: 4.5 | overall: 4
Sampled thanks to RedwoodGeorge and his most Excellent trade!
Pours a clear copper red ale with a good tan colored head with a decent lasting head.
Scent is very strong citrus and pine hops! A very ballsy amount of hops here for a wheat beer, this is stronger than many AIPAs on the market. Additional hop scents of wood and mint this is a very spicy smelling beer.
Taste is neutral in flavor and very woody from the large hops load and bitterness at the very beginning. A little sour and mellow bitter it is a little spicy but nothing near as spicy as the scent suggests. Tasty and strong in hops it isn't as complex as it could be. Still it is a tasty Wheat IPA.
Mouthfeel is good.
Not a bad drinker but it is a hop heads beer for sure. It is best to consider this to be an IPA for all intents and a good one too! A recommended beer for all hop heads.
Feb 25, 2006
ppoitras from Massachusetts
4.3
/5
rDev
+7%
look: 4 | smell: 4 | taste: 4 | feel: 5 | overall: 5
22oz bottle obtained via trade with RedwoodGeorge. Thanks for the opportunity... Brewed 1/2006, hand-bottled via counter-pressure system 2/16/06.
Poured into an imperial pint glass, formed a 1/2" off-white head over the clear copper brew. Dense head fades slowly, with ample sticky lacing. Aroma tends toward green hops, with a light wheat undercurrent. Flavor follows the aroma's lead, with a fresh hoppy close. The pleasing hops character does linger however, long after swallowing. Mouthfeel has the super-smooth wheat character, and drinkability is excellent as a result. Very nice offering, and if it's lost anything via this mode of packaging, it must be superb on-tap locally.
Feb 27, 2006

RedwoodGeorge from California
4.21
/5
rDev
+4.7%
look: 4.5 | smell: 3.5 | taste: 4.5 | feel: 4 | overall: 4.5
This one's a contradiction - a surpsingly delicate beer with quite a few 'big' characteristics...
The beer pours a crystal clear amber with a finger of off-white foam. Surprisngly light colored but very distinctly red in hue. The head dies off quickly enough but leaves a moderate amount of lacing on the glass.
The nose is rather light with clear notes of grain almost as if you'd just opened up a sack of raw wheat flour. Light hop smells of new mown grass but quite restrained.
The flavor is another story - Hops come in up front, hops are there at the end and for good balance some hops in the middle as well. Again not strong or IPA-like in intensity but very distinct, clean notes of green leaves and herbs. In the middle are some light fruit notes typical of an amber but only in hints. There's a strong wheat note in the middle with an almost straw-like flavor and then a finish of more hop bitterness with a touch of something Cascade-like with citric and pine resins. While there are lots of obvious, clear hop notes here it's far from strong - this is no more hoppy than a Sierra Nevada Pale Ale (which certainly has distinct hops notes)
Mouthfeel is pleasantly light - this would make a good summertime beer. Carbonation is fine and cleans the palate well. No oily residues or heavy sugars left on the palate. There's a very dry, almost brut-like finish with an aftertaste of wheat grain.
All in all very drinkable, combining some nice qualities from different styles - the light body of a wheat, a bit of fruity ester of an amber and the hops of a good pale ale. This would make a very good summer beer, especially at 5.2% ABV.
Feb 27, 2006
goodbyeohio from Oregon
3.34
/5
rDev
-16.9%
look: 4.5 | smell: 3 | taste: 3.5 | feel: 2.5 | overall: 3.5
thanks to george for the opportunity...
pours, well, red. more orangish, actually. filtery-clear with sparse but present carbonation. thin islands of delicate foam top the glass but leave surprisingly intricate lacing.
smells sour and funky.. like raw fermenting wheat mixed with some seriously european, mildewy hops. some hints of dried apricot follow the weirdness and pull it from the gutter with a fruity tang.
taste: this reminds me alot of mcneill's attempts at red ales. its got that seriously twisted sourness and enlarged hop presence conflicting with the delicate flavors of the wheat malt. the first thing i feel with this beer in my mouth is a sharp, numbing bitterness on the tip of my tongue. it follows to the throat and feels like the vines and leaves of the hop plant also made its way in here. still, it tastes fresh and that earns it a point or two.. just a bit abrasive for such a light beer. like i said, mcneills.
sure, its light and drinkable, but the flavor is off and not up to par with other bear republic beers. i really looked forward to this beer but it was sort of a letdown. allie likes it though.
Mar 03, 2006
orbitalr0x from Illinois
3.8
/5
rDev
-5.5%
look: 4 | smell: 4 | taste: 3.5 | feel: 4 | overall: 4
Initial thanks to RedwoodGeorge for this one. 22oz bottle that was hand bottled from a keg using a counter pressure filler under the advice of professional brewers.
Pours from the bottle a crystal clear amber red color with a nice half inch of bubbly off white head that leaves speckled lacing. Aromas bring a subtle underlying toasty, grainy wheat with a bit of spiciness. Forward citrusy, green hops are present along with a bit of piney aroma. Rather mellow and refiend with a touch of caramel.
First sip brings pale, grainy, toasted wheat maltiness that's a bit dry. A bit of spiciness creeps through along with a citrusy, piney earthy green hop that comes in midway through each sip. Hints of caramel sweetness and even a touch of nuttiness. Finishes dry and crisp with a kiss of hops and a lingering grainy husk. An interesting, hoppy wheat brew.
Mouthfeel is smooth and medium bodied. Quite refreshing, this brew goes down easily. A nice twist on a wheat brew, but I would've liked to see the hops amped up a bit personally. Bear Republic rocks and I'm glad to have had the opportunity to sample this brew!
Mar 03, 2006

warriorsoul from Pennsylvania
3.58
/5
rDev
-10.9%
look: 3.5 | smell: 3 | taste: 4 | feel: 3.5 | overall: 3.5
Thanks to RedwoodGeorge for this one many normally, unattainable brews.
A clear copper in color with less than a half finger of off-white head, but what forms goes nowhere and leaves some thin lacing.
Caramel malt with a mild sweetness in the nose...plus a generous helping of floral hops.
The taste is quite good...very well balanced. The wheat is definitely dominating the flavor, but both the malt and hops are abundant as well and finishes very clean.
Definitely not as thin as I was expecting...carbonation is great.
Another solid brew from the folks at Bear Republic and one I am very grateful to try.
Mar 04, 2006
BEERchitect from Kentucky
3.71
/5
rDev
-7.7%
look: 4.5 | smell: 3.5 | taste: 3.5 | feel: 4 | overall: 4
Nice to see what a new grain can offer to the brewing world. Red wheat offers great creamy, bready, estery aromas and flavors, but with an English Red caramel, malty flavor. Very fruity with apples, banannas, pineapples, and berries. Spiced with cloves, bubblegum, corriander and orange peel. Carries a light body that remains creamy and full. Never eases it's head retention or carbonation. Finishes a bit more grainy than preferred, but to be expected (kinda 'rye' like). Thanks to Kmpitz2...however he got it.
Mar 27, 2006
ommegangpbr from New York
4.45
/5
rDev
+10.7%
look: 4 | smell: 4 | taste: 4.5 | feel: 4.5 | overall: 5
On tap at the Hop Devil Grill.
Not a very popular style... seems like an easy style to mess up.
This one is delicious, though. As drinkable as drinkable can be and still has plenty of flavor. Soft and kinda fruity/berry-like but not overtly so; the fruit flavors kinda play harmony. Quite well hopped, but not overtly so. Nice malt. Very, very well balanced.
Perhaps isn't oh so wheaty for the style, but maybe that's what makes it so tasty. It's wheaty enough for me. I'd love to have this stuff in six packs.
Mar 18, 2006
Red Wheat from Bear Republic Brewing Co.
Beer rating:
85
out of
100
with
14
ratings