McMenamins - Chapel Pub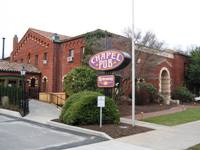 PLACE INFO
Type:
Bar, Eatery, Beer-to-go
430 N Killingsworth St
Portland
,
Oregon
, 97217-2441
United States
(503) 286-0372 |
map
mcmenamins.com
Notes:
No notes at this time.
Added by freed on 12-14-2006
Ratings: 15 | Reviews: 7

3.88
/5
rDev
-4.9%
vibe: 4 | quality: 4 | service: 3.75 | selection: 3.75 | food: 4




4.08
/5
rDev 0%
vibe: 4 | quality: 4 | service: 5 | selection: 3.5 | food: 3.5
Recently went with my girlfriend here for a pseudo date night. This is really a unique location (like many of the properties owned by McMenamins).
The signage outside is very cool. We entered through the tiny room by the east parking lot and into the bar. The bar has a unique central location and ample room to sit around it.
We sat in the west end of the restaurant. The mood was great. It was night time and there were paraffin candles burning. Lots of wood inside. A tv that wasn't on was mounted in the corner.
We waited for a while for service but when our server finally appeared from a back room, he was hilarious and friendly. Very attentive and not overwhelming. Some of the best services I've had at a McMenamins restaurant. Very good experience.
760 characters
3.9
/5
rDev
-4.4%
vibe: 4 | quality: 4.5 | service: 3.5 | selection: 3.5 | food: 4
Thanks to the great review by jjboesen, my work here is almost done.
I'll say that as far as the little details go, and the overall feel of the space, the Chapel Pub was probably my favorite of the McMenamin's pubs I've visited. It was just very cozy and contained, and there were a lot of interesting paintings and lamps and other things to look at. Of course, I really love the painting at the Bagdad with the guy on the magic carpet with the skull pattern; that's my favorite art piece.
The menu is pretty much the same as at the other locations with a few interesting names thrown in (i.e. Chapel Pub Burrito). They seem to tailor their menus to the clientele, which is always a good thing.
And, of course, the beers and wines are from McMenamin's with the exceptions of Coors Light and PBR on tap. But that's OK by me. I think their wines are great, and I've never had a beer that I haven't enjoyed.
So, overall, just like the other McMenamin's locations, it has a great atmosphere but you're limited to McMenamin's beers.
1,032 characters
4.38
/5
rDev
+7.4%
vibe: 4.5 | quality: 4.5 | service: 5 | selection: 3.5 | food: 4.5
Here we have another member of the McMenamin Brothers' unique microbrew empire. If you are not familiar with these guys, just know that they (the McMenamin's) are famous throughout the Pacific Northwest for converting interesting properties (historic taverns, theaters, schools and the Multnomah County Poor Farm) into entertainment venues, where many a thirsty patron can avail themselves of their (the McMenamin's) own craft beer. While Portland beer snobs seem to give mixed reviews to the beer, many beer advocates, such as me - who, by the way enjoys their beer, applaud them - as well as the concept of it all. So here have McMenamin's Chapel Pub - it was once a funeral home!
Built during the Great Depression, 1932 to be exact, at a then exorbitant cost of $40,000, the Wilson-Chambers Mortuary (did I say "funeral home?") was a showpiece of Italian-Romanesque design as well as an architectural gem amid Portland's Piedmont neighborhood. After adding a set of chimes, the building was christened "Little Chapel of the Chimes," the name it retained until 2005 when the McMenamins entered the scene.
The Chapel Pub we see today offers several intimate areas in which to ingest and imbibe; however, the central focus is always gong to be on the tugboat-shaped bar that is the centerpiece of the original chapel. (Of course, the bar is not original.) Adorned with delicate wrought ironwork, this bar is certainly a unique place to quaff a few McMenamin brews.
McMenamin pubs usually offer several types of beer, both year-round and seasonally; during my recent visit during the Oregon Brewers Festival, there were six on tap. In addition to the beer, I also enjoyed Thai Chicken Skewers, which can never be confused with pub grub. All of McMenamin pubs have a daily happy hour when beer lovers can drink down $3.40 pints.
The Chapel Pub has plenty of parking; however, Portland being Portland, there is a wonderful public transit system of busses, trolleys and light rail that can get anyone anywhere, mostly anytime. Bus 6 and 77 will get you within walking distance of the Chapel Pub, the former going and coming from downtown.
Portland is a wonderful place to find a place for great beer in unusual surroundings. The Chapel Pub is just one more.
2,259 characters
3.9
/5
rDev
-4.4%
vibe: 4.5 | quality: 3.5 | service: 4.5 | selection: 3.5 | food: 4
Ever since its McM reincarnation in late 2006, I've been meaning to pay the Chapel Pub a visit - tonight was finally The Night. In its former life, this building (built in 1932) served as both a funeral parlor and small sanctuary for weddings, seeing off hundreds of couples in wedded bliss and ushering countless others into the afterlife. This North Portland institution closed its doors in 2005, only to be purchased by the McMenamin brothers and converted to both a pub and cental offices for the McMenamins Empire.
From the outside, it's a rather adorable reminder of bygone days, when $75,000 in Depression Era currency could afford all the finest masons, iron workers and carpenters available. Inside is a nod to Italian architects, with details remaining and embellished upon that elevate this rather tiny building to a higher place. Small dining rooms cluster around a larger hall (the former chapel) which is now dominated by a large wooden oval-shaped bar. Seating around this bar is in booths; I grabbed one beneath a sweet portrait of a happy couple dressed for their wedding day, hovering over a much older version of the same couple, aged yet still embracing as they drift off to the afterlife. The whole place has a comfortable feel, a pub vibe that respects the past - the McMenamins are typically very good at doing this in their rehab projects, but this is one of their best. The 1920's-era organ still works, and was emitting the haunting melody of JS Bach's 'Toccata in D Minor' as I was leaving. I noted that Led Zeppelin and the Stones were also in the organist's playlist... and, by the way, she was none other than Jenny Conlee of The Decemberists!
Beer and food - typical McMenamins fare, which is to say 'pub grub', and classic McM ales like Terminator, Ruby, Hammerhead and the like. I chose my mainstay meal, the Captain Neon burger (bleu cheese & bacon) with tots on the side (about $7). Two pints ($3.95 ea.), both the seasonal specials - one ESB (nitro) and one Workingman's Red were both pretty good.
Service was fine, friendly and fairly prompt. He let me know that the kitchen was 'a little backed up' before I ordered (though the place was half-full at best), and food still arrived in less than 15 minutes - no big deal. I also was kindly reminded, when it was served, that my nitro ESB would 'take a minute to settle'. I knew this already, but it was still nice to hear.
Atmosphere-wise, this is a great location to visit to get a feel for the McMenamins 'Magic'. Everything else about it is standard McM, but that's not a bad thing per se. Next time I hope to go back during office hours; I hear the historical records and photo archives are upstairs and I'd love the chance to check them out...if that's an option.
2,758 characters
4.18
/5
rDev
+2.5%
vibe: 5 | quality: 4 | service: 4.5 | selection: 4 | food: 3.5
I'm trying to think if there's a McMenamin's outpost somewhere that I don't like. I suppose some of the suburban strip mall pubs are a bit stifling. And there's several beers that don't rouse me to quick returns. But by and large McMenamin's is a good thing and The Chapel is another good reason why. Who else but the Brothers McMenamin would turn a former funeral parlor into a funky pub and restaurant?
It's difficult to imagine how the building once functioned as a funeral parlor and wedding chapel. There are perhaps five or six main rooms of comfortable size for informal dining with a woodstove in one and an outdoors patio. The centrally located oval bar conveys an austere sense of reverential purpose. I kept imagining the same space occupied by an open casket as mourners passed by to pay respects to some deceased Portlander. Now the place flows with beer and booze.
Despite its deathly past, the décor is a notch less ghoulish than say, the Kennedy School or Hotel Oregon. Quirkometer readings are solid, yet slightly lower than elsewhere. I didn't see a single plumbing fixture with a spirited face painted on it. But the wrought iron gates and lamp fixtures all looked like McM originals. The flaming sun rings are a nice touch with similar artful details complimenting the arches and leaded glass of the chapel.
Supposedly food offerings have a slight variant or two from the standard McMenu, but I didn't catch it. If you're familiar with the trappings of The Empire, you'll know to expect decent low-key fare from the kitchen. It's tasty but not ambitious. Service is notable for its friendliness and meets all expectations. If I heard correctly, the McM Brothers now maintain their corporate offices upstairs.
1,754 characters

3.53
/5
rDev
-13.5%
vibe: 4 | quality: 3.5 | service: 3.5 | selection: 3 | food: 4.5
This is a welcome addition to the neighborhood and an excellent use of a charming little mortuary. While most of the decor and furniture are signature McMenamins, the alcoves and nooks create a series of smaller, more intimate places to sit and ruminate. Use of long grain fir warms up the place, thought the cast-iron legged round tables can do a number on your shins. Go for a booth if you can.
Service was above average, which is a good start for having only been open for 2 weeks. There were some delays, and occasional crowding slowed things down as well. Crowding was a good sign though as it appears that the neighborhood might be accepting the place. Minors appear to be allowed all hours.
Beer, wine and liquor are available at this location, and I believe the beer is brewed at the Concordia Brewery. I had a Scotch on nitro that was quite nice, but the IPA I followed with was cloudy and green - like it might have been rushed in to service before finishing with fermentation. It's a typical McMenamins beer lineup with a few seasonal offerings. Prices were just below $4/pint, which is a little steep for mediocre beer, but better than many of the other locations that now charge over $4/pint.
As mentioned before, the menu has a few changes to the standard lineup, and our food was better than average. Prices also seemed lower at this location, and one could speculate that it might be determined by location.
1,433 characters
4.05
/5
rDev
-0.7%
vibe: 4 | quality: 4 | service: 4 | selection: 4 | food: 4.5
The new McPub on the block....!
The Brs. did a nice job on the chapel; Kepping the old world feel and iron work... Nice wooden oval bar and usual McM sights - wood burning stove, funky painted decor, McM artwork and cool sunburst lighting. Nice looking place..
It's a fairly large space with a maze of different rooms, all decorated...
The bar serves the usual McM ales and cocktails. Does not appear to have a brewery on site. I read that there are offices, but couldn't see them..
Here's the exciting part! An improved (different) menu! Nice selection of new pub grub and deserts....
Other than the building itself and the new menu, it's a typical funky and cool McM establishment...
700 characters
McMenamins - Chapel Pub in Portland, OR
4.08
out of
5
based on
15
ratings.