Haus Der 100 Biere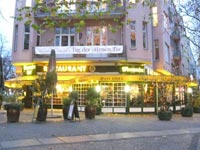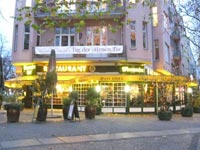 Bar, Eatery
Mommsenstrasse 45
Berlin
, 10629
Germany
(49) 030 325 2580 |
map
mommsen-eck.de
Notes:
Reviews by 4thoseabout2bock:
4thoseabout2bock from Illinois
4.06
/5
rDev
+10%
vibe: 4.5 | quality: 4 | service: 4 | selection: 4
NOTE There are TWO locations of 100 bieres -- one near Potsdamer Platz and one in Charlottenburg/berg (spelling seems to vary)
We went to the original in Charlottenburg and after visit #1 last night we are favorably impressed. VOM FASS they have Andechs Doppelbock Dunkel. VOM FASS. Did I mention its on tap? I beleive that is quite rare. Gorgeous body and lovely chocolate malt. A bit pricey at 3.85 for .4l (goblet) but YUMMY and an unexpected delight to find it here in Berlin.
Autumn menu lists pumpkin soup and several game dishes. I will update entry, but for now, this was definitely an A- experience.
On other sites I read less flattering things about the new location at Potsdamer Platz, and I beleive the new is the location that several (low rated) posts are referring to.
To get to the ORIGINAL location, closest stations are S9 Charlottenburg or U7 Wilmersdorfer Strasse. Cross under S tracks on Wilmersdorfer Strasse. On the corner, near fountain, one large block (two small ones) on your left.
Oct 04, 2008
More User Reviews:
Ruds from England
3.64
/5
rDev
-1.4%
vibe: 3.5 | quality: 3.5 | service: 3.5 | selection: 4
Have visited the Charlottenburg bar on a couple of occasions, most recently this spring
Yes - it's a bit gimmicky and some of the '100' beers (in reality it's not likely to ever be 100 as my friends and I have requested a couple that weren't in stock!) are beers you wouldn't bother with on a trip to Deutschland (ie Guinness!)
but there are a few interesting German beers that you may not find in other bars in Berlin
Both times I've visited we've sat outside in the beer garden and people watched, it's a fairly lazy/quiet back street to be honest!
Charlottenburg is a 10/15 minute train journey from Berlin Hbf, and the venue is 7 or 8 minutes walk from Charlottenburg station
On both my visits, we've been stopping on the Kurfurstendamm, so the Haus der 100 Biere was on the way to the station to access central Berlin
Like many of my other reccomendations of my reviews - not worth going out of the way for, but if you're in the area for whatever reason , pop by!
Oct 22, 2011

Dennoman from Belgium
3.6
/5
rDev
-2.4%
vibe: 4 | quality: 4 | service: 2 | selection: 4 | food: 5
I visited this place under recommendation of reviews on this site. As it's supposed to be one of the prime watering holes for many a Berliner, I decided to pay It a visit during my week there. The abundance of plants definitely attracts a good amount of wasps during hot weather, but despite having to swat at the pesky little buggers constantly, I'd say the outside terrace of Mommsen-eck is quite a nice place to be hanging out on. Decent selection of mainstream German and Belgian bottles with a few from other parts of the world, but don't expect anything from a tiny microbrewery to rock your world on this beer list. As a previous review stated, most joy in this place is to be found in the tap list. For those wanting to pay a strategic visit: every Sunday, all day, you can get one beer off the tap selection for only €2.50, definitely a good deal. Something else Mommsen-eck specializes in, is reasonably priced classic German food. The "two horse turds on hay" (classic Berlin meatballs on a bed of sauerkraut with coleslaw and baked potatoes) is yummy, fun (presented in a shovel) and a good meal for €11, though the coleslaw seems a tad superfluous. The menu includes lots of other Berlin specialities and the obligatory poncy Italian stuff to keep any hungry client happy. With its very reasonable prices and well-balanced synergy of beer and food, Mommsen-eck is easily a place to spend half a day without ending up completely skint. From what I've seen, I do have to say service is incredibly slow due to the clumsy outdoor layout. Going inside to place your order doesn't really help, as you will only bump into the waitress who then - friendly as ever, admittedly – urges you back to your seat.
Sep 03, 2011
treque from Mexico
3.8
/5
rDev
+3%
vibe: 4 | quality: 3.5 | service: 4 | selection: 4 | food: 3.5
Situated on a corner, with some tables outside this place is one of the best place to drink real german food and have good beer.
Inside there are beer bottles all over the place some are repeated but probably have more than one thousand. outside the restrooms there are interesting poster with brewers brands, german beers and all around the world beers.
The food was good, at reasonable price, theey have around 10 tap beer probably more, the waiter help to select a couple, really nice selection.
I would highly recommend it
Oct 10, 2010
Andreji from Texas
3.38
/5
rDev
-8.4%
vibe: 3 | quality: 3.5 | service: 2.5 | selection: 4 | food: 4
The Hd100B enjoys a fabulous location in downtown berlin, in a fantastically calm passage of the restless Potsdamer Platz. but the place itsel is a bit too austere for my taste, no ambience at all, outside you'd feel as in a prefabricated mall cafe and inside a prefabricated hotel restaurant. the service was no good either; even though perhaps 4 or 5 tables were currently busy (for the 5 or 6 waitresses) our sitting outside still drew some looks of ennuyance and delayed service.
The menu is very poorly translated, and even the specs in the menu are highly incomplete. There are, in fact, 100 beers, but the list is inflated by numerous less-than-amazing specimens although they do retain some brilliant german beers, like salvator, paulaner roggen, schlenkerla among others. i was amazed not finding koelsches or alts.
food, while highly expensive, was very good- we tried the goulasch and the roasted camembert. the eisbein someone ordered in another table was nice looking, too.
all in all, pricey with a tone of tourist trap-ism but not an entirely mediocre experience in the thriving downtown berlin.
Jul 14, 2008
ballewblake from New Jersey
2.75
/5
rDev
-25.5%
vibe: 3 | quality: 3 | service: 2.5 | selection: 2.5 | food: 3
Found this place on some flyer when there. Like below I was really optimistic just to be gravely disappointed. There was a heavy dominance on pilsners, and not even good ones. Lots of macro logos dominated the menu with few unique or good brews. Not really a stretch of the imagination. Atmosphere was really hampered for me as this place really leaned more toward a family restaurant than a bar. The bar area was dead and the place was clearing out early in the evening.
I ended up merging tables with a group of exchange students whom got us more attention with the wait staff, whoooom, were worthless when it came to beer knowledge. Hell, I gave up on looking through the menu at one point and just ordered 'Anything but a pilsner.' well.. thats what they brought me. The bartender was more fascinated with learning English off the Americans and talking American politics, rather than serving too. Eh, thumbs up on that... I think.
Feb 11, 2008

elmocoso from Nebraska
3.98
/5
rDev
+7.9%
vibe: 4 | quality: 3.5 | service: 4 | selection: 4.5 | food: 4
We came here with a group of friends very excited about the 100 biers. It is a very woody place, dark wood with a beautiful brass bar. The closet o' proper glassware is visible when you walk in. We found our seat and were quickly visited by a waitress with the "International" menu.
They have about 15 beers on tap. Unfortunately, most are pilsners. Now I like pilsners, and have really grown to appreciate them since I have lived here, and I understand that I am in the heart of Pils country, But this being the "House of a hundred biers" I guess I let my optimism get the best of me. I was quite disappointed. They did have a couple other styles on tap. The Hefe, a bock and some "red-blond" beer and we all tried them, but i cant say they were super fresh. they were still OK. They did have a nice bottle selection.
The food was pretty good. A friend of mine ordered the "Horse Droppings on Hay" which was a mound of sauerkraut with 2 meatballs on top, served in a giant silver shovel. Quite entertaining and quite good.
Anyway, give it a try.
Feb 05, 2007
BlackHaddock from England
4.28
/5
rDev
+16%
vibe: 4 | quality: 4.5 | service: 4 | selection: 4.5 | food: 4
This was my favorite beer bar in Berlin for three years (87-90), I revisited in 2005 and again in Jan 2007. The British sector had some good watering holes and this one is still going strong.
It is a great place to have a draught beer, 15 different (Andechs Doppelbock dunkel, Duckstein, Klostriker Schwartzbier, 6 German Pilsners, a Kolsch, Weihenstephen Hefewiessbier and some non-German beers also.) There is always a draught beer of the month at a cheap price, this visit it was Warsteiner Pils.
The bottled selection covers the world, mostly well known brews, but still very impressive, especially in Berlin, where beer choice is not a big thing yet.
The staff are all pretty young ladies, with one young lad pouring the beers for them all, he works bloody hard, the girls just look good, I hope they share their tips with him.
Very German in decor, all wood and heavy tables. The conservatory doubles the size of the place, outside drinking is also available.
The food is big, bold and good. They have specials on various nights and huge buffet breakfasts that go on until 12.00 (as well as other breakfast options), on Sundays and holidays it extends into a buffet brunch until 15.00. We shared a cheese platter on my last visit and the four of us couldn't finish it.
This is a lot better than the new place they have set up in Potsdammer Platz, this is the original and is well worth seaching out.
Jan 26, 2007
Haus Der 100 Biere in Berlin, Germany
Place rating:
3.69
out of
5
with
8
ratings