Rebar @ Retreat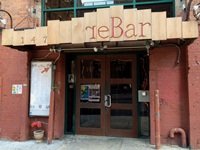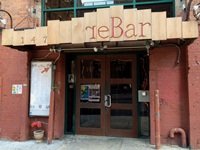 PLACE INFO
Type:
Bar, Eatery
147 Front Street
Brooklyn
,
New York
, 11201
United States
(718) 797-2322
// CLOSED //
Notes:
No notes at this time.
Added by nycjag on 12-18-2006
PLACE STATS
Reviews:

7

Ratings:

pDev:

10.19%
HISTOGRAM
View: Place Reviews
Ratings: 8 | Reviews: 7


4.45
/5
rDev
+5.5%
vibe: 4 | quality: 4.5 | service: 4.5 | selection: 4.5 | food: 4.5
Situated under the Brooklyn Bridge. A nice roomy bar with a large room full of couches. Populated by lots of young professionals there for happy hour, though not too crowded. They only have about 15 taps, but they are good quality, not your everyday variety. Some of what was offered on the night I visited include Koningshoeven Quad, Backdraft Chocolate Porter, Duvel Green, Avery Hog Heaven & Czar Imperial Stout, Penndemonium, Stone Levitation, Raderberger & Pennweizen. The girl behind the bar was very knowledgeable on the selections. I really liked the fact that they are not afraid to put a good head on the beer.
I sampled the pasta, which was penne with mushrooms, artichokes & sun dried tomatoes. It was very good and a large portion.
Beers and food was a little pricy, I'm not familiar with Brooklyn, but by NYC standards it was probably average. I expected Brooklyn to be a little cheaper. The beers ranged from 6-12 dollars, but happy hour knocked off $2.
971 characters

4.06
/5
rDev
-3.8%
vibe: 4.5 | quality: 4 | service: 4.5 | selection: 3.5
I stopped here on my first real trip to DUMBO. It can be reached a lot of ways, but I walked across the Brooklyn Bridge and just turned left and found Dumbo in a 10 minute walk.
I visited rebar during the day, so I was only one of a couple of patrons,
First, this bar is beautiful and in a wonderful large space that also includes other businesses. I believe the whole space is called 'Retreat" and the bar called "rebar" is the space up on the second floor. You go inside retreat, then head up the stairs. When you get inside, you can easily see why this bar got best new bar in 2007 from Time Out as you step through the handmade iron gates that frame the entrance to rebar. Barrel shaped roof, columns, open, making a very cosy and welcoming space.
I got fantastic service from the bartender who also practices in his band in the room above rebar. It was a very pleasant place to hang out.
They have 15 taps or so, with maybe 30 bottles. But it is a nice selection. I had a double IPA (forget name) and a nice Belgian. All pretty sweet.
I would check out this bar, in this interesting and quirky neighborhood.
1,119 characters

4.25
/5
rDev
+0.7%
vibe: 5 | quality: 4.5 | service: 3.5 | selection: 4.5 | food: 4
So this was one of our stops on a DUMBO bar hop, not all of which were beer bars, but this was one place that we had read about and wanted to check....
First off this place is huge....a coffee bar on the ground floor, and then you go up an open stair case. At the top of the stairs there was a room curtained off to the right that had a $13 cover with "naked models" and I think a bar, but we didn't pay to get in. The rest of this floor was pretty open with a metal frame work portioning off part of the space(although still very open). Out side of this metal gate there were tables and couches ect to sit down at. The bar was in the gated area with probably 15 or so taps....I had a Kwak for $8 served in the correct glass(other notables were Wexford, Allagash Musette, Delirium, and they said that a keg of Oak aged Yeti had just kicked...and for your friend that doesn't like craft beer there is a brown bag tap special for $4) . Great taps and a crazy selection of Belgian bottles (a note to the bar: put prices on your bottle list!). They had a nice hard booze selection and fancy drinks too($8 espresso martinis). This place was huge and if in Manhattan it would have been packed at 10:30 on a Friday, but in Dumbo it was pretty dead. Although the bar was not very crowded the bar tenders did take quite a while to take some of our orders, but not too bad...I really didn't ask about the beer. We had a group of 7 or 8 and sat at a really large table that ran down the middle of the gated area. My friends split a well rounded cheese plate that was put together nicely too
Overall I would definitely recommend this place to anyone that is in the area for the evening. they have a little something for everyone. Very relaxed, yet upscale, and I will definitely make a trip back. A very impressive multi use space...I think if you walked past the bars there might have been another business or two....possibly a flower shop.
1,931 characters
3.31
/5
rDev
-21.6%
vibe: 4 | quality: 4 | service: 1.5 | selection: 4
Very good beer selection including Capt. Lawrence Pale Ale, A Smutty Nose Big Beer, Coney Island Lager, and about seven others I don't recall including some European styles.
Upstairs off of Front St. in Dumbo sorta beneath the Manhattan Bridge. An easy walk from Brooklyn Heights or the York St. F train stop. The space is beautiful and comfortable, plenty of wood and plenty of room at the bar or away from it.
Really great beer selection and reasonably priced, but, a person who doesn't want to be a bartender should not be a bartender.
545 characters
4.06
/5
rDev
-3.8%
vibe: 4.5 | quality: 4 | service: 4 | selection: 4
The weekend of July 12 – 14 2007, my wife and I visited The Ginger Man, Rebar @ The Retreat, Blind Tiger Ale House, and Hop Devil Grill (not the Belgian side). I've listed them in our overall ranking. We're in our early and mid 30's, I travel frequently and always incorporate good beer into my journey's be it work or pleasure.
Visited DUMBO after a walkng tour of The Brooklyn Brifge and Brooklyn Heights around 4pm on a Saturday. Not much of a crowd and the bartender was more than happy to pour as many samples as I asked for (and even for ones I didn't ask for). Mostly Belgian's on tap with a couple of regional beers. Very nice space in a converted warehouse with art studios.
691 characters
4.45
/5
rDev
+5.5%
vibe: 4.5 | quality: 4.5 | service: 4.5 | selection: 4.5 | food: 4
Hard time on the road; seems like a dog's age since I've seen my office in Brooklyn. Randy actually picked up the phone when I called. A rarity these days, I think he just got sloppy. Regardless, he's now on the hook for fact finding. Some stuff going on in DUMBO rising, ignored and rendered unexplored 'til right about the time we arrived...
Anyway, I drew a small treasure map (Old Fulton, here's Grimaldi's, and now 2 perpendicular lines, Water Street's here and Front Street's in back of that), and then we set out. Where did all this come from? Crazy shops, upscale fooderies, pretty people clubs, this neighborhood has taken some change. Okay, so coffee shop in the entranceway and then up the stairs to something of a lounge area, don't stop, keep moving forward, bar lights attracting. A long shiny, shiny cut tree bar seating a dozen plus me. 15 taps in a row over stainless steel backing on the bar back wall, cut tree shelves holding booze over white painted brick to both sides of center, some 4 dozen bottled beers displayed on a long shelf above, and glassware below. Open flower colored glass lamps above the bar, spots on the booze, and candles on the shelving, and here, and there. Off towards the end of the bar, a wall of wine rack in a nook with extensive glassware below. Three large brick pillars run in a row through the middle of the room, with a looong raised cut tree bar table running from one end pillar through the center pillar to the other end pillar, seating about 2 dozen in all. Glass lamps over the 5 tables on the far wall, green uppers with cut framed stained glass panels looking through to the hallway, over tile work lower wall pieces, and the single table easily pulled away for music events to the rear on the red wall. Old curved brick ceilings above (ala Copperfields), and iron gates separating the bar area from the adjacent lounge area. Something of a split tree bar counter wraps around 3 sides of the stairwell you entered through, with couch & end table pairings, well positioned comfy chairs, and some more bar counter pieces towards the front overlooking the street below. Internet, random books, neighborhood artwork, "The joy of living in DUMBO" printed on the wall in large lettering, good jazz, no goddamn TV's, a true retreat. There's warmth and coziness in balance here, as the hallways off both sides of the room lead to the strange forest of industrial spaces that lie just beyond (but that's where the bathrooms are, so deal with it).
A light bar menu (cheese & meat plates, olives, chips & salsa, soups, salads, Spanish sandwiches, and a few desserts. An extensive selection of wines by the glass and beer.
15 taps, a nice selection overall, American micros (Weyerbacher Heresy, Arcadia Scotch Ale, Sierra Nevada Brown Ale, DogFishHead 90, Southampton Secret Ale, Avery Hog Heaven, Ommegang Rare Vos), Belgians (Blanche De Bruxelles, Maredsous 8, Gouden Carolus, Delirium Tremens), Germans (Radeberger Pils, Aventinus, Ayinger Celebration), and the non-Guinness (O'Hara's Stout). More than half of the bottle collection is Belgian (Orval, Troubadour, Maredsous, Scaldis, Leffe, Kwak, Delirium, Duvel, the Chimay trio, and a pair each from Westmalle, Rochefort, Achel, Corsendonk, Chouffe, Rodenbach, Affligem, and Lindemans) and Belgian style (Allagash Dubbel, Weyerbacher Quad, 3 offerings from Unibroue), the remainder being a mix of mostly English/UK imports (6 varieties of Sam Smith, Thomas Hardys, Mackeson XXX, Harviestoun Old Engine Oil, Samiclaus) and a handful of American micros (Weyerbacher Hops Infusion, Atlantic Coal Porter, Lagunitas Censored, Victory Hop Devil, Anchor Steam).
Caught it on a fairly quiet night and put in some time with Scott the bartender (knows his game) and our new friend Pappy Van Winkle. Chill place. Look forward to Rebeering @ Rebar @ Retreat soon.
3,859 characters
4.94
/5
rDev
+17.1%
vibe: 4.5 | quality: 5 | service: 5 | selection: 5
I can talk about the local artwork, the high terra cotta ceilings, the gorgeous scrollwork behind the bar, or the swanky lounge area...but this bar is really all about the beer. The tap list went something like this: Avenitus Double Wheat, Delirium Tremens, Ommegang Three Philosophers, Kwak (served in the correct glass), Gouden Caroles, O'Hara's stout, Bear Republic Red Rocket Ale, Rogue Mocha Porter, Smuttynose Old Brown Dog Ale, Sierra Nevada Wheat, Harpoon IPA, Victory Pilsner, Blue Point Toasted Lager, and a few from Six Points Brewery: Sweet Action Cream Ale & Bengali Tiger IPA. The bottle selection was fairly extensive, but I stuck to the taps -- and the Avenitus is highly recommended.
There was a jazz band playing in the lounge area for a few hours -- which is really part of the same place, just separated by these massive steel gates. Apparently they have a coffee shop downstairs, and free Wifi througout. The owner was mingling with the crowd and very friendly...he seemed to be generally interested on what we'd like to see at the bar. My only minor complaint is that there's no food -- but apparently they're opening that piece of it shortly. If it's as good as I think it'll be, I'll have to call the bar "home" at that point.
This was definitely a worthwhile trip into Brooklyn.
1,310 characters
Rebar @ Retreat in Brooklyn, NY
Place rating:
4.22
out of
5
with
8
ratings