The Library Bar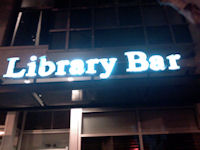 PLACE INFO
Type:
Bar, Eatery
630 W 6th St
Ste 116A
Los Angeles
,
California
, 90017-3259
United States
(213) 614-0053 |
map
librarybarla.com
Notes:
No notes at this time.
Added by sloejams on 12-20-2006
Reviews: 11 | Ratings: 19

3.68
/5
rDev
-2.4%
vibe: 4.25 | quality: 3.75 | service: 3.75 | selection: 3.25
I used to visit the Library Bar when I worked in Downtown LA. For folks working downtown and want to spend time after work with co-workers and friends it has a nice atmosphere.
The bar is very small, so it can get crowded quickly, and it may be hard to find a place to sit. I really dig the atmosphere though.
The craft beer selection, however, is average at best. They don't have a lot of taps, and what they have is usually middle of the road stuff you can find at other bars. I don't come here for fantastic craft beer, it's mostly to hang out after work, and get whatever is on tap. More of a social thing.
I don't think it's worth a drive here because you have to deal with downtown traffic and parking in addition to what I mentioned above.
A nice place if you're already in downtown.
795 characters
3.73
/5
rDev
-1.1%
vibe: 4 | quality: 4 | service: 4 | selection: 3
Classy downtown LA bar, with hard to find parking. You need to use another garage and they will validate after two drinks. But it was somewhat of a walk on a cold rainy night. Only had up a half dozen craft beer lines, but they were all very good. A bit on the small side, still pretty friendly and cosmopolitan. Room for improvement as a beer bar, but if you are downtown and need a good beer here is the place. Bottle menu not exceptional. Stella and some macros served here. So altogether do not go out of your way.
518 characters
3.93
/5
rDev
+4.2%
vibe: 4.5 | quality: 4 | service: 4 | selection: 3.5
Walked in about 8 on a Sunday night, the place was very quiet, with about seven other people there. By 10 pm or so that number more than doubled, so it eventually felt like a small, private party...not packed, but not dead either. The lighting is low, which I dig, and we snagged one of the couches in what can only be called the "library," a cozy section featuring a wall full of books. But then, shortly after we arrived, an employee came and pulled down a large movie screen that covered the books...and they gave us a showing of 'Airplane,' which only made the evening that much better. (Luckily our group grew in number afterward, which made it easier to block out the next movie, "Con Air"...guess there was an "air" theme)
Beer selection is small, and not quite as amazing as, say, West Hollywood's the Surly Goat (the only other local bar I can use as a reference point, thus far). But Arrogant Bastard and Old Rasputin on tap is nothing to regret. And lots of classic Belgian in bottles (Saison Dupont, the Trappistes Rochefort, Delirium Tremens, others) plus select US bottles, including Racer 5, Three Philosophers and others that I don't quite recall. So, hard to avoid having great beer there, although it seems like they could be offering so much more. Room to grow, then...and definitely worth stopping in for. Didn't have any food, but the menu looked pretty great.
1,382 characters
3.76
/5
rDev
-0.3%
vibe: 4.5 | quality: 3.5 | service: 4 | selection: 3.5
Appropriately, the Library Bar is a stone's throw away from the LA Public Library in downtown. It is darkly lit and cozy inside, with one of the corners looking like the inside of a library with books, a globe of the world, big comfy sofas, and other library related props. I thought that was pretty cool.
7 beer on draft, plus 25 beers in the bottle. I only saw one glass being used during my time there, a skinny chalice type of glass. My beer was fresh, which I opted from draft. On-tap: Stella Artois, Old Rasputin, Pranqster, Arrogant Bastard, Craftsman 1903, Craftsman Hefeweizen, and Lost Coast Tangerine Wheat. Good pick of Belgians in the bottle...saw Rochefort, Chimay, Delirium, Saison Dupont. Also bottled were Anderson Valley, Three Philosophers, Deschutes, Samuel Smith. Beers will set you back a little more than other places: $6 for drafts, and $6 for domestic craft 12 ounce bottles. The bartender was fun to talk beer with as I drank my Craftsman.
Overall, the Library Bar is a nimble little place serving some good beer near the financial district of LA. Give it a go if you're nearby.
1,108 characters
4.14
/5
rDev
+9.8%
vibe: 4 | quality: 4 | service: 4.5 | selection: 4
Stopped by for the first time with a homie the other night.
Small place right by the downtown L.A. library, really nice looking inside. It's sorta hit and miss with how a place looks like in downtown. Could be a total dive, could be elegant as hell (in which case they prolly wouldn't let my ass in). I like the bookshelves on the corners, gave it nice look like someone's study. My only complaint, no soap in the bathroom!!!
A good crowd of people there but not too packed, was able to order drinks almost immediately and when we were done, the waitress asked us if we wanted another. Wow, most of the time you gotta get their attention. Maybe I brought my "A" game that night...
Selection was pretty decent. I had the Old Rasputin (love this stuff) and Pranqster. My buddy had a Delerium and Three Philosophers. Then we both had a Craftsman. Had a pretty decent bottle list and none of it was exhorbantly expensive.
Didn't try their food (c'mon people, I'm a wino, not a fat ass) but overall I had a good impression of this place and will probably be back.
1,062 characters
4.01
/5
rDev
+6.4%
vibe: 3 | quality: 4 | service: 4.5 | selection: 4
So from looking at the last post it's been a while since this place was reviewed.
I went in there a yesterday at around 4 after i got off work and was pleasantly surprised by the sign on the door saying that they had a happy hour from 3-8 (couple hours longer than most LA joints.) While the place is very small and could potentially get very crowded at night, the atmosphere was good for an afternoon drink with the dim lighting, marble bartop and living-room-esque lounge area.
so the advertised happy hour was a little less than I had expected. Firstly, it looks like they have added a kitchen and put some tasty fare on it but sadly theres no food until 5 so i didnt get to partake (always eager to check out the newest barely modified version of the Father's office burger) on the plus side, you can order from wolfgang's place next door and they will bring it over if youre starving. There were 4 drink specials and only one of them was for beer. $5 margs, cosmos and washington apples might be a good deal but if youre looking for a cheap flavorful beer a 12oz pour of stella isnt going to get you there (but its $4 if you like it) They had an ok selection on tap (craftsman hef, arrogant bast, stella, leffe, etc) but nothing noteworthy. The bottles were a bit better and i settled on a St. Bernardus prior 8 and a three philosophers in my time there. both were poured well and at 8 bucks a pop not too pricey either. the bartender Carlos was friendly and attentive. I'd say the best thing about this place is the ambiance and the fact that Carlos seemed to know all the regulars names. If you work downtown and are looking for a good after work place check it out.
1,675 characters

3.86
/5
rDev
+2.4%
vibe: 4 | quality: 4 | service: 4 | selection: 3.5
The Library bar is a great and casual stop in the middle of Downtown LA. The minute you walk in you're at the bar. If you go when it's busy then you might expect to stand because there really aren't a whole lot places to sit in this bar.
As far as I can tell, their tap list doesn't change a whole lot. It's mainly North Coast Old Rasputin, Craftsman Heavenly Hefe, Stella Artois, Leffe Brown, Chimay White I think, and a couple others I can't think of. There's some good stuff in bottles though like Racer 5 and Black Butte Porter for example.
The bartenders work pretty hard back there and have always served me pretty promptly when I stand at the bar. As for the food, they don't have a kitchen-yet, but you can order from a Wolfgang Puck menu which is located upstairs in the same building and they will deliver it down to the bar.
The main attraction of this place really is the unique atmosphere with the bookcases and books around the wall and low lighting/candles. I usually stop in during the afternoon when people are just getting off work so I'm not sure how busy it gets at night, but the happy hour during the afternoon offers some great deals not only on beers but on cocktails (which will run you around $10 if you don't get the happy hour specials).
1,270 characters
4.09
/5
rDev
+8.5%
vibe: 4.5 | quality: 4.5 | service: 3.5 | selection: 4
Lovely, high-quality darkened bar smack dab in the middle of L.A.'s dreary downtown area. A half-block from the city's historic central library, Library Bar plays to the theme with leather couches, high-backed chairs and shelves of books. There are seven taps, with a handful of decent stuff, some local Craftsman brews, and Stella. The bottles are much better, with everything from Oaked Arrogant Bastard and similiary rare local micros on one side, to Delirum Tremens and a bunch of Belgian ales on the other. Nice selection, runs the gamut.
Staff was OK, but took awhile to even get the bartender to tell us that the waitstaff wasn't in yet and we had to order at the bar -- he only had two patrons up there at the bar, and we five were simply sitting around, waiting. Go figure. Service later on was slowish...they ought to get more bodies in as the rush picks up after 5. On the bright side, the waitstaff was knowledgeable and proper glassware was used.
Didn't try the food, but it seems they get most of it from the Wolfgang Puck Bistro next door. Not necessarily a bad thing, that.
Overall, downtown L.A. rolls up the sidewalks after 6. Library Bar will be my home away from home whenever I'm staying near downtown.
1,227 characters

3.93
/5
rDev
+4.2%
vibe: 4.5 | quality: 4 | service: 4 | selection: 3.5
Real quick stop for a pint after a friend's wedding celebration. Arrived just after opening on a Saturday evening and the place was quiet with only one other patron. Not sure if this is typical, but man it made for a nice decompression.
Nice high class dark bar feel here with the library theme played with books, leather couches and dark wood everywhere.
Seven taps pouring at least 3 Craftsman beers with the most boring beer flowing, Stella. An improved bottle selection is now awaiting in the fridges thanks to some new blood in the beer management side of the business.
Pretty good place to have a beer/wine or cocktail and take a moment to wander this very small space.
686 characters
3.59
/5
rDev
-4.8%
vibe: 4 | quality: 4 | service: 3 | selection: 3.5
After receiving word from sloejams's thread re: a new bar in downtown L.A. that promotes craft beer, I had to give it a shot. Downtown L.A. is a virtual wasteland as it is, a place where the sidewalks roll up at around 6pm and most of the bars are death traps, so I was more than a little excited.
Getting there was a little bit convoluted, as it's not actually on 6th street but around the corner behind the Wolfgang Puck's, but that didn't take too long to figure out. It would be a short walk from either the Pershing Square or 7th/Metro Red Line stations, but we decided to drive and pay out the nose to park in the downtown library parking structure instead ($8 for under 2 hours). I believe Pershing Square parking is cheaper, but I didn't do much investigation.
We got there around 5:30ish on a Friday evening, and it was more than a little bit crowded and noisy--impressively so considering it's only been open for a couple of months. Dimly lit with a marble bar, around 15 stools, randomly scattered tables and cushy chairs, and two young bartenders dressed in what appeared to be all black, it was definitely a hip, semi-upscale spot, but not too snooty, the crowd dressing primarily business casual with ages ranging from 20-somethings to a few who were probably in their 60s.
My girlfriend was able to find an empty bar stool, but I was forced to stand.
Beyond all this, my first impression was a good one. First, I noticed Curtis Mayfield's "Move On Up" playing on the stereo (this was later followed by another of my favorites, "If You Want Me to Stay" by Sly Stone, and then, oddly, "Hell's Bells" by AC/DC. There was no jukebox as far as I could tell, so I guess they just decided to play a random mix on the CD carousel). Then I caught the tap list scrawled in hard-to-read pen markings on a mirror up behind the bar: only 7 brews, but a pretty nice selection for downtown L.A. (note that a downtown L.A. "4" on selection would probably be a 3 or 3.5 in many other locations):
[Edit: I've since decided that just because this bar is in a crappy region doesn't mean I should lower my standards. It's up to places like this to do their part to improve downtown L.A.'s reputation. Hence, selection is now set to 3.5.]
Old Rasputin RIS
Hoegaarden
Boont Amber Ale
Craftsman Xmas Ale
Craftsman 1903 Lager
Newcastle
Stella Artois
I ordered the first two and was happy with my selections, which were very fresh and served in attractive, non-frosted goblets.
To the left of the beer pane was a small handwritten list of wines that was probably halfway decent but I'm not one to determine that.
The bottle selection was also nice: Arrogant Bastard; Racer 5; Maredsous 10; Chimay red, white, and blue; Delirium Tremens, and a few others.
One of my favorite beer geek moments was when a younger guy walked up to the bar and ordered three mixed drinks and a Miller Lite. The bartender calmly replied, "We don't serve Miller Lite." "What other light beers do you have?" "Well, we have Amstel Light in the bottle, as well as Stella, which isn't really a light beer but it's light enough." He was visibly confused and had to step away to hold a conference with his friends. After some coaching, he ultimately stumbled his way through ordering a brutally mispronounced Hoegaarden (nope, not even "ho-garden"). Thanks to a patient bartender and well-informed friend, he's one step closer to craft beer advocacy, albeit a small one.
The service was a bit inconsistent. When my girlfriend and I walked in, we were served almost immediately, and when I finished my first beer, I was asked if I wanted another almost as quickly. Also, when I appeared uncertain about whether I wanted to order an Xmas ale, the bartender was kind enough to give me a free sample.
However, it took several minutes for my girlfriend to be offered her second beer (which she declined), and after I finished my second, I waited several minutes before flagging down one of the bartenders to ask for my check. She said she'd get to me shortly and then proceeded to take the orders of several patrons who showed up well after I asked to close out. I finally grabbed the other bartender and he took care of me almost immediately.
When I did receive my check, I was pleased to see that it was only $15, although I didn't look closely enough to see if anything had been overlooked or if was really that cheap (average $3.75 per glass).
Given the lack of options in downtown L.A., I will be back. For those who are in the area, it's definitely worth checking out, ideally on a weeknight other than Friday when it's probably a lot more mellow. Again, it's relatively convenient using the Metro system. For instance, if you catch a game at the Staples Center, one stop north on the Blue Line and a couple stops east on the Red Line will put you at 7th and Figueroa, which is only a few blocks west and one block south of the bar.
4,941 characters

3.86
/5
rDev
+2.4%
vibe: 4 | quality: 4 | service: 4 | selection: 3.5
After reading about this in the Downtown News, I was intrigued. I stopped in for a lil "afternoon cap" since I work downtown and tis the season.
It's located in this redone building a block away from the LA Public Library, next to a Wolfgang Puck Express. Inside seems a bit, well like a library. Not the kind like up the block, but more of a library room in a like in a mansion: wood floors, dimly lit and quite cozy. It has an old time feel but at the same time is quite modern. The marble bar is a plus.
There was some holiday party going while I was there, so it was pretty full. The rest of the crowd seem to be downtown working types of all ages.
Beer and wine seem to be the focus. There was not an enormous selection but most of it was well thought out. On-tap: Craftsman 1903 and Xmas Ale, Hoegaarden, North Coast Rasputin, Leffe, Stella and one or two more. Bottles included all 3 Chimays, Delirium Tremens, Maredsous 8, Kasteel, a few lambics and some others. Definitely the best spot I've come across to have a drink downtown.
1,049 characters
The Library Bar in Los Angeles, CA
3.77
out of
5
based on
19
ratings.