Lush Wine and Spirits - University Village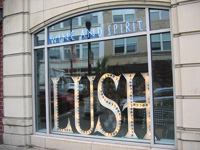 PLACE INFO
Type:
Bar, Store
1257 S Halsted St
Chicago
,
Illinois
, 60607-5023
United States
(312) 738-1900
// CLOSED //
Notes:
No notes at this time.
Added by mmcave on 12-28-2006
Ratings: 10 | Reviews: 9
Reviews by botham:
3.75
/5
rDev
-4.1%
Lush is first and foremost a wine store, but a couple coolers of harder to find bottles do make it a decent stop for beer, albeit a bit pricey.
the store is tucked into University Village, directly adjacent to the UIC campus, with two coolers atr the back of the store full of bombers and single 12 oz bottles of a boutique nature. nothing there is standard per se, with offerings from Jolly Pumpkin, Dogfish Head, Three Floyds, GI Special Editions, and many others. there are no six-packs available, only single bottles.
service is decent, though one will most likely be hard pressed to find an employee that knows beer, since the store is so wine-centric.
selection is poor, unless one is looking for certain brews that they may happen to carry.
overall, this is a boutique stop that only really works when customers come in to buy some wine and end up picking up a beer or two to go with the wine.
904 characters
More User Reviews:
4.06
/5
rDev
+3.8%
vibe: 4.5 | quality: 4 | service: 4 | selection: 4
This place has a nice little cooler filled with craft beer in the back past all the wine and whiskey. The best part about this place is that they sell singles. I was able to pick up a FFF Alpha King without buying the whole 4-pack. The employee seemed to know what he was talking about as he complemented me on my choices. He told me about their mail list and I signed up but it mainly focuses on wine. Parking can be a little difficult in this area since it's on Halsted around the UIC campus. Overall, a nice vibe and a different way to buy beer.
548 characters

4.14
/5
rDev
+5.9%
vibe: 4 | quality: 4 | service: 5 | selection: 3.5
I was in search of some beers that I could add to my newly acquired beer cellar and was helped out at Lush. I called around looking for an extra bottle of Abacus and Erin ended up hooking me up with aged bottles of BCS and Founders Breakfast Stout.
Even though this is mostly a wine place, they do have a good selection of aged beers. My girlfriend's parents, as well as my mom, are wine drinkers, so I did get some nice bottles to give as gifts for them on top of my cellar gifts. I will go back here often as it is a great place to just sit and talk beer/wine while tasting at the bar.
589 characters
3.55
/5
rDev
-9.2%
I stopped here mainly to get a recent beer released only to Lush stores (Twisted Spoke 15th Anniversary), but sadly they were sold out. On the bright side I got to learn about a new (to me) beer shop for future visits to the city.
Very accessible from I-90, only 1 minute from the Roosevelt exit. This is primarily a wine shop, but in the back cooler there are some good beer selections. It sounds like periodically there are rare selections here, but when I stopped by they were selling stuff you could mostly find at Binny's. No worries, I'll definitely keep my eye on their stock in the future.
598 characters

4.05
/5
rDev
+3.6%
Not an all purpose beer store, but a good place to grab some rare items. Thanks to BA raverjames for the tip. I would have passed this place by otherwise.
Lush is, as advertised, mainly a wine shop. I did not spend any time checking it out as I was on a mission. There is a small cooler in back with beer; this was my mission.
I was able to grab an Alpha Kong, a GI Imperial Brown Goose and a Flossmoor Killer Kapowski. I was hoping to find all three of these beers, which were unavailable at any of my other stops. Prices were reasonable considering the rarity.
The other beers there (20-25) were decent but nothing special.
The clerk was pleasant and seemed somewhat knowledgeable.
Make a quick stop if you are nearby. You might find some nice rarities.
HV
764 characters
4.35
/5
rDev
+11.3%
Lust Wine and Spirits has of yet no website (a blog only), two locations (one in Roscoe Village and one near UIC in University Village), and a focus on wine, with a sophisticated owner (the Twisted Spoke guys) is a rare and good / great beer retail location in Chicagoland. MrQuartetman and I paid a visit to the University Village location in early March, and despite a mere one cooler of beer, they have an excellent beer lady (we met her) and some nice rare selections.
The shop holds tens of wines, lots of good ones, and a long wooden bar with wine selections and one beer tap (out when we were there), and a quite small footprint overall.
According to the beer lady this is the go to place for Goose Island's rare bottles. It may be the only place that has bombers of Extremely Naughty Goose, and it's no wonder it's only here, at $30 per bottle. Mr. Hall (Goose owner) apparently asked them to sell it as a rarity (to pay for the new website?). It is a great ale, but too pricy for us. Try this rarity at Goose Clybourn, currently on tap for no more than $7.
They also have Hitachino's Commemorative Ale, Poperings Hommel ale, Sam Adam's Double Bock, and several more rare singles, no sixpacks here, no macros. Most bottles were fairly priced considering the rarity.
This place joins West Lakeview Liquors as among the few retail locations in Chicagoland where you can find unique and even well "aged" beers.
1,419 characters
4.25
/5
rDev
+8.7%
I went to Lush in search of the wonderful Flossmoor station brews. They had them and more. Lush is a small place that is obviously devoted to wine. The beer selection is shockingly small, but everything in the cooler is rare or special in some way. I bought a couple things in there that I have never seen before. If you will be in the UIC area, this is a must hit place for rare beer lovers. I will be returning to Lush more often, since I love the area it is in. I hear they will be selling growlers of tasty brews soon as well.
530 characters
3.35
/5
rDev
-14.3%
-So I heard about this places about four months ago, when I was looking for 120 minute IPA and a friend told me they had it, however it was 12 dollars a bottle where I had found it before at Whole Foods once for 9 with tax.
-This place as mentioned is more a high-end exotic wine store, with interesting spirits than any kind of beer store. They have a small cooler in the back dedicated to beer, selection is very limited, but typically it's slightly rarer stuff, which your gonna pay for it.
-If your in the area it is worth at least a peep, but as far as a must beer store not so much. And if you run in to the snooty cashier tell your learn some manners.
(Now months later and their new manger wrote me a very nice personal letter. Sounds like things are going to be getting better fo this store. Cheers to you Lance)
826 characters
3.65
/5
rDev
-6.6%
A wine shop that happens to have a small, well-rounded selection of beer. Possibly due to their close proximity to off-campus housing...
There are two cooler doors in the rear of the store, containing 40 or so beers, focused on the "high-end". Chimay, Piraat, 3 Floyds, DFH, etc. They do have a handful of things not available other places, which bumps up the selection score, but based on quantity, they are sorely lacking. Think "beer boutique". The beer selection is a footnote to the staggering amount of expensive wines they offer.
Apparently they have a tap available for growlers, but the cost of the growler itself was astronomical, therefore not exactly cost effective.
To their credit they had singles available, but on the pricey side, for example, Alpha King was around $3 a 12oz. If a beer has any degree of rarity, you'll pay a premium for it. Beer never felt more like "luxury goods" than it does here.
The employee never left the cashier counter, but answered my questions after ringing up my purchase. They were more interested in the wine they were drinking it seemed.
When I heard about the place I was optimistic, but it's obvious they need to work out a few issues if they want to be known as a beer store.
EDIT: 2007 I've had better service experience here since the first time visiting, the manager is very helpful and enthusiastic about their beer. Selection has slightly improved, with occasional limited run selections.
1,464 characters
Lush Wine and Spirits - University Village in Chicago, IL
3.91
out of
5
based on
10
ratings.