Oatmeal Stout
| Golden City Brewery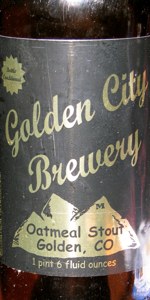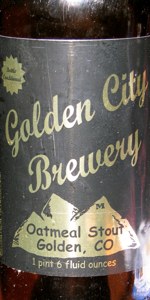 BEER INFO
Brewed by:
Golden City Brewery
Colorado
,
United States
gcbrewery.com
Style:
English Oatmeal Stout
Alcohol by volume (ABV):
not listed
Availability:
Year-round
Notes / Commercial Description:
None provided.
Reviews: 9 | Ratings: 14
Reviews by BadRockBeer:

4.05
/5
rDev
+10.7%
look: 4 | smell: 4 | taste: 4 | feel: 4.5 | overall: 4
Serving Type Sampled: On Draught at Golden City Brewery
Appearance: Black with a dark crimson hue. Dark brown head that faded quick into a nice clingy lace.
Smell: Burnt malts, that of black patent. Mild chocolate note. Light peat smoke.
Taste: Very pleasant toasty malts, chocolate, oats and toffee. The stout is slightly dry and on the bitter side of the balance.
Mouthfeel: Medium in body, Medium carbonation. This beer is surprisingly thin for the style. I think this contributes greatly to its drinkability.
Drinkability: Great. For a stout, I think they are onto something here. Better attenuation = better drinkability! This is a very full flavored brew that is easy going down.
700 characters
More User Reviews:

3.63
/5
rDev
-0.8%
look: 4 | smell: 3.5 | taste: 4 | feel: 2.5 | overall: 3.5
Quite overcarbonated, throwing an immensely thick dark tan, slowly receding head. 80% head, 20% liquid. Deep brown, with dark, clear chestnut hues when held to light after decanting. Dry, deeply roasted unmalted barley upfront in aroma, followed by mellow chocolate and unexpectedly pronounced, and perhaps out of place fruity esters. Notes of guava and trace, but slightly detracting green apple acetaldehyde. Fruity sweetness runs parallel with dark caramel malt. Odd, yet intriguing aromawise. Snap of tartness brushes the palate initially, then is ceded by sweetness that seems more of a residual, unfermented nature than caramel malt derived. This is immediately offset by moderate hop and dryish, roasted barley bitterness. Bitterness takes on a smokey character mid palate, becoming eeriely akin to lightly ground medium roast real coffee beans and is seemingly non barley derived. Once the initially prickly, CO2 laden mouthfeel diminishes, the mouthfeel is revealed to be a bit thin, and over attenuated. Devoid of the silky, glucan rich mouthfeel from a large percentage of oats in the grist. Fruitiness becomes more stout like in character late, adopting a prune like note late. Finishes with a brief surge of molasses sweetness yielding to a continuation of freshly ground coffee beans. A unique, if somewhat confoundingly flavorful stout. Complex, but not quite balanced. I swear they must use real coffee beans or brewed coffee. A trip. Cheers to Jaybeerman for sending this odd stout.
1,499 characters

4.15
/5
rDev
+13.4%
look: 4.5 | smell: 4.5 | taste: 4 | feel: 4 | overall: 4
The beer pours a dark black color with a thick frothy brown head that slowly fades to lacing. The aroma is great. It has a grainy dark malt scent that boasts of patent and chocolate malts along with a dry oatmeal aroma. The taste is much the same. It has a rich black malt flavor that goes down smooth and finishes dry and grainy with an oatmeal aftertaste; very nice. The mouthfeel is good. It is a full bodied beer with adequate carbonation. This is a great beer. It is full of flavor and aroma; a good drinker and their best beer by far.
540 characters
2.79
/5
rDev
-23.8%
look: 4 | smell: 2.5 | taste: 2.5 | feel: 4.5 | overall: 2.5
22 oz bottle. Pours a dark brown with a big creamy dark brown head that retains fairly well and laces the glass.
The aroma is roasted malts and chocolate with some off plasticy/vegetal notes.
The flavor is bitter roasted malts and sweet chocolate and some lactose. As it warms some off-notes come out - burnt plastic. The mouthfeel is medium to full bodied with full but smooth carbonation.
Overall, pretty simplistic but enjoyable when cold. As it warmed, it became less so as some off-notes started dominating.
515 characters
3.65
/5
rDev
-0.3%
look: 3.5 | smell: 3.5 | taste: 4 | feel: 4 | overall: 3
A nice pour from the tap into an (unfortunately) chilled pint glass at the Golden City Brewery. This came an oily black with little room for light save along the outer/upper edge that gained a slight mahogany.
Minimal head that dissipates quickly and laces the side of the pint glass with a consistent ring of brown fizz. The bouquet is sweet, with a strong scent of brown sugar and toffee.
The beer has a strong, full-bodied flavor that moves consistently through the mouth and imparts a nice sweetness through the initial sips. The hearty oat flavors emerge quickly and make for a smooth brew with
nice drinkability and a good, sweet texture.
The only drawback here is lack of growing complexity: this beer gives itself away in the first sips and then doesn't really do too much more throughout the pint. In spite of this, it's a fine example of the style,
and I wouldn't hesitate to recommend it. Certainly worth grabbing if you happen to see it in the metro Denver area.
985 characters
4
/5
rDev
+9.3%
look: 4 | smell: 4 | taste: 4 | feel: 4 | overall: 4
Pours a black, dark burgundy body topped by a small, tan head.
Smells of cold coffee, toffee, some cocao and blackberries. Seems a bit dry, yet sweet.
Taste begins with a coffee note and dryness. The middle introduces the sweetness of blackberry and some sourness of a milk stout. Interesting. Dryness returns, but then fades rather quickly. Tartness transforms to sweet on the lips.
I remember this a bit different from the tap. A solid oatmeal stout.
457 characters

4.17
/5
rDev
+13.9%
look: 4 | smell: 4.5 | taste: 4 | feel: 4.5 | overall: 4
Thanks to Jeff from Golden City for the samples.
a: Dark brown that borders on black. Light tan head.
s: Dark roasted malt reeks of chocolate.
t: Roasted malt, coffee, chocolate, a touch dry with low to medium bitterness (for style). Rich chocolate without too much heaviness. Depth of chocolate flavor builds as the beer warms.
m: Oats bring a wonderfully smooth texture. Slick.
d: A superb example of the style. Love the chocolate flavor and smooth texture.
464 characters
3.26
/5
rDev
-10.9%
look: 4 | smell: 3 | taste: 3.5 | feel: 3 | overall: 3
A very beautiful pour nets a slightly carbonated, jet black beer, with streaks of brown slipping through around the edges. Unfortunately the promise of its appearance disapates with a hugely burnt smelling nose, with some type of liquid smoke aroma dominating. Better on the palate, with nicely roasted coffee flavors up front and some nice hops on the finish. Seems too young, and the roasty character makes it hard to drink too much of this one.
447 characters

4
/5
rDev
+9.3%
look: 4 | smell: 4 | taste: 4 | feel: 4 | overall: 4
pours dark and thick with a minimal tan head. smells like an outmeal stout, grainy and bold. deeply deeply roasted malts dominate the taste, with notes of coffee and a sweetish finish. outrageously sessionable, especially after a good hike up lookout mountain in the morning. could well and truly sit outdoors at the brewery and drink these all day. yum
353 characters
Oatmeal Stout from Golden City Brewery
Beer rating:
3.66
out of
5
with
14
ratings