Aromas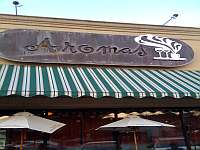 PLACE INFO
Type:
Bar, Eatery
1235 S Milledge Ave
Athens
,
Georgia
, 30605-1445
United States
(706) 208-0059
// CLOSED //
Notes:
No notes at this time.
Added by BeerAdvocate on 12-31-2006
Reviews: 11 | Ratings: 16
4.48
/5
rDev
+2.1%
vibe: 5 | quality: 4.75 | service: 4.25 | selection: 4.25 | food: 4.25
Living in downtown Athens has spoiled me with the seemingly endless supply of bars downtown. Aromas is one of the few places that actually makes me get in the car and drive somewhere.
Atmosphere is perfect. Small, cozy, not overly loud but just the right amount of white noise, friendly and knowledgeable staff, and those great local events that I'm such a sucker for. One example is "Bell's Ball" where they bring in a bunch of the rarer beers like Hopslam and Black Note for a weekend. Great fun and good prices.
Food is solid. Charcuterie and fromage boards have been very satisfying on multiple occasions. Reasonably priced and a good selection of cheese, especially for a college town.
I've been here on a date, for the first stop of a birthday evening, and for Bell's Ball. I've been happy with it for all three occasions.
As a cocktail nerd and a big Parks and Rec fan, the fact that they have drinks named after Leslie Knope and Ron Swanson (garnished with "meat. fixins.") also harms my hear.
Good beers with a decent amount of variety. Don't be dispelled by the "wine bar" tag. They know their beer here.
1,119 characters

4.06
/5
rDev
-7.5%
vibe: 4.5 | quality: 4 | service: 4.5 | selection: 3.5
The wife and I stopped at Five Points Growlers and Five Points Bottle Shop and were told to check out Aromas (all three by the same owner). Aromas is a cozy den right across from the bottle shop, with a Mediterranean-Arabic feel to it. Could also be a college coffee shop…
Very quiet on a sleepy Wednesday evening around Christmas time. Super nice service at the bar, I asked a lot of questions about the beer and she knew her stuff.
10 taps, including 5 Terrapin for a mini local-event of special/cool brews. I tried Liquid Bliss and Phlux Capacitor, and they also had Samurai Krunkles, Oxymoron and Monk's Revenge. Nice enough but wish they had more taps. I'm a sucker for huge variety!
Wednesday night is $1 all beers, so $5 instead of $6. I also chose a 3-oz pour for three dollars.
Didn't try food but menu looked simple and fine- cheese, meats, spreads, bites. Definitely worth a stop in Athens, and more so considering the bottle shop and growlers across the street!
986 characters

4.6
/5
rDev
+4.8%
vibe: 4.5 | quality: 5 | service: 4.5 | selection: 4.5 | food: 4
Aromas is a local gem in Athens. It is situated away from downtown in the Five Points area, making it pretty sheltered from the usual downtown crowd. You also won't find any Bud Light here, which keeps the majority of the college crowd out.
The decor is low key but classy. No TVs or blaring music, so conversations with friends are the main entertainment, much as it should be while drinking a good beer. Speaking of beer, Aromas has a relatively short tap list, but they don't pour anything that isn't top quality. The staff is friendly and more knowledgable than in the average Athens bar. The food list is limited to appetizer type plates, so don't expect to eat dinner here. The food is very good though - I recommend the hummus or charcuterie.
If you're looking for great beer spots in Athens, put Aromas on the list. Highly recommended.
847 characters
4.25
/5
rDev
-3.2%
vibe: 4 | quality: 4 | service: 5 | selection: 4 | food: 4
Stopped in here on a recent trip to Athens. This location is pretty easy to find right around the corner from Five Points Bottle Shop next to a Waffle House. Getting into the parking lot can be tricky with the traffic that is in the area, but with some strategic planning it isn't too bad. Upon arriving you can see a nice little patio area with 4 covered tables right out front. On the inside however it is a really nicely layed out bar. Reminded of cigar bars to be honest which is a good thing as there was no smoking allowed I do believe. I was the only person in the establishment at the time of my visit so me and the employee there chatted for a bit about different types of beers styles and beers that we had tried in the past, etc. The selection here was quite good. At the time of my visit (10/23) it was very heavy on fall seasonal brews. I also sampled one of their meat samplers and they were of very nice quality and taste. They also had quite a large cheese selection as well. This is a must visit if you are in the area just to hang out and have a drink or two before or after hitting up Five Points Bottle Shop.
1,128 characters
4.88
/5
rDev
+11.2%
vibe: 5 | quality: 5 | service: 5 | selection: 4.5 | food: 5
Yummy...With 10 beers on drought and over 50 bottles in the cooler this is hands down my fave place to go have a drink. Ommegang Rouge is one of the beers on tap right now and it is super yummy. For me downtown is no longer as much fun as it used to be so Aroma's is perfect. A calm relaxing getaway that has the ambiance of an 1950's gentleman's smoking lounge (leather seats, dark wood, and low lighting). The service here is wonderful, the staff is knowledgeable and willing to help with any questions you may have. Also the cheese plates and food there is fab! They have cheese of the month and the staff can help you pair them to the beers your try!
With specialty casks and a number of other beer events it is a beer lovers paradise.
741 characters

4.08
/5
rDev
-7.1%
vibe: 4 | quality: 4 | service: 4.5 | selection: 4 | food: 3.5
Visited last night. Other than the beers, I enjoyed the atmosphere the most. The vibe is very chill, but not stuffy. Very nice decor, and a patio which is nice for this time of year. The beer quality and selection is very nice. I enjoyed beers from Dogfish head (chicory stout), Allagash (FOUR), Brooklyn (EIPA), and Smaltz (Blockhead). I think it is a fairly eclectic selection on draft and bottles. They had all but the first Terrapin side project in bottles plus many others. Nothing on cask this time, but I believe they have a fair amount of special cask appearances. The service was excellent. Our waiter was not only friendly, but also helpful and knowledgeable about their selection. We also had a cheese platter which was ok. Overall is was a good experience and I will return.
786 characters
4.56
/5
rDev
+3.9%
vibe: 5 | quality: 4.5 | service: 4.5 | selection: 4.5
Just southwest of the UGA campus in an area called Five Points. It's in a small suite across the street from Jittery Joe's, and next to a Waffle House. From the outside it doesn't look like much but once you step inside you realize it's a fantastic place.
Plenty of tables, a long bar, and a few leather chairs near a fireplace. It was off when I was there though. The light was dim but very soothing.
About 10 beers on tap when I was there, with a good variety. There were also a couple fridges toward the back which has a large selection of bottles. There is also coffee, liquor, and obviously a large selection of wine (the place is actually a wine bar).
I had a good but brief conversation about the lady working the bar (never caught her name) about Brooklyn Brewery. I had the Brooklyn EIPA. I felt the beer was at a low price, although I may be used to the price of a pint here in D.C.
Never tried any of the food. My parents and sister had the coffee which, according to them, was very sweet.
The place was nearly empty when we went in there. But even if it's slightly busy, this place seems like the perfect place to relax and have a pint or two. A must see when in Athens.
1,189 characters

4.45
/5
rDev
+1.4%
vibe: 4.5 | quality: 4.5 | service: 4.5 | selection: 4.5 | food: 4
Atmosphere alone was what pulled me into aromas. The place comes across as a very sophisticated coffee house, complete with leather sofas, coffee tables, nice furniture and bar, etc. Location is excellent, and allows you to enjoy the quality of an awsome bar without the mess of going downtown. Very chill. Between the wine, beer, coffee, and spirits, this place has something for everyone.
Quality is aromas' middle name. You could randomly chose any drink on the menu and still be impressed, whether it was a draught, bottle, wine, or spirit. The coctails are unique and classy, and they also offer a variety of coffee drinks.
Service is friendly. I've never asked for any recomendations, but you get the feeling that these people know what their serving. Every time I go in there, the staff is guiding a customer to a wine or beer by asking them about their personal tastes, dislikes, etc. Presentation is also impressive. I once ordered a DFH palo santo marron, and they brought it out in a DFH snifter. Very classy.
They have 10 beers on tap, and several more in bottles. Not the biggest selection in Athens, but anything more isn't really necessary in my opinion. Good range of styles to choose from, and the taps tend to change pretty frequently. Big wine and spirit list as well, if that's what you're into.
Never had the food, but the cheese plates are reasonably priced and the dessert case is very enticing.
Good value. Beers are priced as they should be- no more, no less. But having your drink brought to you instead of having to muscle up to a crowded bar goes a long way in this establishment's value relative to other Athens bars.
1,651 characters
4.33
/5
rDev
-1.4%
vibe: 4.5 | quality: 4.5 | service: 4.5 | selection: 4 | food: 4
Went here for my birthday and have to say that this place is rather awesome. Small and cozy really adds to the feel of this place. Couches, small tables and a really nice bar are all that you see. Dim, no smoking, very relaxing.
The quality of the beer is great here. They only have 5 taps but each have some quality brew in it. When I was there they had Double Dead Guy, Brooklyn Chocolate, and Belgian Brune that slips my mind, an offering from Flying Dog, and one other. Not bad for what you expect to see here. The bottle selection was equally as good with lots of DFH offerings, Rogue, Brooklyn, and many other micro and Belgian offerings on a rotating bottle list. There could be more but this place is geared more towards the wine, but everyone was having beer when I was there.
Service was awesome. Had an awesome bartender, Stephanie, who also doubled as the server. She was very knowledgable about the brews and asked for me to describe the Double Dead Guy to her because she had yet to try it. She knew quite a bit and was eager to learn more which is always nice coming from your bartender.
Food was good with just some palate enhancers such as cheese plates, hummus, fruit, olive spreads, etc. Everything here was dirt cheap considering what you were getting. Double Dead guy was six dollars for a pint and Brooklyn Chocolate was 5. Very, very happy with this place. Will be back soon and often.
1,413 characters
4.45
/5
rDev
+1.4%
vibe: 4.5 | quality: 4.5 | service: 4.5 | selection: 4.5 | food: 4
Big78CJ did a good job describing the history and layout of Aromas, but it has been a year, and changes have been made that warrant an update. I have my own opinions of the place as well. I live around the block and stop in about 3 times a week.
There are still 5 taps. Currently on tap: Allagash Tripel, Moinette Brune, Rogue Double Dead Guy, Brooklyn Weisse, and Brooklyn Black Chocolate Stout. However, they are about to add 5 more taps. (I almost cried for joy when I found out.)
Also, two new beer coolers have been added. Except for a few staples, the inventory rotates fairly regularly. Currently there are approximately 90 different bottles of almost every style. Corsendonk, Allagash, Rochefort, Victory, Terrapin, DFH, etc. The first Monday of the month is a new cask beer.
I love this place. Very laid back, classy atmosphere, but not pretentious. A place where you can really take the time to enjoy a beer, and no one will look at you funny if you sit at the bar taking notes. And in my opinion, it is the best place in the city to bring a date because they also have coffee, a full liquor bar, an large wine selection, and tapas and desert menus.
The service is typically very good. The management, servers, and bartenders who have been there for a long time are friendly, professional and knowledgeable.
Did I mention I love this place?
1,355 characters

4.15
/5
rDev
-5.5%
vibe: 4.5 | quality: 4.5 | service: 4 | selection: 4 | food: 3.5
I can't believe I am the first to review this place. I added it months ago. You Athens BAs need to get on the ball!
Aromas is owned in part by Sachin Patel, also the owner of Five Points Bottle Shop (the premiere beer store in town, located right across the street). He is committed to serving great beers.
Here is some history (pieced together from many stories):
When Aromas first opened it was intended as a coffee bar (perhaps more, not sure). Unfortunately one of the landmarks of Athens, Jittery Joe's Coffee (contributor of Wake n Bake to Terrapin), is located right across the street. The place was not making much money so they switched to a Wine bar with a single tap for beer and a modest (>15) selection of bottles. Since then Sachin has upgraded to five taps and more than 30 bottles. I realize this is not a lot but there is only ever good beer on the taps. For example, they had the last keg of Oskar Blues Duke of Lyons that was left in the country. They also got the only cask of Left Hand Milk Stout ever produced - it was great!
It is not overwhelmingly large but the atmosphere is pleasant with some chairs and tables as well as bar space and couches. Service is usually well done but don't expect them to know too much about the beer. Depending on the server you may get a wine guy. Food consists of cheeses, hummus, and other assorted delicacies. They also have a variety of cheesecakes that are delectable when paired with the Oskar Blues Ten Fiddy, also on tap for awhile.
Overall I would say it is the best bar in town for the beer geek. You could go to Copper Creek for microbrews or you could go to the Globe to get shit service and sit in the dark but Aromas is the only place you will drink great beer in a cozy environment.
They are also the only place in town with regular beer events, including the toast to Michael Jackson September 30th - only place in town to do this.
1,912 characters
Aromas in Athens, GA
4.39
out of
5
based on
16
ratings.