Five Seasons North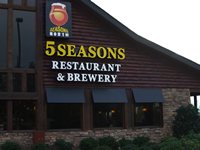 PLACE INFO
Type:
Brewery, Bar, Eatery
3655 Old Milton Pkwy
Alpharetta
,
Georgia
, 30005
United States
(770) 521-5551 |
map
5seasonsbrewing.com
Notes:
Cask ale tapped once a week on Thursdays at 5:55 PM and poured until the cask is finished.
5 Seasons North brews a largely independent lineup from the beers at the original location. Crawford Moran, former owner of Dogwood Brewing, is the brewmaster at the Alpharetta location.
Added by ChainGangGuy on 12-31-2006
Reviews: 18 | Ratings: 22
4.08
/5
rDev
+4.6%
vibe: 4 | quality: 4.5 | service: 3.5 | selection: 4 | food: 4.5
The building is nice with wood throughout and a U-shaped bar. There is a "bar seating" area directly in front of the bar that has a large fireplace in the middle. Very nice. Lots of space.
We visited on a Sunday afternoon and the only place people were sitting was at the bar. We were greeted fairly quickly and I ordered the cask of the day which was a Barleywine aged in Calvados barrels. Very nice beer. My wife had the sampler which was 6 beers, I believe. All were above average to great.
The beer selection seems pretty static, which is fine with me because all the beers are great. Bottles of aged beer are available, but can only be consumed on premisis. No beer to go in GA. They also have their own root beer for the non-drinkers. Thursdays and Sundays are Cask Days (my nomenclature, not theirs). Those alone are worth the trip IMO.
Once we got our drinks, the service slowed a bit as we had to get the bartenders attention away from some regulars she was chatting with to order our lunch. But, I've had pretty good service when sitting at a regular table.
The food is always exceptional here. The dinner menu is expensive, but they do have a lunch menu if you go in the middle of the day that is much more reasonable. I had the pork BBQ sandwich and potato salad which was $10 and worth every penny because it was so good. Also, check out the specials, they always have something good and creative.
While this location is 30 miles from my house, I would have no reservation coming here on a semi-regular basis and highly recommend this to anyone visiting or that lives in the area.
1,594 characters
4.08
/5
rDev
+4.6%
vibe: 4.5 | quality: 4.5 | service: 4 | selection: 3.5 | food: 4
This is the second time I have been to this location.
It is a very "warm" and cozy building with the log cabin effect making you feel at home.
The food was delicious for both me and my girlfriend as was the beer for both of us too. I had the ESB and the stout, and she had the saision and wit. All were true to style and of good quality.
Our waitress took great care of us but was not overly bothering us asking us questions and yapping at us the whole time. If she walked by and we were talking and eating with glasses full, she would walk right by. I really love that instead of the pesturing the heck out of you all of the time.
The menu is a little bit pricey but for the atmospehre, the quality food and beer, it is a small price to pay. I can't wait to go back again soon!
786 characters
3.7
/5
rDev
-5.1%
vibe: 4 | quality: 3 | service: 4 | selection: 4 | food: 4
I've been here three times now. Each time I am left wondering why I've bothered. The food is fine, although not as good at the Prado location. This time, the beers were sub-par at best. Every beer seemed thin and uninspired. I know Crawford's been a big figure in the local beer scene for years now. I used to sell his Dogwood beers in my own bar, and thought they were pretty good. These beers were not even close. The food was just average, and, at those prices I expect a damn fine meal. I am going to wait a few months before I give them another chance.
557 characters
4.22
/5
rDev
+8.2%
vibe: 4.5 | quality: 4 | service: 4.5 | selection: 4 | food: 4.5
Worth travelling out your way for. This is literally the next city after Atlanta. But is it gorgeous, with a harth in the middle, a long winding bar, and real wood everywhere.A guest room upstairs. And you get their food plus Crawford's(former Dogwood's)beer efforts. Think High ABV here and the aged stuff is expensive but worth special treats. A cask English was here and is very worthwhile. Everything is very good. One of the better brewpubs in North America that I have been to, and one I will unconditionally return. Some more guest taps and some side sofas to sit and relax would be interesting improvements on an already great place.
641 characters
3.48
/5
rDev
-10.8%
vibe: 4 | quality: 3.5 | service: 3.5 | selection: 3 | food: 4
Not a bad place overall actually. I thought it was quite cozy with a lively atmosphere. The food seemed very good and I noticed that the brews were looking pretty decent. Tried an IPA and a porter that were both pretty decent, albeit a touch light. Not a bad place overall and I was glad I was able to stop in. Might come back on my trip through town next time to see whats going down and have some food. This trip I just really did not have the time. Overall through this was not a bad brewpub, but no idea how the other one is to be honest.
542 characters
4.55
/5
rDev
+16.7%
vibe: 5 | quality: 5 | service: 5 | selection: 4 | food: 3
I didn't have anything to eat so I can't speak for the chow, but I'm confident it is at least as good as what they offer at their Sandy Springs location. I tried two brews and enjoyed both of them. This brewpub's main room is very open and with a high ceiling, unusual for a tavern, yet it seems cozy, just right for an intimate rendezvous or a gathering with a few friends. The open area has bar seating, a number of booths, some small tables, and couch-type seating, making it ideal for a large get-together such as a Meetup. Upstairs there are two private rooms ideal for meetings or parties. If the weather is cold, there is a fireplace in the middle of the main room to warm yourself and your heart. Parking is ample, and the location on Old Milton just a few blocks from Georgia 400 makes it easy to find.
811 characters
1.45
/5
rDev
-62.8%
vibe: 2 | quality: 1 | service: 2 | selection: 1 | food: 2
Five Seasons is considered by many to be the top brew pub in metro Atlanta. I have eaten and tried the hand crafted beers at their other location in Sandy Springs several times before. I recently tried their new location in Alpharetta.
Although the staff was extremely friendly and helpful, I hate to admit it, but I just don't enjoy their beer. I tried four selections on this visit including a Belgian ale and a porter, and would be extremely reluctant to try them again. The food is good quality and I recommend the Ploughman's plate for an appetizing meal along with their beers.
I don't know if I will return. I've been disappointed in their beer craft too many times. They have their admirers, but I have to say that I feel that 5 Seasons is vastly over-rated.
***
I gave the place another shot. They had only two beers available, the silverware had caked on filth. We got up and left.
Never again!
907 characters
4.13
/5
rDev
+5.9%
vibe: 4.5 | quality: 4.5 | service: 4 | selection: 3.5 | food: 4.5
Hopefully 5 Seasons taking over this location will give it some stability. It was originally one of the ill-fated Buckhead Breweries and then for a very short time Embers. Now it is 5 Seasons North and will shortly have its Grand Opening. It has been operating "on the sly" for a little over a month (2 months?) now. The food, as with the other 5 Seasons is very good and high quality. They have sought to have different beers that the "mother store" in Sandy Springs and that's cool. I've heard that one of the former brewers from the old Dogwood Brewery (may it rest in peace) is now brewing for them at this location.
I visited the location about a week ago and had Belgian styled aged ale that was aged in a Jack Daniels whisky barrel. I didn't like the beer as much as I had expected but appreciated the style. I switched beers with my girlfriend halfway through and tried her Belgian White. I liked the Belgian White much better and she liked the aged ale much better, so we were both happy overall. I don't believe the décor has changed much since it was a Buckhead Brewery; it looked the same as the one I used to visit south of Atlanta. If this location carries on the fine tradition of the 5 Seasons in Sandy Springs, I'm sure it will do just fine.
1,269 characters
Five Seasons North in Alpharetta, GA
3.96
out of
5
based on
112
ratings.