O'Hanlon's Goodwill Bitter
| Hanlons Brewery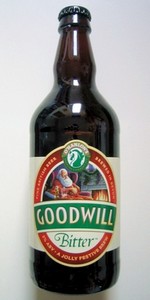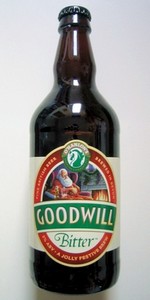 BEER INFO
Brewed by:
Hanlons Brewery
England
,
United Kingdom
hanlonsbrewery.com
Style:
Extra Special / Strong Bitter (ESB)
Alcohol by volume (ABV):
5.00%
Availability:
Winter
Notes / Commercial Description:
No notes at this time.
Added by wl0307 on 12-07-2006
This beer is retired; no longer brewed.
HISTOGRAM
Ratings: 12 | Reviews: 12
Reviews by cypressbob:
4.03
/5
rDev
+15.5%
look: 4.5 | smell: 4 | taste: 4 | feel: 4 | overall: 4
500ml bottle poured into a standard nonic pint glass
Pours with a slightly hazy deep rich ruby tinted amber body. Thick light tan head with good retention, nice inch thick bubbly head. Large globules of patchy lacing
Smell, slightly alcoholic sweet caramelly malt, toasted almonds, caramelised sugar and maple syrup. Fresh woody hops, some aromatic aggressive piney hops too, little bit of faint spice too. Reminds me on Fuller's 1845 only not quite as robust
Taste, crisp bittering hops, slightly fizzy carbonated mouthfeel, slightly musty bready malt. Sweet boozy malt, lingering hops along with a nice warming alcoholic finish. Spicy and an almost acidic body, little bit of buttery diacetyl too floating around in the background. Some slight dried fruit in there too, raisins and sultanas
Not a beer I was expecting much from but it really suprised me. This is a very drinkable bitter, lots of flavour and its bottle conditioned which is a plus. Definatly worth picking up
988 characters
More User Reviews:
3.67
/5
rDev
+5.2%
look: 3.5 | smell: 4 | taste: 3.5 | feel: 4 | overall: 3.5
This beer poured a hazy mahogany into a pint glass with a thin bubbly head that quickly reduced to a ring. Aroma was caramel and dried fruit — prunes, raisins — and earthy hops.
If "balance is the key" to a good ESB, as the BA style description says, then they've done a good job here. Caramel and butterscotch gave way to an herbal bitterness from the hops that seemed to build the longer I drank. The soft carbonation made this a pleasant sipper and was suited to a bottle-conditioned ale.
496 characters
3.82
/5
rDev
+9.5%
look: 3 | smell: 3.5 | taste: 4 | feel: 4 | overall: 4
Fairly deep, hazy brown colour, with only the slightest cream coloured head despite a fast pour.
Sweet smelling, toffee and candied fruit, along with a bit of cinnamon. Pine hop aroma and a hint of alcohol heat. Nice smelling, but subdued.
The taste is a well balanced mix of malt and hops. Toffee and bread in the malt followed by a crisp finish of herbal and pine hops. A very good ESB flavour, nothing over the top.
A bit of thickness to the body and a soft carbonation work well together to make this beer go down quite nicely. Not really for quaffing, just a steady drinker.
I won't be stocking up on it, but I'd certainly have it again.
654 characters

2.93
/5
rDev
-16%
look: 4 | smell: 3.5 | taste: 2.5 | feel: 3.5 | overall: 2.5
From a short stout 500 ml brown bottle, best before date listed as 27.01.08.
Pours out a deep woody amber, a deep intense copper. Not much retention on the head, just a small creamy beige head that recedes to a ring.
Sweet caramel malt on the nose, tangerine along with dried tropical fruits (pinapple and papaya stand out most, plus some pear), pine resin, woody notes, and even a touch of candi sugar.
However the flavour seems kind of thin from the very beginning. Pine and light malt at first, mild spices, and a watery nondiscrept finish. Faint candied aftertaste. Whoa, did I miss something here?
The mouthfeel is the same pleasant light texture of cask ale, most likely from the bottle conditioning. Compliments the flavour profile, but at the same time doesn't do it any justice.
An ale quite disappointing in the flavour department, not much to this straw dog or paper tiger at all, a definite pass the next time around.
945 characters
3.49
/5
rDev 0%
look: 2.5 | smell: 3.5 | taste: 3.5 | feel: 3 | overall: 4
Appearance: Flat, with a brown-orange color
Smell: Slight citrus aroma.
Taste: Despite the "bitter" name, the start is mild with a citrus hop aftertaste, improving slightly towards the finish.
Mouthfeel: Medium-light body with a smooth texture.
Drinkability: Weak start, but better finish.
302 characters
4.04
/5
rDev
+15.8%
look: 3.5 | smell: 4.5 | taste: 4 | feel: 3.5 | overall: 4
500ml bottle bought from Sainsburys...
Poured a deep coppery red colour... Creamy tan head poured thick and meringue like then faded quite quickly to thin layer... no carbonation... light lacing...
Aroma - Nice toasted bready notes, piney / floral hops, strong juicy fruits (pineapples, oranges, some pears, light figs), light caramel sweetness, peppery, grassy, some marzipan hints...
Taste – Toasty maltiness, bready, light floral honey sweetness, spicy fruits (bitter oranges, apples, pears, some grapefruits), light oakiness, nice peppery / piney hop bitterness, toffee notes, sweet nuttiness...
Feel - Starts quite dry then mellows out....Medium body... Very very quaffable and refreshing - a good session beer...
Overall - An excellent bitter... not particularly festive but well worth a try...
816 characters
2.96
/5
rDev
-15.2%
look: 4 | smell: 3 | taste: 3 | feel: 3 | overall: 2.5
Pours very dark amber with very thin head. Malty nose with touch of chocolate.Tastes kinda flat with a little bit of bitternes and caramel in the finish. It's pretty drinkable beer, but i hev had better stuff of this kind.
Would have one on occasion.
250 characters
4.04
/5
rDev
+15.8%
look: 3 | smell: 4 | taste: 4 | feel: 4 | overall: 4.5
Appearance: tawny brown, quite hazy, thinnish layer of tan frothy foam, ok head retention
Aroma: rich malty caramel, tangerine, woodsy hops, raisins
Flavor: smooth malt sweetness with hints of orange marmalade, stewed prunes, hazelnuts, and herbally hops; finishes semisweet with a brief fruity aftertaste
Mouthfeel: medium body, gentle carbonation, smooth and soft texture, slight warmth in the throat
Other comments: Quite a scrumptious bitter. This should be a year-round offering, not just a Christmas brew.
523 characters
1.62
/5
rDev
-53.6%
look: 2.5 | smell: 3 | taste: 1 | feel: 1.5 | overall: 1
Bleagh! There are not many beers I willingly throw down the sink, but this was one of them. This bottle conditioned beer poured with a slight haze as you might expect, producing a dark russet coloured beer. The aroma had a slight fruitiness to it. Tasting it was not a pleasant experience. Far too many off-flavours of pear-drops and sourness I would expect from a Gueze rather than an english bitter. Two mouthfulls and I could stand no more.
Truly awful. I hope I just had a bad bottle.
491 characters

3.42
/5
rDev
-2%
look: 3 | smell: 3.5 | taste: 3.5 | feel: 3 | overall: 3.5
last one @ the store I was at meaning I'll never see it again unless I do a roadie to Lethbridge or Calgary.
Looks like a nice ale, hazy copper-red in color. Knocked it down a notch because there was much in the way of head or lacing. Floral and raisin like aromas, nice, almost appetizing. Sweet and yet dry and bitter, Interesting. Caramel malt in the aftertaste that complements the dry tea-like bitterness of the hops nicely. Could be a bit fuller in the body/mouthfeel deptment, but overall a drinkable ale that doesn't overwelm or underwelm.
548 characters
3.83
/5
rDev
+9.7%
look: 4 | smell: 3.5 | taste: 4 | feel: 3.5 | overall: 4
Overall, an impressive effort, but not particularly "bitter".
As noted in other reviews, the color is a nice copper shade, tending to reddish. My biggest criticism is the aroma, but then I'm used to NW U.S.A. bitters and IPAs with big aromas. It doesn't smell bad, it just doesn't have the floral bouquet of hops that I love.
The beer is delicious and very drinkable. My wife, who turns up her nose at most bitters, said that she could "drink a whole pint of this one".
I could taste the malt, and the sweetness that it contributed, but the beer is not overly sweet either. The label mentioned "tangerine" flavors, but I couldn't detect them. I do love a bottle-conditioned brew, though, so I give extra points for that.
Unlike other reviewers, I did not find it "watery"; either in taste or mouthfeel.
The biggest problem is calling it a bitter. I suppose, for the substyle, it could be correctly called an English ESB but I would almost class it as a "Nut Brown", except then the color is slightly off for that.
1,014 characters
4
/5
rDev
+14.6%
look: 4 | smell: 4 | taste: 4 | feel: 4 | overall: 4
A new bottle-conditioned ale, purchased at the Sainsbury's supermarket. According to the back label, it is "subtly spiced ale for the festive season... well balanced with hints of tangerine and aromatic flavours". Crystal, Pale malts as well as Torrified Wheat are used, along with four kinds of hops: Challenger, Northdown, Styrian Goldings and Amarillo (Goldings). BB 27/01/2008, served cool in a straight imperial pint glass.
A: pours a dark russet or chestnut brown colour, just slightly unclear as the yeast sediments stay pretty much undisturbed in the bottle; the creamy off-white head settles fast, on top of constant and moderate carbonation.
S: fruity as well as malty upfront--"raw-ish" nutty and gristy malts, semi-sweet and slightly damp yeastiness (from the yeast sediments) are accompanied by a backnote of piney, spicy and tangerine-ish fruity hops. Perhaps due to the varieties of hops used in this brew, the hop entry is pretty colourful, blending well with the malty theme to result in a refreshing nose overall.
T: the slightly thin-ish nuttiness from malts, sour-sweet pears and citrus-fruits upfront are backed by mildly bitter and powdery taste of toffees and chocolates, while the bittering, dried-leafy hoppyness soothes the rear of the palate, increasing strength bit by bit and lingering for a long while... Besides being herbal-bitter, the aftertaste reveals hints of sour-sweet tangerines just like the label suggests, but nowhere as spicy as I expected--showing sporadic hints of licorice or ground dried herbs at best. Long finish, though.
M&D: softly carbonated, fresh and nice for a bottle-conditioned ale. To me this is a balanced, fruity and rather refreshing premium bitter best consumed in jugs at a cosy pub, poured straight from the cask if possible~~ Another good product by this quality brewery. Recommended.
1,855 characters
O'Hanlon's Goodwill Bitter from Hanlons Brewery
Beer rating:
3.49
out of
5
with
12
ratings