Anker Blond
| Brouwerij Het Anker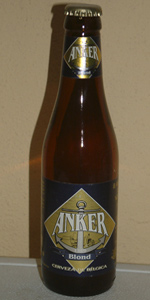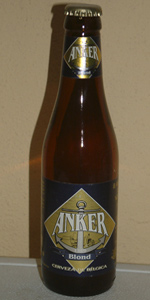 BEER INFO
Brewed by:
Brouwerij Het Anker
Belgium
hetanker.be
Style:
Belgian Pale Ale
Alcohol by volume (ABV):
6.50%
Availability:
Year-round
Notes / Commercial Description:
No notes at this time.
Added by wl0307 on 08-21-2005
HISTOGRAM
Ratings: 31 | Reviews: 26
4.23
/5
rDev
+7.9%
look: 4.5 | smell: 4 | taste: 4.5 | feel: 4 | overall: 4
A: Blond color, the foamy head is fat, white and shiny, looks like whipped cream, have long life and good lacing;
S: Perfumed with hops and essences of lime and citrus;
T: Begins with smoked malt, appears after citric and spicy hops with sugars, very well balanced;
M: Refreshing with a sweet bitterness, produces tingling in the throat, and high carbonation, all these qualities in a light body;
D: The best light-body and refreshing beer I have classified.
463 characters

4.23
/5
rDev
+7.9%
look: 4.5 | smell: 4 | taste: 4.5 | feel: 4 | overall: 4
Pours the most absolutely ridiculous head I've ever seen, takes up 2/3 of the beer, with a cloudy pale straw yellow colour.
I'll have to wait a while for this monstrosity of a head to clear up so the sweet aroma can make it to my nasal glands. Okay...somewhat cleared up, the nose is picking up some ripe fruit, bananas, coriander, cloves, wet grass and somewhat winey with some sourdough on the side.
Once I get through this obscene head, my taste buds are intoxicated with a lovely melody of ripe apples, bananas, lemongrass, some yeast infected white wine, some fresh baked parmesan oregano subway bread, and a nice spicey hop finish. Wow look at this head, it doesn't seem to want to go anywhere.
Nice creamy mouthfeel thanks to that preposterous head, highly carbonated. There is something very special about this beer, a very good BPA, better than Duvel on many levels, yea I said it!
893 characters


4.32
/5
rDev
+10.2%
look: 4 | smell: 4.5 | taste: 4.5 | feel: 4 | overall: 4
[Eyes] Orange cloudy deep and Yelow Golden beer with a good, creamy foamy head.
[Nouse] Aroma is moderate malty, toasted, malt, fruity, moderate yeasty, soap, yeast, anis-seed.
[Mouth] Sweet caramel malt, gooood carbonation dry and spicy. Interesting!.
254 characters
4.36
/5
rDev
+11.2%
look: 5 | smell: 4 | taste: 4.5 | feel: 4 | overall: 4.5
Poured into a chalice glass. Easily one of the best-looking bottle pours I've had in a while. The colour is a opaque light golden, and it leaves a thick, foamy head that simply won't go away. Terrific lacing right up the glass. Reminded very much of Duvel.
Smell is slighty yeasty with a bit of fruit and a faint note of alcohol esters.
The taste is a lovely blend of yeast, citrus (lemon), pear, nectarine and coriander with a slight bubble gum kick. Loads going on here. The finish is dry and satisfying.
Mouthfeel is very carbonated, yet creamy thanks to the (still thick!) head. Refreshing. Dry, but doesn't stick to the palate.
One of the best BPA's I've had in recent year. After seeing that it's not being brewed again, I'm snapping some more up tomorrow - I definitely recommend you do the same!
808 characters
4.75
/5
rDev
+21.2%
look: 4.5 | smell: 4.5 | taste: 5 | feel: 5 | overall: 4.5
Margriet was brewed specially for the festive year Mechelen 2005. A citywide spectacle of theatre, movie, exhibitions, literature, culture, cuisine (beer included),… A contest was organised for the inhabitants of Mechelen. The got the honour of naming the beer. Eventually "Margriet" won. The central theme were the two powerful woman who lived, worked and ruled in Mechelen.
Quote from the website www.mechelen2005.be:
"Mechelen 2005, City in Female Hands is based on the interaction, five hundred years ago, between the town and two of its leading ladies, Margaret of York and Margaret of Austria. The event provides a platform on which women and men are invited to claim a place in the town and to take up residence briefly or permanently, just as the two Margarets of history inhabited their residences and remained associated with the town. It is a journey of discovery through the town, with projects where womanhood takes material shape in a variety of ways: humorous or serious, rational or emotional, indoors or outdoors, artistic or social."
The event was very successful; and so still is the beer.
A beer with a rich foggy golden colour. Some carbonation, little yeast on the bottom.
The head is thin, snow white and very compact.
Very strong smell: strong citrus, banana, honey, caramel, malt, alcohol. Sweet
The taste kicks off with a sparkly sensation on the tongue by the carbonation. Followed by a bitter sweet malt and citrus taste, hops in the back. Becomes drier, taste changes to banana. Feels great in the mouth. Sweet taste, but no sugary / sticky or slimy sensation.
Aftertaste continues the banana with hops and honey. Lingers on for quite a while and eventually turns to peanuts. Fades away very slowly and gently.
Marvellous beer! Al the flavours are well balanced. A very own taste, lots of character. One of my favourites from now on. And then to think it had been lying in my refrigerator for months. Does seem to have survived the relocation from Mechelen to Leuven excellently!
Ut Vivat, Crescat, Floreat!
2,061 characters
Anker Blond from Brouwerij Het Anker
Beer rating:
3.92
out of
5
with
31
ratings