Gouden Carolus Cuvée Van De Keizer Whisky Infused

Brouwerij Het Anker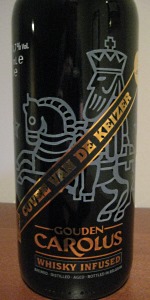 Write a Review
Beer Geek Stats:
| Print Shelf Talker
Style:

ABV:

11.7%

Score:

Avg:

4.32

| pDev:

7.64%

Reviews:

11

Ratings:

From:

Avail:

Rotating

Wants

Gots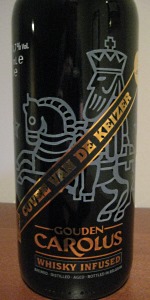 Notes: Gouden Carolus Cuvée van de Keizer Imperial Dark was enriched by an infusion of Gouden Carolus Single Malt whisky. The result is a unique beer: powerful and full-bodied, with subtle touches of vanilla, oak and chocolate. An imperial brew to cherish and enjoy in moderation.
3.78
/5
rDev
-12.5%
look: 3.5 | smell: 3.5 | taste: 4 | feel: 3.75 | overall: 3.75
Brown copper color with a thick head.
Aroma with notes of caramel, tea leaves, oak and sugar.
Flavor with notes of caramels, candied sugar, oak, maybe whiskey, lots of raisins, licorice and a bit of chocolate. Dry aftertaste with no bitterness.
Full body with appropriate carbonation.
Very sweet brew with lots of raisins, caramel, oak and chocolate notes. Whiskey is rather faint.
381 characters

4.66
/5
rDev
+7.9%
look: 4.5 | smell: 4.75 | taste: 4.75 | feel: 4.5 | overall: 4.5
When you are going to buy beers in Lambicus, Barcelona, always leave with some wonder you did not know. This beer is a fantastic, special product, with an amazing whiskey / beer integrity. I've had a very good time enjoying a great beer.
237 characters
4.38
/5
rDev
+1.4%
look: 4.25 | smell: 4.25 | taste: 4.5 | feel: 4.5 | overall: 4.25
75 cl bottle, dated best by 31/12/2023
Pours very dark brown, thick cream colored head. Good head retention. Great aroma - dark malt, oak, whiskey. Taste is similar, with some vanilla in the finish. Complex yet smooth. Medium bodied, silky feel.
248 characters
4
/5
rDev
-7.4%
look: 4 | smell: 4 | taste: 4 | feel: 4 | overall: 4
De Hopt. En copa Grimbergen. Jugando a Baldur's Gate Enhanced + Los Pilares de la Tierra. 75cl. Muy equilibrada, whisky apenas se nota y alcohol bien oculto en sabor pero termina subiendose a la cabeza bastante. Ganaria mucho en 33cl
233 characters
4.17
/5
rDev
-3.5%
look: 4.25 | smell: 4 | taste: 4.25 | feel: 4 | overall: 4.25
Caitlin and I stopped into 't Brugs Beertje in Brugge on 30SEP18 for a quick round. That turned into three 0.33l bottles of this tasty libation per person, at €5.00 each.
My small goblet was filled with a very dark chestnut brew, nearly opaque. Had a creamy, fine beige head, with nice lacework. Nose had mild caramel malts with subtle hints of whiskey. Body was a solid medium, with little prickle to speak of.
Taste had lots of caramel, with some toffee lurking as well. Whiskey action is noticeable, though at a very comfortable level. As it warmed both the malt and whiskey became more pronounced, with a mildly sweet finish. A very tasty offering! Cheers!
4.17/5 rDev -3.7%
look: 4.25 | smell: 4 | taste: 4.25 | feel: 4 | overall: 4.25
2036
753 characters

4.25
/5
rDev
-1.6%
look: 4.25 | smell: 4.25 | taste: 4.25 | feel: 4.25 | overall: 4.25
2017 on tap at Kuliminator.
Tan head with lots of lace. Caramel brown color. Toffee and caramel. Whiskey notes. Brown sugar and dark fruits. Boozey.
Had this side by side with a regular 11 and preferred the vintage.
218 characters
4.04
/5
rDev
-6.5%
look: 4.25 | smell: 4 | taste: 4 | feel: 3.75 | overall: 4.25
750ml, caged and corked bottle - wow, it's been a while since I had something new from this brewery. Wait, whut? They make whisky in Belgium?
This beer pours a clear, dark auburn brown colour, with four fingers of puffy, loosely foamy, and somewhat bubbly tan head, which leaves some stellar complex webbed lace around the glass as it evenly sinks out of sight.
It smells of semi-sweet, bready and doughy caramel malt, some musty nuttiness, muddled black stone fruit, sort of boozy vanilla pods, some estery Belgian yeastiness, faint generic whisky-soaked oak staves, and very plain earthy, herbal, and floral green hop bitters. The taste is caramel/toffee malt, a vanilla-forward oakiness, still kind of pithy nuts, slightly phenolic yeast, some blended dark orchard fruitiness, grainy indistinct whisky, and more well understated earthy, musty, and soused-up floral hoppiness.
The carbonation is average in its palate-coddling frothiness, the body a solid medium-heavy weight, and more or less smooth, with maybe a touch of alcohol ingress making a few unwelcome waves here. It finishes off-dry, the malt, subtle fruit, interesting whisky, and yeast esters hosting the lingering after-show.
Overall - well, the whisky 'infusion' does exact a certain differentiating effect on this brew, which was one of my all-time favourites. It actually kind of lightens things up a bit, in the end, while lending an extra layer of complexity, if that makes any sense. Yes, I am now infused with whisky, from a Belgian strong ale - what a brave new world we live in!
1,564 characters
4.48
/5
rDev
+3.7%
look: 4.5 | smell: 4 | taste: 4.75 | feel: 4.5 | overall: 4.5
A- Impressive looking bottle with a nice cork and nice masculine labelling....Imperial style bottle to boot! The liquid itself pours with an impressive looking cream colored head that is very dense and is about 2 fingers thick, slowly settling into a velvet layer over the brew itself. Lacing looks great as well with an entire film covering the inside of my glass. The beer is actually quite transparent, a rusty reddish brown and the carbonation is quite fine looking....overall a nice sturdy looking Belgian Dark Ale!
S- Im quite surprised at how mellow the aromas on this one are! After a few whiffs, I get muted caramel/toffee, candied fruit, toasted nutty malt, slight sweet bourbon whisky, soft vanilla bean, yeast. The finish is sweet and not very strong. Its nice but I expected more.
T- Whisky infusion really helps this one out, providing sticky sweetness, along with dried fruits such as fig/plum, upfront and very apparent boozy qualities, smooth cherry vanilla, caramel/toffee richness, bourbon and perhaps even rye sweetness, and overall a nice robust flavor that seems to get better with warmth.....it reminds me more of a Christmas cake the more I have it!
M/O- Medium/Full bodied brew with a nice creaminess, smooth carbonation, and a very nice sipping Ale. Alcohol content is reasonably well hidden but for 11.7% it is very well done! It gets more candied and sweet as it warms, plus the whisky infusion adds a unique character to this style. I would get this again and think it is a very well crafted quad!
1,539 characters

4.35
/5
rDev
+0.7%
look: 4.25 | smell: 4.25 | taste: 4.5 | feel: 4.25 | overall: 4.25
Poured from fridge temp. Very dark brown with a good amount of tan head. Nose is whisky, caramel, malts, and some nice dark fruit. Taste is really nice - getting the whisky right away, which is fantastic. Slight bitterness from the whisky, which I like. Cuts down a bit on the sweetness. Lots of beautiful toffee and dark fruit - cherries, blackberries, raisins, grapes, and even a slight amount of grapefruit peel. Mouthfeel is medium bodied, and the alcohol is completely hidden. Really nice beer that I will seek out again.
526 characters

4.64
/5
rDev
+7.4%
look: 5 | smell: 4.75 | taste: 4.5 | feel: 4.5 | overall: 4.75
Poured from a corked and muzzled 750ml bottle (No Best By Date!) into a 33cl Kasteel (Brouwerij Van Honsebrouck) stemmed glass...sorry for lack of proper glassware!
A - Priding myself on pouring skills (in the Belgian sense), they reveal a beer with deep ruby and mahogany color with an infinitely creamy, 1-1.5 finger khaki head. Retention is impressive for a beer of its strength. Perfect to style. (5.0)
S - Whiskey from the spirit, caramel and toffee aromas from the malts along with slight vanilla and a wisp of oak are present. As you dig deeper, the dark fruits (figs and plums) found in the base beer can be found, but are tamed by the infusion of Whiskey. Like all attributes of this beer, everything is amplified when allowed to warm. (4.75)
T - The warmer the beer, the more apparant those aromas found in the nose begin to explode on the palate. However, poor cool and sip slowly to experience how the beer develops over time. Warmer temperature brings some flavors of cherry, vanilla and even oak in addition to more pronounced whiskey, vanilla, oak and caramels. (4.5)
M - Medium-to-Full mouthfeel. The beer finishes suprisingly dry (drier than what memory serves regarding the base beer) which that, along with that lively, bottle-conditioned carbonation makes it lighter on the palate than what you might think for a beer pushing 12% ABV. I let the last sip get up to ~75F and things definitely got boozy! (4.5)
O - Cuvee Van De Keizer Blauw remains my favorite Quad, specifically the 2013 Vintage consumed in 2015. That said, the Whiskey Infused is a more-than-worthy addition to the Cuvee Van De Keizer line of beers. The complexity of this is outrageous and you will find new things after each sip. This may only be available at the brewery and at a cost of 7.50Euro, I cannot think of a better Belgian Quadruple. (4.75)
NOTE: Do not expect a Barrel-Aged Quad as this is not. Het Anker blends their finished Single Malt Whiskey (distilled from the same grain bill as Cuvee Van De Keizer Blauw) back into the base beer. You get the notes of Whiskey, but not the tannins usually extracted when a beer is aged in barrels that previously held a spirit.
2,174 characters
4.88
/5
rDev
+13%
look: 5 | smell: 4.5 | taste: 5 | feel: 5 | overall: 5
Very excellent brew. Very nice thick body, fluffy off white head. Fantastic red/brown color, very clear. Although one cannot taste wood per se nor the whiskey very distinctively, this is one excellent quad with toffee, caramel, figs, prunes and other dark fruits such as tart cherry. This is an excellent beer, compares very favorably to other quads, and is especially much better than the "indulgence" beer made by the same company. I would seek and drink this anytime.
470 characters
Gouden Carolus Cuvée Van De Keizer Whisky Infused from Brouwerij Het Anker
Beer rating:
89
out of
100
with
28
ratings