Brouwerij Het Anker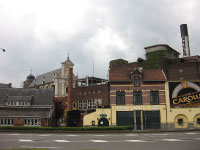 PLACE INFO
Type:
Brewery, Bar, Eatery
Guido Gezellelaan 49
Mechelen
, 2800
Belgium
+32 (0)15 20 38 80 |
map
hetanker.be
Notes:
No notes at this time.
Added by BeerAdvocate
Reviews: 12 | Ratings: 27
4.1
/5
rDev
-4%
vibe: 4.25 | quality: 4 | service: 4.25 | selection: 4
We stopped through Mechelen on our way out of Brussels to tour the brewery and take a quick peak at the town. It's really an easy drive - only about 15 minutes from the airport.
The brewery, which dates back to the 15th century, emerges out of the quiet and uber-quaint streets of old Mechelen.
The tour was primarily in Dutch with abbreviated english translations afterwards upon request. Fairly standard tour, but it was cool to see their retired spontaneous fermentation equipment on the roof. They've also begun distilling their own whiskey and seeing (and smelling) the barrels was a nice touch. The tour ends with a few samples - the classic and the tripel.
There's a small store and a cafe featuring their beers as well. The Het Anker "campus" was a cool thing to see - definitely worth checking out.
★
811 characters
4.3
/5
rDev
+0.7%
vibe: 4 | quality: 4.5 | service: 4.5 | selection: 4
(Review from notes)
I visited this brewery and the adjacent cafe during my three-month fieldwork in Belgium last year. Hardly a natural choice for a one-day trip from Leuven, I went there only because a female teacher I met in Leuven had a lively row with her colleague from Ghent about which city is grander and has more culture to offer... Well I might as well visit both, I assured them. The brewery-tour turned out a plus, a huge plus, to the nice Gothic Cathedral apart from otherwise a pretty much run-down place as Mechelen looked like upon my visit esp. on a typically gloomy spring day...
The brewery's cafe, where I was supposed to meet the guide for a guided tour, was almost empty when I was there, around 11am. The food menu looked decent, full of mouth-watering beer-cuisines, but I didn't have time to try any. Having tried on tap a small Blusser (a "pils", which I take as a normal lager in retropect) and a small Ambrio (amber beer lacking depth but quite flavoursome), a group of people arrived along with the brewery guide, a middle-aged beery man. He explained to me that even I was to be the only one in the group not speaking Dutch/Flemish, as the group of people were all from across the border, the Netherlands, he would make sure to explain everything important to me in English and answer all my questions. Fair enough.
The guided tour turned out fantastic, esp. given kind help from the guide and translation by some ultra-friendly Dutch young people in the group. The old brewery's interior was a bit rough and dusty, esp. for a working brewery, but the open-top square cooling tun on the roof of the building, a living witness to its past glory, was a real hit, which made their Goulden Carolus classic so different from other strong brown ales in the past, but not in use anymore as forbidden by law since 198?-- and I wonder if the beer today still bears any resemblance to the once famous brew until being disallowed to attract wild micro-organism overnight in the open air, and maybe to the rich culture of the glorious days when good King Charles was educated in Mechelen... Good view over the city of Mechelen from the roof, though, with the Cathedral easily spotted in sight.
After the tour I had two drinks on tap (Classic and Tripel) standing at the bar, alongside the nice bloke guide, who gave me more info. about brewing history in Mechelen, so as to make up for all the things "lost in (lack-of) translation". He was also a voluntary city tour guide, so very knowledgeable about almost everything in the area. What appealed to me most was his easy-going attitude, showing respect for all beer-cultures not just restricted to great Belgian beers, as when I talked about British ales his reaction was not the slightest similar to so many Belgian-snobs I met who didn't even care to try or attempt to understand anything about other beer cultures "so inferior to their beer universe" ("is that 4%abv watery stuff you call beer?", I was once confronted as such). This man is open-minded and passionate about all things about beers, and the lively conversation made my visit to this brewery all the more pleasant and worthwhile. For one, I wouldn't hesitate to go back to Het Anker on my next visit to Belgium, for a good conversation, good rounds of nice fresh brews, and certainly to try their seemingly delicious beer cuisines...
★
3,380 characters

4.33
/5
rDev
+1.4%
vibe: 4.5 | quality: 4.5 | service: 4.5 | selection: 4 | food: 4
This is an interesting place because it has a hotel on premise and a really nice cafe. I did a tour of the place and I never know they made a single malt whisky. I did not get to try it but I know what I will be looking for. Just a heads up, lots of stairs. A really nice old tasting room across from the cafe and a newer and more modern bar and restaurant. I did not see the hotel, you can see the owners' home right on the brewery grounds. I had some nice pork and, surprise, fries. Tasty and really nice service, but I can't mad at anyone that brings me a Gouden Carolus triple.
★
581 characters
4.48
/5
rDev
+4.9%
vibe: 4.25 | quality: 4.5 | service: 5 | selection: 4 | food: 4.5
An absolutely fantastic visit. The selection of beers is limited to what is offered by Het Anker, that being said they have everything available and the store is newly renovated. The staff is fantastic both at the pub and the store. Definitely stop in for lunch, I recommend the Gouden Carolus cheese sandwich.
★
310 characters
4.65
/5
rDev
+8.9%
vibe: 4 | quality: 5 | service: 5 | selection: 4 | food: 5
I not only sampled beer in the sampling cafe but I also was lucky enough to arrange a personal guided tour of the brewery for myself. This is the oldest working brewery in Belgium. They claim that the brewery has been in operation since at least 1369 and they showed me the document that proves it. Throughout the tour I was shown ancient bottling and kegging equipment, old sampling cafes, meeting rooms and the beautiful copper brewhouse that was built after WW2. The tour lasted about an hour and I was shown everything in the brewery, well, except the bottling line, which oddly enough, never seems to be shown on any brewery tour in Belgium . I was then taking on the roof of the brewery where I was shown the old cooling tun which was replaced by a papaflow in the early 1990's. The brewery used to be the tallest building in Mechelen so their was a phenomenal view of the bequinage and the rest of the inner city from the roof. It truly is a beautiful brewery.
I was then taken into the cafe where I was spoiled with traditional Flemish cuisine and degustation of three of the Gouden Carolus products. The meal was truly divine. I was served a plateful of Fried mashed potatoes accompanied by a dish of very tender aged meet cooked in Gouden Carolus Classic and topped with a delicious sauce. I should have written down the name of the dish but I was busy talking and drinking beer. The three beers I was tasted on were the Ambrio, Classic and Triple. They were in great shape and tasted excellent. Everything was complimentary, ofcourse! :)
In my opinion, Het Anker is one of the best breweries in Belgium and touring the brewery was a dream come true. I hope to be back someday.
★
1,694 characters
4.08
/5
rDev
-4.4%
vibe: 4 | quality: 4.5 | service: 4 | selection: 3.5 | food: 4.5
My father and I stayed at this brewery's hotel and ate at their restaurant.
The hotel was better accomodations than we expected and very warm in winter. Restaurant was very busy on a Friday night, obviously locals from the town of Mechelen -- always a good sign. However, many were drinking wine with their meals. Strange? Known for their good food. We were pleased to drink good, very fresh draft beer with food that paired well with it. The beer itself (I drank Gouden Carolus Tripel, my father drank the Classic) was not really remarkable but good quality and very fresh.
We shared an appetizer of fresh and sundried tomatoes, fresh mozzerella, salad with very good brown bread. It was larger than we expected, with good fresh ingredients -- very good. We both had dishes involving koekoek: a local variety of chicken. His was in a savory sauce involving mushrooms and bacon; mine was prepared with more wonderfully fresh vegetables, lightly cooked, like broccoli, carrot, endive, green beans, and sprouts, with a rich (cheesy?) sauce made from the Tripel. Frites were a disappointment.
Service was very professional and courteous. We felt that the food was some of the best to be had. Beer was good and fresh. Worth a trip.
★
1,237 characters

4.13
/5
rDev
-3.3%
vibe: 4 | quality: 4 | service: 4 | selection: 4.5 | food: 4
Beautiful old cafe, actually the whole brewery is pretty impressive. Classic stuff. The brewery's whole range is available which certainly is impressive, though on my visit the beers were served disturbingly cold. I can't think of a single other serious beer place in Belgium which has done that. Weird.
Food was really good , orderd flemish " stoofvlees " with golden carolus classic , realy nice , with a nice salad and home made fries , my wife had a steak with mushrooms and a salad , also realy good !
The new brasserie is very nice , very well done ,looking forward to my next visit , all there beers are availeble for take away , wich is good , they also have several nice brewery tours with guide .
This is one , i've not the oldest brewery in Belgium that is stil active !
★
786 characters
3.7
/5
rDev
-13.3%
vibe: 4 | quality: 3.5 | service: 3.5 | selection: 4
This Het Anker cafe "brew-pub" is located off the Mechelen markt area, along the canal. It is an old building with high ceilings, and wood decor. One feature is the anchor inside the bar. The actual brewery is next door. I sampled three draft biers:
Bruynen Anker, a 6% bruin, that is amber in color, with caramel flavors, and a sweet finish. Tripel Carolus, a spicey, dry, 9% Golden Tripel with a hugh head. And finally, Gulden Carolus, a dark amber strong ale at 7.5%, with lots of malty, licorice flavors, and a big sweet finish. An interesting spot to break for draft Anker products in very good condition.
★
611 characters

4.64
/5
rDev
+8.7%
vibe: 4.5 | quality: 4.5 | service: 5 | selection: 4.5
As their beer this place certainly can be called classic. The brewery stands on the ground where beer is brewed for hundreds of years. On the site is a building of the sixteenth century where has been a hospital where the Begijns served their beer to their patients, when the water wasn't save to drink and beer was welcome to relieve all pains.
In 1990 the brewery could be closed. Only two people working. Nowadays highly succesful with 45 employees.
Nice hotel, very friendly people, lovely brasserie and the greatest beers. Need I say more?
★
546 characters

4.04
/5
rDev
-5.4%
vibe: 4 | quality: 4.25 | service: 4.25 | selection: 3.5 | food: 4.25
Nice place for lunch or dinner. They only serve the beers which they brew (Anker Pils, Boscoullie, Gouden Carolus, Cuvée v/d Keizer, ...) so selection is limited (I hope this explains the LOW score for selection) but you can be assured that the waiter will recommend the best beer to go with your meal (or wine, if you prefer). Food is nicely prepared and served, menu is not excessive but includes some Belgian classics, starters, mains, desserts and snacks, waiters are friendly ! Parking space in the area can be little difficult to find. I will visit this place again !
★
574 characters
4.3
/5
rDev
+0.7%
vibe: 4 | quality: 4.5 | service: 4.5 | selection: 4
As an American living in Belgium, I'm quite impressed by many of the breweries/pubs I go to (Delirium being my usual haunt). I went to Het Anker on a Saturday with my brother and girlfriend to have a look around and sample some of the local brews. It's a 20minute train ride from Brussels, so not far at all.
After finding the brewery's hotel, we made our way into the restuarant which is through a rather suspicious looking door on the street which you might miss if you're not looking for it. Inside is a rather rustic looking establishment with tables and chairs. We'd arranged in advance for a tour in English (otherwise it'll be in Dutch!). The tour was given by the Mechelen town crier; an aging man with a rather wicked sense of humor. Seeing all of the brewing equipment was quite quaint and hearing about the history of the brewery and the beers was intriguing.
The best part is the free beer of your choice after the tour which is included in the price. It's pulled from the pump and I'd suggest having the Carolus Classic. It's worthwhile to sample the Triple and Ambrio while you're there as well. Also, pick up a bottle or two of the Carolus d'Or. Age it a while and it only gets better! (Ten years and it supposedly has the texture of a fine wine).
All in all, Het Anker is a good brewery to visit and definitely worth a stop if you're in Belgium.
★
1,370 characters
5
/5
rDev
+17.1%
vibe: 5 | quality: 5 | service: 5 | selection: 5
I cannot say enough about this brewery. Visiting this brewery was the highlight of our recent vacation in Belgium and Amsterdam. Our special thanks to our superb tour guide Marie Vanhellemont. Marie went well beyond our expectations in delivering a terrific visiting experience. The tour even included a few beer tastings at the end in which Marie provided her expert guidance. If you are in Belgium for five days or more, you must visit this brewery. We visited a number of other breweries during our trip but nothing could top this experience. You can combine a visit of Mechelen with a visit ti Antwerp on the same day since they are close to each other.
★
657 characters
Brouwerij Het Anker in Mechelen, Belgium
3.82
out of
5
based on
6,573
ratings.