Folie Douce
| Brasseurs R.J.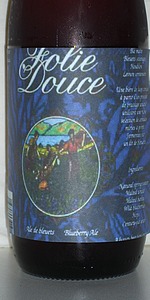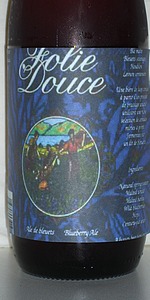 BEER INFO
Brewed by:
Brasseurs R.J.
Quebec
,
Canada
brasseursrj.com
Style:
Fruit and Field Beer
Alcohol by volume (ABV):
5.00%
Availability:
Summer
Notes / Commercial Description:
No notes at this time.
Added by francisweizen on 03-01-2005
HISTOGRAM
Ratings: 14 | Reviews: 8
Reviews by JOaikido:
3.46
/5
rDev
+41.8%
look: 4 | smell: 3 | taste: 3.5 | feel: 3 | overall: 4
341 ml bottle.
A- Rosy colour, clear and bubbly. Nice pink head. Very fruity colour and look.
S- Sour berry up front and middle. Hint of pale mild beer (not a wine cooler, which is nice).
T- Light flavour of fresh blueberries. Slight winy character but less than I remembered. Some sourness and very faint bitter finish that lingers. The base seems to be some kind of fairly light beer.
MF- Very light and a bit too thin.
D- Very easy to drink and decent flavour. Good as a hot weather beer.
496 characters
More User Reviews:
2.48
/5
rDev
+1.6%
look: 2.5 | smell: 4.5 | taste: 1.25 | feel: 3 | overall: 2.25
A- Purple strawberry copper in color, and hazy to boot! The head is pretty much non existent...it didn't even happen....rather leaving behind a small ring of foam around the glass. Carbonation appears to be subdued, and lacing is also non existent! Not a great looking brew outside of the coloring.
S- This is a combination of two main aromas, that being fruity blueberry and even more so, creamy chocolate! In fact, the chocolate is quite predominant! There isn't much else going on here, hop bitterness and malt sweetness is not there really, but this smells really good!
T- This is nothing like the aromas let on! It is very bland, and the fruit is rotten! The chocolaty aromas give way to stale cocoa and very flat berry flavors. The finish is clean because there is really no flavor....how disappointing!
M/O- Light bodied and full of carbonation, this one does not live up to expectations! The aromas gives this lots of hope but the flavor and ensuing drinkability is minute! I now agree with prior assessments and am not recommending this one to anybody....this brewery should be ashamed...at least when it comes to the taste!
T-
1,150 characters
3
/5
rDev
+23%
look: 3 | smell: 3 | taste: 3 | feel: 3 | overall: 3
Bottle: Poured a deep red color ale with a huge bubbly pinkish head with good retention. Aroma of blueberry is recognisable and quite enjoyable even though it may or may not include some syrup. Taste is very refreshing with some definite blueberry taste is there as well as traces of the witbier base (coriander?). I thought this was better then what I had in memory from the last time I drank this beer (5-6 year ago).
419 characters

2.02
/5
rDev
-17.2%
look: 3 | smell: 3.5 | taste: 1 | feel: 2 | overall: 2
A deep rubish purple beer with a short shy whittish blueish head that dissapeared quickly
Smell is overwhelmly of blueberry, well qui is a blueberry beer anyway.
Some shy hints of hops are also present hiding behind the blueberry.
Taste is quite awfull, hard, carbonated, it hits you like a rock. Watery, very watery in fact with flavor of beer basic, actually it tastes like a diluated beer added with somekind of blueberry flavours
not very pleasant
461 characters

1.85
/5
rDev
-24.2%
look: 2 | smell: 2 | taste: 1.5 | feel: 2.5 | overall: 2
Not impressed at all by this blueberry beer even if i thought that it wasn't «that» bad the first time! Looks like a purple (but a very attractive purple!) flat Coca-Cola and smells like a cheap grocery wine. Not very carbonated. A bad one... and after it warms up, it's even worse... Sad...
293 characters
2.18
/5
rDev
-10.7%
look: 3 | smell: 2.5 | taste: 2 | feel: 2 | overall: 2
Pours a deep ruby purple with a fizzy white pink head that quickly recedes to a thin ring.
The aroma is a muted mixture of graininess and sour and/or spoiled berries.
The taste is not reminiscent of beer at all. Watered-down blueberry dominates and provides a slightly tart cider-like finish that lingers unpleasantly on the palate.
Rather thin and watery feeling, which isn't helped by the excessive carbonation.
Even though fruit beers aren't my cup of tea, this paled in comparison to most of the ones I've had in the past. The cheap, lingering finish and lack of punch of blueberry flavour hurts its drinkability bigtime. This taste much more like a watered-down cider than a beer.
690 characters
3.47
/5
rDev
+42.2%
look: 3 | smell: 3.5 | taste: 3.5 | feel: 3.5 | overall: 3.5
I had this one from a friend who took a trip to Quebec.
Let's see what this one has to offer. It poured a deep reddish color, almost like a raspberry syrup. In the nose, it's all about blueberries, but more along the line of a muffin. Very attractive, yet a little sweet. Very clean and crisp. On the palate, still blueberries, but a bit more tart. We seem to have left the "muffin" part out.\
Very nice, and very refreshing.
428 characters
2.7
/5
rDev
+10.7%
look: 3 | smell: 3 | taste: 2.5 | feel: 2 | overall: 3
A straggler from CanBif 2008 earlier this year.
Pouring results in a reddish color that I would have if I diluted concentrated blueberry juice, so it seems ok, plenty of pinkish head, that quickly evaporates to a decent covering on the beer. No real lacing though.
Very minimal scent of blueberries.
Taste is decidedly not very blueberry like. Maybe a watered down kind of blueberry. Some sweetness is present, and it has a bit of a tart finish.
No real substance to the mouth. I could be drinking watered down juice for all I know. I suppose this makes it very drinkable, but not in a good sort of way.
607 characters


Folie Douce from Brasseurs R.J.
Beer rating:
2.44
out of
5
with
14
ratings