BA SCORE
81
good
10
Reviews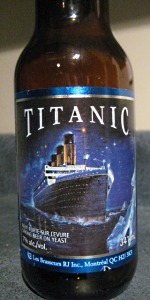 BEER INFO
Brewed by:
Brasseurs R.J.
Quebec
,
Canada
|
website
Style:
Belgian Strong Dark Ale
Alcohol by volume (ABV):
7.00%
Availability:
Year-round
Notes / Commercial Description:
No notes at this time.
Added by BeerAdvocate on 03-01-2005
Reviews: 10 | Ratings: 35

3.97
/5
rDev
+17.8%
look: 3.5 | smell: 4 | taste: 4 | feel: 4 | overall: 4
341mL bottle into a tulip glass.
A - Pours a amber color with a generous off-white creamy head which disappears rather quickly. Very limited lacing on the glass.
S - Very nice dark fruits aromas. Notes of malt are very present as well. I also pick out some yeast, dry apricot, and some hop. This makes a very good blend, quite spicy.
T - Very fruity taste with a malty sweetness, a good amount of yeast and some hop flavors. The bitterness is low, as I would expect from the style.
M - Good carbonation, medium to full body. At finish, the mouthfeel is a bit syrupy with the alcohol adding a warming touch.
O - A good surprise from this brewer! I was not expecting something to style, but it is! Without having the complexity of some great Belgian Strong Dark Ale, this beer gives you some good flavors to enjoy! Definitely above the average!
★
847 characters
3.92
/5
rDev
+16.3%
look: 3.5 | smell: 4 | taste: 4 | feel: 3.5 | overall: 4
One of the browness beers I've ever seen : it's not close to red, nor black, it's really brown. It doesn't make a lot of brew, but the head stays on top for a long time and covers most of the beer. It smells good, it smells mostly malt and caramel, I also see a hint of chocolate. The taste is not too strong, not too light, just ok. It tastes pretty much what it smells, malt and caramel, so it's a little sweet. The mouthfeel is ok, while it has not anything exceptional, it feels like most of the strong brown beers, which is a good feel to me.
So overall, it's a good beer, it worths the try.
★
598 characters
3.8
/5
rDev
+12.8%
look: 3.5 | smell: 3.5 | taste: 4 | feel: 3.5 | overall: 4
Bottle: Poured a hazy dirty brown color ale with a large head with good retention and some lacing. Aroma of solid malt notes with light caramel and some light fruity ester. Taste is better then expected with notes of a solid malt backbone with semi-sweet caramelized notes and some light fruity ester with a bready yeast strain. Body is quite full with good carbonation and no apparent alcohol. Well brewed and easily drinkable.
★
428 characters
3.42
/5
rDev
+1.5%
look: 3 | smell: 3.5 | taste: 3.5 | feel: 3 | overall: 3.5
Thin cream-white head doesn't take long to disappear. No lacing. Opaque, nutty-brown body with lots of sediment chunks.
Belgian yeast and sugary malt on the nose, with dark fruit, a little alcohol, a touch of coriander and nutmeg, bit roasty. Similar to their d'Achouffe Brune.
This pretty much tastes like d'Achouffe Brune but with more roast. Dark fruit, very yeasty, sugary malt, bread, light spices, a touch of herbal hops on finish. Not as complex as their other version. No alcohol present.
The body is a bit too light. Moderate carbonation.
I definitely prefer the d'Achouffe version, at the higher ABV and complexity. Why would they make a second beer so similar?
★
679 characters

3.38
/5
rDev
+0.3%
look: 4 | smell: 3.5 | taste: 3 | feel: 4 | overall: 3.5
341ml Bottle
Appearance - Reddish brown colour with an above average size fizzy and frothy beige coloured head. It is too hazy to see the carbonation level and there is some good lacing. The head lasted for around 5 minutes before it was gone.
Smell - Malts, bananas, breads/grains/wheat, dark fruits, all spice
Taste & Mouth - There is an amount of carbonation and the most noticeable flavours are malts, raisins, bananas and some wheat. I can also taste some all spice and a bit of a medicine like flavour. It finishes with a malty all spice aftertaste.
Overall – The beer had a very nice appearance once poured and the the taste is well balanced. My one complaint was the odd medicine like taste.. or maybe it was the alcohol I was picking up on. Either way, this is a fairly solid brew and it with a few adjustments it could be really good.
★
850 characters
3.32
/5
rDev
-1.5%
look: 3 | smell: 3.5 | taste: 3.5 | feel: 3 | overall: 3
341ml, shiny metal foil capped bottle, thanks to tbeckett for the extra.
This beer pours a cloudy, dark orange-amber hue, with a momentary cap of fizzy off-white head, which lapses into a sub-surface bubbling witches' cauldron of ever-rising effervescence, and no lace of which to speak. It smells of yeasty, sweet dark biscuity malt, a bit of banana peel, and muddled earthy spice. The taste is more sweet dark, somewhat fruity malt, and strong yeast/banana esters. The carbonation is fairly sedate, the body medium weight, a tad fleshy, and too edgy to be really considered smooth. It finishes in kind - moderated malt sweetness, and an almost astringent dry fruity yeastiness.
Highly reminiscent of another Quebecois brewer renowned for producing Belgian-style strong ales, with big yeasty notes. A decent enough BSDA, but the reduced malt and focus on yeast isn't my particularly preferred strain of the style.
★
916 characters

3.25
/5
rDev
-3.6%
look: 3.5 | smell: 3.5 | taste: 3 | feel: 3 | overall: 3.5
New 750ml bottle with corkscew system.
poured into a maudite glass.
result a brown beer witl limited head foam,
medium carbonation.
smell like roasted cofee and chocolate, malt
taste is a bit thin i think for a strong brown beer. limited body.
mouthfeel was a bit thin too.
overall, i tought that this beer miss something, i would like it with for tasty flavors, for edge to it,
so, its ok, but im not impress with this
still worth a try if you are looking for a not too strong brown beer.
★
499 characters
3.22
/5
rDev
-4.5%
look: 3 | smell: 3.5 | taste: 3 | feel: 4 | overall: 3
Bottle from IGA outside Mont Tremblant. From notes.
A - Poured with no head, a very dark copper colour, no visible carbonation, and a slightly hazy appearance.
S - Strong yeast and mild spice with a sturdy malt body with some dark fruits.
T - Quite fruity again with a yeast punch that is too strong and overpowering.
M - Medium to full bodied with mild carbonation.
O/D - Overly yeasty. Not alot going on. Good aroma with more complexity but the yeast just punches too high on the taste.
★
493 characters
3.02
/5
rDev
-10.4%
look: 3.75 | smell: 3.5 | taste: 2.75 | feel: 2 | overall: 3.25
This beer started great...nice pour into a chalice, deep brown with a reasonable head. Smell was nice if unobtrusive...caramel, malty, some ligjt dark fruit or molasses. The taste even started fine with some tartness among the yeasty belgium-y-ness...but the mouthfeel came off as too thin and the finish seemed weak and without any lasting interest. Hard to describe, but it just seemed to lack depth...like it had the veneer of belgium but was someplace less interesting underneath. Overall, fine. Just not sometging I will seek out again.
★
541 characters
1.1
/5
rDev
-67.4%
look: 1 | smell: 1 | taste: 1 | feel: 1 | overall: 1.5
I usually love complex dark beers but this one fall short. The pour left little head and the colour was a merky brown, not appealing. The smell was kinda pungent and it didn't taste like a typical beer on lees - it was bitter, lacking depth with a lingering unwelcomed flat and bitter after taste. I won't finish the beer as it isn't work the calories! Seriously! Maybe I got a bad bottle or something. Another reviewer said it was 'thin' and I think that sums it up nicely. Doesn't compare to anything I've had from Unibroue. Very disappointing.
★
546 characters
Titanic from Brasseurs R.J.
3.37
out of
5
based on
35
ratings.