Belle Gueule Lager D'hiver
| Brasseurs R.J.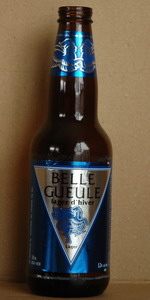 BEER INFO
Brewed by:
Brasseurs R.J.
Quebec
,
Canada
brasseursrj.com
Style:
Euro Pale Lager
Alcohol by volume (ABV):
5.20%
Availability:
Winter
Notes / Commercial Description:
No notes at this time.
Added by Phyl21ca on 01-20-2004
Reviews: 9 | Ratings: 14
Reviews by AnHeroicHippo:
More User Reviews:
3
/5
rDev
-9.6%
look: 3 | smell: 3 | taste: 3 | feel: 3 | overall: 3
This is another seasonnal beer from Brasserie RJ. This is actually a winter lager. Pourred a light colored brew with a medium head. The taste is quite light with a nice sweet aftertaste. I would have expected a stronger brew since this is a winter seasonal beer but overall it is not too bad.
★
292 characters
3.24
/5
rDev
-2.4%
look: 3 | smell: 3.25 | taste: 3.25 | feel: 3.25 | overall: 3.25
Poured from a 12oz bottle, no #freshbeer info.
Pours a light copper, good sized head but retention is average and not much lacing afterward. Aroma and flavor have a nuttiness mixed with dried fruits and a prominent metallic twang. Ok but didn't find it that great.
★
265 characters


3.6
/5
rDev
+8.4%
look: 3 | smell: 3.5 | taste: 3.75 | feel: 3.75 | overall: 3.5
Belle Gueule Lager D'hiver (Winter) on this 3rd December 2014 here in Montreal.
The look of it. Orange, yellow color on the light. Low carbonation. Nice head about 1 to 2 fingers.
The smell of it. Malt and hops, typical for a Lager.
The taste of it : Thats a good lager right here. Malt and caramel on this after taste.
So overall would I recommend it ? For a lager, damn sure. As a beer in general, yes on this winter season thats a pretty sweet tasty beer !
★
459 characters
3.42
/5
rDev
+3%
look: 3.5 | smell: 3.25 | taste: 3.5 | feel: 3.25 | overall: 3.5
See through copper brew with a small white head. Smell like an aluminum can, with a typical lager aroma, you get some bread aromas too that are nicer. In the mouth you almost only taste the malts with some hops. Metallic taste.
★
228 characters
3.73
/5
rDev
+12.3%
look: 4 | smell: 3.5 | taste: 3.5 | feel: 3.5 | overall: 4.5
341 ml bottle.
A- Nice amber colour with coppery tinge. Smallish off-white head. OK bubbles. Attractive overall.
S- Malt and mild hops. Pleasant, but nothing original.
T- Slightly sweet malty lager. Balanced with clean tasting mild hops. Well balanced and pleasant though somewhat unremarkable. Maltier than most lagers.
MF- Fairly crisp lager feel. Less thin than many, which fits the winter lager concept.
D- Easy to drink without being too light. I liked this one.
★
472 characters
3.53
/5
rDev
+6.3%
look: 4 | smell: 3.5 | taste: 3.5 | feel: 3.5 | overall: 3.5
Almost each time since a few weeks, I drop by the local store, I see this brew. I didn't see so many 6-packs, but mostly 12 packs. Anyway, tonight, I am giving it a try.
Presentation: The usual 341 ml canadian beer bottle
Appearance: An interesting red / dark color with a very respectable head.
Smell: It invites you. A good blend of malts, caramel and hops. The first smell was awesome.
Taste: Good roasted malt and caramel. Not really strong, but refreshing.
Mouthfeel: Maybe a little too weak.
Drinkability: It worthes a try.
★
548 characters

3.46
/5
rDev
+4.2%
look: 3.75 | smell: 3.25 | taste: 3.5 | feel: 3.5 | overall: 3.5

3.27
/5
rDev
-1.5%
look: 4.25 | smell: 3.5 | taste: 3.25 | feel: 2.75 | overall: 3
Appearance: Poured with a nice light copper color that boasted a vey high, almost Belgian level of carbonation that produced a half finger of head that retained exceptionally and produced ample lacing.
Smell: High carmel malt with a nutty backing and some earthy hops. Warming helps bring out the smell a bit but not overtly so.
Taste: Starts with some mild chestnut notes with some malt presence that pushes forward ever so slightly before being dusted away from earthy and herbal hops that strike me as just a very barely in excess. It's unique that is for sure, and certainly more for a pale ale fan.
Mouthfeel: The carbonation does help out the end of the beer, but the hops linger for a bit too long for my liking. Transistioning is a little bumpy too.
Drinkability: On the lighter end of medium bodied, the high carbonation simple doesn't want to ever settle down on this one and I wouldn't call it smooth. That said, I still don't have any problems getting it down in short order. It's kinda odd really, it's pushing the wrong buttons but I don't seem to mind.
Final Thoughts: This is a seasonal brew for a reason, and given this brew is in June...I'm probably in the wrong season. That said, I think this would be a much better porch drinker in the fall for the time when there can be no dobut summer is over.
★
1,322 characters
3
/5
rDev
-9.6%
look: 3 | smell: 3 | taste: 3 | feel: 3 | overall: 3
Brown bottle of 314ml.
A: blond, very clear with a liitle amber hue. foamy head, almost creamy, it's stayed for a long time.
S: some malt, fresh hops, herb (green odors). I wold say very green on the nose.
M: medium
T: spicy mouthfeel, nice lenght, some tasty hops on the final.
★
279 characters

3.8
/5
rDev
+14.5%
look: 3.5 | smell: 3.5 | taste: 4 | feel: 3.5 | overall: 4
It looks good. Very clear, amber color, small head, low carbonation.
smell a bit nutty.malty
Taste is a bit nutty, some sweetness at the end, some bitterness at first, everythings balanced
to make a unique taste
mouthfeel is low carbonation, small bitterrness on tongue
Drinakabilty is good
bought a 15 mixpack with blond,rousse,pilsner,lagerd'hiver for 15$
good deal, for quality
★
385 characters
Belle Gueule Lager D'hiver from Brasseurs R.J.
3.32
out of
5
based on
14
ratings.