BA SCORE
83
good
15
Reviews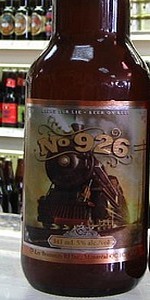 BEER INFO
Brewed by:
Brasseurs R.J.
Quebec
,
Canada
brasseursrj.com
Style:
Belgian Pale Ale
Alcohol by volume (ABV):
5.00%
Availability:
Year-round
Notes / Commercial Description:
No notes at this time.
Added by Phyl21ca on 03-31-2008
Reviews: 15 | Ratings: 23
3.2
/5
rDev
-11.4%
look: 3 | smell: 3 | taste: 3.5 | feel: 3 | overall: 3
Bottle: Poured a hazy orangey color ale with a small foamy head with minimal retention and no lacing. Aroma of wheat with some light spices and some medium sweet malt. Taste is also dominated by some medium sweet malt with some light spices and some light yeasty finish. Not the greatest beer but still a lot better then what I had expected from this brewery.
★
359 characters

3.35
/5
rDev
-7.2%
look: 3.5 | smell: 3.5 | taste: 3.5 | feel: 3 | overall: 3
12oz Bottle
Appearance - The beer pours a murky yellow/orange colour with a small to medium size fizzy white head. I can't make out much carbonation due to the murkiness of the beer. There is some light lacing on the sides of the glass. The head stuck around for only a few minutes before it was gone.
Smell - a peppery spice mix, wheat, coriander, cloves, bananas
Taste & Mouth - There is actually quite a bit of carbonation, it reminded me a bit of a glass of champagne. The beer feels very light on the palette. The most noticeable flavour is wheat mixed with cloves and pepper. There is some mild banana flavour and also coriander. The beer finishes with a lightly bittersweet aftertaste.
Drink - I am finding a lot of the beer in this brewers line-up taste similar to each other. A fairly decent brew - but I'm not sure I'd seek it out again.
★
851 characters

3.53
/5
rDev
-2.2%
look: 4 | smell: 3.5 | taste: 3.5 | feel: 3.5 | overall: 3.5
Good looking hazy peach coloured beer under a moderate head that settles to a heavy film that gives up good lacing.
Wheat, yeast, orange and a hint of spice in the nose. Drinks like a witbier - lots of orange, wheat and spice. Light drinking and flavourful. Easy drinking, better than your average macro, but don't look to be blown away.
★
338 characters
4.07
/5
rDev
+12.7%
look: 3.5 | smell: 4 | taste: 4 | feel: 4 | overall: 4.5
Cloudy yellow/orange with a mediocre head. Aroma has some Belgian yeastiness, orange, cloves and coriander. On the dry side, with a moderately slick body and smooth carbonation. Full flavoured with wheat, orange and some spices. Mild bitter finish. Very drinkable, with solid flavours.
★
285 characters
3.97
/5
rDev
+10%
look: 3.5 | smell: 4 | taste: 4 | feel: 4 | overall: 4
Poured into an Affligem chalice. Almost looks like sparkling orange juice. Opaque light-orange, about a half inch head that dissolves very quickly. Not much retention save for a small ring.
Nose is rather like a hefeweizen: coriander, spices, orange, a bit of yeast.
Taste is very much like a hefe - it's as if they've found a cross breed between BPA and hefe. Orange and citrus, coriander, light malts. Tasty and refreshing.
A mild brew, spritzy on the tongue. Feels like a hefe. Slightly tart to the finish.
A tasty, mild brew, very refreshing and enjoyable. Great pick up.
★
579 characters
3.67
/5
rDev
+1.7%
look: 3.5 | smell: 4 | taste: 3.5 | feel: 4 | overall: 3.5
Courtesy of everetends and his travels north of the border...into the trusty Duvel tulip...
Cloudy honey with thin yeasty top - almost blue-tinged translucence.
Nice scent of Belgian yeat, slight clove and ginger with a coriander tilt - malt has nice dark candi sugar texture.
Clean but a bit understated. Good yeast strain and mild spice but could use a bit more oomph. Not unpleasant by any means and well-balanced...just a little on the mild side.
I do enjoy the yeast electricity here - finish is crisp and bright with a little tang. Not too sweet, almost piney hop.
Slight metal and tangy astringency (almost) preclude great drinkability but this isn't a bad offering by any means. Is there such thing as a Belgian Mild? We may have found it...good take!
★
764 characters
3.8
/5
rDev
+5.3%
look: 3.5 | smell: 3.5 | taste: 4 | feel: 3.5 | overall: 4
12 oz bottle I got in Montreal at a store that I reviewed and can't spell. Poured in a shaped pint.
A: Poured an orangish, dark yellow. Poured a decent white head but had zero retention. Zero lacing thanks to said lacing. Pretty active carbonation. This brew is a bit hazy. Nice but like everything else, would be much better if I could get some head.
S: Smell is of some bready malt, bananas, clove and some spice, a touch of pepper I think.
T: Taste is of some nice hops that mingle well with some nice banana malts. There is a touch of orange notes with some bready malt. Clove sits nicely in the aftertaste.
M: Mouthfeel is light to medium in body. Carbonation is a bit high but works. Clove sits in the aftertaste nicely and no touch of the ABV.
D: Decent brew but not the greatest. Now I know why the sixer was 6 bucks. Still good and I enjoyed it. If I lived in Quebec, would make a nice cheap brew to keep in the fridge.
★
936 characters
3.72
/5
rDev
+3%
look: 3 | smell: 3.5 | taste: 4 | feel: 4 | overall: 3.5
Not a belgian pale ale, this is a german style hefeweissbier!
I had this one back to back with "cap espoir", the other new ale from "Brasseur RJ". Served in a small nonic pint glass at 6-7 celcius.
Pours a medium light orangish brown. Nice head but dissipates down quickly and leaves some lacing.
Aroma of malted wheat estry banana and some clove. Flavor of malted wheat, a light flavor of banana and clove esters.
I'm almost convinced "Cap Espoir" and this beer share the same grain bill but not the same yeast strain nor the same spice additions (I don't detect any spice in this one). This taste more like a hefeweiss than a belgian pale ale.
★
649 characters

3.5
/5
rDev
-3%
look: 3.5 | smell: 3.5 | taste: 3.5 | feel: 3.5 | overall: 3.5
Served from a 341ml bottle to a tall pilsener glass
A: Orangish color. Thin one finger head with little retention and lacing. Hazing was low and clarity was pretty good.
S: Smells of cloves. The smell is very reminiscent of Hefe like aromas. By that I mean cloves and bananas.
T: Cloves are the forefront of this beer. There is also some banana in the background of the beer. Very slight hoppiness and really I feel as though it is too low for the style. When I drink a Belgian pale I'm expecting more hops. Really I didn't know the style that this beer was before I checked it and assumed it was a wheat beer. Bitterness was next to not present. Perhaps a bit of sweet malt. A displeasing graniness developed as the beer warmed. Perhaps a tad of fruitiness similar to apricots.
M: Medium body with decent carbonation. Rather drinkable and nothing is too off in this department.
O: Perhaps not a good example of the style but overall it was a decent beer disregarding stylistic guidelines.
★
995 characters
3.59
/5
rDev
-0.6%
look: 3 | smell: 4 | taste: 3.5 | feel: 3.5 | overall: 3.5
431 ml brown bottle.
A- Dark cloudy yellow with hints of orange. Very little head that disappears quickly. OK streams of bubbles rising in the glass.
S- Yeasty, malty, hint of spice and a bit of sour fruitiness.
T- Sourness in the middle. Slightly strange finish. Hint of spice. Not bad overall, but nothing special.
MF- OK, nothing special. Similar to a witbier.
D- Easy to drink. Acceptable yeasty beer, easier to drink than many of the type.
★
449 characters
3.5
/5
rDev
-3%
look: 3.5 | smell: 3.5 | taste: 3.5 | feel: 3.5 | overall: 3.5
341 ml served in a chilled glass
Appearance - very well poured beer. The beer is a cloudy amber in colour with about 1 finger head that quickly disappears. The head was a nice solid white. Hard to tell carbonation levels due to the cloudiness.
Smell - always a fav smell of mine, the banana is a dominant smell. Hints of orange as well with some hops in the background. There is also a faint smell of spices, nothing too dominant.
Taste - I can taste banana's as well some orange, there is a nice spice added to this. I can also taste the hints of wheat in this beer. The beer is very light.
Mouthfeel - very high levels of carbonation bring the spice and wheat flavour to the front. There is not much added bitterness, a very nice full beer on the palette.
Drinkability - Overall a decent beer to me, happy i tried it. Doesn't bring anything outstanding, but fills its category well.
★
889 characters

3.92
/5
rDev
+8.6%
look: 3.5 | smell: 4 | taste: 4 | feel: 4 | overall: 3.75
No.926 from Brasseurs RJ. Got it in a 6 mix pack with cap d espoir and cheval blanc, 2 bottles.
All Aboard !! Enjoy your journey with this no 926 a top fermented beer on yeast brewed with great care for your pleasure !
The temperature recommend it is around 8 to 10. This part is important
So the look of it: Orange golden color with no head at all. Light carbonation.
The smell of it. A touch of citrus, orange also and banana. Nice smell
The taste of it: Coriander, orange some citrus also. Fine carbonation, very light almost watery finish it on the dry side. Really the temperature does matter on this beer. The flavour is more present when it is more warm. When it is really cold like around 3 or so it is more watery and I would have give it a lower mark.
So overall would I recommend it? For sure! As a Belgium Pale Ale it's ok, I mean Unibroue does a better job but this beer as a regular beer this is the one to go.
★
931 characters

3.55
/5
rDev
-1.7%
look: 3.5 | smell: 3.5 | taste: 3.5 | feel: 3 | overall: 4
Unfiltred, yellowish,orange color, small white head foam, high carbonation activity, big bubbles involved, rapid rise.
smells fruity and spicy. cant put the finger on.
Taste is mild. fruity and spicy just like the smell. yeasty as well. a bit sweet
mouthfeel is very carbonated, too much. i imagine a smooth brew behind the carbonation, no after-taste tought
drinkability is good, every once in a while is alright for this one
★
430 characters

3.27
/5
rDev
-9.4%
look: 2.5 | smell: 3 | taste: 3.5 | feel: 3 | overall: 3.5
Pours up a light amber, thin head that's gone in half a minute.
Smells like orange and banana. Nice mouthfeel--a litle fizzy.
Very fruity taste, compares to a witbier or hefeweizen. Some malted wheat taste and coriander but the orange zest flavour predominates and with the fizziness it almost comes across as a shandy.
Probably the wrong season to review this, this would be better appreciated on a summer patio.
★
416 characters
2.97
/5
rDev
-17.7%
look: 2.5 | smell: 3 | taste: 3 | feel: 3 | overall: 3
poured from a 22 oz bomber into a chalice. high carbonation bursting in soda like bubbles. fair to poor head retention. hazy golden in color.
smells somewhat spicy. coriander and orange maybe.
spice is subtle but evident. mostly from esters i think .cant put my finger on what i would call them though
smooth but crisp and dry, leaves my mouth a bit sticky.
this one goes down pretty well but im not sure i want another. or even all of this one. not really my bag.
★
466 characters
No.926 from Brasseurs R.J.
3.61
out of
5
based on
23
ratings.