BA SCORE
79
okay
12
Reviews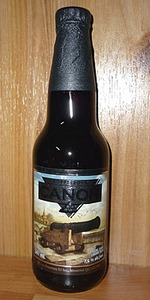 BEER INFO
Brewed by:
Brasseurs R.J.
Quebec
,
Canada
brasseursrj.com
Style:
Doppelbock
Alcohol by volume (ABV):
7.60%
Availability:
Limited (brewed once)
Notes / Commercial Description:
No notes at this time.
Added by santa109 on 05-20-2008
This beer is retired; no longer brewed.
Reviews: 12 | Ratings: 20

2.26
/5
rDev
-30.9%
look: 4 | smell: 3 | taste: 2 | feel: 1 | overall: 2
Poured into snifter.
A: One finger of tan color head. Soapy and correct retention. Good lacing. Perfectly translucent brown color.
S: There is a lot of caramel in this. Also, very spiced bread like smell (sweet bread, cinnamon, cloves, cardamom). Lots of plum and raisins. A good amount of alcohol.
T: This is the lightest tasting dopplebock I ever had. Slight toasted spiced bread with a touch of a buttery note. Caramel, plum, raisins and dried peaches. Not a lot of alcohol.
M: Very light feeling beer. That was not expected at ALL. Very watery with low carbonation.
O: I really don't know what they were trying to accomplish with this beer but it's very bland. I didin't expect much from this brewery as they have yet to make something I tasted and that I found good.
776 characters

2.99
/5
rDev
-8.6%
look: 2.5 | smell: 3.5 | taste: 3 | feel: 2.5 | overall: 2.75
Clear copper color with moderate activity. Light creamy beige 3 finger head, lasting 5-10 minutes, with faint legs. Flavors of dark berries, apples, plums, raisins, nutmeg, cinnamon, ginger, toffee, molasses, and herbal spices. Slick medium body with extra prickly carbonation. Strong and a very long finish, ending with a dry vinous tongue coating burnt fruity feel, with a little earthiness, highly sugary and syrupy, and sharp yeasty bitter spices. Overall average quality craft. The flavors are vague, not really that good, and overwhelmed by an overly spicy feel. Lacking some complexity, and the carbonation is way too excessive. Warming while the alcohol is well hidden. Could be used as an appetizer, although I would choose a higher quality one.
754 characters
3.03
/5
rDev
-7.3%
look: 3.5 | smell: 3 | taste: 3 | feel: 3 | overall: 3
Bottle: Poured a clear medium copper color bock with an average size foamy head with average retention and some lacing. Aroma of sweet malt is somewhat interesting but no signs of banana or cloves could be detected as I would have expected from a doppelbock. Taste is also dominated by some sweet malt notes and not much else. Body is a bit thin for the style with some average carbonation and no apparent alcohol. I remember really enjoying this beer years ago but this a pale shadow of its former self.
504 characters
3.07
/5
rDev
-6.1%
look: 3 | smell: 3.5 | taste: 3 | feel: 2.5 | overall: 3
Picked up in an RJ mixpack - guess its not retired. Mine also features an updated label with a lovely design reminiscent of 18th century New France.
Poured into an Affligem goblet. Solid amber-ruby, leaves about an inch of head that quickly recedes into a few scattered islands. No lacing.
Nose is nice: dry sherry, caramel, clove, spice, cola. Fairly diverse.
Clove and allspice are the two flavors I pick up immediately, and are surprisingly dominant for a the first few sips. After a while, I get a simple blend of caramel, malt and spice. Decent-tasting doppelbock, alcohol is well-hidden, but certainly nothing too exciting. Flavor feels a bit washed out. Tinny near the end of the glass.
Mouthfeel is that of pop that has sat out for a little too long: thin, a bit flat, with only the occassional zip of carbonation.
Neither a great beer, nor is it a great example of the style. Lacking in the flavor profile despite such a promising nose; however, the mouthfeel really killed it for me. If you want a good Quebec doppelbock, try Les Trois Mousquetaires' version. I've seen much better from RJ before.
1,114 characters

3.11
/5
rDev
-4.9%
look: 3.5 | smell: 3.75 | taste: 3 | feel: 2 | overall: 3
Canon Doppelbock from les Brasseurs RJ. 7,6% ABV have to drink it between 6 and 8 degres Celsius
So the look of it: Amber brown color
The smell of it: Sweet a touch of caramel maybe some fruits
The taste of it: Some spices, the caramel is there a touch of raisin and some plants. The taste is ok but the feel is horrible. It feels like you just drink some medicine. It's watery the mix of all the flavour is just not there. The feels just destroy it.
So overall would I recommend it? No. I have 1 more bottle left, I will give a second try but the aftertaste is just not there for me.
589 characters
3.15
/5
rDev
-3.7%
look: 3.5 | smell: 3.5 | taste: 3 | feel: 3 | overall: 3
Clear dark-amber body with a cover of cream-white head.
On the nose: wheat, lightly-smoky roast malt, lots of yeast, fruit (apple, plum, raisin), caramel.
Light caramel sweetness with stone fruit in the mouth. Earthy hops and a hint of something powdery (cocoa possibly) leave a little drying on the finish. Alcohol is a little more obvious than it should be at its ABV.
Body is a bit this for a malty beer like this one. Light carbonation.
This isn't a terrible dopplebock but it's lacking enough in complexity to warrant returning to. Sweetness is a bit high without much of anything keeping it in check and alcohol could be smoothed out quite a bit.
660 characters
3.2
/5
rDev
-2.1%
look: 3 | smell: 3 | taste: 3.5 | feel: 3 | overall: 3
Poured from a 341ml. bottle.
Appearance: 3-4 fingers worth of head that recedes to a rather thin ring. Bubbly, with a half clear body the color of iced tea with red tinges.
Smell: Malt, spices and bread.
Taste: Toffee a bit, chewy caramel, very mild smokiness and a slight sweet feel to round things off. Some spicy cloves and not much bread presence.
Mouthfeel: Not expansive in the palate. Low carbonation and a bit thin. Nice but not great.
Overall: A nice sweet touch makes it interesting but the body is too light and it makes it strictly average.
557 characters
3.41
/5
rDev
+4.3%
look: 4.5 | smell: 3.5 | taste: 3.5 | feel: 4 | overall: 2.5
I see this beer is supposedly retired but there's a new label on this bottle. My friend Joris got it in a RJ mixed pack and gave it to me last night. Code on bottle is 3 00367 1951
A- Beautiful amber/copper. Thick creamy light beige head. Speckled lacing all over.
S- Smells good right from the bottle. Poured into Brassin d'Hiver tulip. Alcohol, sweet clove, root beer and chocolate. A bit of dry cardboard. Smells very good. Started to get metallic with time.
T- First thing I noticed was the wateriness. I get a general sense of what I found in the aroma but it's all watered down. Makes it boring. A bit of a dirty cardboardy after taste.
M- High carbonation. Medium to full mouthfeel. Ordinary finish, not very dry.
D- Doesn't taste good enough to drink lots. One bottle is plenty.
Pretty sure I wouldn't buy this. Maybe in a mixed pack...
852 characters

3.45
/5
rDev
+5.5%
look: 3.5 | smell: 3.5 | taste: 3.5 | feel: 3 | overall: 3.5
341ml Bottle
Appearance – Clear copper colour with a large size fizzy and frothy beige coloured head. There is an average amount of carbonation and there is some fair lacing. The head lasted for close to 5 minutes before it was gone.
Smell – Malts, an earthiness, breads/grains, dark fruits, butterscotch
Taste & Mouth - The beer has a below average amount of carbonation. I can taste malts mixed with grains and a smokiness. There are also notes of dark fruits and butterscotch. It finishes with a malty slightly sweet aftertaste.
Overall – While this beer won't knock your socks off – it's still very tasty and highly drinkable. The alcohol was well hidden and it had a nice well balanced flavour.
715 characters
3.55
/5
rDev
+8.6%
look: 3 | smell: 3 | taste: 4 | feel: 3.5 | overall: 3.5
Chilled 341 ml bottle into a shaker pint. Best-by date March 4, 2013.
Look- Crystal clear amber with two fingers of off-white foam that starts crackly but falls to a dense frothy cap after a minute or so. Ok retention, good lacing.
Smell- Bready, fairly sweet, light treacle (very light.) Discrete herbal aroma.
Taste- Clean, grainy taste. Shortbread, cracker, tealike hops in the background, vague peach flavor. No hint of alcohol. Somewhat spicy as it warms, cream soda.
Mouthfeel- Medium body, moderate carbonation comes out on the sip, finishes crisp. Not boozy at all. A little more heft would be nice
Overall- Could be a bit bolder, but not bad at all. I probably wouldn't get it again, but it's worth trying if bock is your thing.
Mouthfeel-
Overall-
764 characters
3.67
/5
rDev
+12.2%
look: 3.5 | smell: 4 | taste: 3.5 | feel: 4 | overall: 3.5
Bottle from Broue HAHA.
A - Pours amberish with good carbonation. One finger eggshell head. Bright. No lacing, thin film of retention.
S - Sugar, some ok dark fruit, yeast, butter, and caramel.
T - Not bad. Earthy with dark fruit, sugar and yeast. Syrupy fruits and caramel.
M - Nice carbonation to keep things moving, medium to full body with a sweetish feel.
O/D - Not an overly special Doppelbock, but interesting enough to keep me busy sipping it. Not exactly rich like other strong lagers of the sort, but easy drinking and not too bad.
547 characters
3.95
/5
rDev
+20.8%
look: 3.5 | smell: 3.5 | taste: 4 | feel: 4 | overall: 4.5
Served at 45 degrees. Remake of a beer that was last brewed in 1996.
A: Poured a dark amber with only a few layers of bubbles as a head despite a fairly aggressive pour into a pils glass. The head fades quickly into a small patch of stranded bubbles floating in the middle of the glass.
S: A bit disappointing until it warms up a little. Then a swirl brings up a burnt caramel, brown sugar smell.
T: Big round maltiness with a hint of roast. A heavier caramel, toffee profile than the faint aromas would suggest is also present. An interesting woody character is also there. Hops are hardly noticeable which fits the style. Alcohol presence becomes noticeable as it warms but fits well with the burnt caramel and woody tastes.
M: Light bodied with a slight syrupy feel. Only a touch of carbonation.
D: Goes down fairly easily and although the alcohol starts showing up as the beer itself warms, it is pleasant and brings a warm feeling as it goes down.
Overall, this beer grew on me. It was definately better as it warmed and when the alcohol came out. The flavors also got bigger near the end.
1,100 characters
Canon from Brasseurs R.J.
3.27
out of
5
based on
20
ratings.