Escousse
| Brasseurs R.J.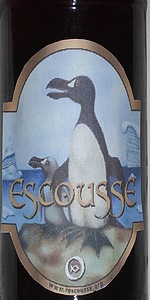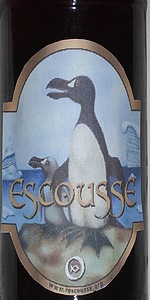 BEER INFO
Brewed by:
Brasseurs R.J.
Quebec
,
Canada
brasseursrj.com
Style:
Schwarzbier
Alcohol by volume (ABV):
5.00%
Availability:
Limited (brewed once)
Notes / Commercial Description:
No notes at this time.
Added by BeerAdvocate on 01-15-2003
This beer is retired; no longer brewed.
HISTOGRAM
Ratings: 12 | Reviews: 12
Reviews by erica:

4.2
/5
rDev
+6.9%
look: 4 | smell: 4 | taste: 4.5 | feel: 4 | overall: 4
This beer from Martin in Montreal was great. It's very dark, looks like strong coffee with a small ivory head that dissapates quickly, leaving a small ring around the glass for the rest of the time. It smelled a bit hoppy, coffee-like, bitter almost, with a touch of brown sugar sweetness. Tasted even better, with the coffee coming through more strongly, and more on the sweet side than this bitter, but I wouldn't call it 'sweet,' just malty I guess. Left a bit of a bitter aftertaste, but not so much as to make me make a face. Mouthfeel was on the thin side but ok, and drinkability is great, i'm very glad i could try it, and would definitely try it again.
661 characters
More User Reviews:
4
/5
rDev
+1.8%
look: 4 | smell: 4 | taste: 4 | feel: 4 | overall: 4
Appearance – This bier is dark with a ruby hue and a nice, filmy tanned head.
Smell – This aroma is burnt and bitter. It smells like someone tried to burn the house down with a toaster. The burnt malt is complimented with the wonderful smell of dark baker's chocolate.
Taste – The burntness eases up a bit at the tongue, leaving plenty of room for the savory chocolate notes. Again, the chocolate is very dark with just a bit of sweetness.
Mouthfeel – Light to medium in the body with a delicate yet darkly bitter mouthfeel.
Drinkability – This delivered in spades. It is a very delicate offering of the style that avoids the overly sweet or tangy sour characteristics found in most efforts outside of Germany.
Comments – I don't know how Rastacouere keeps finding these gems, but I certainly appreciate it. Thanks a bunch for sending this one all the way out West. Cheers!
897 characters
3.85
/5
rDev
-2%
look: 4 | smell: 4 | taste: 4 | feel: 3.5 | overall: 3.5
Perhaps the best I have had from this style. Aroma of molasses black, smooth without any sourness at all. Anise, well-malted, carmel, cocoa, some coffee and roasted nuttiness highlights. Well carbonated,medium mouthfeel and smooth. Above average brew.
251 characters
3.82
/5
rDev
-2.8%
look: 3.5 | smell: 4 | taste: 4 | feel: 3.5 | overall: 3.5
This is my first schwarzbier so I don't have much to compare it too. Dark brew with a nice head. Roasted coffee taste. Light and very pleasant bitterness at the end. I would drink this again. Plus this is for a good cause since profit will be given for teh safeguard of endangered species.
289 characters

3.7
/5
rDev
-5.9%
look: 4 | smell: 4 | taste: 3.5 | feel: 4 | overall: 3.5
Came in a 660 ml brown bottle, cute yet classy label for a charitable cause. Pours out an immensely opaque brownish black, a deep transluscent ruddy chestnut when held to direct light. Decent cap of tan head that settles to a creamy film atop of this pitch. Toasted malt and cocoa poweder on the nose, very inviting. Toasted grains in the flavour at first, light sprinkles of chocolate in the middle, with a finish of metallic grains that mellows out to a light chocolate wafer aftertaste. A mouthfeel that starts out light but picks up body as it rolls over the palate, becoming creamy yet carbonated on the finish. Nothing very complex overall, but enjoyable for the rare occassions I get the opportunity to sample this style. Many thanks to Goldorak for forwarding this one and giving me a chance to sample a limited edition from Quebec.
840 characters
4.13
/5
rDev
+5.1%
look: 4.5 | smell: 4 | taste: 4 | feel: 4 | overall: 4.5
Pretty near opaque in color, with a moderately sized, creamy tan head. Quite attractive.
Roasty malt aroma, with hints of bittersweet chocolate. The roastiness really comes through in the falvor too, developing a sweeter character in the middle, before petering out a bit at the finish. The aftertaste, however, has a lovely resurgant roasty/bitter character.
Medium-full bodied, and quite drinkable. Thanks to Rastacouere for the sample.
444 characters
3.88
/5
rDev
-1.3%
look: 4 | smell: 3.5 | taste: 4 | feel: 4 | overall: 4
Pours a clear brown/red, big tan head forms, lots of lacing on the glass. Smell is chocolate/coffee, caramel, floral and cherries. Taste is chocolate/coffee again, cherry, a nice sourness in the middle, super roasty throughout. Mouthfeel is low bodied, low to medium carbonation, enjoyable, I recommend. Thanks DrJay!
317 characters

4.03
/5
rDev
+2.5%
look: 4 | smell: 3.5 | taste: 4.5 | feel: 3.5 | overall: 4
650ml bomber purchased @ Metro Joanette 3/8/06
Pours a dark clear mahogany with red highlights and a smallish cap that leaves after a few minutes typical for blackbier.
Light subtle aromas of herbs, hay and roasted grain husks.
Adequate black malt spine, medium-light bodied, slick fluid mouth feel, Sharp roasty herbal character
Upfront the a light maltiness is quickly replaced by the dark roast cocoa-java tastes, some woodyness then the finish is where the perle hops get lightly bitter and blend with the roasted husk astringency to dry the whole thing up. Like a sharp dry pilsner with the roast cocoa-java bean tastes from dark patent malts.
Next to German dunkels I like Schwarzbiers...this one from RJ is not only very close to style but one of the better ones I've tasted and certainly the best in Canada. If it was available to me locally I would prefer it to Kostritzer.
898 characters
3.83
/5
rDev
-2.5%
look: 4 | smell: 3.5 | taste: 4 | feel: 3.5 | overall: 4
Dark chestnut with ruby highlights and good clarity. This was topped by a dense, fine head that produced good lacing and remained throughout. Roasted barley in the aroma, along with a hint of chocolate and a bit of licorice. Mild bitterness underneath some sourness and moderate sweetness. It finished with some roasted and chocolate, slightly acidic. Some creaminess and a bit of a grainy texture. Very tasty, I'd definitely have this again.
442 characters
4.03
/5
rDev
+2.5%
look: 4.5 | smell: 4 | taste: 4 | feel: 4 | overall: 4
A very interesting Black Lager. The brown bomber is enhanced by the label, which shows a seal and a fish. Royalties on each botle sold go to the International Fund for animal welfare. It is says that the beer is a tribute to the achikunipi, a threatened species in Canada. Now on to the beer. This is the darkest, most opaque black beer I've ever had. And it differs in other ways than 'your typical schwarzbier.' When poured, my glass looked like a stout, and the head was even rockier than I anticipated ( looked like the surface of the moon). Very craggy and thick. Aroma wise, I am getting roasted rich malt, 20/22% dark cocoa, and even some sharp yeast. Tastewise, the mouthfeel is pretty thick, and the taste is a mix of some chocolate, coffee, and in the back, some breadyness. I am also surprised by some initial roastiness, and some metallic notes in the finish. All in all: different, enjoyable, and pretty easy to drink.
931 characters

4
/5
rDev
+1.8%
look: 4 | smell: 4 | taste: 4 | feel: 4 | overall: 4
Thanks Martin.
A dark brown brew with a small off-white head ad ruby edges. The aromas are of coffee, chocolate, roasted malts, and slightly herbal hops. The taste is hoppier than the smell with some lovely roasted malt notes and some great chocolate flavors. The mouthfeel is a bit thin, but creamy and nice. The drinkability is excellent!
343 characters
3.73
/5
rDev
-5.1%
look: 4.5 | smell: 4 | taste: 3.5 | feel: 3 | overall: 4
660 mL brown bottle.
Pours a deep brown with hints of red when held to the light. Very thick white head on this one.
Aroma is chocolate and caramel.
Malty with plenty of roasted flavour. Burnt toast and dark chocolate come to mind. A delicate, crisp hoppiness comes through after a second or two and is followed by a lingering husky astringency. The aftertaste is dry and slightly tart. Body is light and carbonation moderately high.
Very easy drinking brew, but it loses points for the excessively grainy aftertaste. On the plus side though, a portion of the revenues from the sale of this beer goes to saving wildlife. For the environmentally conscious drinker.
675 characters
Escousse from Brasseurs R.J.
Beer rating:
3.93
out of
5
with
12
ratings