Mountain Goat Hightail Ale
| Mountain Goat Beer Pty Ltd
BA SCORE
81
good
55
Reviews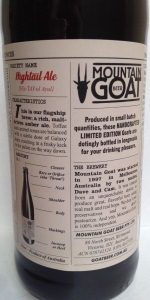 BEER INFO
Brewed by:
Mountain Goat Beer Pty Ltd
Australia
goatbeer.com.au
Style:
English Pale Ale
Alcohol by volume (ABV):
6.80%
Availability:
Year-round
Notes / Commercial Description:
No notes at this time.
Added by rastaman on 08-07-2002
Reviews: 55 | Ratings: 81
4.27
/5
rDev
+21.3%
look: 4 | smell: 4.5 | taste: 4 | feel: 4.5 | overall: 4.5
so this beer has received some harsh treatment I feel! for my money the best boutique beer in Australia, slightly ahead of little creatures pale, i'm sorry but it is. Though i do think the price of a 6 pack could come down to at least $17.
the lovely floral taste just hits your mouth and away you go, unfortunately I've quit cigarettes so i can't enjoy a hightail and a stuyvesant light again! but not to worry, i hope more people give this beer ago in the future!
I will also note I have a strong tendency to fruitier type beers, so maybe that's why I rate this beer so high!
584 characters
3.83
/5
rDev
+8.8%
look: 3 | smell: 5 | taste: 3.5 | feel: 2.5 | overall: 4
Hey! That smell is really cool. Like some weird tropical fruit, mango or something, that you don't get in a beer like this too often. Other than that, a slightly above-average ale. Dark amber, the colour of Black Sheep; wow, that pineapply mangoy smell is good, taste is guided by that, so it's unusually good too. Mouthfeel is a little ashen. Man this taste is so weird, the smell is making the taste and the pulpy mouthfeel bits make me think that someone put a passionfruit or pineapple or something in my beer without noticing. Though clearly that's impossible. If I could get this on tap, I'd sure drink it! I'm surprised at how good it is. Smell is unique and wonderful. I love fruity, floral hop smells - amarillo hops maybe?. Maybe it's a little cold and I'm not getting the other ale smells - even so I dig this one.
825 characters

2.95
/5
rDev
-16.2%
look: 3.5 | smell: 3.5 | taste: 2.5 | feel: 3 | overall: 3
yet another average beer from these fellows. promises much and on the whole delivers little. considering this is their flagship beer, it sums up their whole operation. no better that an excellent homebrew. and i could drink a dozen homebrew stubbies for the price of one of these.
approaching amber in color, prolly more a deep orange which starts with a good head, but look away and youll miss it, as it goes real quick. has a pretty fair fruity smell with some hops, which promises a lot in the taste, but doesnt deliver. like all their other beers, no balance at all. theres some malt taste, a little summer fruit taste, and a fairly good hop finish thats quite floral, and a passable level of bitterness that again isnt quite in line with everything else that presents itself. good enuff that you could drink a few and get away with it, but at the price theres no way youd get carried away.
ive never really rated these guys. this is supposed to be their best, and its not up to scratch on the whole. about the only thing you can say thats a positive spin is that its better than standard CUB or tooheys beers, but at the price you pay, holy shit youd want to to be.
1,176 characters
3.22
/5
rDev
-8.5%
look: 3 | smell: 3.5 | taste: 3 | feel: 3 | overall: 3.5
Had this many times at a Richmond bar that has this one tap, thought it would be time to write a review:
Rich red amber in colour with a weak weak head that I blame more on the bad pouring skills of the bartender not the beer.
Aroma is very very fruity, with a mixture between hop fruits/florals and esters. A very pleasing aroma indeed.
The flavours are...well...different. This batch seemed to be overly fruity. The flavours are of strong tropical fruits and a strange yeast/cheesey flavour. Reminiscent of pineapple yoghurt. After a couple it gets a tad plain and one dimensional.
Its a slightly short finish that is full and round.
I did enjoy this, however as I said this time round it seemed really fruity.
727 characters
2
/5
rDev
-43.2%
look: 2 | smell: 2 | taste: 2 | feel: 2 | overall: 2
Pretty horrible and sweaty, thin, slight malty, slight hoppy flavours, very metallic character, especially in the finish, gave me the worst f@#$n headache, and it was the only beer i drank that night, pretty horrible.
217 characters
Mountain Goat Hightail Ale from Mountain Goat Beer Pty Ltd
3.52
out of
5
based on
81
ratings.