Mountain Goat Rare Breed Surefoot Stout
| Mountain Goat Beer Pty Ltd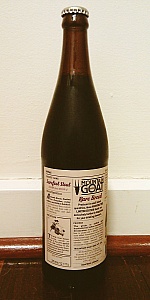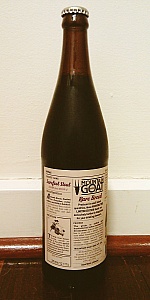 BEER INFO
Brewed by:
Mountain Goat Beer Pty Ltd
Australia
goatbeer.com.au
Style:
American Stout
Alcohol by volume (ABV):
4.90%
Availability:
Limited (brewed once)
Notes / Commercial Description:
No notes at this time.
Added by BeerAdvocate on 08-01-2010
This beer is retired; no longer brewed.
HISTOGRAM
Ratings: 12 | Reviews: 9
Reviews by BeerNutta:
1.18
/5
rDev
-65.4%
look: 4 | smell: 1 | taste: 1 | feel: 1 | overall: 1
2011 vintage.
Poured a dark brown with thin foam head that quickly dissapated to make white thin halo.
Smelt like puke.
Slight roasted malt flavor originally that degenerated into awful puke like flavor.
Did I get a corrupted batch?
Ugggghhh!!!!
250 characters
More User Reviews:
3.47
/5
rDev
+1.8%
look: 3 | smell: 3.5 | taste: 3.5 | feel: 3.5 | overall: 3.5
Pours black with a small tan head.
Nose shows lots of roasted malt with cocoa and milk chocolate both standing out.
Similar flavours, very roasty but quite sweet. Hints of vanilila mix in with the cocoa. A bit cloying after a bit.
Carbonation could be higher, to help cut the sweetness in the finish.
300 characters
3.53
/5
rDev
+3.5%
look: 3.5 | smell: 3 | taste: 4 | feel: 3 | overall: 3.5
Drank from my Stella tulip.
A - Pours a deep MAhogany colour, but light is still present through the glass. The head is tanned and reduces slowly to a film.
S - Classic roasted malts from the bottle. Much sweeter malts once poured and maybe a little cocoa.
T - The start is little bitter, before some roasted malts kick in, a very nice sticky toffee finish that is complimented well by some residual sweetness and malt.
M - Not full bodied but and a little over carbonated.
O - A decent suprise brew and the toffe is the highlight, would have liked to have seen a bit more body in this.
591 characters
3.85
/5
rDev
+12.9%
look: 3.5 | smell: 3.5 | taste: 4 | feel: 4 | overall: 4
MG playing it safe on this one.
Probably not a bad idea. This is a solid stout that would please most hearty stout drinkers. As dark as expected not much head, decent lacing. Aromas of roasty bacon and a hint of coffee beans.
Full mouth feel with solid bitterness and dry roasty finish. No complaints, it's a good, balanced stout end of story.
A touch pricey maybe but it's still good.
389 characters

4.18
/5
rDev
+22.6%
look: 4 | smell: 3.5 | taste: 4.5 | feel: 4 | overall: 4.5
Tap into an Imperial Pint glass.
A-Beautiful black body with a dense 3cm tan head
S-Mellow smell, more malt than anything, a bit of sweet roastiness.
T-Amazing creamy smooth bittersweet cocoa, moving to a lingering dark roast. The finish is a pretty balanced roast and floral hop bitterness.
M-Great mouthfeel, I might have guessed it was a nitro-tap, creamy and fairly dense.
O-Great beer on tap, haven't had a bomber of it yet, but totally worth it. I could drink regularly.
484 characters
3.28
/5
rDev
-3.8%
look: 3.5 | smell: 3 | taste: 3.5 | feel: 3.5 | overall: 3
500ml bottle into glass.
If you are trying this beer please respect it with a decent temperature to allow its complexity to shine through.
A - 3.5 Dark Brown to Black, Solid latte head. Some lacing remained. As a stout should be.
S - 3 Not overly powerfull. Mild and balanced bitter tones with the expected choc and roast notes.
T - 3.5 Smooth, balanced sweetness is the hallmark of this beer. Roasty taste shines through late. Choc flavour is in play but subtle. Some favourable yeast complexity creeps through as it warms.
M - 3.5 Medium body. Carbonation is low which works beautifully with the subtle flavours.
D - 3 For me the drinkability is solid. The sweetness does not linger on the palate and the hop bitterness is just barely enough to get you sipping again.
Overall a very well balanced and smooth textured example of stout. Recommended.
857 characters

4.15
/5
rDev
+21.7%
look: 3.5 | smell: 4 | taste: 4.25 | feel: 4.25 | overall: 4.25
Really good interpretation.
Good balance from hops to ester to bitterness.
Malt profile is malty, with biscuit and nut and minimal tannins.
139 characters
3.45
/5
rDev
+1.2%
look: 3.5 | smell: 3.5 | taste: 3.5 | feel: 3 | overall: 3.5
Pours a jet black hue with average carbonation that leaves behind a fast vanishing half finger head and no lacing whatsoever,the smell is really sweet with aromas of chocolate coated cherries,milky coffee,molasses,brown sugar and candied plums,the mouthfeel is light bodied and a tad watery for my liking and is more like a porter and has tastes of cherry ripe,milky coffee,dark berries,a touch of dark roasty malts and finished with a dark chocolate bittersweetness and overall i thought with this being part of the rare breed line up they would really take this to the next level and unfortunately im wrong im mean its easy enough to drink but its nothing special thats for sure.
681 characters

3.62
/5
rDev
+6.2%
look: 3 | smell: 3.5 | taste: 4 | feel: 3 | overall: 3.5
Pours a coarse one finger head over a deep mahogany / black body. Head dies all too quickly, leaving sporadic lacing.
Aromas are restrained, roasted malt driven, some leather, almost some smoke into porter territory.
Taste is bitter up-front, then more light and restrained, roast malts, coffee. Taste builds as the bottle goes down.
Mouthfeel is firmly in line with ABV, not a biggie!
Not bad - I got this for half price, as it's on it's BB date now. It hasn't died in the bottle, but has it smoothed out? No-one will ever know...
535 characters

3.5
/5
rDev
+2.6%
look: 3.5 | smell: 3.5 | taste: 3.5 | feel: 3.5 | overall: 3.5
Dark black colour with a moderate, fluffy tan head. Pretty average head retention.
This is not an American Stout and doesn't pretend to be. The mild roast note gives way to a malty sweetness and fruity yeast profile. Not bad.
Mild malt with a dry roasty finish. Plenty of sweet, yeast esters. Fine.
Medium body with moderate carbonation. Fine.
A decent if unexceptional stout. It isn't anything special but it doesn't deserve the criticism it has gained here.
464 characters
Mountain Goat Rare Breed Surefoot Stout from Mountain Goat Beer Pty Ltd
Beer rating:
3.41
out of
5
with
12
ratings