Mountain Goat 15th Anniversary Triple Hightail Ale
| Mountain Goat Beer Pty Ltd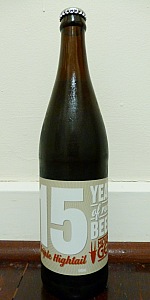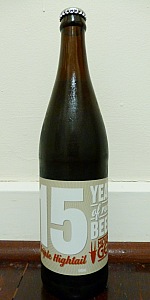 BEER INFO
Brewed by:
Mountain Goat Beer Pty Ltd
Australia
goatbeer.com.au
Style:
American Amber / Red Ale
Alcohol by volume (ABV):
8.30%
Availability:
Limited (brewed once)
Notes / Commercial Description:
No notes at this time.
Added by dgilks on 11-21-2012
This beer is retired; no longer brewed.
HISTOGRAM
Ratings: 7 | Reviews: 6
Reviews by SmashPants:

3.55
/5
rDev
+11.6%
look: 3.5 | smell: 3.5 | taste: 3.5 | feel: 4 | overall: 3.5
Bottle: standard pint-size 640mL solid brown bottle, standard Mountain Goat-esque craft label.
Appearance: a clean mid-dark reddish-copper colour with steady but fine streams of carbonation. A slightly disappointing head - a thin but creamy head that drops to a cap almost immediately.
Aroma: there is a fair amount of heavy caramels and savoury malts - bread and earthy qualities. Interesting.
Taste: some fruits start coming through in the flavour, which I didnt' notice on the nose. Those malts are still coming through, if perhaps a tiny bit awkwardly.
Aftertaste: some bitterness coming through in the aftertaste - quite nice, almost what I would consider 'tanniny'.
Mouth feel: light - to - medium in body with a medium fine carbonation.
Overall: I've always got time for Mountain Goat beers, and this one is a good example. Good mixture of spices, malts and some heavy fruits. Probably not worth the AU$12 a bottle price (2013), but good for one every now and then.
978 characters
More User Reviews:
3.54
/5
rDev
+11.3%
look: 3 | smell: 4 | taste: 3.5 | feel: 3 | overall: 3.5
Pours dark copper with a fading head.
Nose shows heavy caramel and bready melanoidin malt. Also some spicy notes.
A fair bit of rich sweet malt as a flavour, very sweet. Some spicy hops, bitterness and booze in the finish but not quite managing to tame the sweetness.
Carbonation seems a little full on.
303 characters
2.57
/5
rDev
-19.2%
look: 3.75 | smell: 3.5 | taste: 2 | feel: 2.5 | overall: 2.25
Drank from my Chimay chalice
A - Pours a cloudy deep copper colour with an Ivory head that retains.
S - Heaps of malt and small amounts of hop. Not bad
T - Oooh the malts are okay but the hops have completely dissappeared and given way to a rather nasty sweet sickly maltness that is quite unpleasent. In a way has Barley Wine like flavours but with too much sweetness. Raisins and bread present but overshadowed by the sweetness.
M - Medium to full body with low carbonation.
O - This is not a cellarable beer at all. I would imagine that it was ok fresh.I took a gamble on this and it didn't pay off. If you see it avoid it. Its way past its BBD
652 characters
3.21
/5
rDev
+0.9%
look: 4 | smell: 3.5 | taste: 3 | feel: 3.25 | overall: 3
640ml bottle purchased from Steve's Cool Booze in Kingsford.
Pours an extremely goopy and hazed reddish amber, with a very fine head that looks to form a creamy nitro-style cap to the beer, but settles out to just a ring. Lacing forms in tiny dots around the edge. The body is the main event here: thick, rich and solid, holding fine if slight carbonation in its wake. Looks pretty good all up though.
Nose, somewhat surprisingly, is very reminiscent of the standard Hightail Ale. Slight toasty grain characters with a supple but somewhat muted sweetness. Indeed, there's a slightly earthy hop bite to balance it, which gives it a slight metallic tone with a little pepper. As of now, I don't see the "triple" part.
Taste is a little better, however: more of that faint toasty grain on the front, and plenty of metallic hops on the back. In fact, the metallic bite lingers for a long time, propagated by the body, which is definitely richer and fuller than the regular or even the Rare Breed double. Along with the increase in body is a noticeable booze character, leaving a little heat, but more astringency, especially when paired with the metallic character on the back. At the end, it's coppery, almost rusty.
Feel is full and thick, but as I said, this actually harms it slightly as it's extending the back flavours.
Overall, it's about what you'd always get when you turn up the volume on the Hightail Ale. But the Hightail Ale's strength is in being flavoursome while staying light and approachable: once everything is raised to the nth degree there are some flaws which seem to get amplified. It's still drinkable, but I don't think it's particularly successful.
1,675 characters

2.98
/5
rDev
-6.3%
look: 3.5 | smell: 3 | taste: 3 | feel: 3.5 | overall: 2.5
From Beer Cartel. BB 06/13. Which means it has been in the bottle too long. At $15 was not cheap.
Pours amber, one finger off white head. Dies too quickly, leaves film a little clumpy clingy lace.
Aromas are sweet, almost quad like. Some raisins, masses of malts.
Taste is smooth, integrated, sweet ish. I am looking for hops, and there are few and far between. Rasins, hint of port, caramel, brown sugar.
Mouthfeel medium bodied. Lightly carbonated. Smooth.
Overall, wish I had drunk earlier. Think the hops have just died, leaving an almost Belgian style malty ale, which is too sweet. Still a vaild review IMHO due to overbearing sweetness.
649 characters

3.67
/5
rDev
+15.4%
look: 3.5 | smell: 4 | taste: 3.5 | feel: 4 | overall: 3.5
Mostly clear red colour with a small creamy head. Poor head retention.
Dried fruit esters with nice raisin and even spice notes. Touches of cherry. Quite sweet.
Sugary with a bitter finish. Lots of fruit and some spice to back it up.
Medium body with moderate carbonation.
A decent beer but it seems overly sweet to my palate.
342 characters
Mountain Goat 15th Anniversary Triple Hightail Ale from Mountain Goat Beer Pty Ltd
Beer rating:
3.18
out of
5
with
7
ratings