Heliopolis Gourmet Market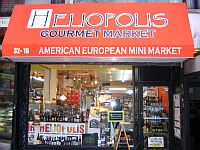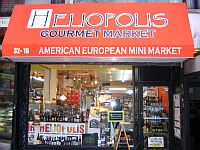 Store
32-16 Broadway
Astoria (Queens)
,
New York
, 11106
United States
// CLOSED //
Notes:
Recent ratings and reviews.
Ratings by PEBKAC:
Reviewed by PEBKAC from North Carolina
3.85
/5
rDev
-4.7%
I went looking for this place during a little personal crawl through my old neighborhood. It was a new listing on BeerAdvocate, & in Queens no less, so why not? :) If you know the area, the first places to check for good beer are supermarkets. You have C-Town down Broadway, & you have the Keyfood a few blocks up of where I'm standing. Both carry a much better then average selection, but they're not places you'd really seek out.

This place(Heliopolis) is a definate point of interest.

While the place is no bigger then your average delicatessen, it's shelves are quite stocked. The Chouffe gnome in the window displays some of their offerings in the window. Of course beer isn't the only thing they sell. Shawn instictively mixed me up a frappuccino while I perused their selection. First beer store I've been to that did that. :)

When Shawn told me that they didn't stock much local product, at first I thought that was a bad thing. Being that local stuff can be picked up at every other corner store, I soon realized that all that extra shelf space is a good thing. In place of six offerings of Brooklyn, is a lineup of Victory. Instead of five samplings of Sixpoint, you have some Dogfish to choose from. I'm not saying they don't have anything typical, just not past the few necessities. Butternuts, Southern Tier, & Original Sin(recently made famous by the brothers), do make appearances, just so the locals won't riot. :P

Notable bottles I saw included, Allagash Interlude, Whale's Tale, Tripel Horse, La Rullés Triple, Chouffe Tripel, Ipswich Oatmeal, solid lineup of 12s(for first timers) & 750s of Unibroue, Okocim Porter, a few Hitachino Nest, Westmalle Dubbel/Tripel, Traquair in all its glory(x2), Dogfish WWS, Ayinger, des Rocs Triple, Super Baladin, leftover oaked Bastard, Boon Geuze Parfait, Duchesse, Aventinus, Maredsous 8/10, DeuS, & few organics with lots of imported sodas/waters/tonics mixed in. Very nice selection for such a dry borough in dire need.

The tops of the coolers are overflowing with beer, & they get a little warm, but alot of those seem to be displays. Everything was very much dust-free which was nice to notice. Service was friendly, & being a small place, having someone smile when they notice their selection seemed to help strike up good conversation. Nothing unusual, but Shawn did hint that Sharif was the bigger fanatic, so I'll have to see when he's in.

Pricing might seem off, but all tariffs are included, so it balances out for the most part. Everything can be broken off into singles, & mixed up if they cost the same. Four packs & sixers range between $9-13 flat, with domestic singles in between $1.99 & $2.99. For example,Storm King was $2.49 a pop, & $12.99 a six. Examples of pricing on the import side, each Traquair was $5.99, Ayinger Doppel was $4.99, & an Éphemère 750 was $7.99. No counting fingers underneath the counter here, but at the same time, there is a slight premium to all this accessibility.

I rode out of there with a good haul of indulgence & a new outlook on this sorry-assed county. The beer is getting better, much in part to these guys.

Cheers! :)
Feb 20, 2007
More User Ratings:
Reviewed by DawnL from New York
4.15
/5
rDev
+2.7%
FYI: Heliopolis has closed. Their last day of business was Wednesday. They will be sorely missed.

They did have an excellent selection, even if they were a bit pricey. Everyone was very well-informed and genuinely interested about the beers they sold. The beers were kept under pretty good condition.

Good luck to the owners! They would like to open another shop in the future.

There is a terrific beer store in Jersey City that I will try to frequent on the weekends. The taxes there are more reasonable and their prices are lower than in NYC. I will be rating that store next.
Jul 16, 2009
Reviewed by TaddyPorter from Delaware
4.3
/5
rDev
+6.4%
This place is really spectacular, particularly for the area, and Pebkac's review really covers the essentials. They have a very well-rounded Belgian and American craft selection, and the two brothers who own the place couldn't be nicer. I frequently find some special surprises on the shelf (unusual Belgians or seasonal Hitachino Nest beers), and I can always count on finding favorites from places like Avery, Penn Brewing, Dogfish Head, Lagunitas, and many other great brewers.

I live in Manhattan but visit friends in Astoria frequently, and every single time I make a point of stopping into Heliopolis. The guys have also given me several fine pieces of glassware when I've gotten extravagant with my purchases from time to time.

A true beer haven in Astoria!

Cheers to Heliopolis!

Taddy
Nov 26, 2008
Reviewed by zymurbanist from New York
3.85
/5
rDev
-4.7%
Managment (ownership?) changed here sometime in the last year or two. The quality of the spanakopita and other deli items has suffered somewhat as a result, but as the previous reviewer noted, the beer selection is now excellent considering the size of the place.

I won't knock Queens - I like it here - but the borough is desperately in need of more shops with beer selection like this. Maybe then the competition would force prices down. Because for me, that's the most outstanding characteristic of this place...
PRICES ARE OUTRAGEOUSLY HIGH!
Jul 25, 2007
Heliopolis Gourmet Market in Astoria (Queens), NY
Place rating:
4.04
out of
5
with
4
ratings