Opal Divine's Marina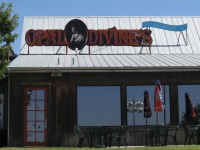 PLACE INFO
Type:
Bar, Eatery
12709 N. Mopac
Austin
,
Texas
, 78727
United States
(512) 733-5353 |
map
opaldivines.com
Notes:
No notes at this time.
Added by kbub6f on 01-11-2007
Reviews: 9 | Ratings: 17
4.28
/5
rDev
+12%
vibe: 4.25 | quality: 4.25 | service: 4 | selection: 4.5 | food: 4.5
I have been going to this place for years. I used to have to travel downtown to go to their original location and was very happy when this one opened, as it's much closer to home. They seemed to go through a period of lackluster service a while back. Those problems seem to have been corrected. It's got great pub grub, a very good selection on tap and several high quality scotch whisky and tequila offerings. It's very casual and you can bring your dog. Any place a beer nerd can get his non-beer nerd wife to like has got to be good.
536 characters
3.93
/5
rDev
+2.9%
vibe: 4.5 | quality: 4 | service: 4 | selection: 3.5 | food: 4
I like the vibe of this place, it has a casual atmosphere and is not too loud to have a conversation. There is additionally some outdoor seating but we did not choose it due to the outside temperature being a little too cold to be comfortable. The decor is a little funky but I kind of liked it.
Beers were served at reasonable temperatures in proper glassware and well poured.
Service was very pleasant and knowledgeable about the beers - even able to make suggestions to some of my co-workers based on other beers they enjoy that were not on the menu (and I agreed with said recommendations). Service was attentive and I had no complaints.
The only negative I have to say about this place is that they were out of a number of the beers on the menu which I found disappointing as I was most interested in trying those ones.
Food was good for a slightly upscale pub food - the roasted pablano pepper hummus was a hit with the table including the couple of vegans with us.
Very reasonable prices - $5 flights of 4 beers.
1,024 characters

4.43
/5
rDev
+16%
vibe: 4.5 | quality: 4 | service: 4.5 | selection: 5 | food: 4
I drive by this place all the time and decided it was time to stop in, I found the (512) sign outside the door to be very encouraging.
I sat in a booth inside and the first thing I noticed were the stamped metal "brickwork" I thought that was an awesome touch, the bar is in a pretty cool spot and I really loved seeing the local signs. All in all it's a really cool place based on aesthetics.
Service was prompt and the waiter I had was knowledgeable and pretty nice, only came by to check on me once when there wasn't an empty glass or plate, I always appreciate that because I hate having a waiter over every 2 minutes to see if I need anything.
The beer selection was pretty good, lots of local taps and some other goodies. The drink menu is nuts, 40 types of scotch alone! They also have some good rotating seasonals, I had black metal(in a silver rimmed Chimay chalice of all things) also they have commercial suicide on tap, which I also had! The local selection alone is noteworthy and all the others are just icing in my book.
Had a nacho burger, it was well cooked and I loved the fries, the quality of the food was great and I was impressed with Chimay chalice I mentioned earlier, great place, can't wait to be back
1,231 characters
4
/5
rDev
+4.7%
vibe: 4 | quality: 4 | service: 4 | selection: 4 | food: 4
Dropped in late one afternoon for dinner and a drink. Sat on the outdoor patio with a nice view...of the Fry's parking lot. Still a nice big patio. Inside was a bit wannabe dive bar feel but still had a good vibe going.
Service was prompt and friendly, as good as I expect at a place like this. Beer list is pretty long with an excellent selection of locals/regionals including Independence, 512, LO and St Arnolds. Didnt notice anything too rare or hard to find.
Ordered a burger and my wife had a salad of some sort. Both were tasty but certainly not earth shattering.
Definitely enjoyed the place and very glad to have it in the area. A great place for an easy bite to eat and good beer.
693 characters

3.88
/5
rDev
+1.6%
vibe: 4 | quality: 4 | service: 4 | selection: 3.5 | food: 4
Stopped by Opal Divine's Marina for a quick lunch on a Saturday with a buddy of mine. Not very crowded, which was nice. Outside seating was available with misters on blast, but it's just too damn hot in Austin to even consider that mess. Pulled up a chair at the bar and ordered a Live Oak Hefe.
The bartender took the time to learn my name and chat on and off for a few minutes, but since I was only one of 4 patrons sitting at the bar, I would have expected as much. The selection is similar to the downtown OD location, with roughly 30 odd taps of craft beers, emphasis on locals (512, Real Ale, Live Oak). They even had Real Ale's Lost Gold IPA seasonal rotating through, and were supposedly getting Saint Arnold's Weedwacker in the next few days.
Food is good and greasy--big burgers, but the sweet potato fries were a little under-cooked. Still, it's definitely a spot I'll be returning to seeing as I live 5 minutes away.
930 characters

2.8
/5
rDev
-26.7%
vibe: 3 | quality: 3 | service: 1 | selection: 4 | food: 3.5
Was lured into the place with an ad on their website promising a "No Reservations" Valentine's Day Dinner for two, featuring French Oak Barrel Aged Real Ale Anniversary Ale.
Talked the wife into the hour plus drive for our big event; good food, rare beer, what could be better?
So, arrive, seated, order the French Oak Barrel Aged Real Ale Anniversary Ale and the Valentine's dinner they have signs everywhere for.
*Confused blinks*, "Let me check".
10 minutes
"Ok, there's some problem, their working on it, would you like a beer?"
yes... French Oak Barrel Aged Real Ale Anniversary Ale
10 minutes
"Well, I know we don't have a time on the ad, but the kitchen isn't ready to start for another 30 minutes."
ok, we'll take an appetizer and hang
"Do you want a beer?"
...yes... French Oak Barrel Aged Real Ale Anniversary Ale
5 minutes
"Well, they don't have the beers to go with the dinner" that multiple advertisements are hanging behind her pushing said product.
A very unfortunate turn of events. The manager was all apologies and comped our appetizer, but I have to confess to being very let down and a little pissed. They had ads everywhere claiming to have a rare Texas beer, and they simply didn't have it.
I'm only going to give a low score on service, as the place is low mid scale comfortable, decent prices, great selection of locally brewed beers.
But I'm not spending a dime there.
1,397 characters
4.45
/5
rDev
+16.5%
vibe: 4 | quality: 4 | service: 5 | selection: 5 | food: 3.5
Ok, i live right around the corner from this place and never knew it existed.
The food is above average pub fare. I saw burgers, fries and nachos but also saw fajitas and cheesesteak subs. Not superb restaurant quality stuff, but better than just nachos and pizza which is my biggest complaint about Austin. No real "resaurant and beer" bars, just "pub food beer bars" or worse, NO FOOD beer bars. I love my beer and this is beeradvocate but id like to also get something at least DECENT to eat.
Now on to the beer.
They have THIRTY EIGHT taps. Not bad for a small restaurant. You wont find bud on tap either. I saw a selection of St. Arnolds(fancy lawnmower), Chimay(white), 512(pecan porter), Shiner(bock and cheer), Live Oak(hefe, pils), Real Ale(number 4 and coffee porter), North Coast(Old Rasputin specifically), and Victory(prima pils) just to name a few. It was texas 2.50 so with the selection they had, it would have been dumb of me not to partake in Tx beer. Which i did, with glee.
They also have many belgians in bottle, 330 and 750. A bit expensive at over 15 bucks a bottle(some much more)but not overly so considering your paying for service, atmosphere etc. I never understand anyone who downrates because your IN A BAR. Of course they are charging more than if your in your local store. (sometimes by more than double, you decide)
They also have 2 sampler plates. Belgian only with 4 2 oz pours for 12 bucks. (considering 2 of these are Maredsous 8 and Chimay white im good with the pricing even if the 4th is stella ar(ugh)tois, framboise being the 3rd) and they have another sampler for around 8 bucks. (any 4 beers i think)
Overall the beer selection is Great. I think they are overshadowed by places like Dog and duck, draughtouse, etc in beer selection BUT they make up for it in the fact you can get real food, not just bar food, or nothing at all in some cases.
1,895 characters
3.83
/5
rDev
+0.3%
vibe: 3.5 | quality: 4 | service: 4 | selection: 3.5 | food: 4
Conveniently located in North Austin in the Fry's parking lot.
Out of the 25 or so taps approx 10 are local texas micros: Good selection of Live Oak, Real Ale, St Arnold, 512. There are several specials during the week. My favorite is Wednesdays Texas pint night with pints at $2.50. Most times they are around $4.50 or so.
There is lots of seating and they have a large patio.
The service is pretty good. I've had attentive waiters all the time I've been there.
The food is ok. I've only ordered the appetizers, standard pub grub. But it was well made and hot when it arrived at my table.
This is one of the better bars in north Austin.
642 characters
3.8
/5
rDev
-0.5%
vibe: 3.5 | quality: 4 | service: 4 | selection: 3.5
This is the third Opal Divine's in Austin, joining the Freehouse on 6th and Penn Field at... uh... Penn Field (South Congress). The new Marina location is not actually near water of any kind. It's in the parking lot of the Fry's Electronics store at Mopac and Parmer in north Austin. The building used to be the Sea Island Shrimp House.
The dining space is pretty big and open. Its hard surfaces make for a fairly noisy environment when busy (which it very much was on a Wednesday around 7pm). There's a large patio on the parking lot providing plenty of space for the crowd.
I found the last seat at the bar, facing 25 taps of mostly craft and decent (if standard) import. No overt BMC taps (Blue Moon and Lonestar, but no flagships). BAs needn't really stray from the center of the rack's four Live Oak, three Real Ale (including the Coffee Porter this time out) and three Sierra Nevada (PA, Celebration and my first sighting of the ESP in Austin). I'm going to ding the score a little because the bottle selection doesn't compete with Freehouse or Penn Field, which go out of their way to include a bunch of bottled Belgians. Marina's list currently really only fills the gap of missing macros from the draught selection.
The bartender was quick and responsive, which is nice at the bar of a big restaurant where drink orders from the wait staff are tough competition. My only contact with the wait staff itself was physical: my barstool was right in front of their garnish station putting me in the way of doing their job. But they were good sports about it and a couple were even pleasant.
I didn't eat, but what I saw resembled the decent fare you get at Freehouse.
Overall, this is a good addition to the Austin beer scene, with the best taps you'll find in this part of town.
1,798 characters
Opal Divine's Marina in Austin, TX
3.82
out of
5
based on
17
ratings.